Mitch here!
I love me a holiday weekend, and Memorial Day is one of my favorites. It comes without the traditional pomp and circumstance, with no need for fireworks, countdowns, hidden baskets, decorated trees, or cranberry sauce. As far as I can tell, Memorial Day's only obligations are:
Remember those who lost their lives for us (Thank you!)
Cook meat outside
And Memorial Day is perfectly placed to accomplish both of those tasks. The newly minted summer heat is just begging for a barbecue, and my lacking summer wardrobe is rife for restocking.
Anyway, there likely aren't going to be too many blog readers today, on account of the holiday. So I thought I'd take over and give my wife the day off! Here goes nothing…
😂
Kelly's MDW Sale Picks
If you haven't been paying attention, Kelly in the City site is full of some amazing Memorial Day shopping guides right now, with graphics made by yours truly. (Seriously stayed up until 5 a.m. making them.) Check out the Nordstrom Half-Yearly Sale and Memorial Day Sale guides, and don't forget to enter our $200 Visa gift card giveaway by simply commenting on this post. (Just include your email in bot-resistant "username [at] domain [dot] com" format.
Edit: There were so many amazing entries, and we read all of them on our drive back from the lake house! We were in stitches; thanks for making our car ride so much fun. The winner was randomly selected at 6:30 — congratulations to Mandi S.! Mandi, you've been e-mailed. :)
Below you'll find updated sale selections, an idiot's best guess at what the selections are for, AND a men's guide for those of you who are realizing that your guy actually intends on wearing that outfit all summer. (Also, Father's Day is on the horizon!)
Onward: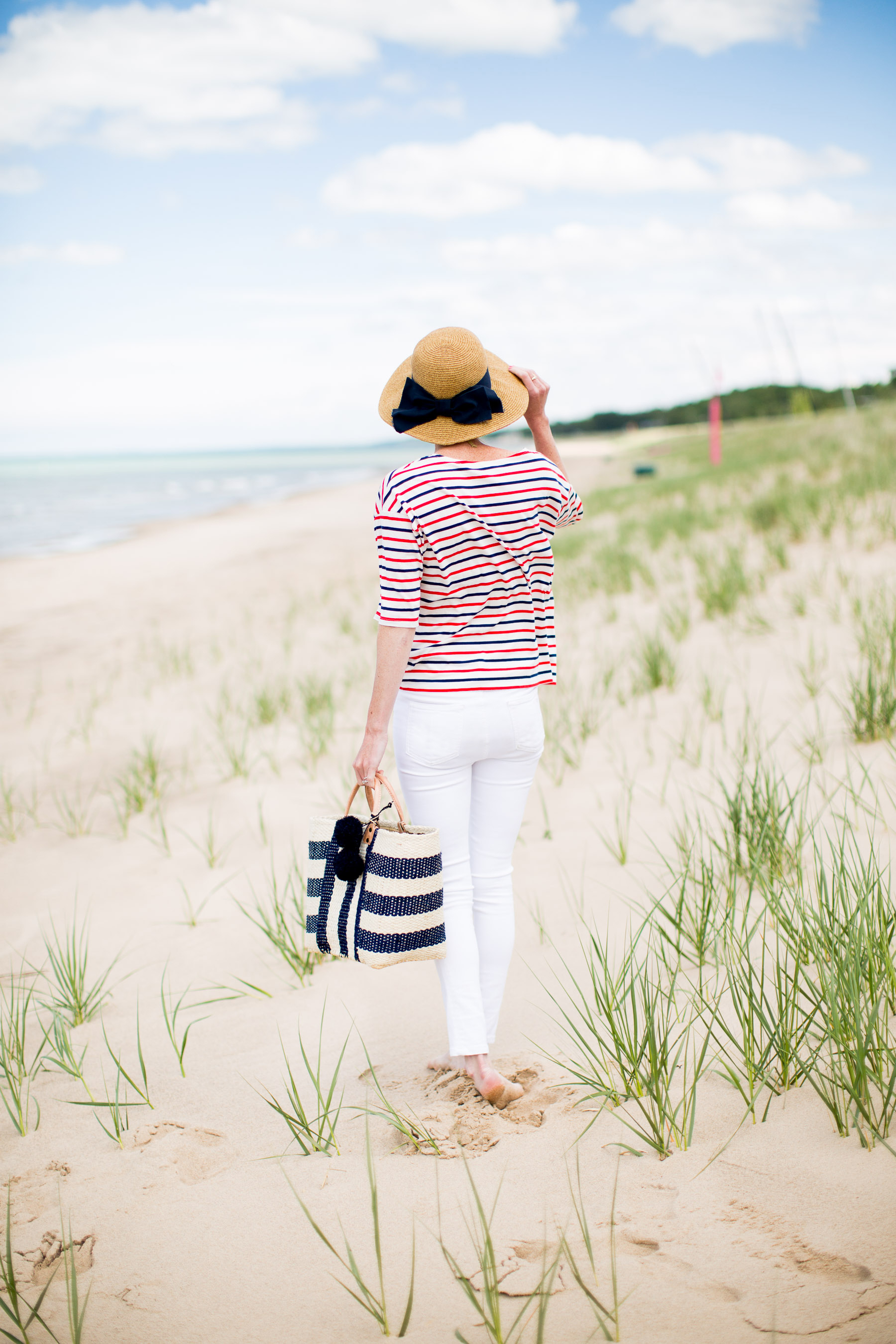 Mar Y Sol Tote / Barbour Jacket c/o (Also love this one, which is the same cut but way warmer. And this one is a bit more affordable.) / Hudson Jeans (This is my other go-to pair.) / Red & White Striped Top / Monogrammed Jack Rogers c/o / Tuckernuck Hat (Back in stock!) / New Sunglasses!
Woven tote: In my opinion, no woven tote is complete without a giant set of pom poms. Lucky for all of us, pom poms are back! (Fun fact: Noodle has since eaten two of them since we acquired this bag.)
No code necessary to get it on sale!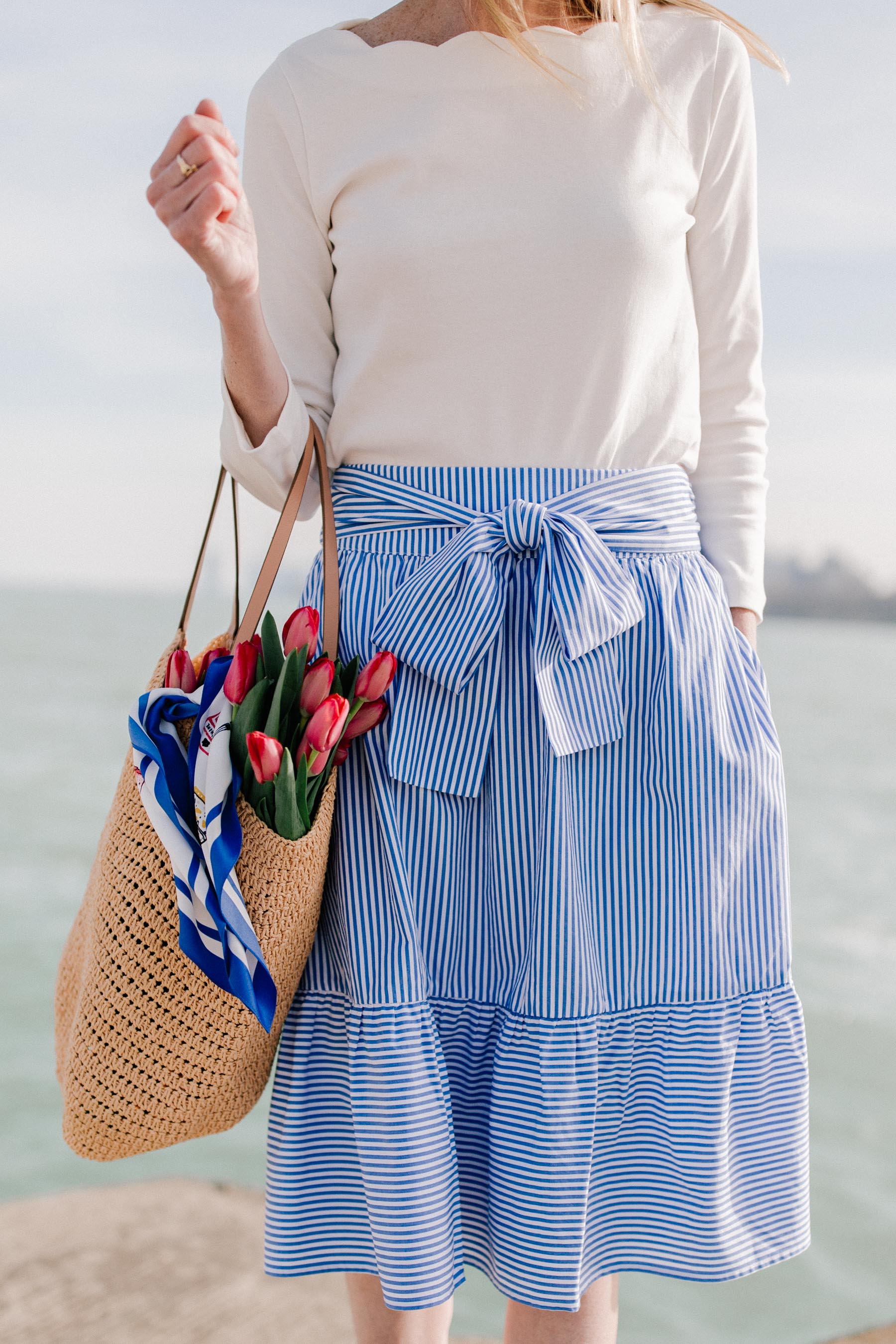 Bow Skirt, London Scarf (NYC one here!), Navy Mules and Scalloped Top / Emma's Striped Dress / Mitch's Seersucker Blazer and Pants — all c/o
Bow skirt: Is anyone else's Instagram feed full of girls carrying around bags of flowers? Are we really supposed to believe that Kelly is on the way home from the florist or something? A bag of fresh flowers is just about the most impractical use of a bag I can imagine. What is going on here?
I'LL TELL YOU WHAT'S GOING ON HERE.
I ran to the florist to get these fresh blooms just for this one photo.
How's that for real?!
Use code "WINWIN" to get the skirt on super sale.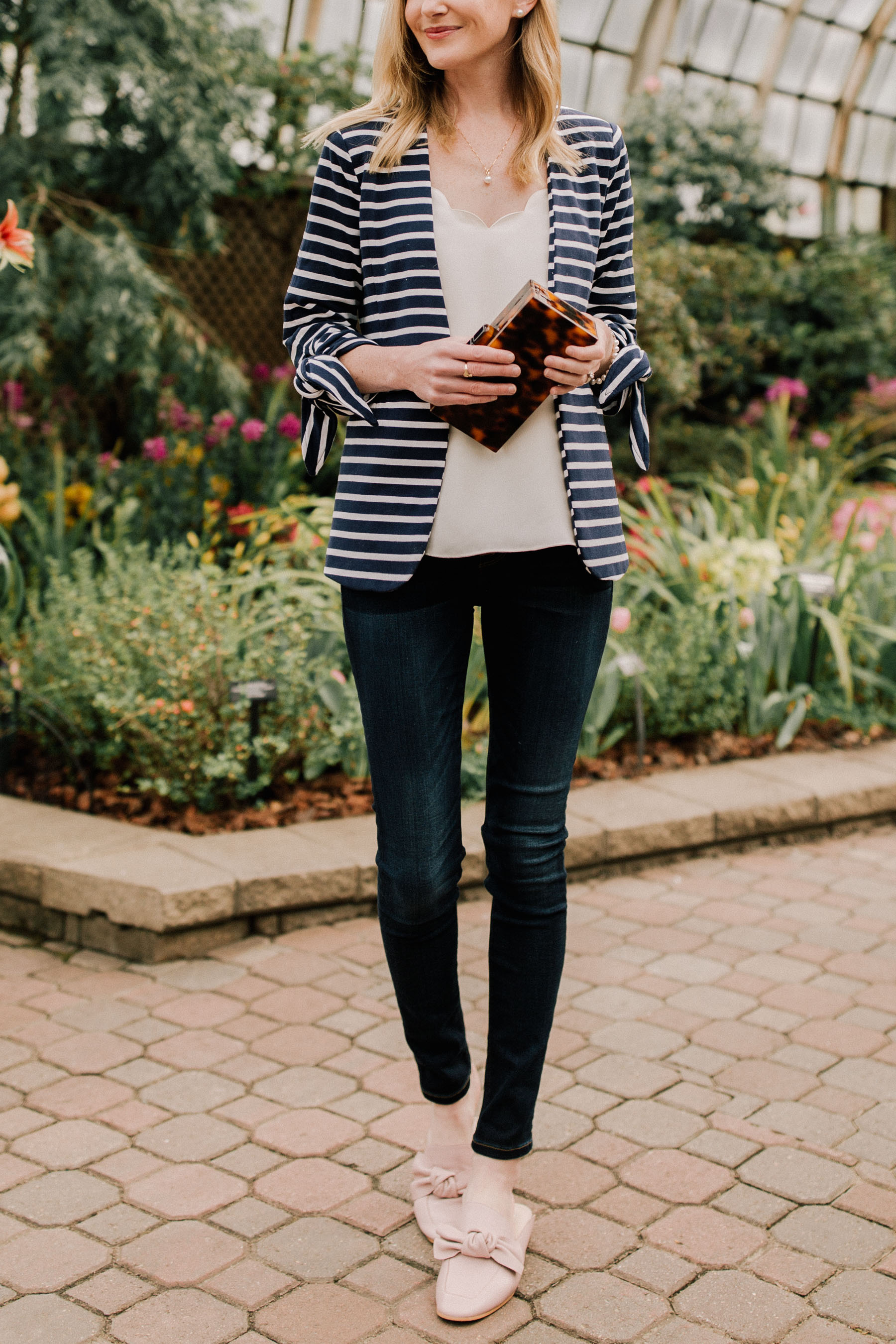 Shane Co. Necklace and Bracelet c/o / Scalloped Tank / Striped Blazer c/o / Hudson Jeans / Tortoise Clutch c/o / Bow Mules / Similar Sunglasses
Bow mules: These shoes win the Most Inappropriately Named Item Award. As the son of a farmer, I was plenty confused when Kelly started talking about pink mules with bows on them. But here we are, all these months later, and I can't imagine life without mules of every variety. Pink? Brown? Bow? Un-bowed? You name it, we NEED IT.
Striped bow blazer: I hate that my blazer sleeves are tailored and held together with buttons. This coat blazes a new path by reimagining the button paradigm, leaving the sleeves loose for you to tie off on your own.
Mind blown.
Prices as marked for the mules and blazer.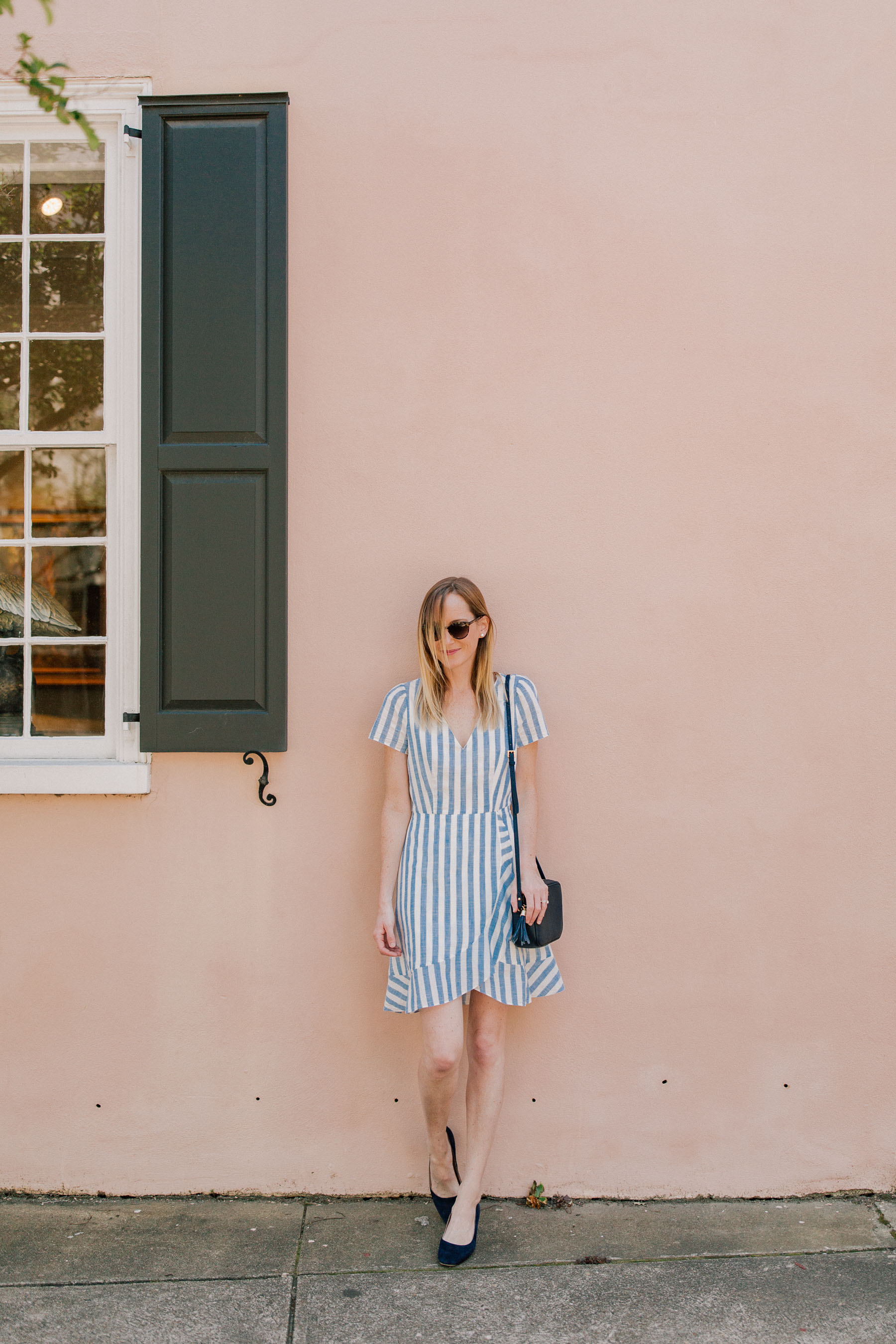 Striped Dress (Consider going up a size if you prefer a little extra room in the shoulders! Here's the chambray version.) / Navy Crossbody c/o / Navy Pumps
Striped Dress: I tried really hard to make this photo look candid. I even ran up to Kelly and gave her a noogie before snapping the pic in an effort to make her look a little disheveled. Nailed it.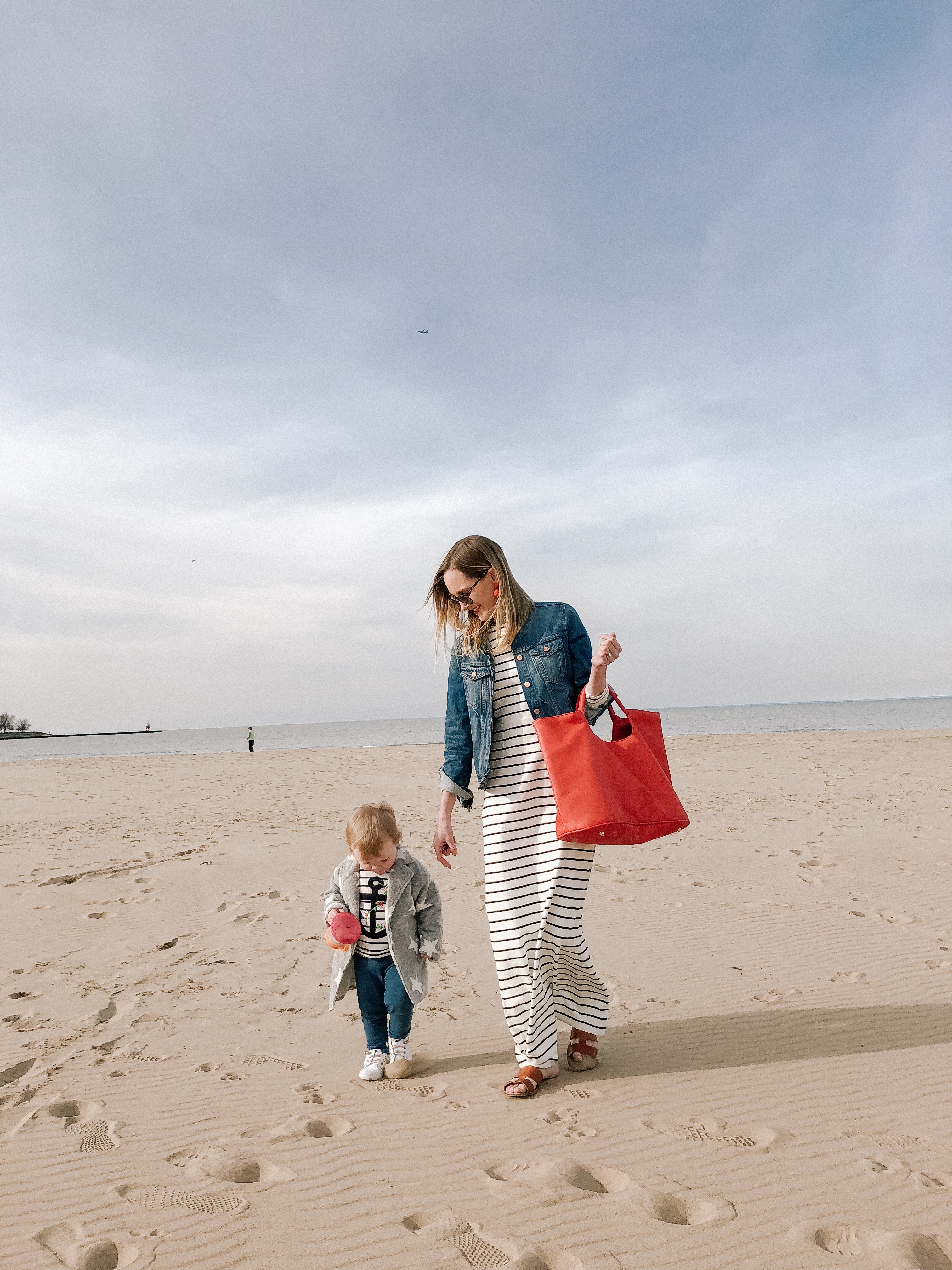 Striped Maxi Dress (Similar here and here) / Denim Jacket (Also here.) / Tuckernuck Tote (On sale!) and Earrings (In white and gold, too!) c/o / Everlane Sandals c/o / Emma's Anchor Tee, Star Coat and Sperrys
Red tote: If you're wondering what's in that giant bag, the answer is two pounds of sand, half a bottle of chardonnay, a full bottle of milk, and a couple of solo cups. We know how to have fun.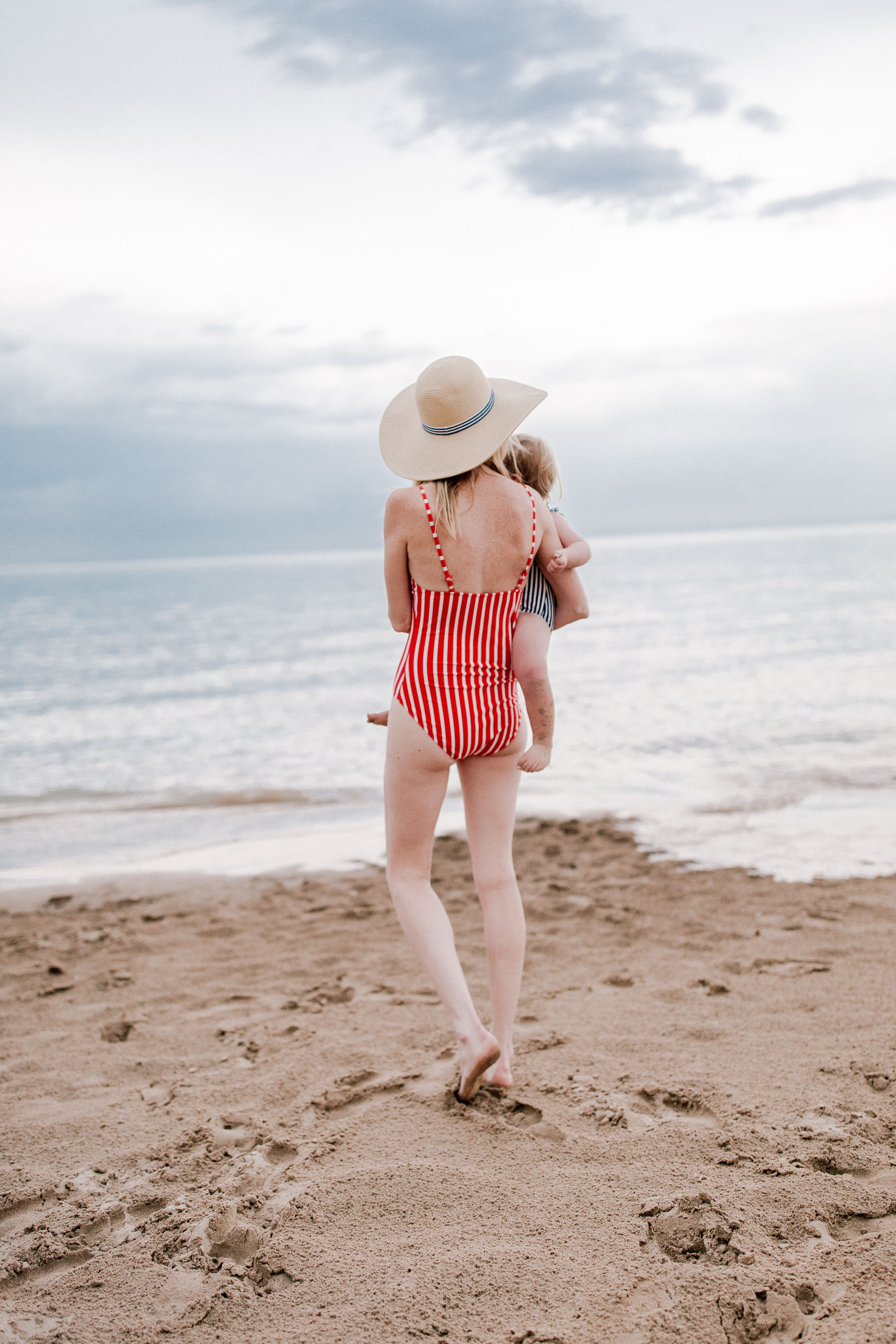 Kelly's Swimsuit, Striped Sweatshirt, Gingham Sandals, Linen Tie-Front Pants & Straw Hat / Emma's Swimsuit & Cover-Up / Mitch's Seersucker Swimsuit and Polo
Red striped bathing suit: This is a bathing suit that is red and striped and it's great. However, did you see Kelly's feature on the J.Crew Factory site? So flipping cool. Also, do you like how we artfully covered Emma's face here so you can't see her sand beard? Kid loves eating sand.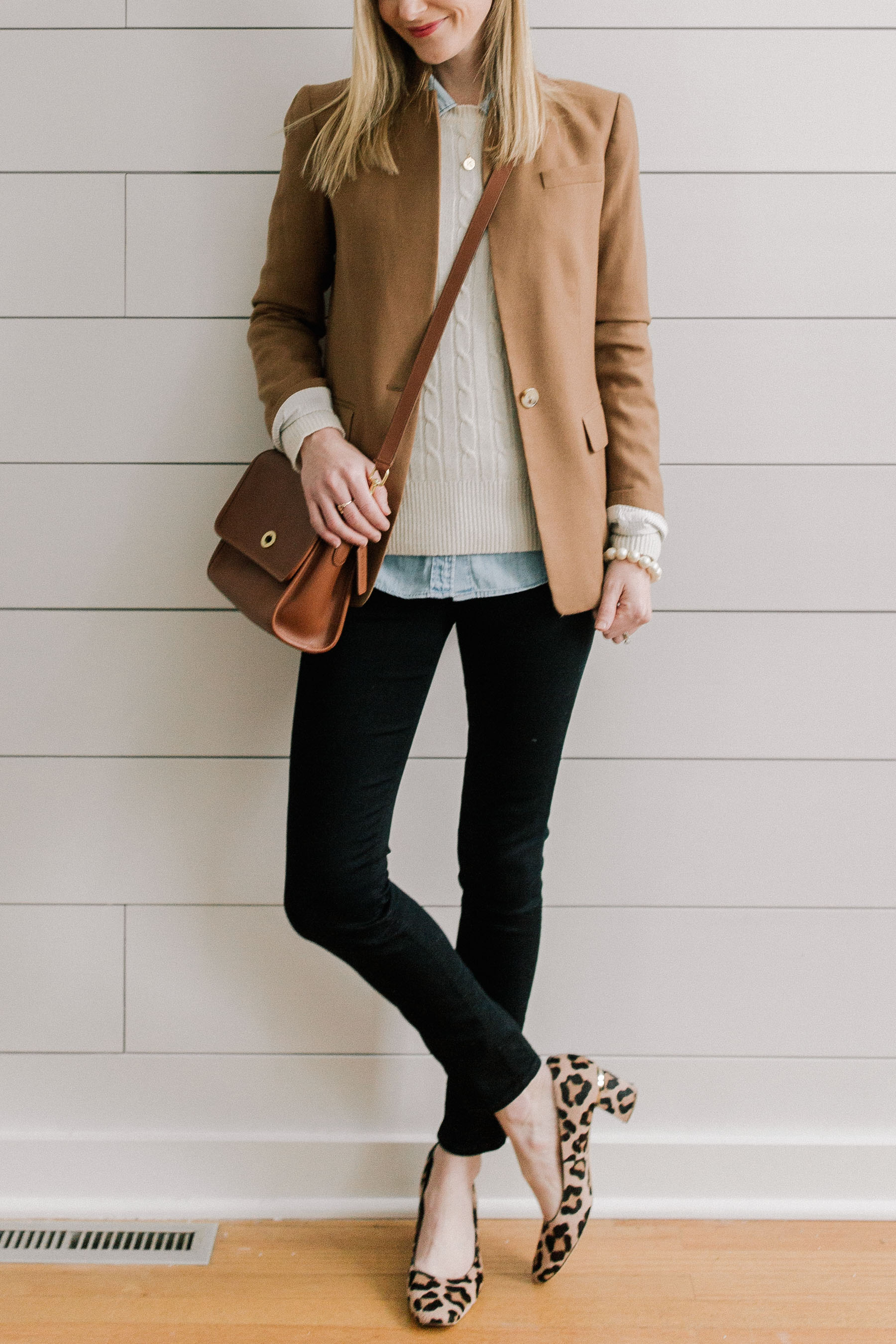 J.Crew Blazer (J.Crew Factory is also making a nearly identical version! Here's the camel sweater blazer.) / Vineyard Vines Cashmere Cable-Knit Sweater c/o (Comes in a bunch of colors; my go-to cashmere sweater these days!) / Kate Spade Leopard Pumps / Coach Bag / J.Crew Chambray Shirt / Warby Parker Durand Glasses c/o / Black Skinny Jeans / Pearl Bracelet
Camel blazer: Even the most casual reader of this blog knows that I'm a big proponent of blazers, even when I go to the playground. (What can I say? They're slimming!) And this camel blazer is no exception. Also, it's funny we've all up and agreed to call this color "camel."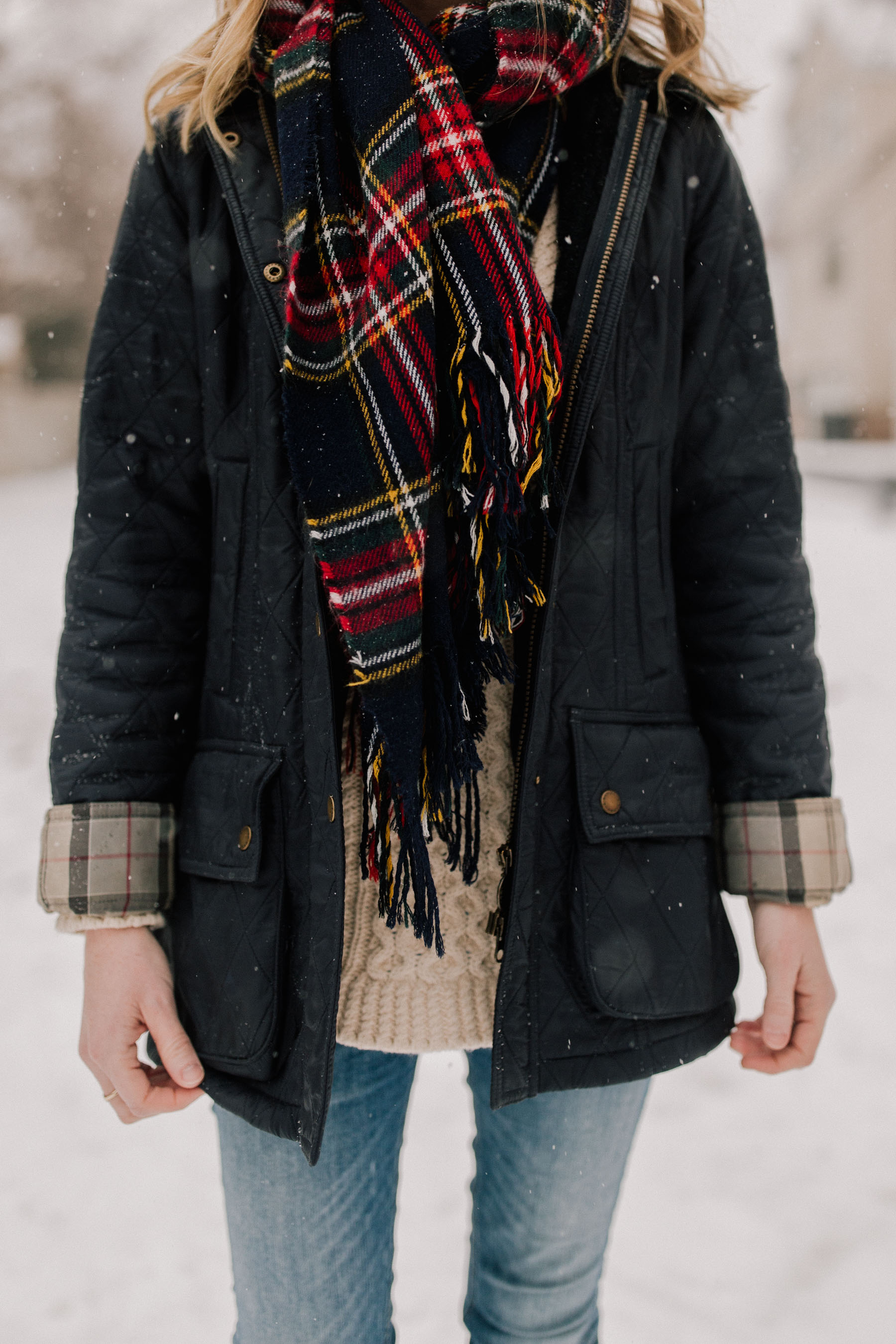 Tuckernuck Scarf / Barbour Quilted Beadnell (Also available here and here… and slightly different style here. And here's the regular Beadnell. And here. Sizing: I wear a U.S. 4 in Barbour.) / Rag & Bone Jeans / L.L.Bean Bean Boots (Sizing: I wear a size 7.5, and took these in a 7. They're shearling-line and SO SOFT!) / L.L.Bean Fisherman Sweater (Runs big! I'm wearing an XS here. Also love the navy striped fisherman sweater and the hooded version.) / Vineyard Vines Collar
Plaid scarf: Ugh. The mere sight of sweaters, coats and scarves is too much for me right now. We just put our parkas away in Chicago last week. The wound is still fresh.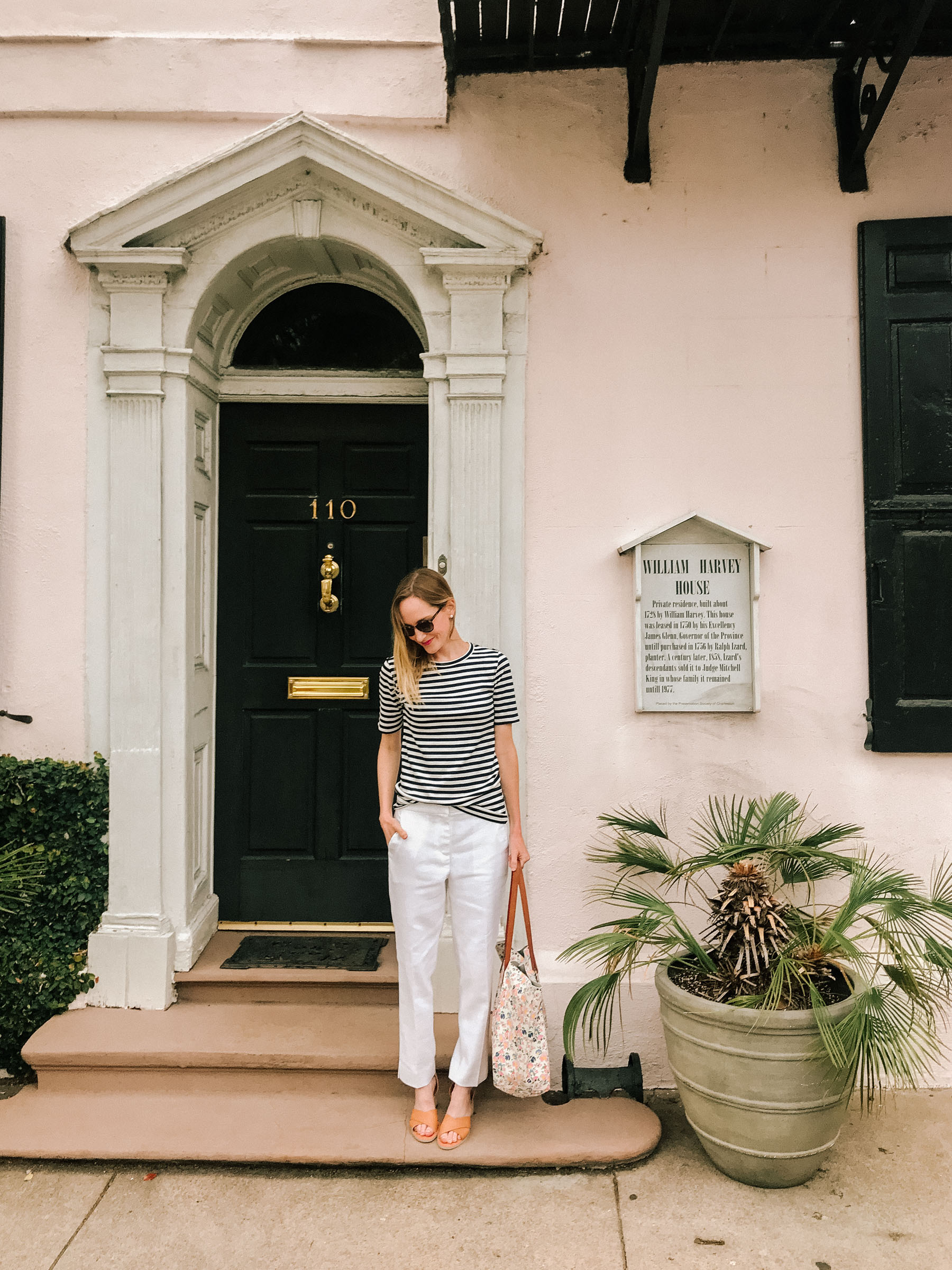 "Easy" Linen Pants / Sandals (Also here.) / Striped T-Shirt (Also here.) / Denim Jacket (Also here.) / Caitlin Wilson x Mark and Graham Tote c/o
Floral tote: Kelly is the kind of person who wears white pants on vacation. I'm the kind of person who takes a vacation from wearing pants altogether. Also, Kelly carries around this Mark & Graham floral tote as a reminder of our colorful week in Charleston. It's her comfort tote.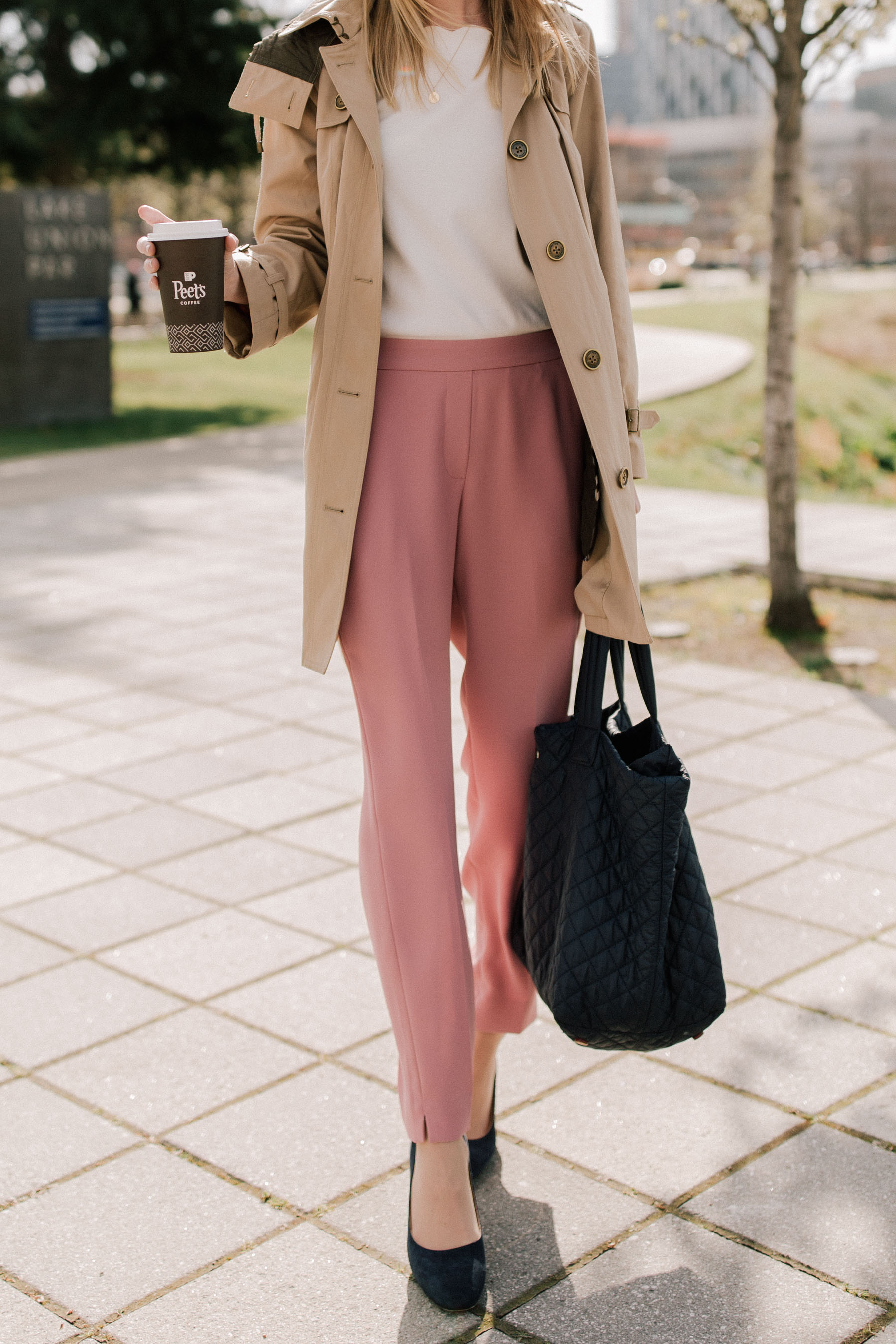 Drapey Pull-On Pants (Under $35 today, and the best dress pants EVER! They run totally TTS.) / Scalloped Tee (I've been wearing this with everything.) / Super Warm Trench Coat with Quilted Liner (Love the double version, which comes in PINK, too! It has a quilted liner as well.) / MZ Wallace Tote (Black here.) / $85 Kate Spade Pumps! (Here's the bow version.) / Mitch's Sperrys, Vineyard Vines Blazer & Performance Shirt c/o
Drapey Pull-On Pants: Yes! If we could all go ahead and bring elastic pants back in style it would be great for me. I've got a tub full of gems in the basement.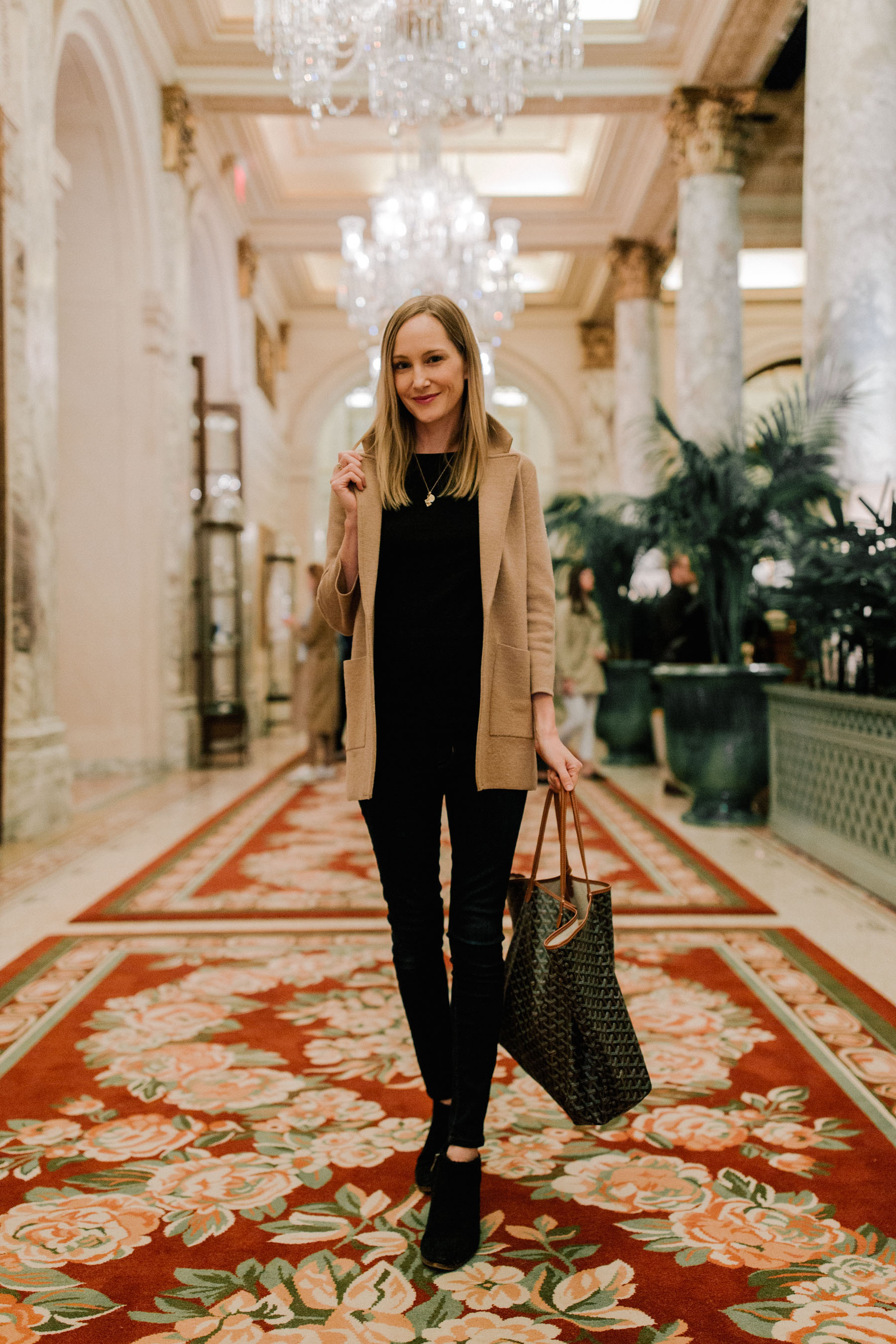 J.Crew Sweater Blazer (Available at Nordstrom, too.) / Skinny Jeans / Perfect T-Shirt / Black Suede Booties / Initial Necklace / Burberry Scarf (Kids' snood version here. Fraction of the price but totally fits adults!) / Goyard Tote (Similar Tote Here)
Sweater blazer: What can I say about this camel-colored sweater blazer? Seriously, what can I say? I already used the camel line.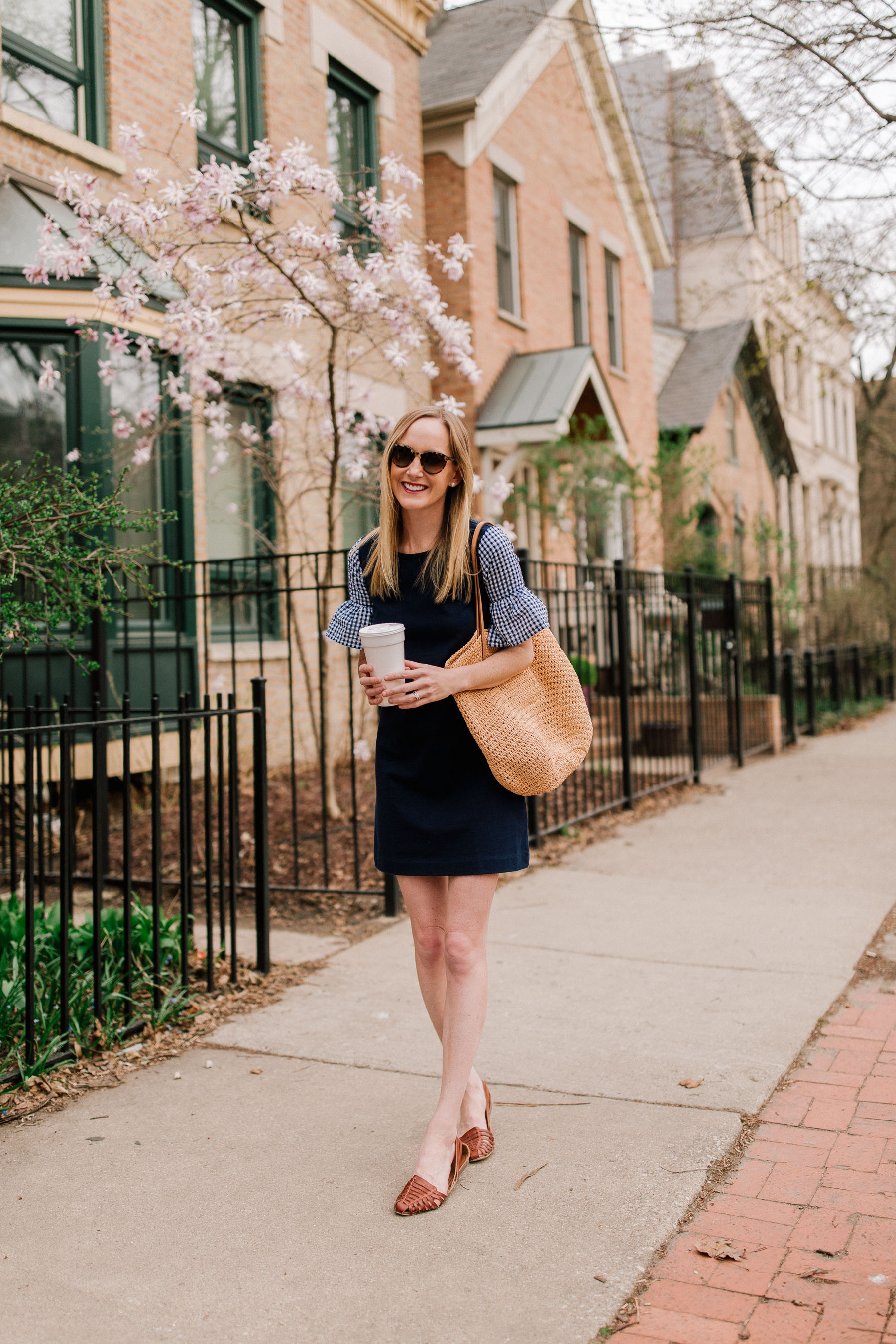 Ruffled Gingham Sleeve Dress (On sale! Use code "SPRINGTIME" to get it down to $35.99; ships free today, too!) / Newer Version of my Tote (Though this one is my absolute fave! Also love this one, this one and this one.) / Huarache Sandals (SO comfy!)
Gingham-sleeved dress: If you thought Kelly had exhausted all gingham options at this point, you were wrong. A navy dress with surprise gingham sleeves? Put that junk on the blog.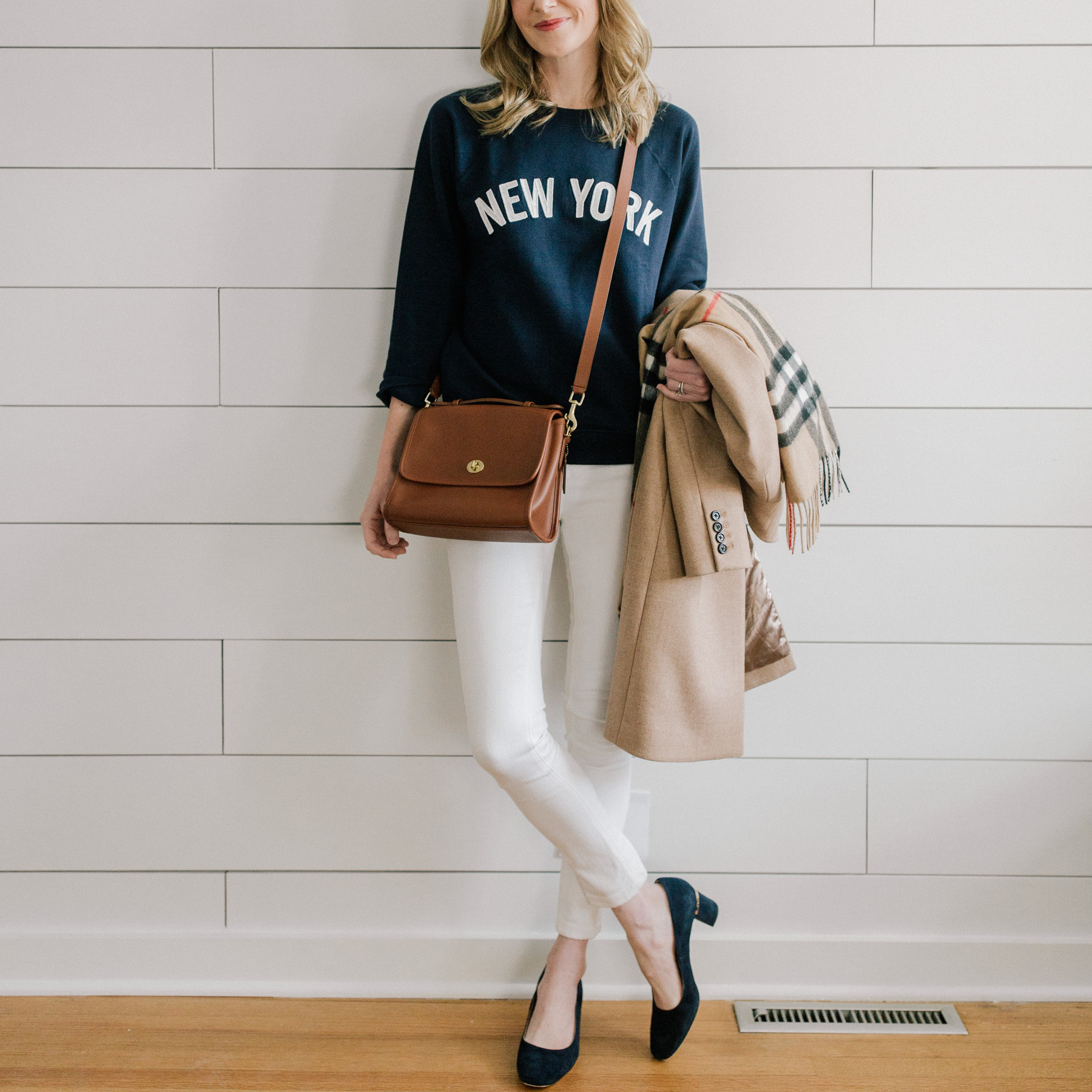 $89 Kate Spade Pumps (Incredible. And they come in so many different colors!) / J.Crew New York Sweatshirt (Runs TTS. Wearing a size small here. Here's the Brooklyn version! I also recently got this sweatshirt and this pair of sweatpants and I'm obsessed. So soft and cozy.) / Rag & Bone Skinny Jeans (And adore this pair.) / Coach Bag (Also love this similar one and this similar one.) / Camel Coat (My current favorite in-stock camel coats include this one, this one and this one, btw. And I loooove this Ralph Lauren coat in pink.) / Burberry Scarf (And here's the snood, which totally fits adults!) / White Sandals that Emma's Wearing (Also available here, here and here. And LOVE the Everlane version.) / Emma's Cozy Sweatshirt and Floral Leggings
New York Sweatshirt: As a current Chicagoan, I must say that New York is overrated and I'm sick of all the NYC merchandise I see around. But as a former New Yorker, I must say that this sweatshirt is super cool and I want one and now I'm homesick. This sweatshirt really puts me in a tough spot and now I hate it.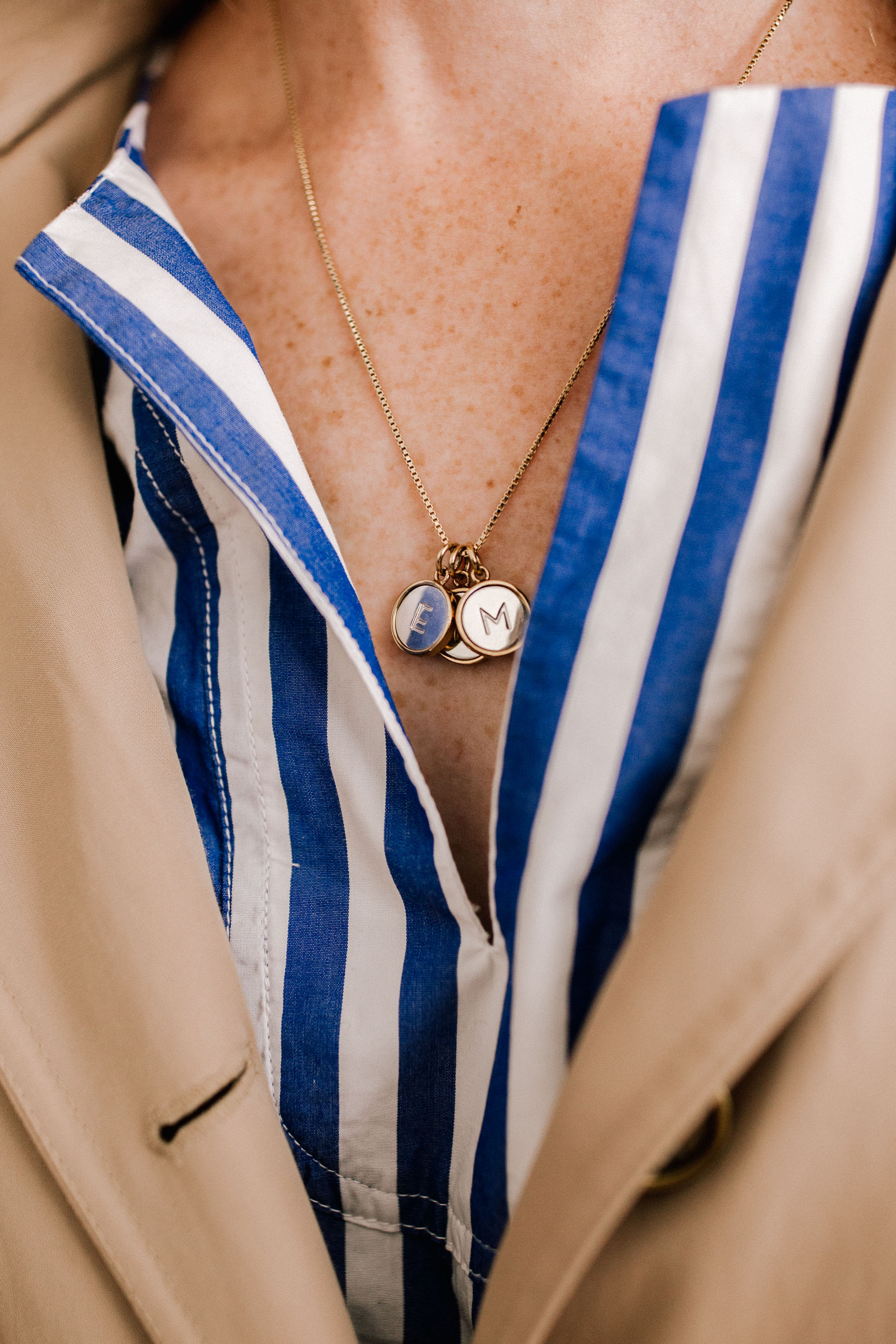 Mark & Graham Elisabetta Slouch Bag (Navy and Brown versions here; Striped version here) and Stamped Charm Necklace c/o / Favorite Trench Coat (SO warm because it has a quilted liner. Adore the double-breasted version as well. Read my review here!) / Navy Pumps (Also here!) / Striped Tunic (Available here, too.) / Stroller c/o / White Jeans (This is my favorite pair of regular wash jeans, btw.) / Emma's Burberry Coat, Gingham Pants and Loafers (Also here.)
Monogrammed necklace: I gave Kelly this monogrammed necklace and she hasn't taken it off since. We've also gifted it to both of our moms and, similarly, they've haven't taken them off. Either this is the best gift of all time or the clasp is broken. It's a home run!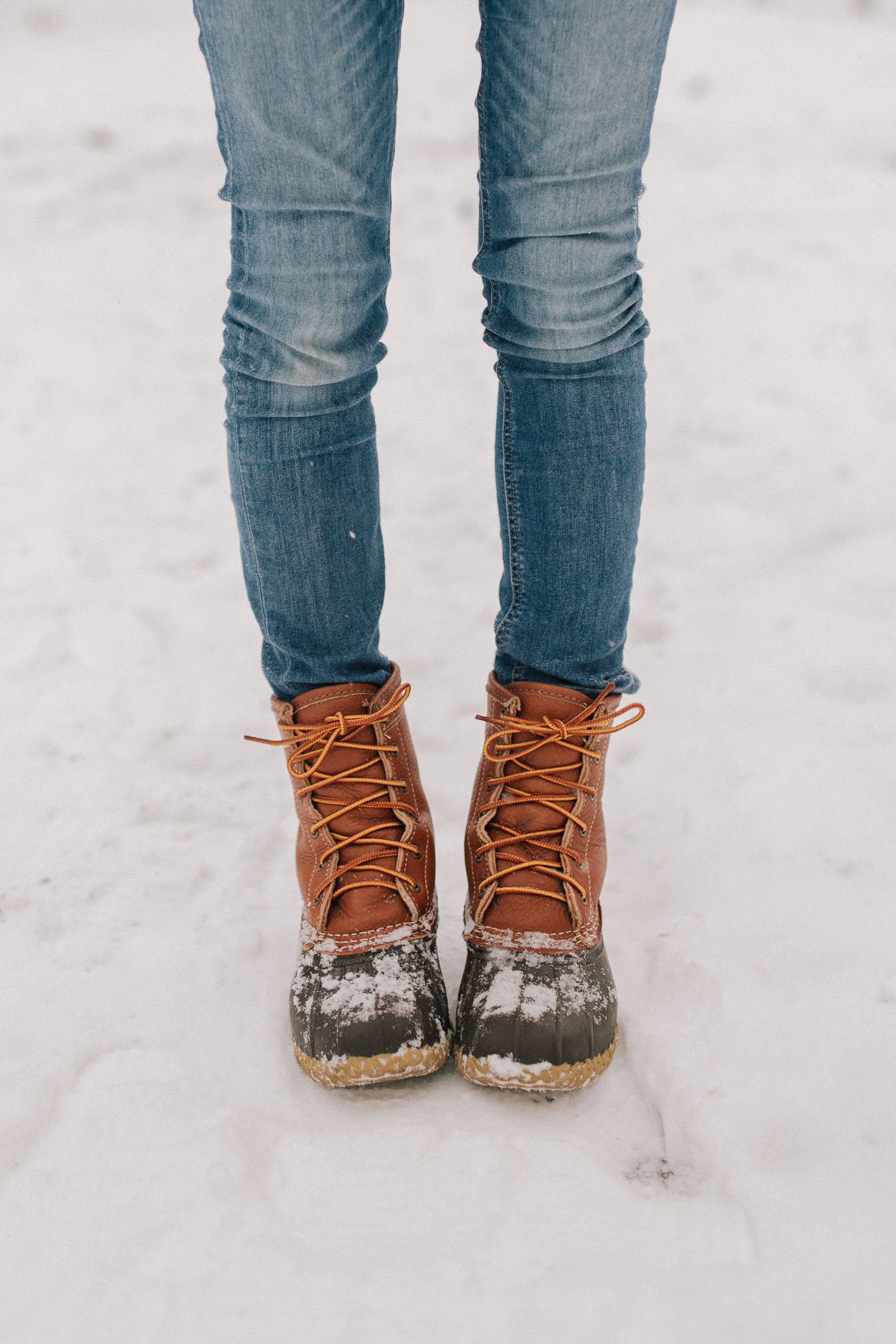 Tuckernuck Scarf / Barbour Quilted Beadnell (Also available here and here… and slightly different style here. And here's the regular Beadnell. And here. Sizing: I wear a U.S. 4 in Barbour.) / Rag & Bone Jeans / L.L.Bean Bean Boots (Sizing: I wear a size 7.5, and took these in a 7. They're shearling-line and SO SOFT!) / L.L.Bean Fisherman Sweater (Runs big! I'm wearing an XS here. Also love the navy striped fisherman sweater and the hooded version.) / Vineyard Vines Collar
L.L.Bean Boots: Simply put, Bean Boots are my favorite clothing item. Buy them now as they'll be sold out in when you need them in a few months.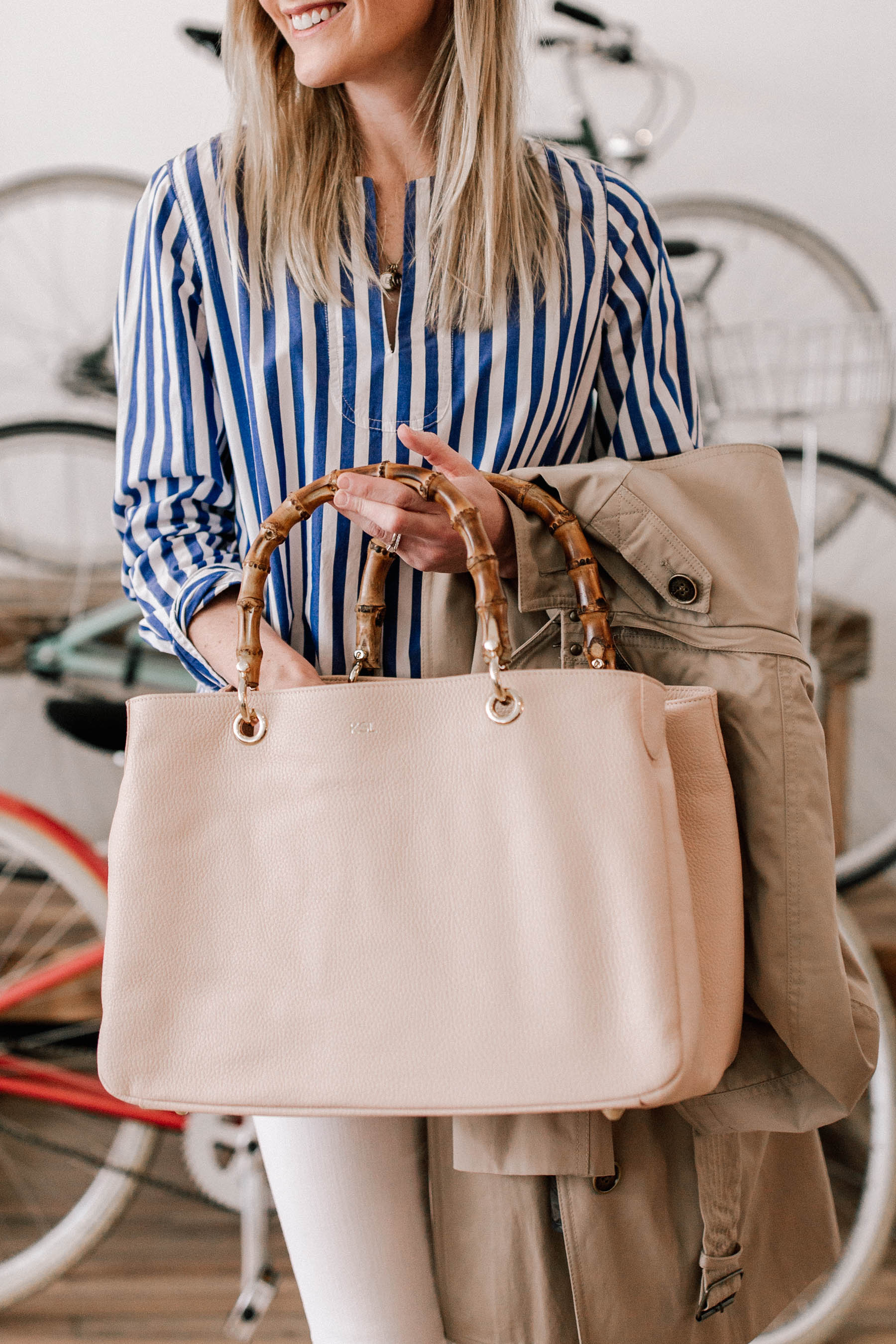 Mark & Graham Elisabetta Slouch Bag (Navy and Brown versions here; Striped version here) and Stamped Charm Necklace c/o / Favorite Trench Coat (SO warm because it has a quilted liner. Adore the double-breasted version as well. Read my review here!) / Navy Pumps (Also here!) / Striped Tunic (Available here, too.) / Stroller c/o / White Jeans (This is my favorite pair of regular wash jeans, btw.) / Emma's Burberry Coat, Gingham Pants and Loafers (Also here.)
Bamboo tote: Did you know that bamboo can grow up to three feet per day? That is just nuts. In addition, once a week I find Kelly twirling in front of a mirror with this bag muttering about how much she loves it. And while I don't understand what makes a bag nice or anything, I do appreciate a happy wife.
Mitch's picks for men

1: Nike Sneakers – I'm hyper aware of my gradual decent into the land of Dad Outfits. As such, I'm reluctant to even suggest white tennis shoes as I feel it could put me over the edge. But I feel the call. I want these shoes. I also want a pair of baggy jeans and a fanny pack but I'm showing some self-restraint. Jesus.
2: Pink Pocket Tee – It's a good thing this tee has a pocket because your man will need a convenient spot to carry the accolades he receives for dressing so well.
3: Pink Shorts – Does anyone out there have tips on how to not look like a complete moron in shorts? Maybe this pair is the key?
4: Striped Shoes – If  laceless shoes exist, why do laced shoes still exist? I've had it with laces. Over!
5: Dancing Bears Belt – As a 30-something, I appreciate any gift that will help me keep my pants up. As an added bonus this belt has Grateful Dead bears on it. (I think?)
6: Performance Shirt – I don't want to go all Kanye on this gift guide, but this shirt is THE GREATEST SHIRT OF ALL TIME! I wrote about it in depth here.
7: Perfect Polo – The polo is apparently the most difficult of all shirts to do well, and Vineyard Vines has pulled it off here. After a few wears of this one, I threw all my other polos out. It was an emotional day.
8: Lobster Towel – This towel has a lobster on it.
9: Carhartt Work Jacket – I'd love to have been a fly on the wall for this phone call.
"Carhartt? This is J.Crew. You are cool now. Let's make it happen."
10: Flag Belt – There are exactly two weekends when wearing an American flag belt is super cool. This is one of them. Embrace.
11: Leather sandals – Flip flops also qualify as laceless shoes. Solid buy!
12: Denim Jacket – Without question, this jacket is too small on this guy. Right? I mean, it's borderline ridiculous. Is it supposed to be that small? Like, is that the style? Clearly, if you're interested in getting this thing, size UP.
13: Navy Backpack – Women get to have all the fun. I don't think I could count all the purses, bags, clutches, crossbones and totes on this page alone. Guys get backpacks and that's about it. Make sure yours has a good one.
14: Blue Blazer – It wouldn't be a Mitch Gift Guide without a blazer recommendation, and this blazer is certainly a blazer. If you're wondering But Mitch, what is a Blazer Guy to wear in the summer? The answer is most certainly a blazer with shorts! 
15: Baseball Leather Dopp Kit – I refuse to pay for checked luggage. So I place big importance on travel storage. As such, I searched high and low for the smallest top kit on the market. The problem is that my tiny Dopp kit is too small for a standard tooth brush. So I currently cut my toothbrush in half with a giant kitchen knife when I travel, and it's sometimes confused by TSA as a weapon. I need a new Dopp kit.
16: Fish Hat – I once caught a fish so big that I officially retired from catching fish shortly thereafter. I still put hooks in the water, I just don't catch fish when I do it.
17: Short-Sleeve Seersucker Shirt – Seersucker really is one of the best words I've ever encountered. (Who came up with that?) It's also one of the best shirt materials around. This could be my go-to summer shirt! Look out!
18: Navy Sneakers – If I had a pair of navy shoes, there would be a good chance of me accidentally putting on an entirely navy outfit from head to toe, which my wife would LOVE. Also, no laces, which I love. ;)
19: Navy Briefcase – Briefcases are weird little devices, aren't they? What would one carry in a briefcase these days? Isn't everything digital? I pretty much just throw whatever I need in the bottom of the stroller and hit the road, but I know not everyone is that fortunate, so here's an option for the strollerless dude. Who probably went to bars and stuff this weekend.
20: Adirondack Chair – As soon as I finish this post, my butt will be firmly planted in one of these chairs for the rest of the weekend. There is something so special about an Adirondack chair.
21: Navy Laptop Folio – Your guy sits on his computer all day, this much is true. But if you have anything to do with it, he can carry said computer around in a cute little pouch.
22: Short-Sleeved Button Down – I never learned to successfully roll up my sleeves. It is a major failing of mine. My sleeve rolls get all weird and bunchy. It seriously ruins my day and I end up asking Kelly to fix them. Soon, I'll be asking Emma.
23. Proper Suit Bag – Placing a piece of clothing in a bag and jet propelling it across the country without wrinkling is no small task, but this thing will do it no questions asked.
Other notable sales (from Kelly)
Sale details: The Nordstrom Half-Yearly sale has begun! It's running until June 3rd, but pounce if you see something you love, as products tend to sell out quickly. View my extensive guide to shopping the sale here. :)
My picks: I organized my picks into 13 categories: the classics, must-have accessories, date night, "work from home," lounge and sleepwear, travel staples, "summer-ready," wedding guest, weekend casual, backyard BBQ, workwear, beach and pool, and "for the fall." Here's my whole guide to shopping the sale.

Sale details: 50 percent off everything (including clearance and new arrivals) with code "WINWIN." Can't beat that. Did you see my J.Crew Factory feature?! SO EXCITED!
My picks: This seersucker bow-backed dress, this pleated jacket, this navy ric rac dress (and the matching ric rac jacket) are high on my list. (And how cute is this navy striped t-shirt dress?) Favorites from my personal closet include this blue striped dress, this navy striped skirt, the huarache sandals, this striped bow skirt, the gingham sleeve navy dress, these chambray bow pants, and these "easy" pull-on dress pants.

Use code "GETAWAY" to take 40 percent off your order. Discount code applies to products that normally don't go on sale, which is so nice!
My picks:
Right now, I'm SUPER into basics and staples, and J.Crew reigns in this department.
The all-star of the J.Crew sale, in my opinion, is the Everyday Cashmere Sweater. (OMG.) It almost never goes on sale, and it's currently 40 percent off, making it super affordable. I'm truly obsessed with it, and I wish I had like 15 of them, haha. The quality and softness are off the charts, and I reach for them constantly. I will say, however, that they run small. I like my sweaters slightly oversized, so I went up to a size medium. But I'd recommend going up at least one size unless you like your sweaters very fitted. :)
Also, the Regent Blazer in Camel is BACK. I know it's summer, but definitely grab this for the fall before it sells out. I can't tell you how many readers email me asking me for it come September/October!
My other must-haves (all of which I wear on the reg) include:
The Easy Pant in linen and crepe, this white button-down (size up!), the v-neck camisole (looks like silk but it's machine-washable), the red-and-blue striped boy shirt, the chambray button-down, the amazing sweater blazer (I have it in camel and light pink!), the classic jean jacket in denim and white, this striped tunic, the classic multi-strand pearl necklace, and my favorite pajamas ever.
In my cart? This drapey top, this navy shirt dress, and these leopard sandals. <– Kind of crazy but I love.

Sale details: Up to 50 percent off the sale, which includes over 300 new markdowns. No code necessary; shipping is free!
My picks: Tuckernuck's Memorial Day Sale is AH-MAH-ZING. The winner has to be the red tote, by the same company that makes the famous one-size-fits-all striped top. (It's not on sale but GET IT. It's fabulous, and without a doubt my most-worn striped shirt.) But I'm also nuts about this little lace dress and all the Barbour on sale! Also loving this MDS Stripes dress, this essential striped button-down (in solid blue, too!), this gorgeous white dress, this navy Rebecca Taylor dress, these Sperry duck boots (SO comfy!), and this beautiful embroidered skirt.

Sale details: Up to 40 percent off the sale section, which was just updated. I went through most of it, and it's QUITE good. ;) Shipping is freeeeeeeee and if you have Amazon Prime, your stuff arrives in only two days.
My picks: This gingham jumpsuit without the tee underneath, these cork sandals which I own (!), my navy stripe bathing suit (size up!), these woven mules, all the Mar Y Sol bags, these Madewell mules, this super affordable bag, and this sweatshirt dress.

Sale details: Take 20 percent off your order with code "SUMMER20."
My picks: This essential pullover, this striped dress (OMG), this nautical dress, this striped pullover (hoodie version here), the plaid shirt (you'll thank me during xmas), the classic boat tote, cozy mocs, the fleece vest (SO CUTE), my favorite fisherman sweater, my favorite marled beach sweater, the classic navy Bean Boots, and the shearling-lined Bean Boots which I'm OBSESSED with. (So much warmer and the comfiest boots I've ever owned.)

Sale details: Prices are marked, and the selection is AMAZING. Shop here!

Sale details: Use code "SAVE20" to take 20 percent off your order. This is HUGE!
My picks: As you know, I'm OBSESSED with Mark and Graham. (Did you know that it's owned by Pottery Barn?!) I have this Caitlin Wilson floral tote, this Elisabetta slouch tote, and this very affordable initial necklace with the "K," "M" and "E" charms. I also got this overnight bag for Mitch for Father's Day (shhhh; but it's fine because there's no way he's reading this, haha) and my eye is on the Terminal 1 luggage in white or navy. And then there's this straw bag in navy and white and this gold signet ring. Everything is just TOO good! Other faves above. :)

Sale details: Take up to 40 percent off.

Sale details: Take 20 percent off with code "WARMWELCOME."

Sale details: Take 30 percent off with code "6K2L."
I'm off to spend a little time with those grilled meats I mentioned above. Don't forget to enter the giveaway, and as always…
Mitch. Out!