Guys, thank you SO much for your kindness yesterday! We're unbelievably excited about our new home. (Though obviously far more excited about our new addition. 😉❤️) And your support over these crazy last couple of weeks has truly meant the world.
Today, I'm sharing a little house tour I shot with my phone the morning of moving day, before our stuff arrived. I originally took the photos so I could do before/after posts as we furnished and decorated, but I figured it would be fun to show the house in its entirety before any of that happens! The untouched space, if you will, along with initial thoughts on what we'd like to do with each room.
So let's get to it!
New Home Tour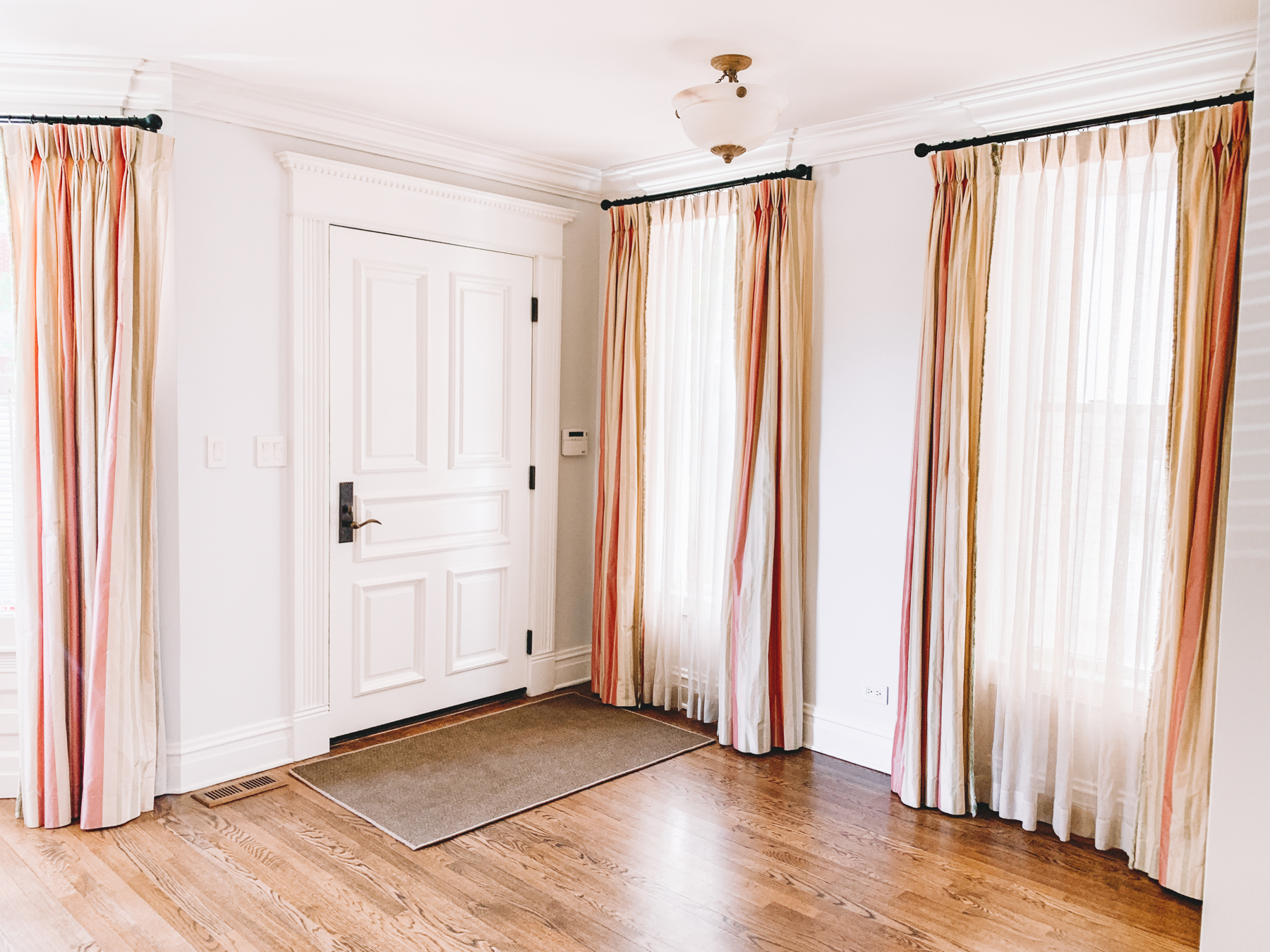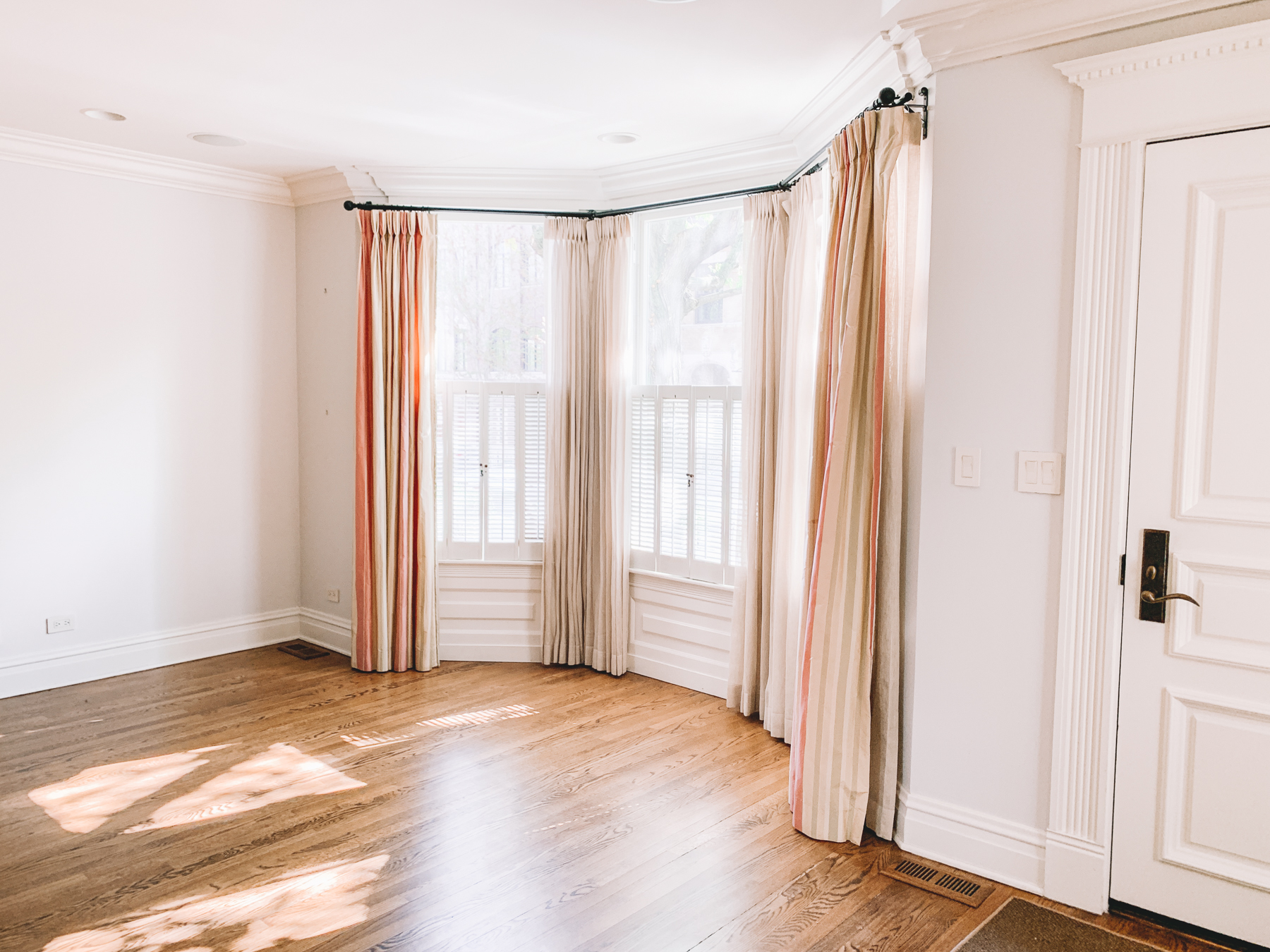 Entryway
I love the door, the bay windows, the plantation shutters, and the LIGHT. :) Right now, the plan is to put a grandfather clock between the two windows to the right of the door, and two upholstered chairs in the bay windows to the left. The striped curtains will eventually come down, but not sure what we'd like to replace them with yet.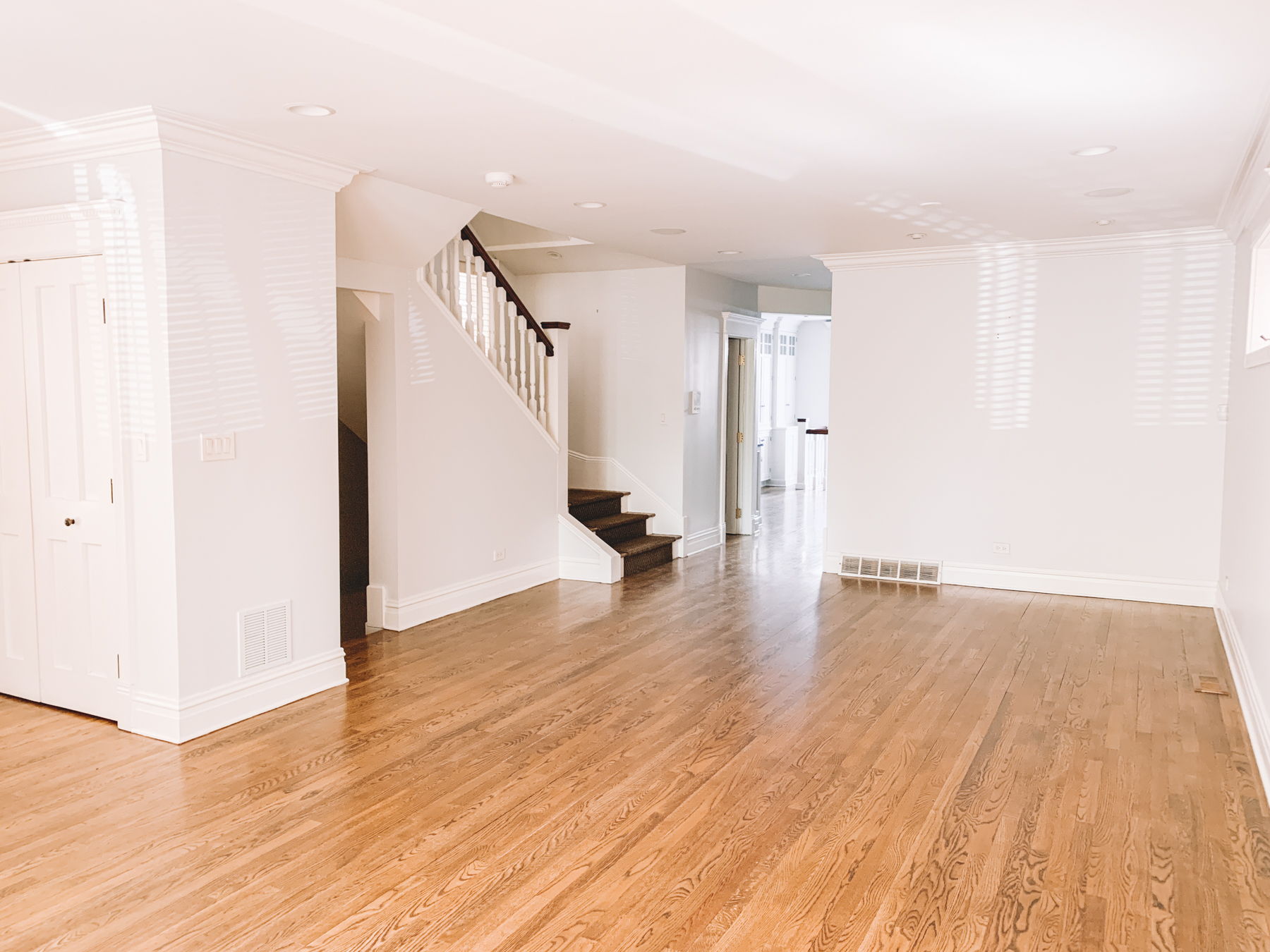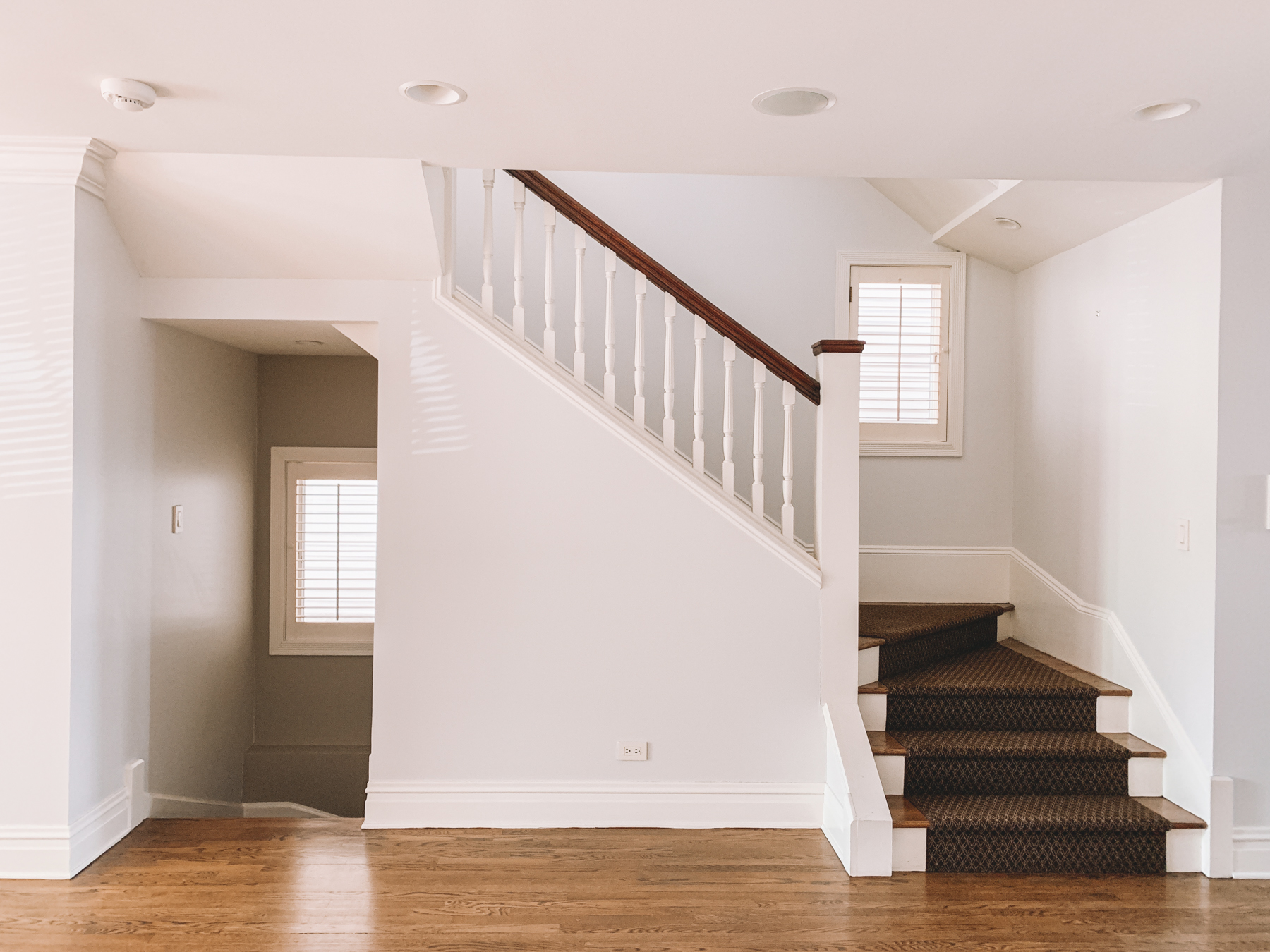 Living + dining rooms
Kira'a suggestion is to have a couch parallel to the chairs in the bay window of the living room, and then a round table in the dining room to break up the linear design of the space. (So jazzed about this idea!) We'd also like to install built-in bookshelves in both "rooms," kind of similar to what we built in our previous home.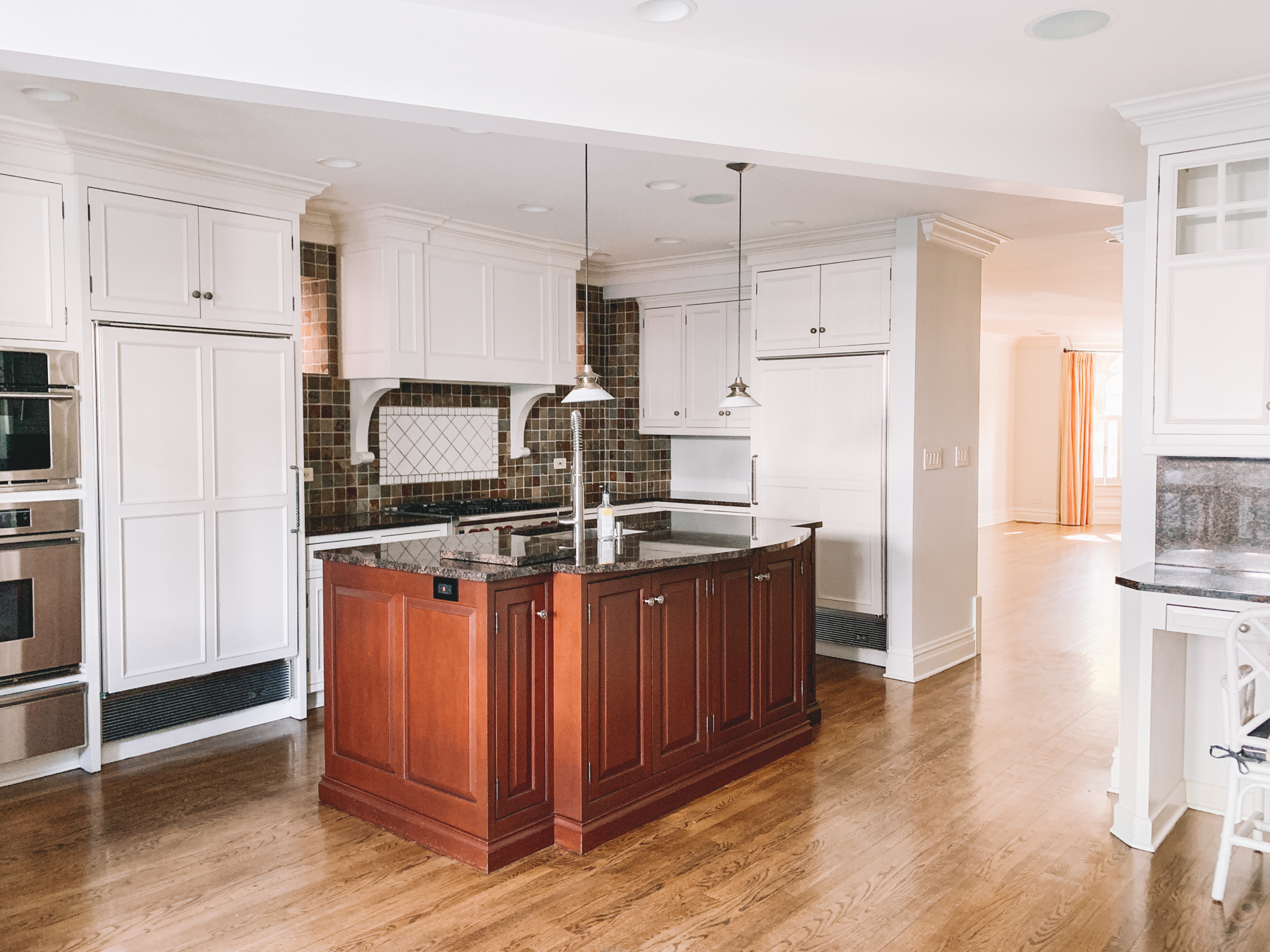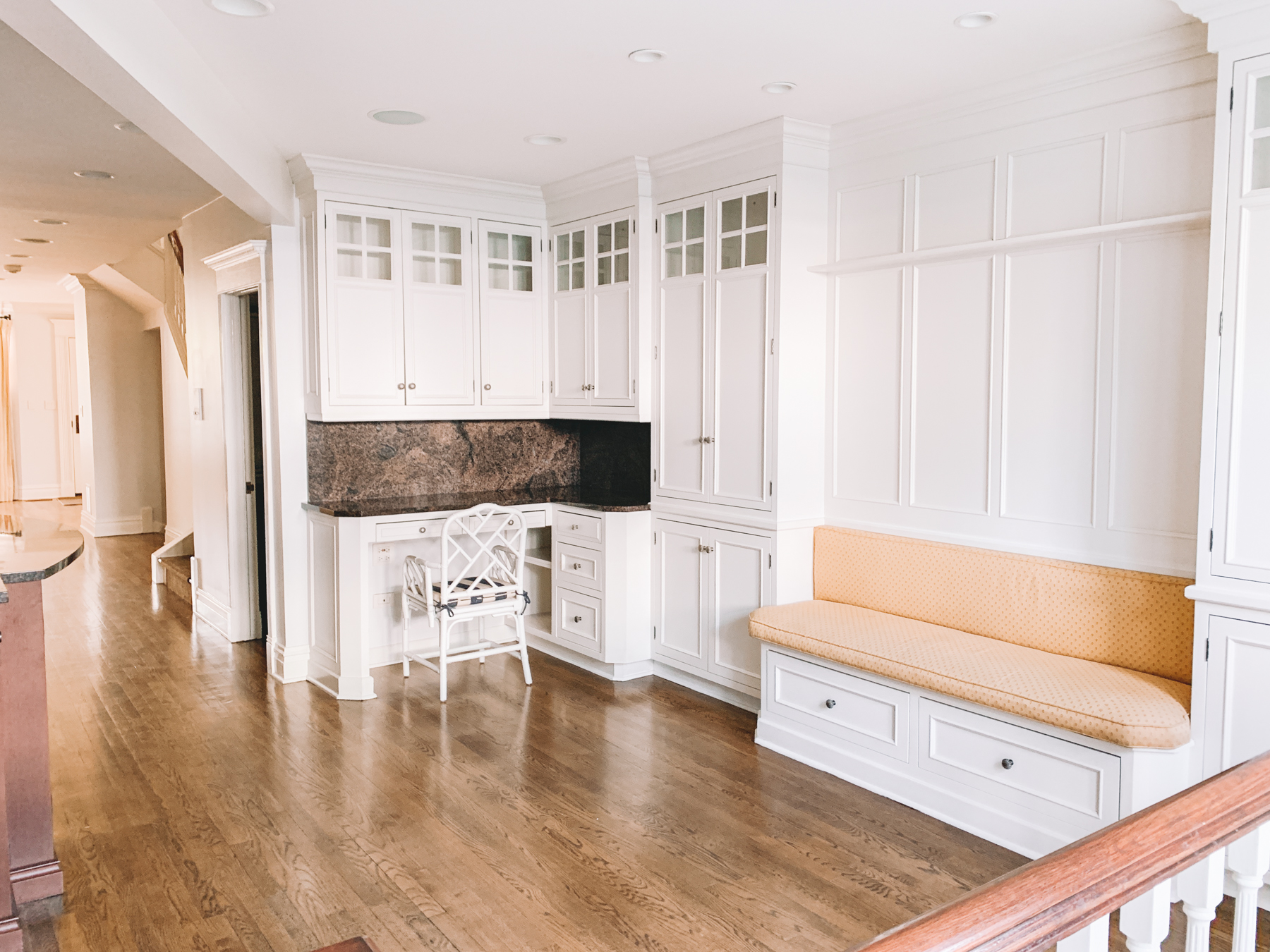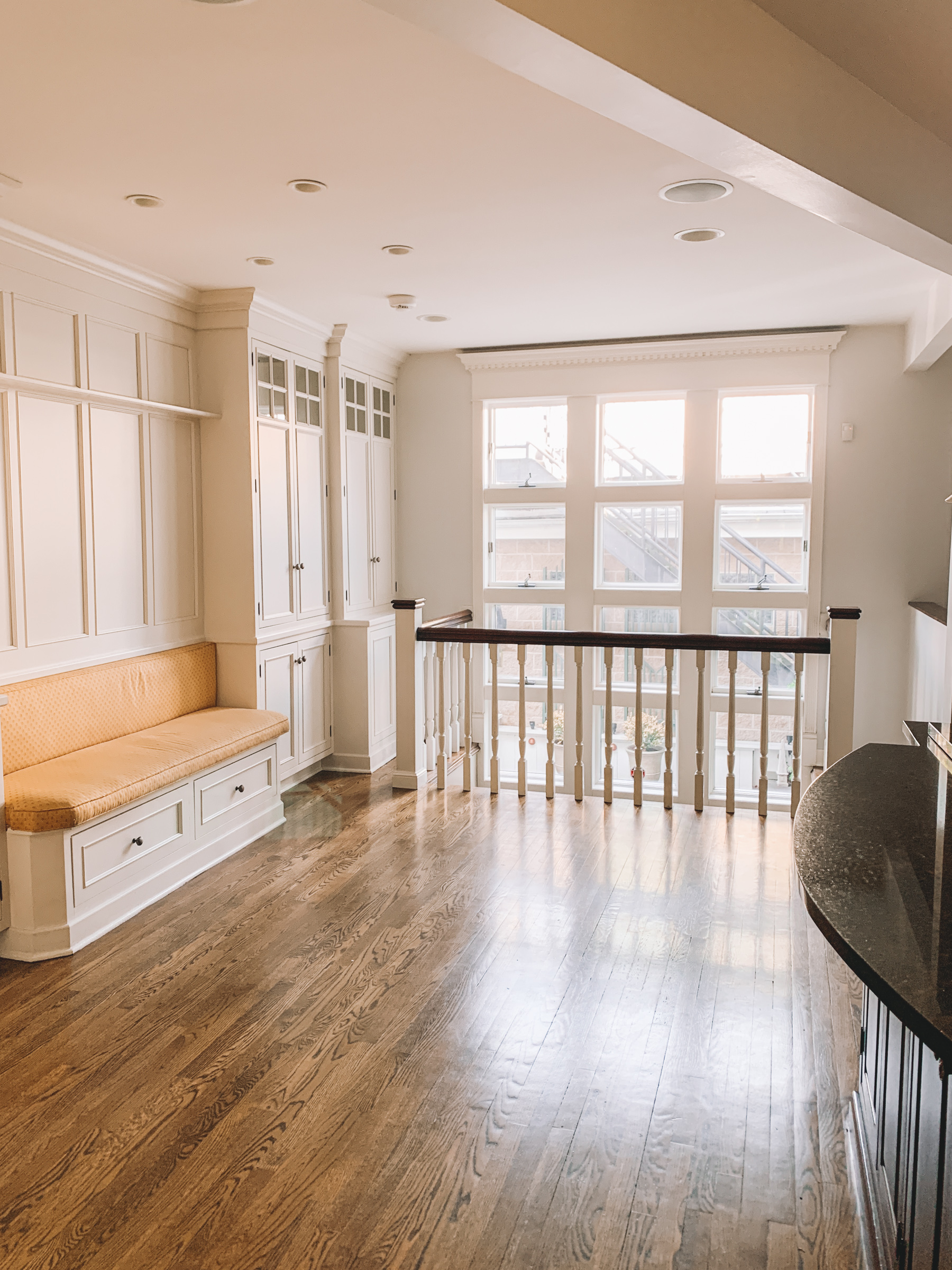 Kitchen
It was very important to us to find a house with a kitchen that didn't require a complete gut job, and I'm so happy that all we really want to do here is eventually replace the countertops and backsplash. (Though we're in no rush!) We originally thought we might paint the kitchen island, but we've since fallen in love with the dark wood and just want to embrace it. :)
That little railing, btw, opens up to the basement playroom area. We thought it was weird at first, but it's actually pretty great. The full wall of windows provide for SO much light on both levels, and people can talk to each other through the opening, which we think will be very useful when the girls are old enough to be down in the basement by themselves. We also love that there will be no secrecy when they're teenagers. ;)
(Come on. Don't try to tell me that bad things didn't happen in your basement when you were in high school, haha!)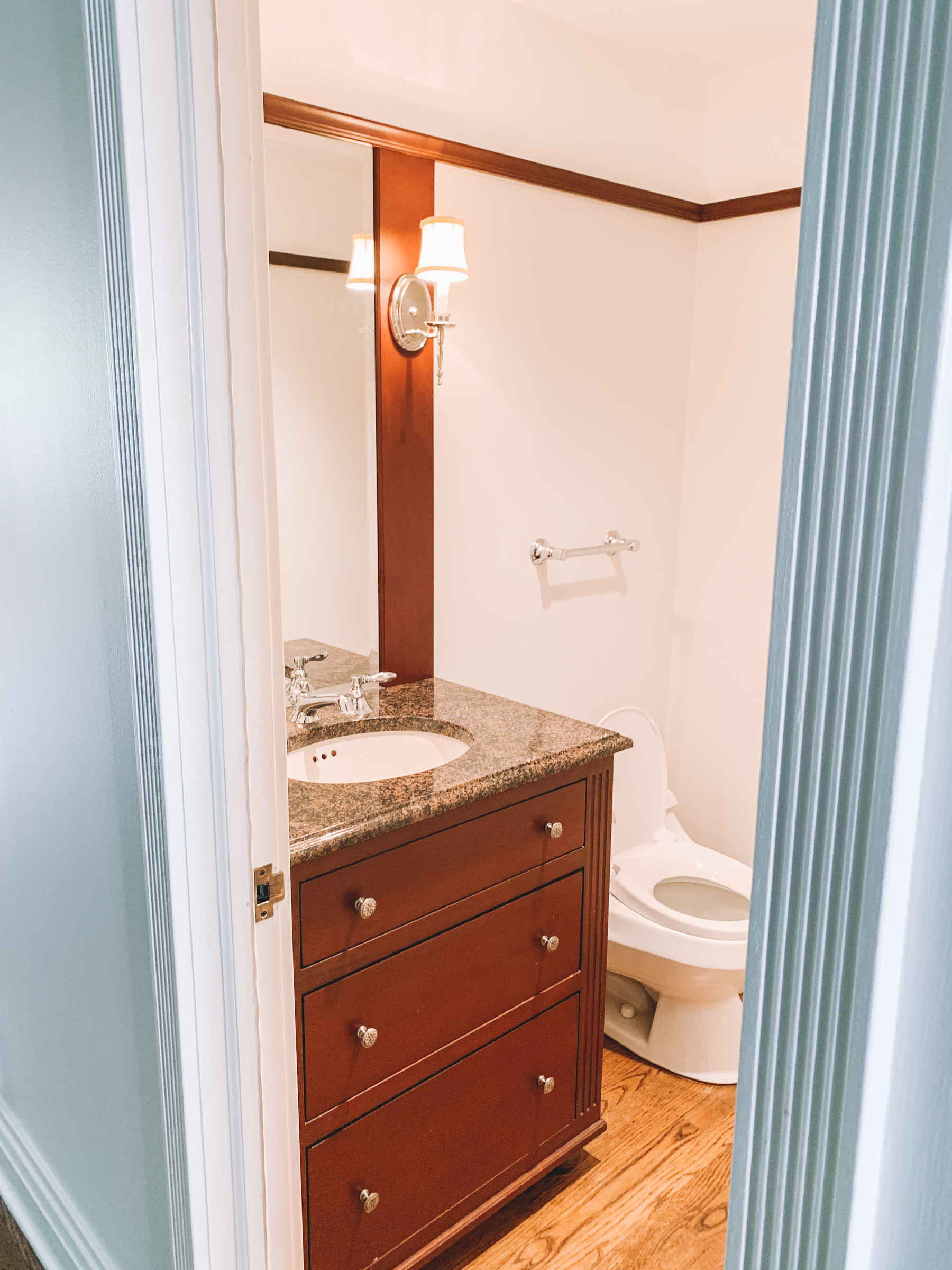 Powder room
I've had a few people tell me that we need to renovate this bathroom, but I don't know: I'm kind of obsessed with the dark molding and vanity, and think I'd just like to wallpaper (maybe green?!) and replace the countertop when we do the same in the kitchen!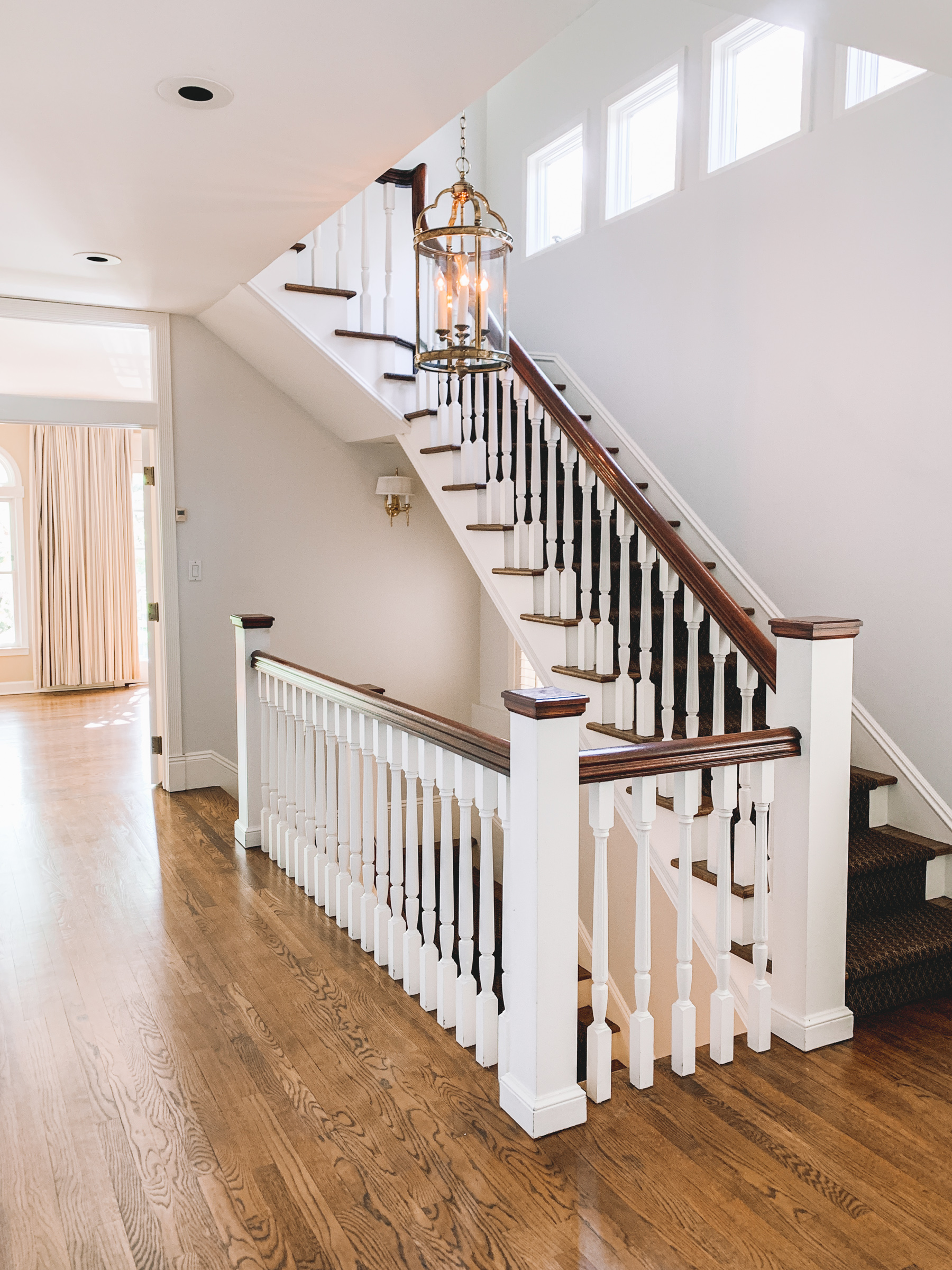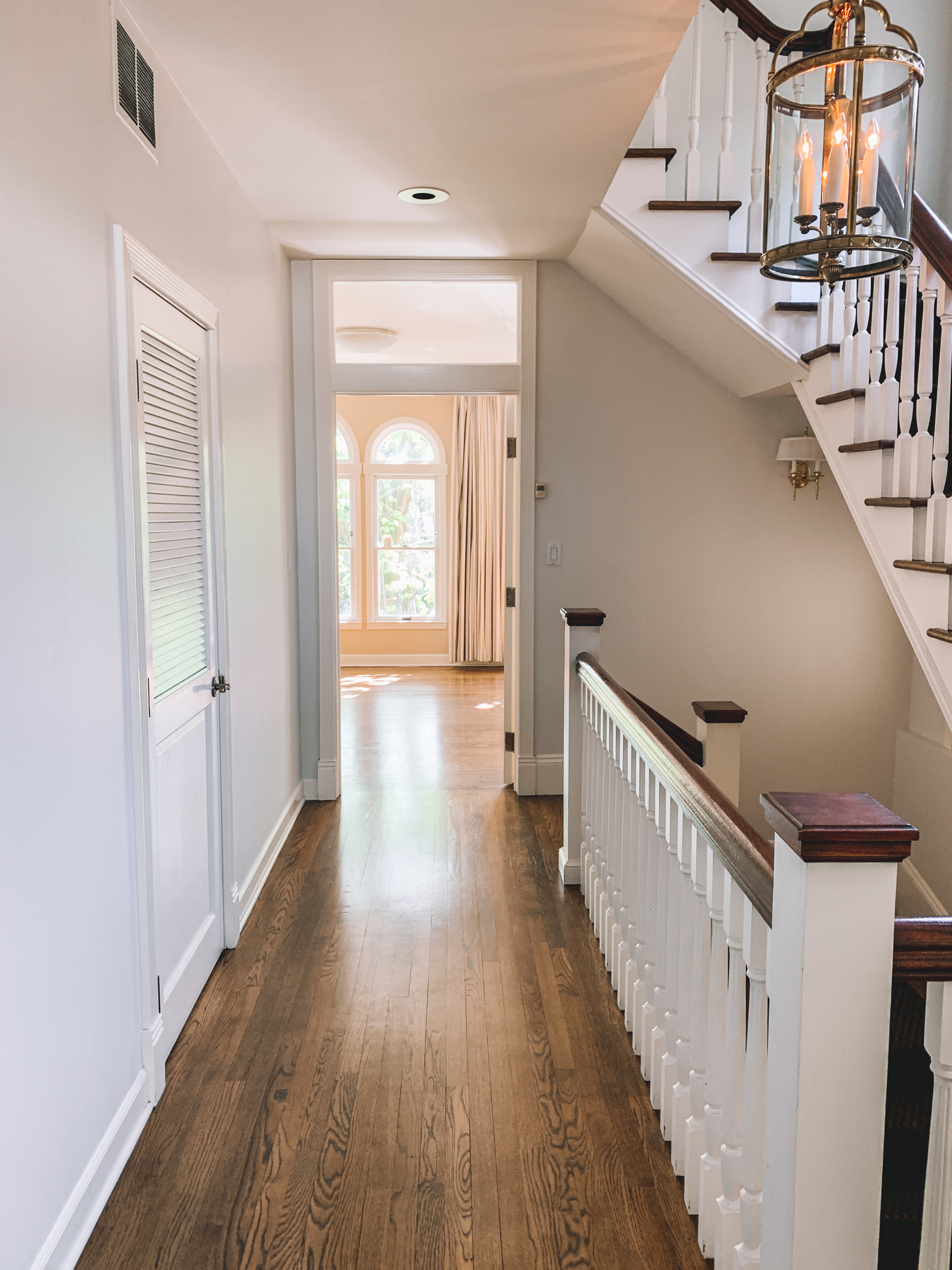 Staircase
Aesthetically, this is my favorite part of the house! I always thought I'd want a super traditional staircase–you know, one that greets you right when you step inside the home–but I think this one has so much character! I can't wait to decorate the landing, and string a whole lot of garland up the railings during Christmas. Also toying with the idea of one day wallpapering everything. Maybe stripes?!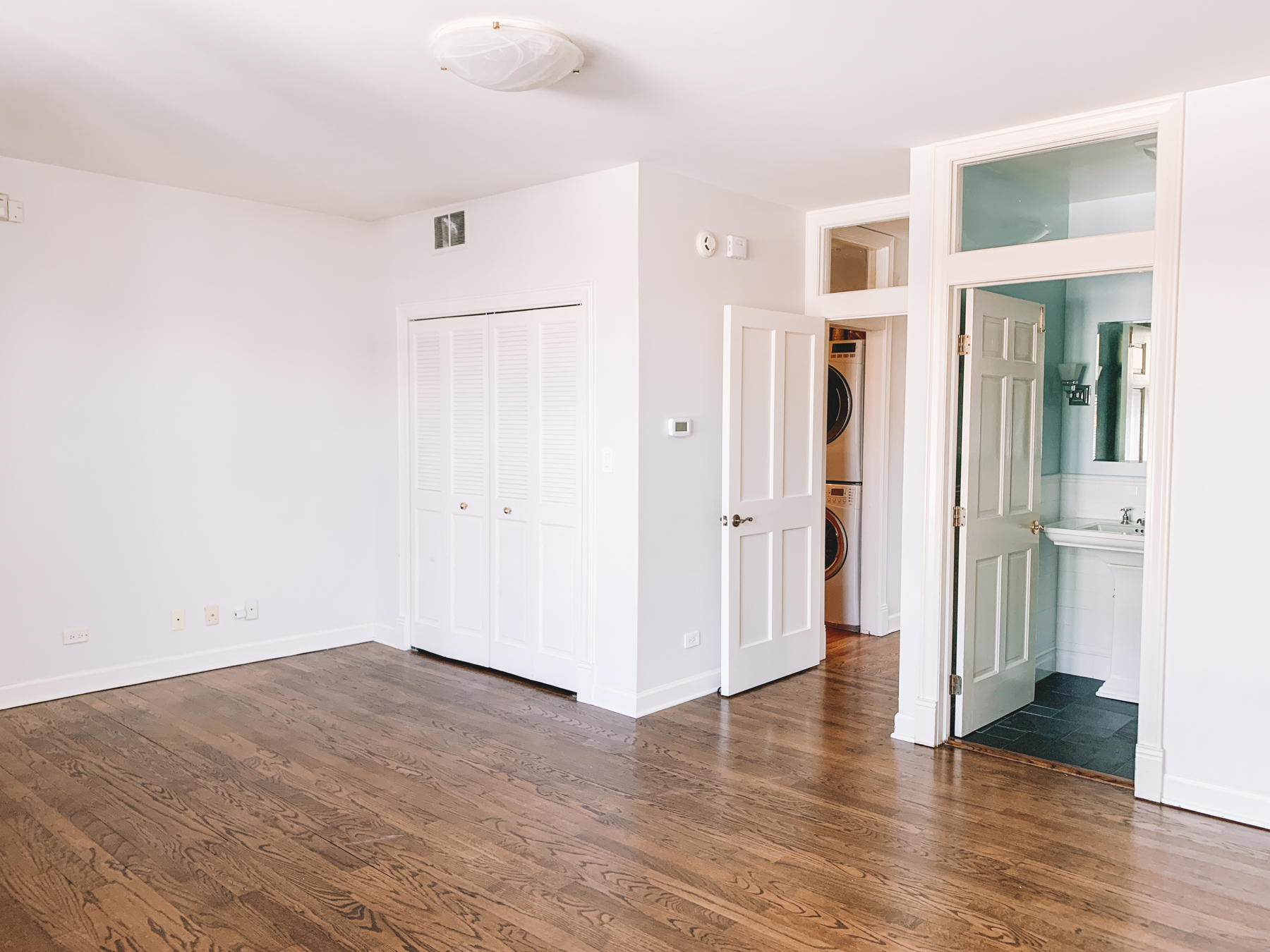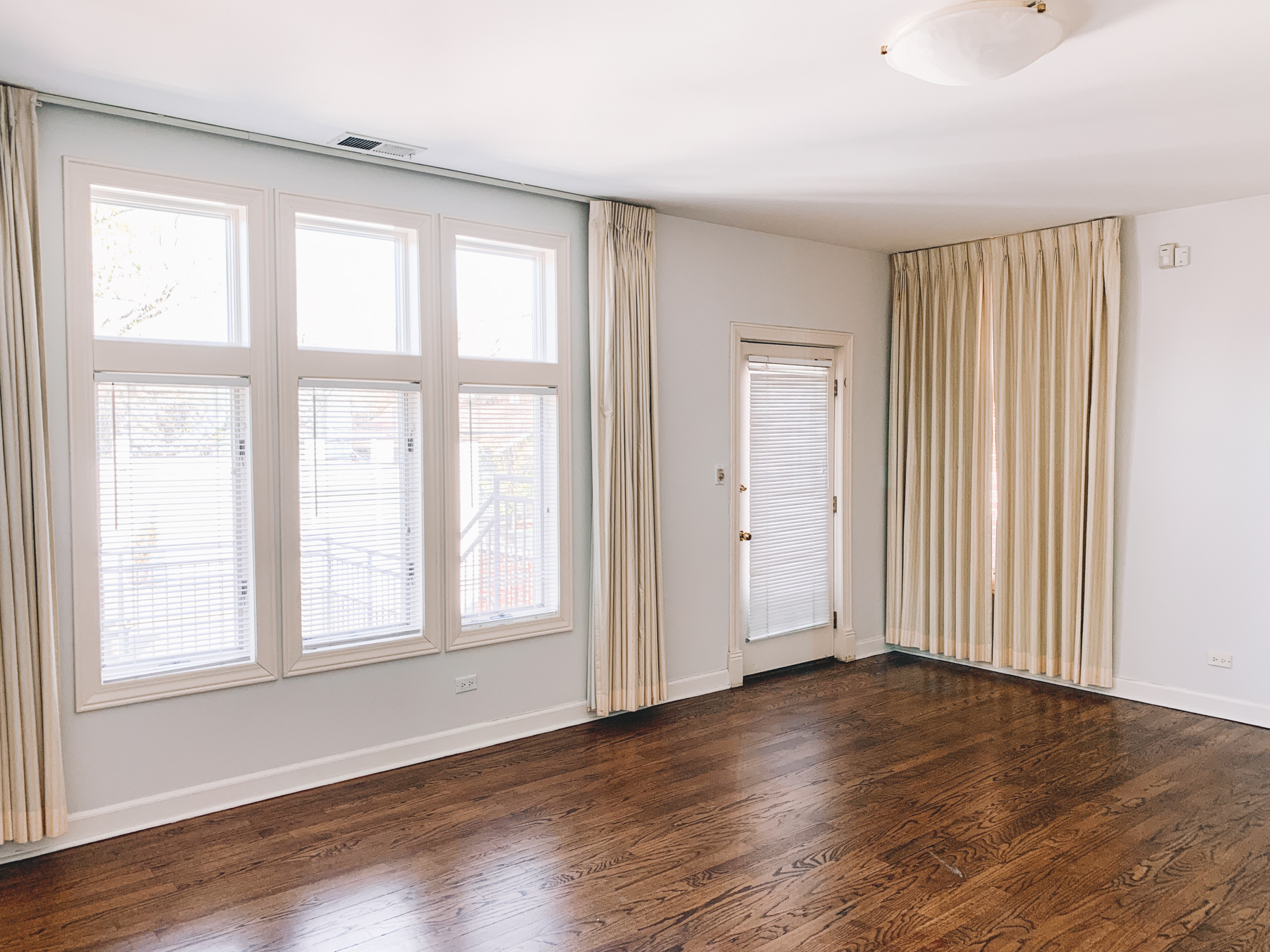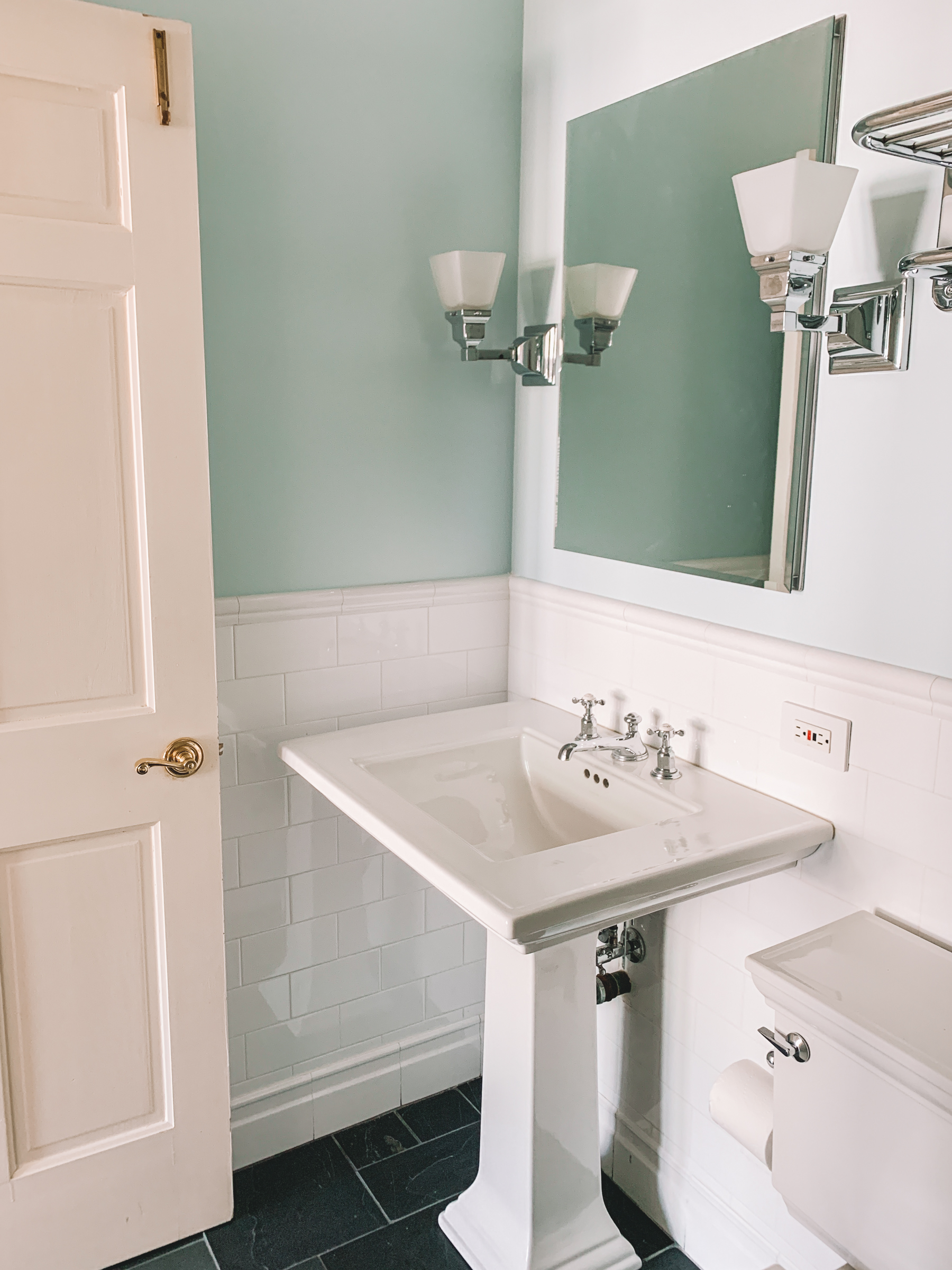 Lucy's room
Both girls' rooms are exactly the same size, though Emma has more closet space since her room was originally the master before the attic was renovated. I love the natural light, the windows and the bathrooms; can't get over how great this will be for guests and also for when the girls are teenagers!
But yeah: No design ideas for Lucy's room yet. At the moment, I'm more focused on getting her to sleep longer than two-hour stretches. ;)
Laundry room
A whole lot of potential here! I'm pretty much married to this wallpaper by Sara Fitz. (And then installing some nicer-looking shelving/countertops, perhaps, and covering up the mechanical stuff? DOWN THE ROAD.) The best part about this room, though, is that it's right between the girls' rooms, making laundry enjoyable and SO much easier! I'm constantly throwing loads in whenever I think about it, and I never fall behind like I used to.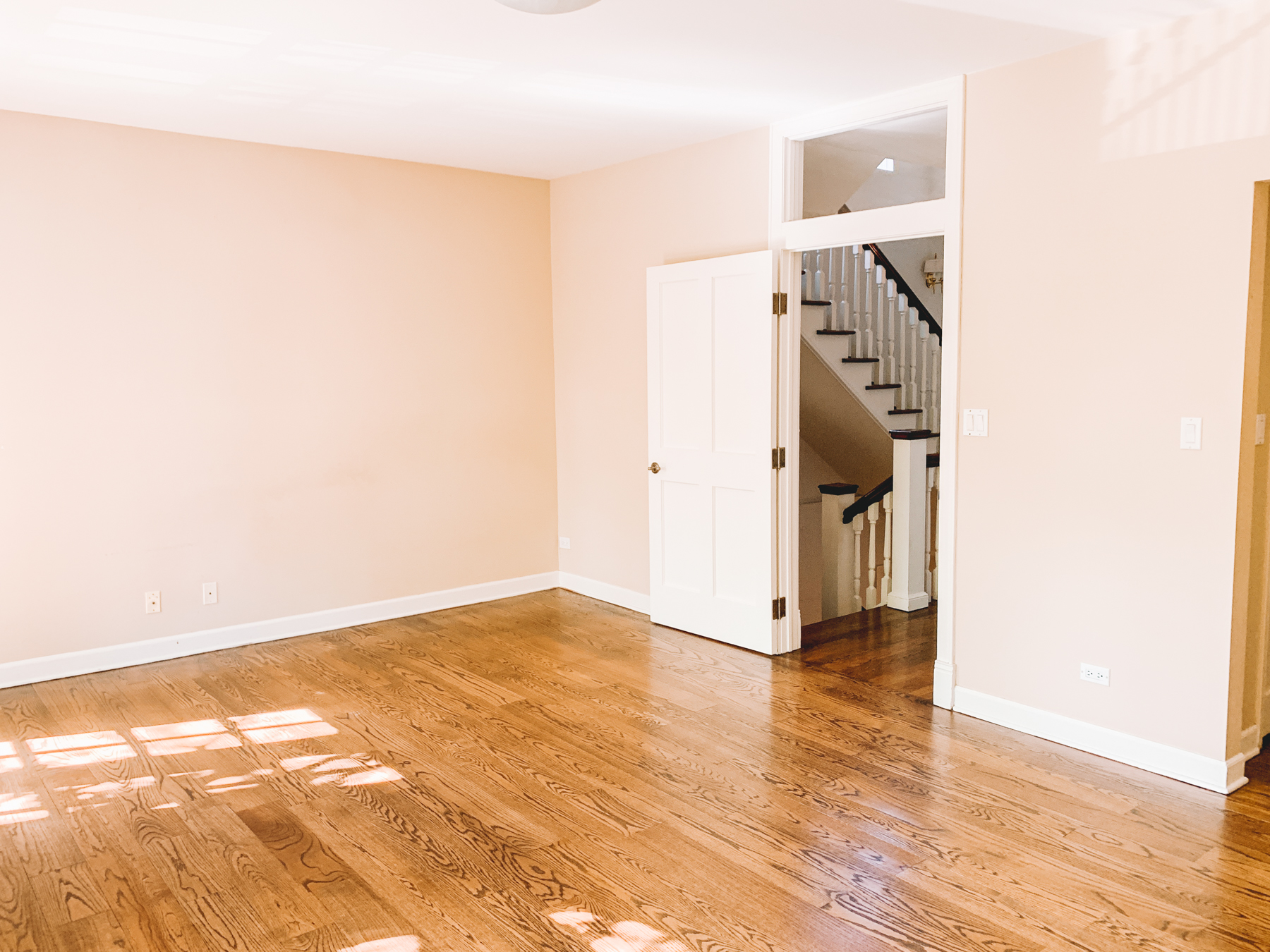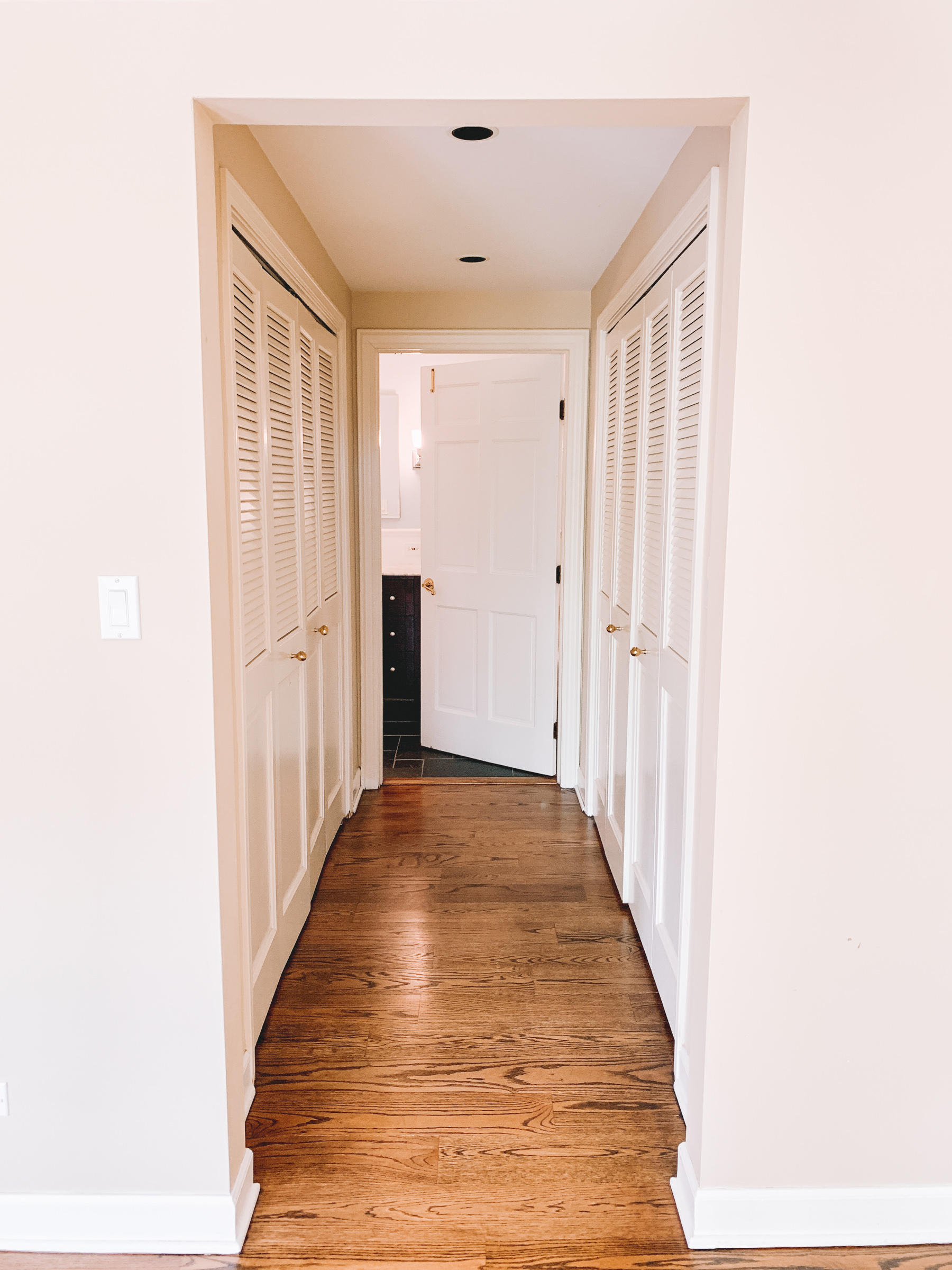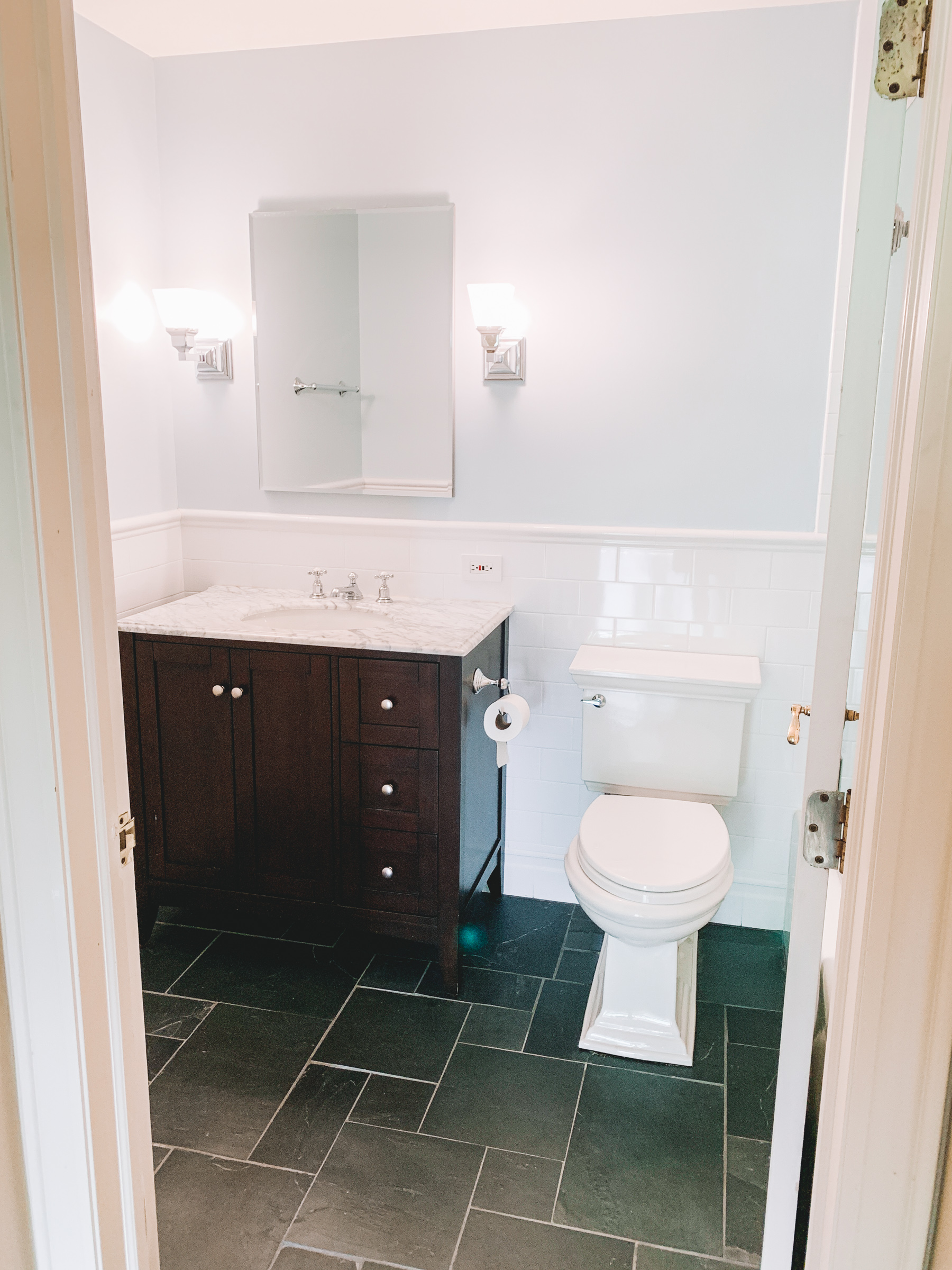 Emma's room
Big plans here, as Emma and I have been discussing for a while now. ;) Pink flowered wallpaper, wainscoting, and a canopy bed. Oh, and a little palm tree from Home Depot that Emma fell in love with recently when we were picking up some essentials there. There's a lighting fixture hookup, too, which I'm pretty pumped about.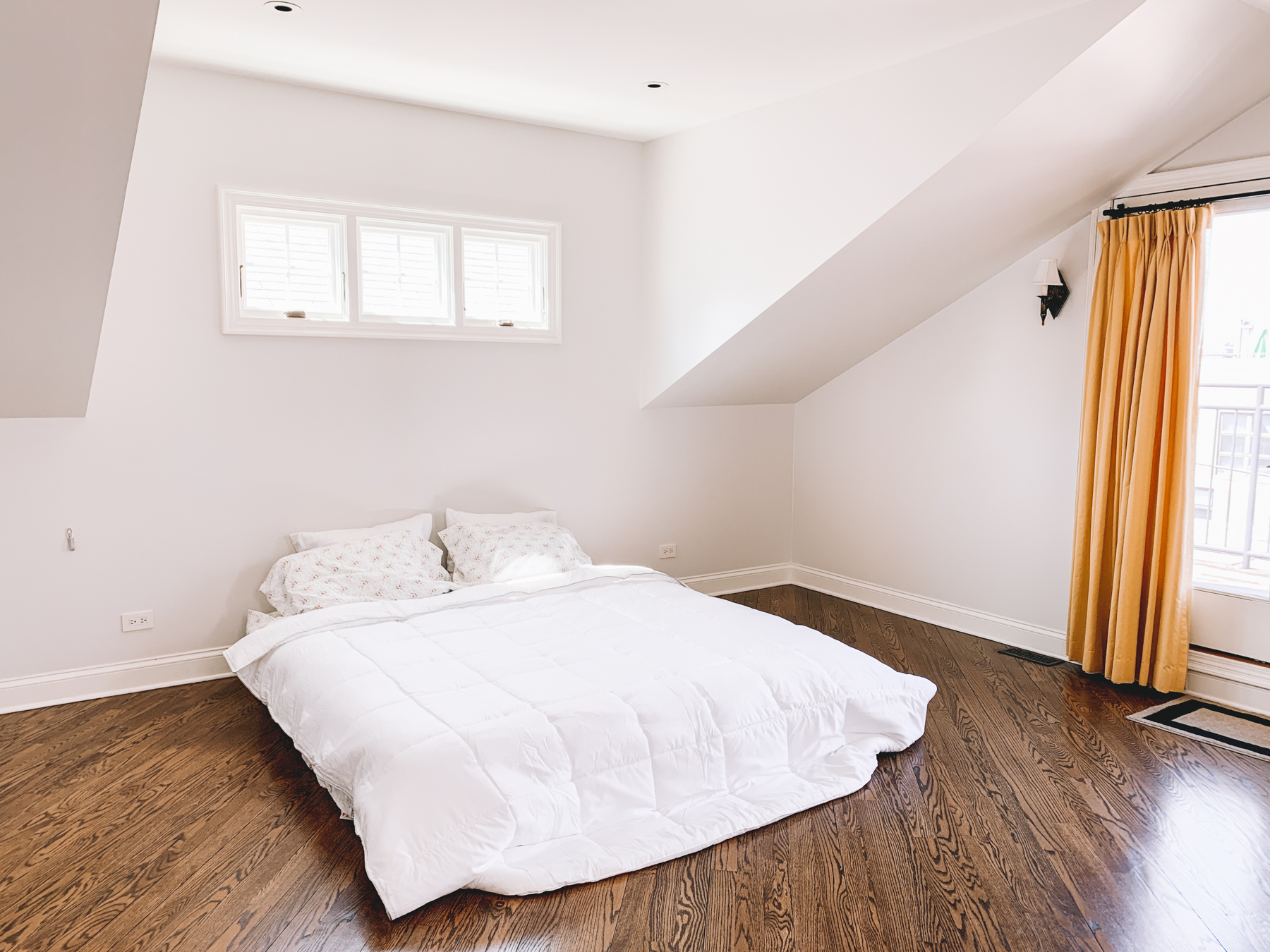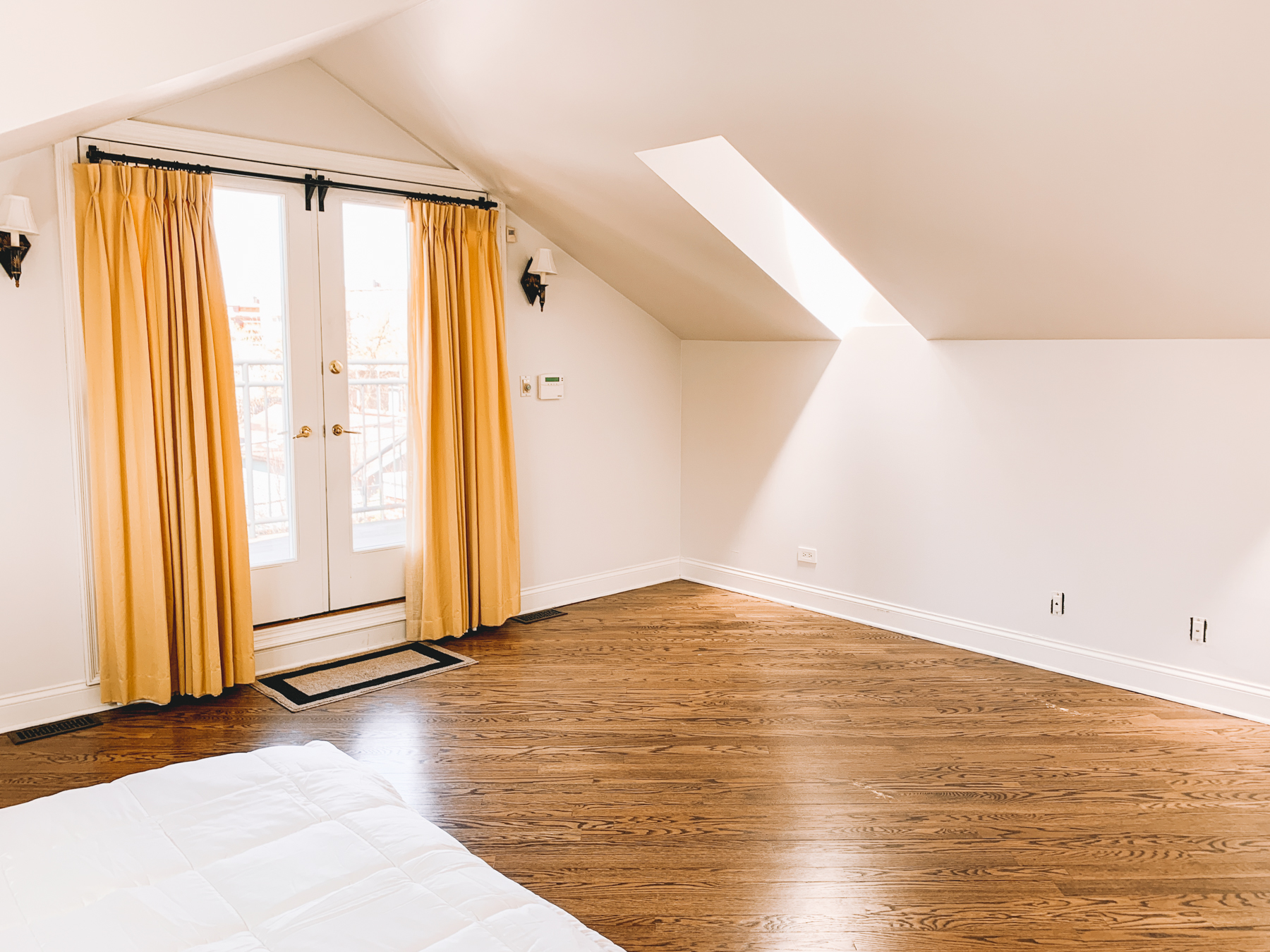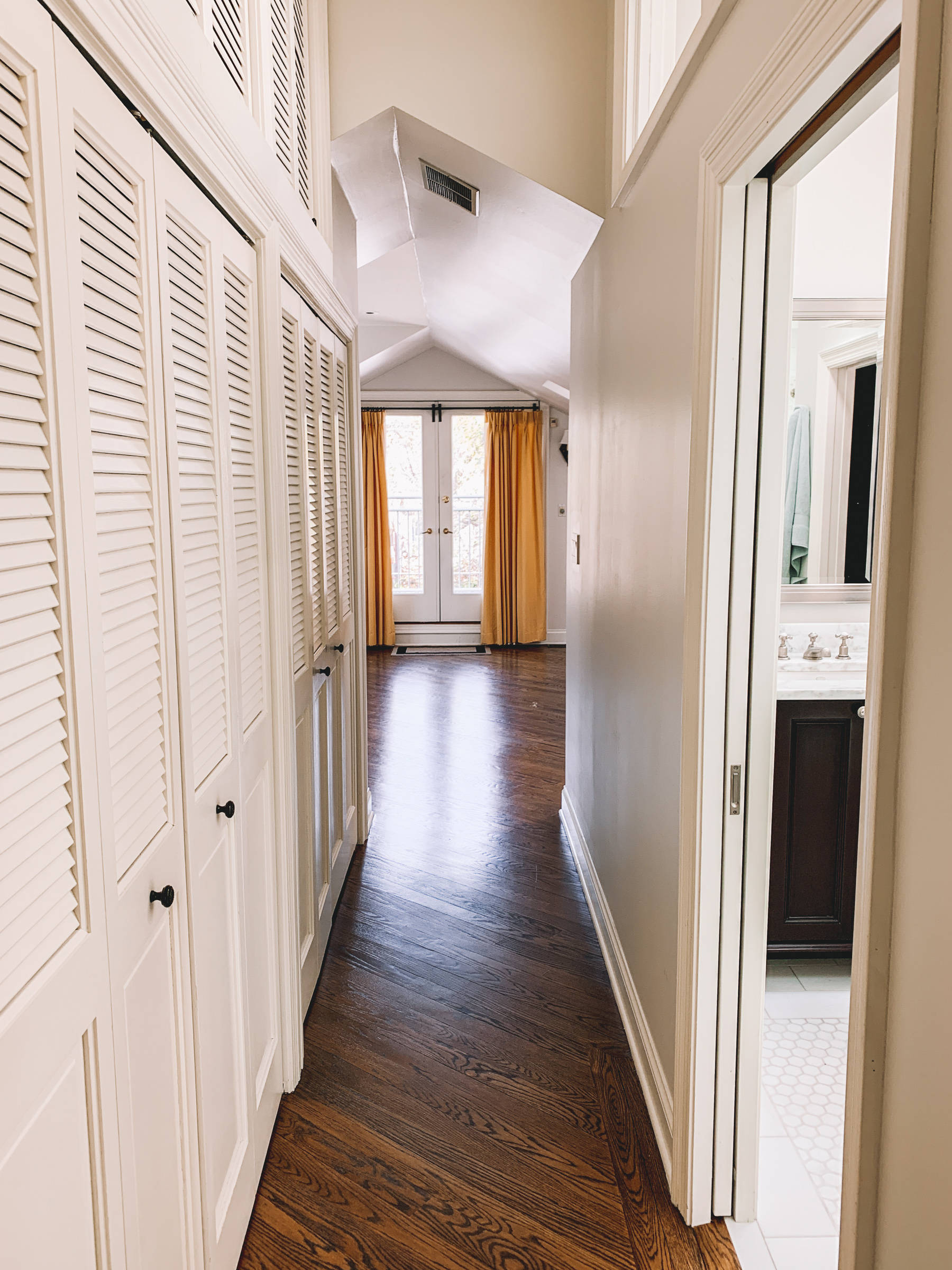 Master bedroom
Again, this was the attic! The previous owners dormered it out, and we love the ceilings. :)
A cute story: Allswell (where all our mattresses are from!) graciously sent us a King-sized bed so we could sleep at the house after we closed. Thank you, Allswell! That made things extra special, an WOW: who knew sleeping in a king was so awesome?! (Everyone but us, I presume.)
One little issue with the master is the dresser situation. Mine fits, but Mitch's is too tall with the ceiling height. Kira's suggestion is to one day do a wall of built-ins with drawers opposite from our bed and we LOVE that idea. For now, though, we're just sharing a dresser!
Oh, and I'd love to wallpaper. (Shocking.)
As for the bathroom, no plans to do anything to it! Adore. :)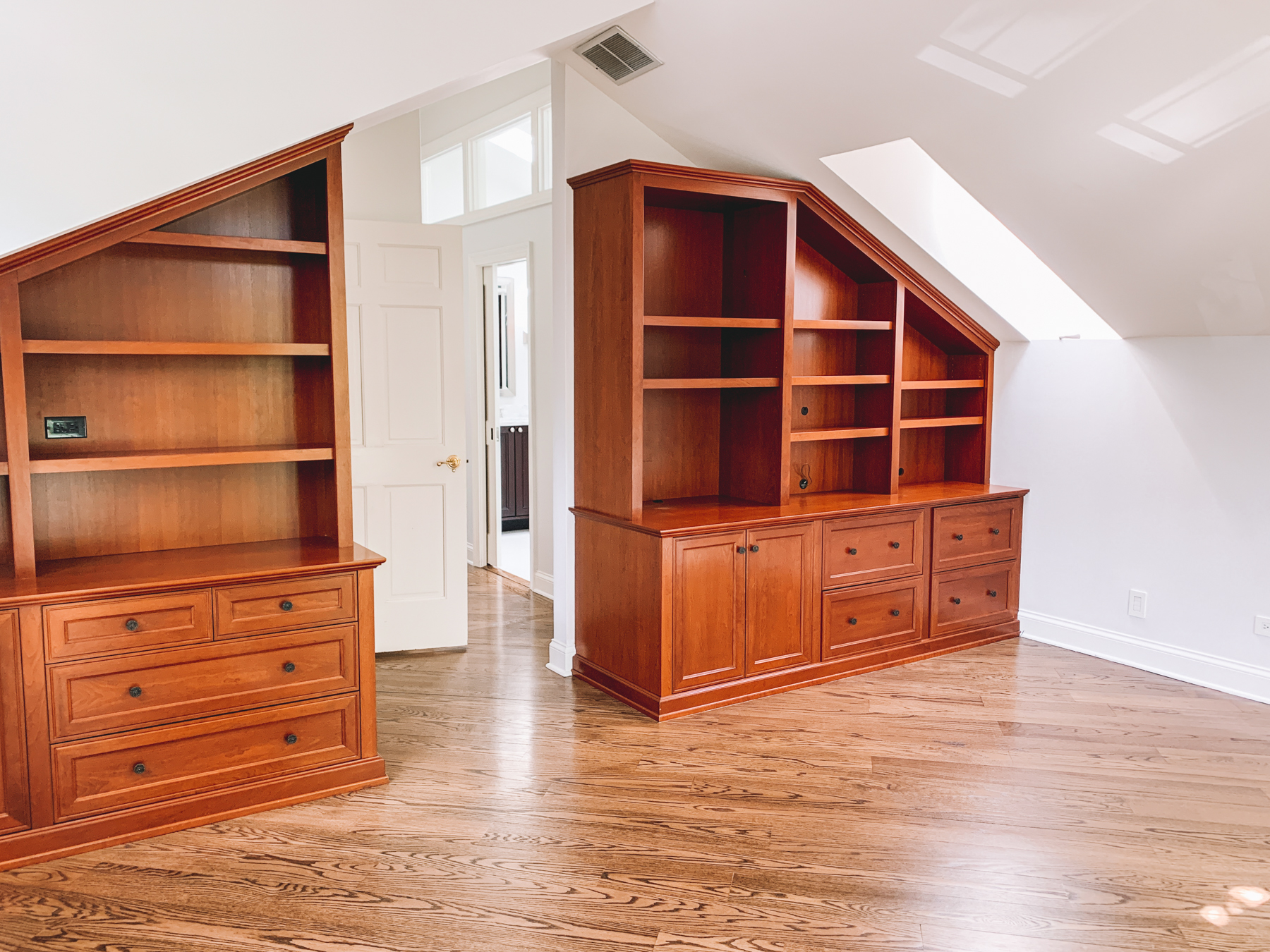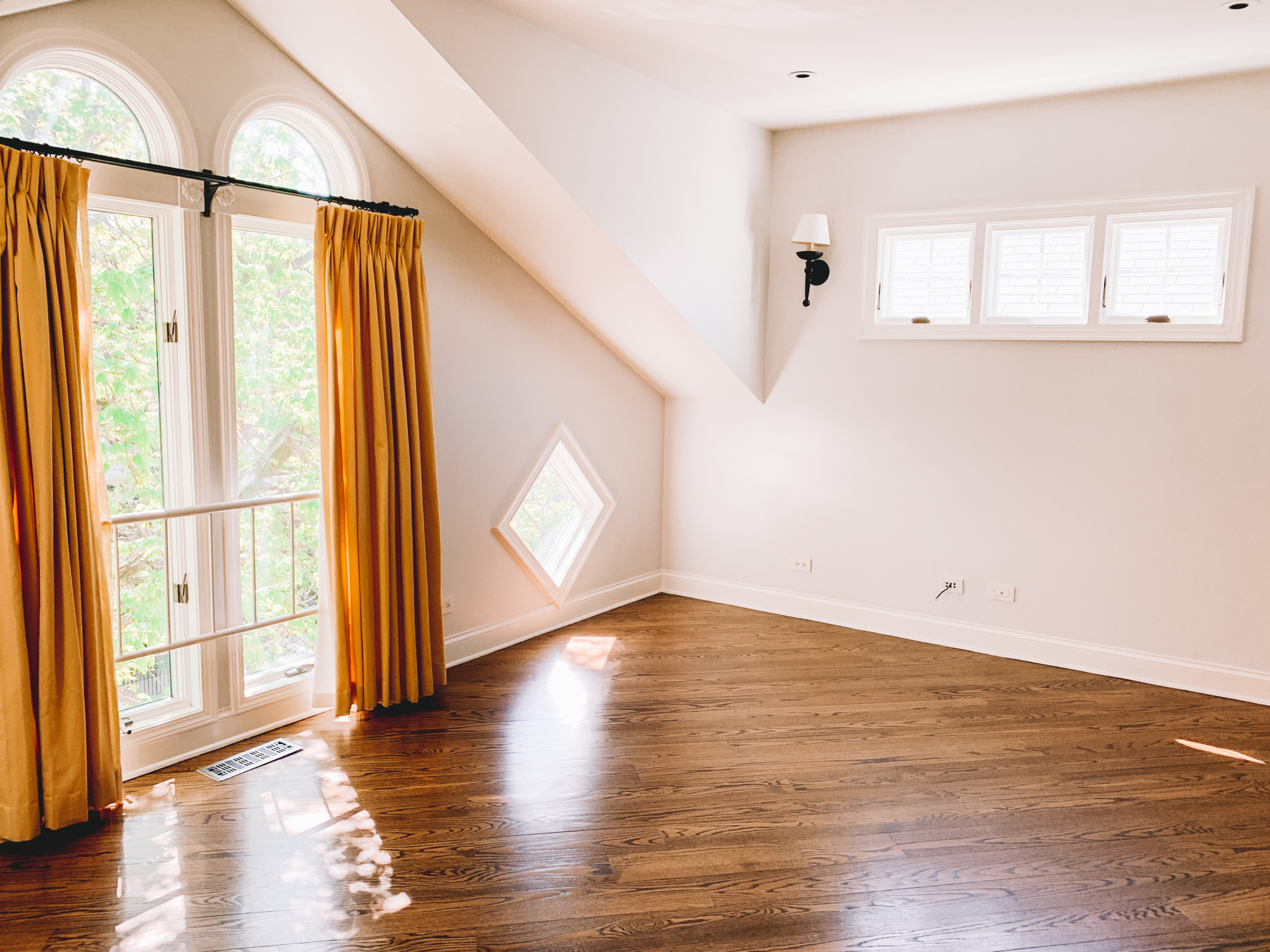 Office attached to master
This was a major selling point for us. I struggle with Seasonal Affective Disorder, and I'm very affected by light. This room is super bright throughout the entirety of the day, though, and I can't believe that I get to work here! I think I'm going to be partnering with Brooke and Lou to decorate it, and I'm thrilled about that! Such a dream. The bookshelves are staying dark, btw! Curtains will likely be replaced. ;)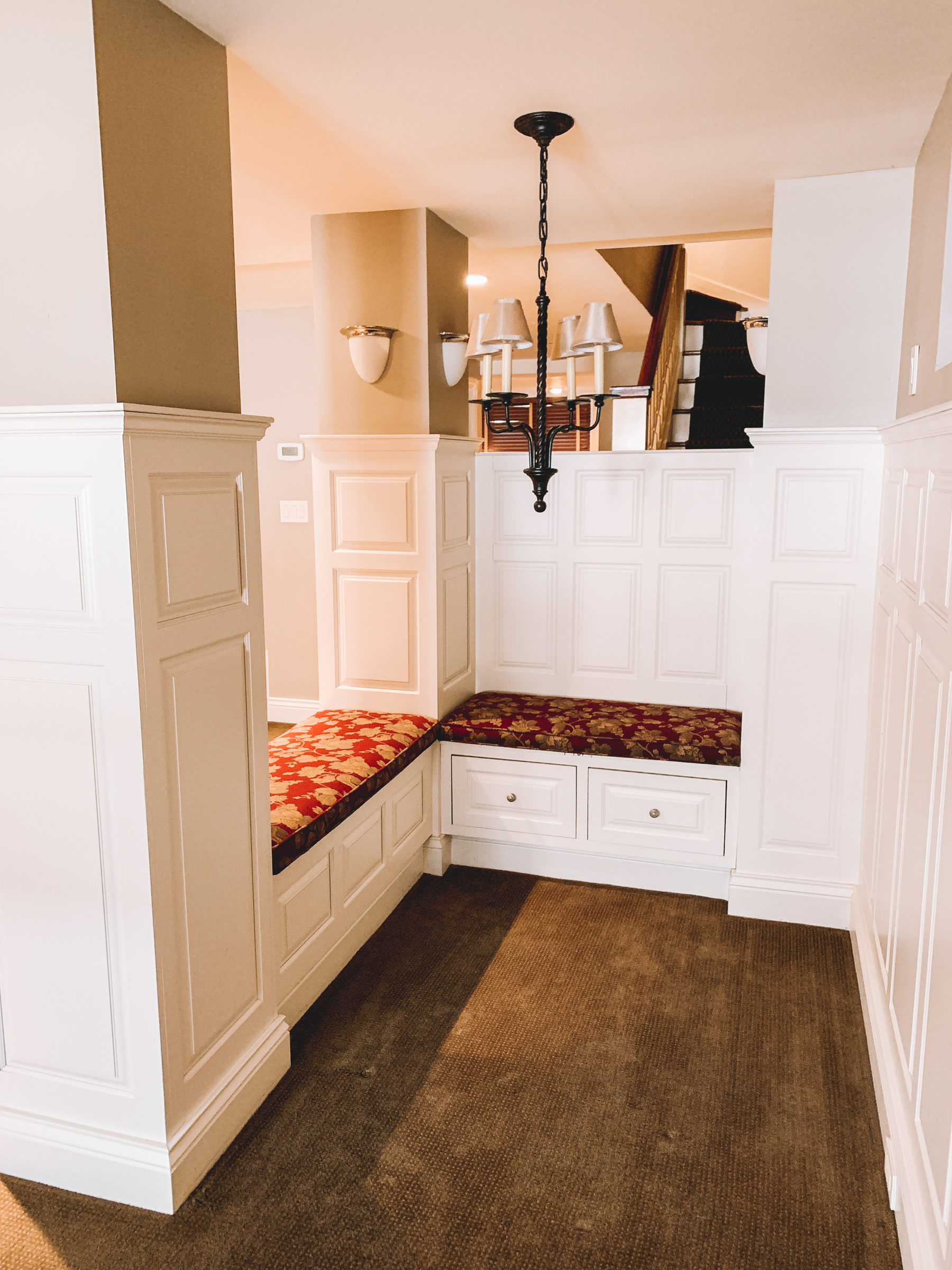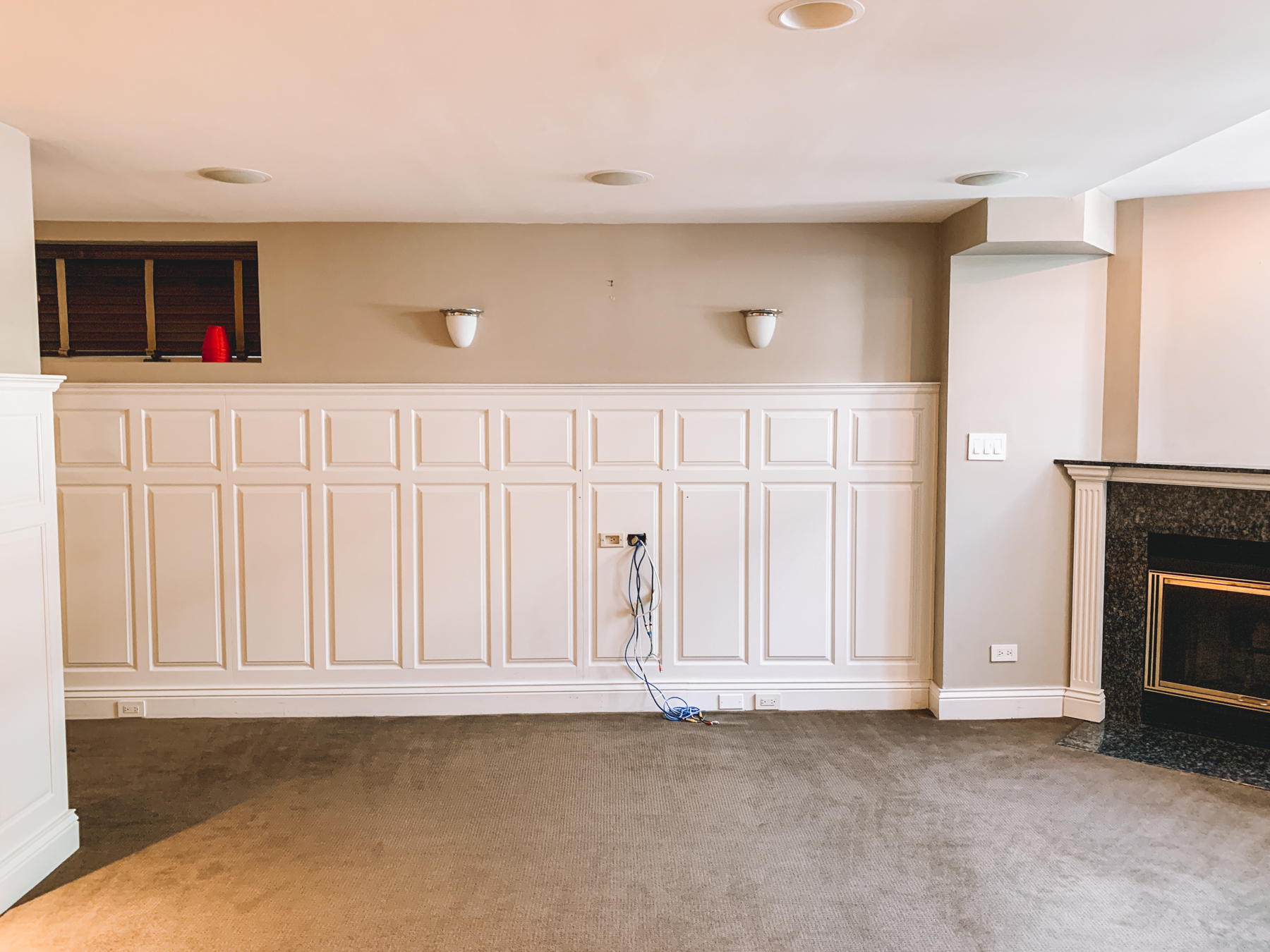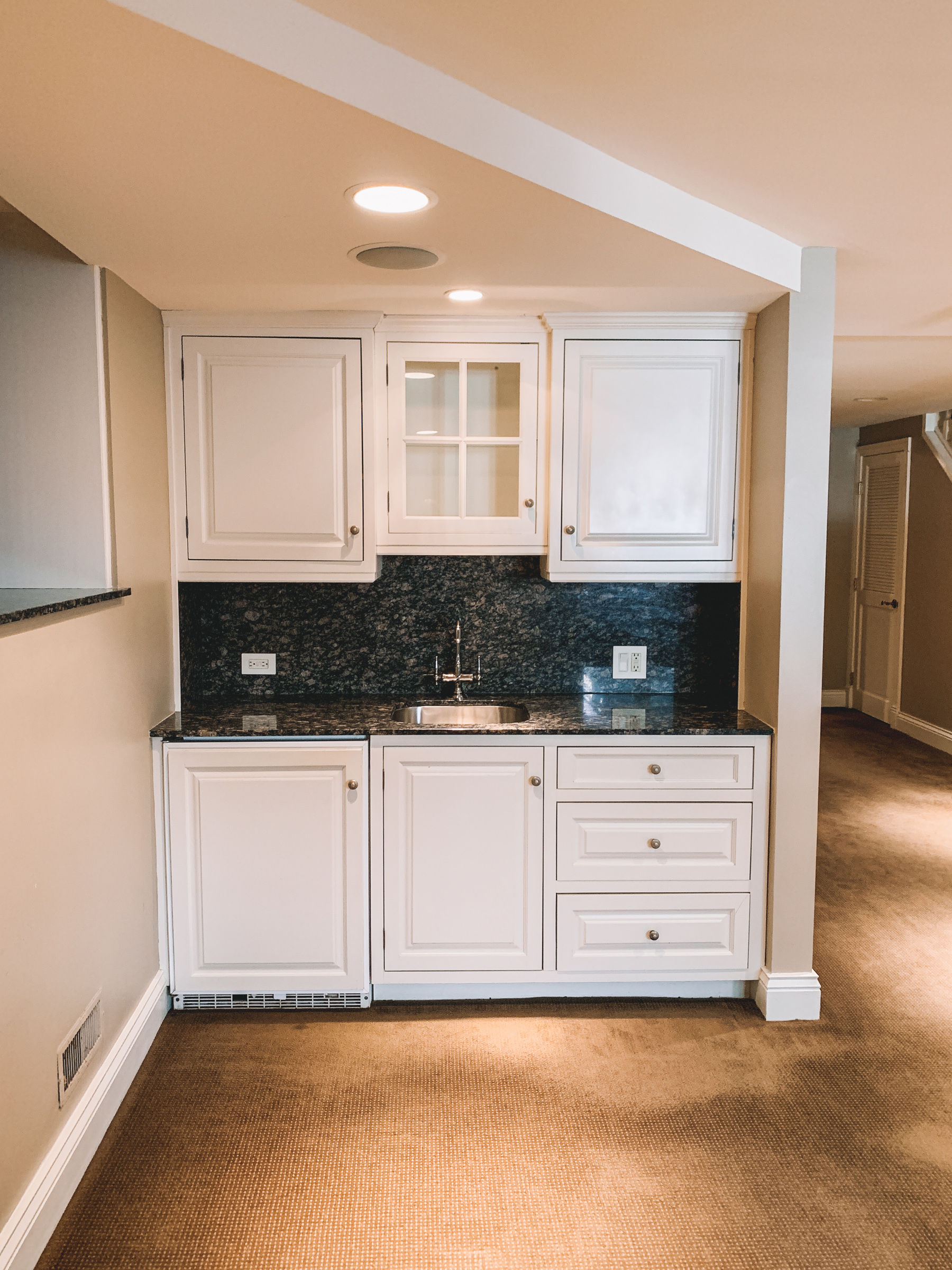 Basement playroom
Holy goodness, guys. This has already had such a huge impact on our happiness, haha. All the toys go down here, and Emma is in HEAVEN. It's removed so much stress from our lives!
In a few years, once the girls stop falling, we'd like to put down tile that looks like wood… but for now, the carpeting–which admittedly doesn't look great in pics but is in great shape in real life–is a godsend with little kids.
And that nook is the cutest! Right now, we're using it for Emma's kitchen toys, but down the line, wouldn't it be a great arts and crafts/puzzle area?! Just need the right table.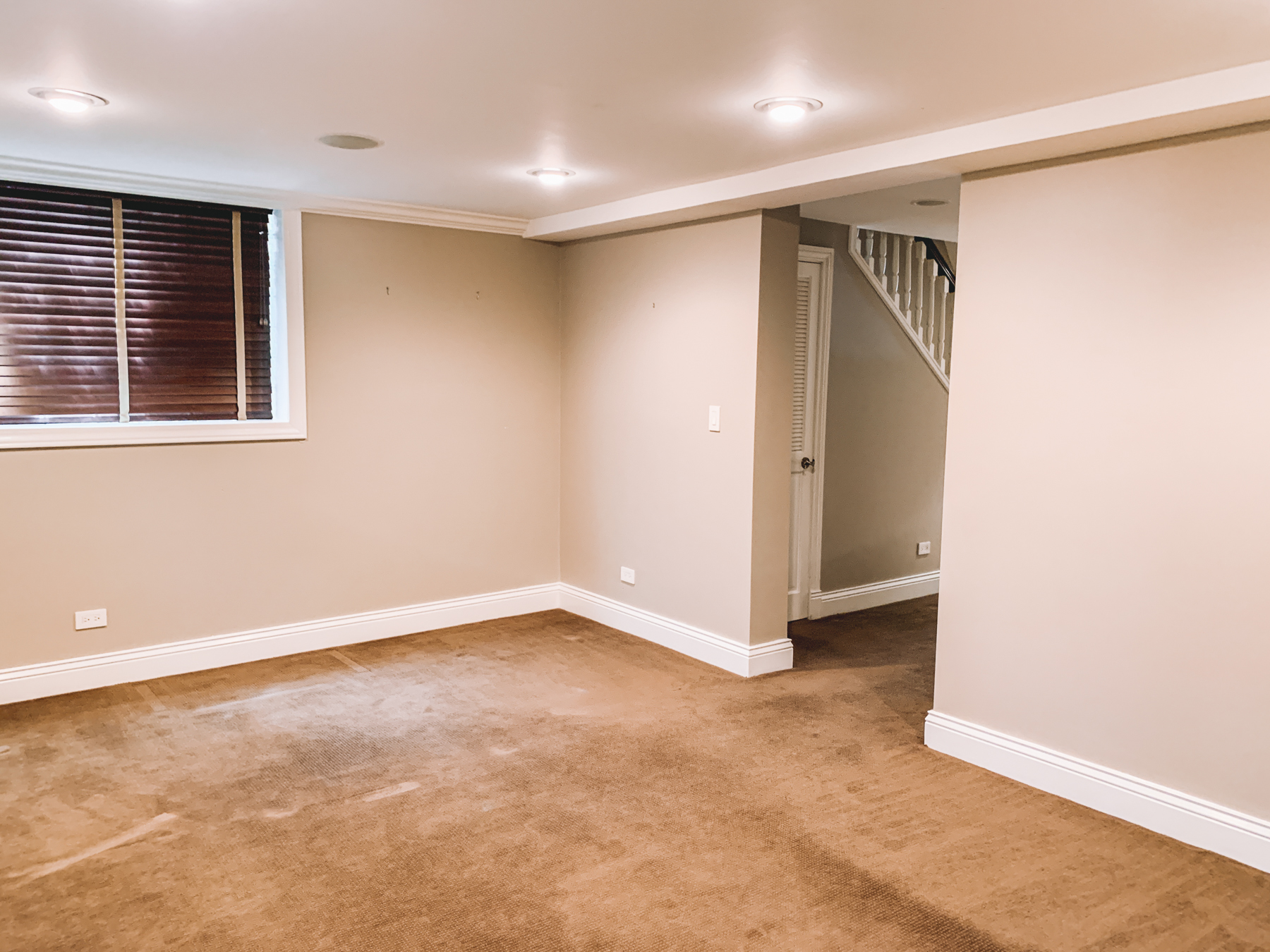 "Mancave"
Can't tell you how happy Mitch is to have his own space… and considering how many girls he's going to be surrounded by for the rest of his life, I'm really happy he has that, too. 😂 We'll see what he does with it! He says definites are a big desk, a T.V., a video game system, and a couch.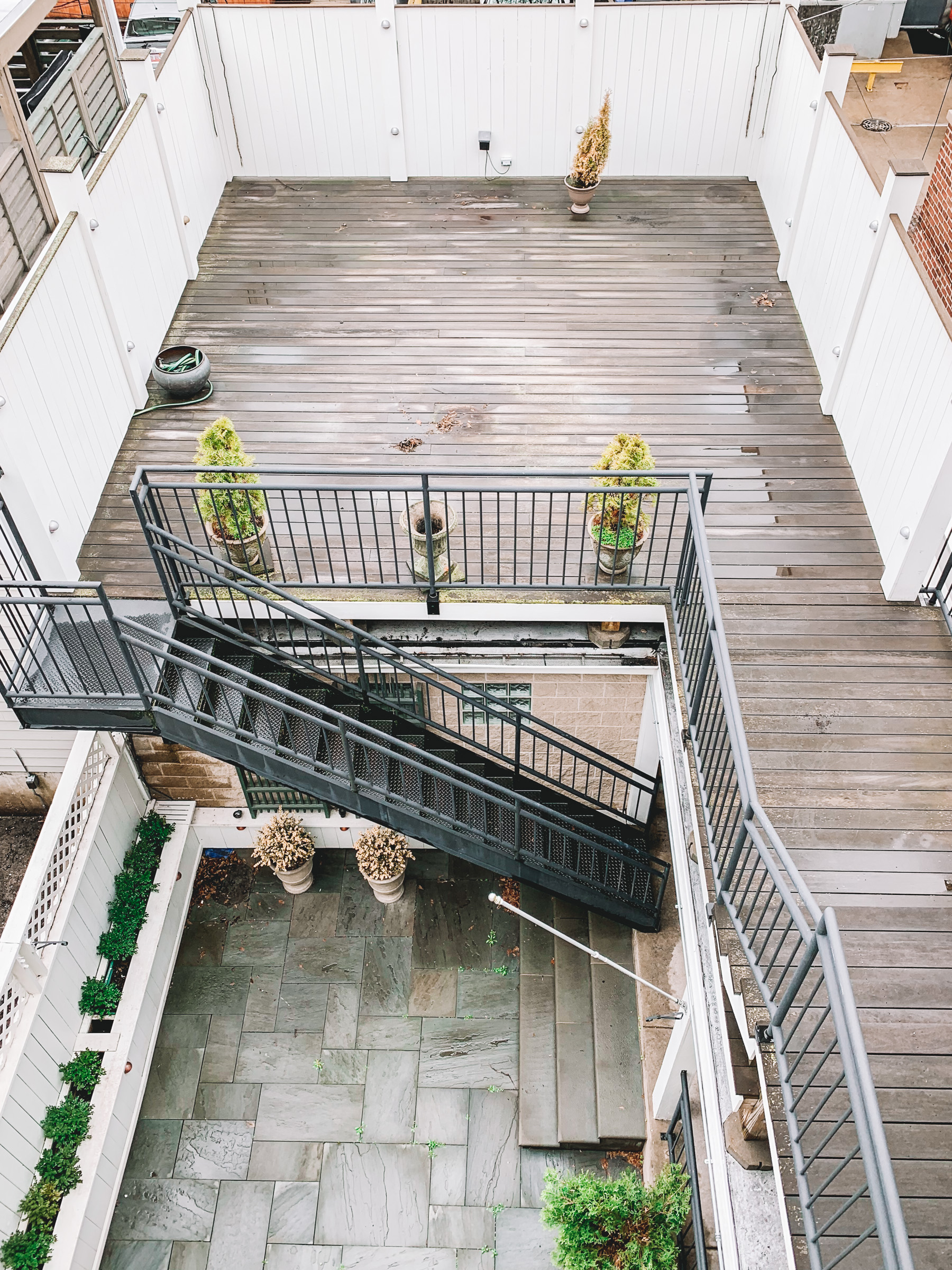 Garage/patio/deck
Like I said yesterday, we think that this is going to be a game-changer with little kids in the city! We pulled the trigger on furniture from Ballard Designs almost right away so we'd be able to enjoy the space this season. (It's this line!) It's slowly started arriving, and we're already loving it. :)
That's it for now! Thanks for reading!