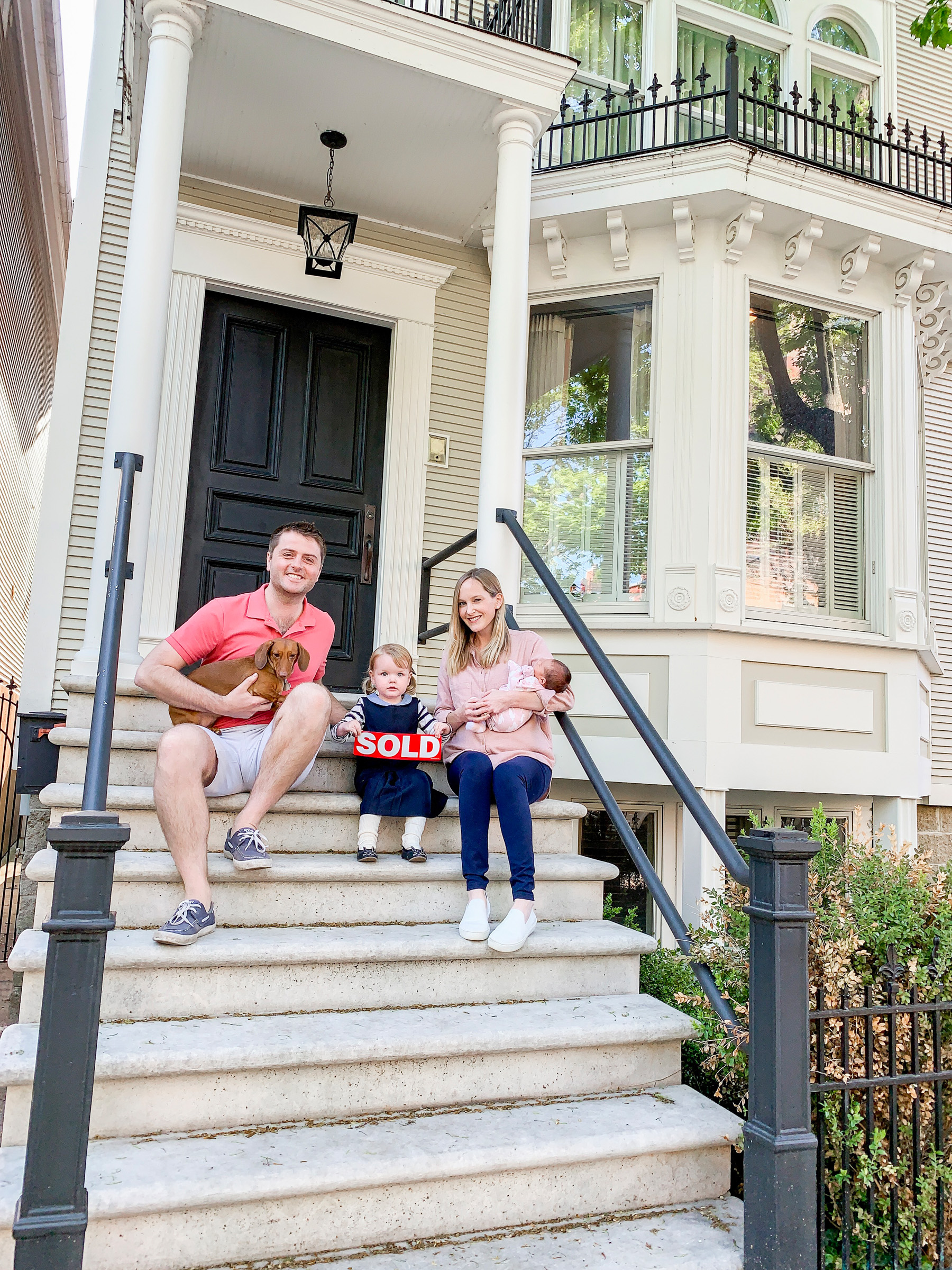 The title of this post is a little misleading. ;) We've actually already moved! I was planning on sharing the news the day of, but then my water broke and I went into labor with Lucy right after the movers left. Yes, you read that correctly. 😂 (More below.) I definitely wouldn't recommend undertaking a move and having a baby on the same day, haha. 🙈 But "the best laid plans," right?!
Needless to say, the Larkin Family has had quite the eventful stretch. But now that the dust has settled, I'm so excited to share the details with you! (Lucy's delivery story is incoming, too. ☺️)
~
Where we moved
Okay! Over the past couple of years, we've considered making some very big life changes. We loved our little condo in Lincoln Park, but as we got older, we found ourselves pining for the comforts that come along with a single-family home: a playroom, backyard, separate guest room and office area, kitchen island–you know. All that stuff.
When we started looking for our "forever" home, we knew only one thing: that we wanted to stay in the city, despite how much more difficult that would make the search. We are city people through and through, and we're firm believers in the idea that happy parents = happy family. Which city, however, was up for discussion for a variety of reasons. I'm going to write a BIG blog post that'll go more in depth about the locations and specific houses we considered… but it was between Lincoln Park, Chicago (where we currently live); a few areas of Brooklyn, New York; and the Harleston Village neighborhood of Charleston, South Carolina. (Remember when Mitch and I went to Charleston last year seemingly on a whim? We were actually house-hunting, and almost bought something there!)
In the end, though, we decided that we couldn't leave Lincoln Park because it had truly become home over the last five years.
I kind of can't believe that I, Kelly Sheehan Larkin, gave up the chance to go back to New York… but that's how much we love LP. We love the neighborhood, the community, the schools, the friends we've made, and the history Mitch's family has here. After many, many long talks, I think we both simply realized how sad we'd be to leave all of that (even with the horribly cold winters we have to endure). It's where we wanted to raise our family. So last summer, we got serious and dedicated ourselves to finding something in Lincoln Park's terrifyingly competitive housing market.
And after several heartbreaks and countless emotional meltdowns (on my part 😂), WE FOUND OUR DREAM HOME! It's on the other side of Lincoln Park, only a few blocks away from the house that Mitch grew up in, and it's miraculously in the school district we so desperately wanted. We're thrilled… and still in a state of disbelief!
Note:
We decided to share the photo you see above because LP is such a huge area and there are many houses that look exactly like it. (Popular design!) We're *also* wondering whether you can help us identify the architecture style, haha! It was built in the 1800s, and we think it might be a Queen Anne Victoria… but I know we have some architect readers out there who'll be able to provide insight. Thoughts?
Anyway, we learned a LOT during this process, and I'm really excited to do a series on it. I have a pretty good lineup of posts that'll be going live over the next couple of weeks; complete with home tours and specifics on our home-buying experience. But if you'd like to see anything in particular on the blog, please let us know in the comment section below! All ideas are welcome. :)
What the house is like
Oh, guys. We're just so happy and grateful. I can't believe this is real life! Again, it's a very old house, built a looong time ago. But the previous owners took amazing care of it, and they renovated it somewhat recently, taking it down to the studs and even pouring a new foundation. The best part, though, is that the work they did was in keeping with the original style, and they really maintained that traditional design we were looking for. So we kind of have the best of both worlds:
The charm of a very old home, but very few headaches that normally come along with one!
The house is on a shorter lot, so it was built "up" instead of "back," if that makes sense. (Same with all the houses on our block.) The living room, dining room and kitchen are on the first floor… and Emma and Lucy's rooms are on the second floor. The sellers dormered out and finished the attic, so that's where our master bedroom and bathroom are, and there's an office up there, too. (LOVE that.)
We then have a playroom (yassss) and a spare bedroom in the basement which Mitch wants to use as his office. (I've asked repeatedly if he wants the upstairs space, but he says he wants a "man cave." 😜) But our favorite part of the house is the backyard, which we think is going to be a game-changer with young children in the city. There's a patio on the ground level and a deck over the garage. SO. EXCITED.
I "shot" a little home tour on my phone the morning of moving day, before all our stuff was in and before I had Lucy. So I'll publish that in the coming days! (To be honest, it'll go up whenever I'm not completely exhausted. Could be tomorrow; could be next week. 😉) But I can't wait to show you the house!
Design plans
What sealed the deal for us with this house was that it didn't require any huge renovations. When we first started our search in LP, we thought that undertaking a gut rehab was the only way we'd be able to find a home that worked for us. But every time we found a fixer-upper and ran the numbers, the cost of the work (plus the house) usually came in over our budget. And if it didn't, it came very close.
While we really enjoyed renovating our first home and learned a lot from it, we knew we didn't want to do something like that again if it wasn't going to save us a ton; especially with two young children. So instead, we placed importance on finding a home with finishes we didn't want to tear out, since surprisingly, this was the more affordable route. We're ecstatic that we can spend the next few years enjoying our kids and not dealing with everything that comes along with construction!
That said, there are a few things we want to do, like replace the kitchen countertops and backsplash, and install built-in bookshelves like we did in our last home. But nothing major! And we're in no rush.
As for furnishing and decorating, that's just fun, and not pressing at all!
Because the house is very traditional, though, we want to stick with that feel. Think Ralph Lauren and Ballard Designs meets Brooke and Lou and Serena and Lily? Light and bright but also lots of dark wood for a mature look. Heck, we want a grandfather clock and something called a Hepplewhite. 😂
But again, we're going to take this on very, very slowly. The house is largely empty right now, and we're more than okay with that. We've ordered a few things–like outdoor furniture so we can use the deck this summer!–but we just want to enjoy our girls and soak up the magic right now. We have the rest of our lives to make the house our own, after all. :)
Btw: When we do want to start working on things, we're (of course) hiring Kira from Kira David Design. While she's one of our very best friends, she's also the very best designer in Chicago, and she gets our style even better than we do. She did the BEST job with our last home, and has the most amazing ideas for this one, too! (She and Tom came over last weekend to meet Lucy and get the tour, and Mitch and I were freaking out with excitement over all her suggestions!)
How we made it happen
A whole lot of late nights and sacrifice. We're tired, haha! In all seriousness, though, we're incredibly proud that we did this completely on our own, and grateful that the last decade of saving, taking risks, and putting everything into our businesses has finally paid off. (Btw: here's how we save money in the city and how we save money with kids!) We're also excited to slow down a little. 😂 We still plan on working hard, but we need ALL the naps.
While it might seem like all we do is run this blog, that couldn't be further from reality. (I really need to talk about the work aspect of our lives more often, but it just seems kind of boring?!) Behind the scenes, Mitch runs an amazing property/financial investment company that he and his best friend founded 10 years ago with only $100. (His best friend actually just went full-time with it last month!)
Long story short, they initially launched a couple of physical products to fund the business, and while they still have those products today, they now manage a portfolio of investments they made from the product earnings. It's astonishingly inventive (and awesome 😉), and far more successful than my blog. ;) I'm so proud of them both, and I'm grateful to Mitch for all the early morning, late-night and weekend hours he's clocked over the years–while never, ever neglecting his roles as Husband and Dad–to make this happen for our family!
As for me, I obviously run this blog (which Mitch helps me with a LOT), and I also privately do a substantial amount of freelance writing and photography work.
I used to be a newspaper reporter and a magazine editor, and I ran a wedding photography company (RIP Kelly Sheehan Photography) and sold my photos of the city through a printing shop (RIP Larkin Printing Co.) as well. So this is my way to stay involved in that, and also have a little something outside of blogging, which is very public. I always have a project that I'm working on, and I love it. :) My clients come from all over the place: from my early years of writing and shooting, but also from past collaborations I've done via the blog.
Edit:
Now that I'm re-reading this section of the blog post, I'm not sure whether "completely on our own" is entirely accurate. Our parents made great sacrifices so that they could fund our undergraduate degrees, and this helped us so much. Because we were never riddled with debt, we were able to do things like live in New York for 10 years and teach in the inner city to give back. (Not the most financially lucrative job, but rich in life experience and a worthwhile in every way!) We were also able to save for this home. So thank you, Parents. Without your gift of education, this wouldn't be possible! We love you!
Anyway, it's been a lot of hard work, and there were times when I thought that it might kill us, haha. But being able to raise our girls here makes it all worth it!
Who we worked with
HUGE thanks goes out to the amazing team of people who made our dream a reality. I'll be writing MUCH more in depth about each person in future blog posts, but I have to shout them out now, too. :)
Conor Scanlon of Sotheby's Realty:
Holy moly, Friends. Conor is WONDERFUL and you need him in your life if you're thinking about buying. He's the husband of one of my best girlfriends, Danielle, who's the founder of The EveryGirl, The EveryMom and Danielle-Moss.com. Conor took so much care in figuring out what we truly wanted in our home, and not only guided us to properties that were right for us but also steered us away from buying potential disasters. (Stories to come… don't worry!) He is AMAZING to work with, and we're 100-percent certain that we would have lost our dream home had it not been for him. He also has a better shoe collection than I do. 😎 If you're looking for the most professional and caring realtor in the Chicago area/western suburbs, contact Conor at cscanlon@jamesonsir.com!
Neighborhood Loans came highly recommended by a friend of my father-in-law's, and we totally fell in love with the local lender and how much Michael Bencks–a Senior Mortgage Lender there–cared about our family and closing the deal for us. (And, of course, NL's competitive rates.) Because Mitch and I are both self-employed, our loan was a somewhat complicated one, and Michael did everything in his power to make the process as seamless as possible and to quell my nerves. (Pregnant and due only 10 days after closing made for a very anxious Kelly.) Michael would literally call me on my cell phone and text me funny memes just to calm me down. 😂 Thank you, Michael, for everything! (If you're looking to get pre-approved or you're searching for a lender, Michael's e-mail is michael@neighborhoodloans.com. Can't recommend him more!)
Recommended by our friend Barbie, we chose New City Moving, a full-service shop, because I could go into labor at any moment. New City packed, moved and unpacked us… and thank god for that considering what happened only hours after they left. ;) Mitch is currently writing a big post on how incredible this experience was. But let's just say that New City is the reason we haven't lost our minds over these last couple of weeks. Everything went off without a hitch, and the team was extraordinarily professional and thorough! A high-stress move made low-stress. Amazing.
What's happening with our condo
So we're kind of on the fence with this one! The original plan was to rent it since Mitch has always wanted to become involved in the Chicago rental market. But as closing on the new house approached and we started to become a bit overwhelmed by all the changes coming up, we began to consider selling it to make life simpler. We'll see, though! It's currently on the market, so if you're interested, contact Conor at cscanlon@jamesonsir.com. It's located in the DePaul area of West Lincoln Park, and I'll be doing a "final home tour" soon!
Moving day
Oh boy. Most of this story will appear in my upcoming post on Lucy's delivery. (Here's Emma's delivery story in case you're interested!) But the long and short of it is that we were NOT planning on closing and moving so close to my due date. (I swear we're not idiots. 😉) As luck would have it, we found the house right before we left for Rhode Island in March, and put in an offer almost immediately after we returned back to Chicago. Underwriting takes about a month, which led us to a closing in early May! We obviously wish we'd found the house earlier… but you know: life.
Again, I wouldn't recommend moving and having a baby on the same day. ;) But we had a lot of backup plans–including power of attorney–in place just in case; and all things considered, we're pretty lucky with how the sequence of events panned out.
After New City Moving left, we ran over to the old house to tidy things up for future showings. I couldn't do very much because I was so pregnant, so I grabbed a broom and started sweeping; the least physically demanding task possible. But it only took one sneeze to cause my water to break. (TRUE STORY.) Luckily, my in-laws already had Emma because it was moving day. So all we had to do was race back to the new house to frantically pack a bag and then head down to Northwestern Prentice. Certainly not what I'd envisioned happening, but it all worked out, and Lucy is perfect! :)
How Emma's handling everything
Taking into account that Girlfriend got a new house and sibling all on the same day, we think she's doing exceptionally well! (Though her expression in the above photo suggests otherwise. 😂) She was a little clingy in the beginning, but she loves her playroom, backyard and new bedroom. Also, she ADORES being a big sister. I think taking the time to think about what would help her transition and adjust really paid of… as did having her grandparents around for a week. Lots of special attention and distractions!
Next up on the blog!
On the "house front," an iPhone tour of our new home. On the "Lucy front," her whole delivery story. <3 Stay tuned! And if you're still with me, thanks for reading this rambling mess from this sleep-deprived lunatic. 😜 Sorry about the typos, of which there are probably many. We're beyond excited to share this new chapter with you and to make countless memories within these walls with our two little girls. Here's to years and years of happiness!