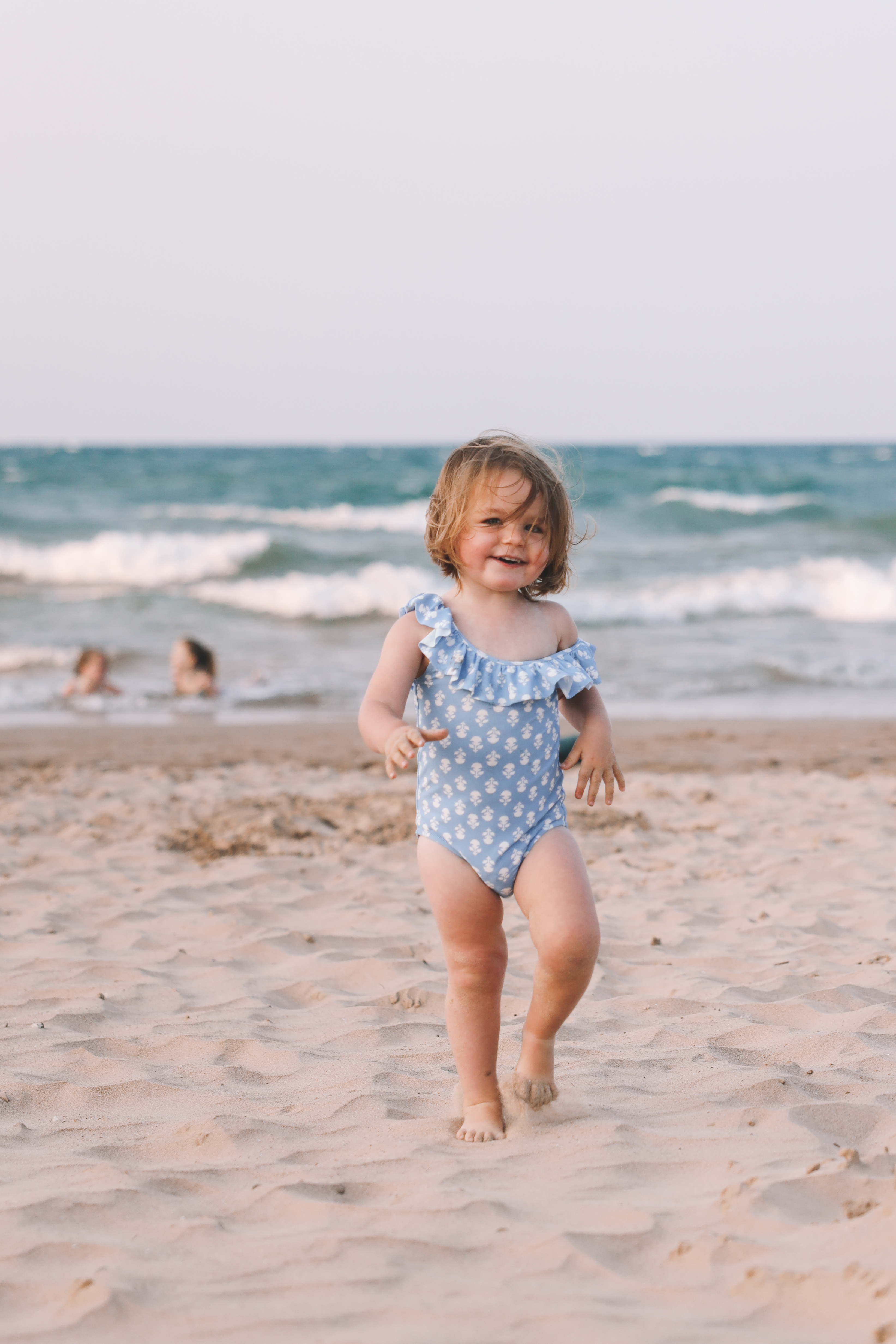 Lucy's Swimsuit (Sold out version here.) / Emma's Swimsuit / Girls' Red Gingham Dresses (In this video of the night!) / Girls' Denim Jackets / Nantucket Sweater / Sail to Sable Maxi Dress (Newer. Also love this one!) / Sunglasses / Mitch's Sweatshirt / Mitch's Warby Parker Sunglasses
This was one of my favorite nights of the summer some of our best friends—Peter and Bradley—and their kids. ♥️ Want to see a video of the evening? Watch it here!
(Of course I forgot to take a photo of the adults, haha. All I have is one selfie of Mitch and me. Will try to remember to snap a few pics of the parental fun next time, too! 😉)
A little known-fact about Chicago is that its 24 beaches are AMAZING. I was a little heartbroken about no longer living by the coast when we first moved here, but I swear that I sometimes forget we're not on the ocean while the girls run around in the sand and splash in the water. (And that's coming from someone who grew up going to the Jersey Shore!)
Lake Michigan is such a gift. The beach we go to the most is the one you see here—Foster Beach—because it's somewhat secluded and easy with kids. (Parking + bathrooms. Need I say more?!) Grateful that we still have many, many more nights like this ahead of us this year!
(The girls' red gingham dresses are from J.Crew Factory, btw!)
Shop the post:
Lucy's Swimsuit (Sold out version here.) / Emma's Swimsuit / Girls' Red Gingham Dresses (In this video of the night!) / Girls' Denim Jackets / Nantucket Sweater / Sail to Sable Maxi Dress (Newer. Also love this one!) / Sunglasses / Mitch's Sweatshirt / Mitch's Warby Parker Sunglasses