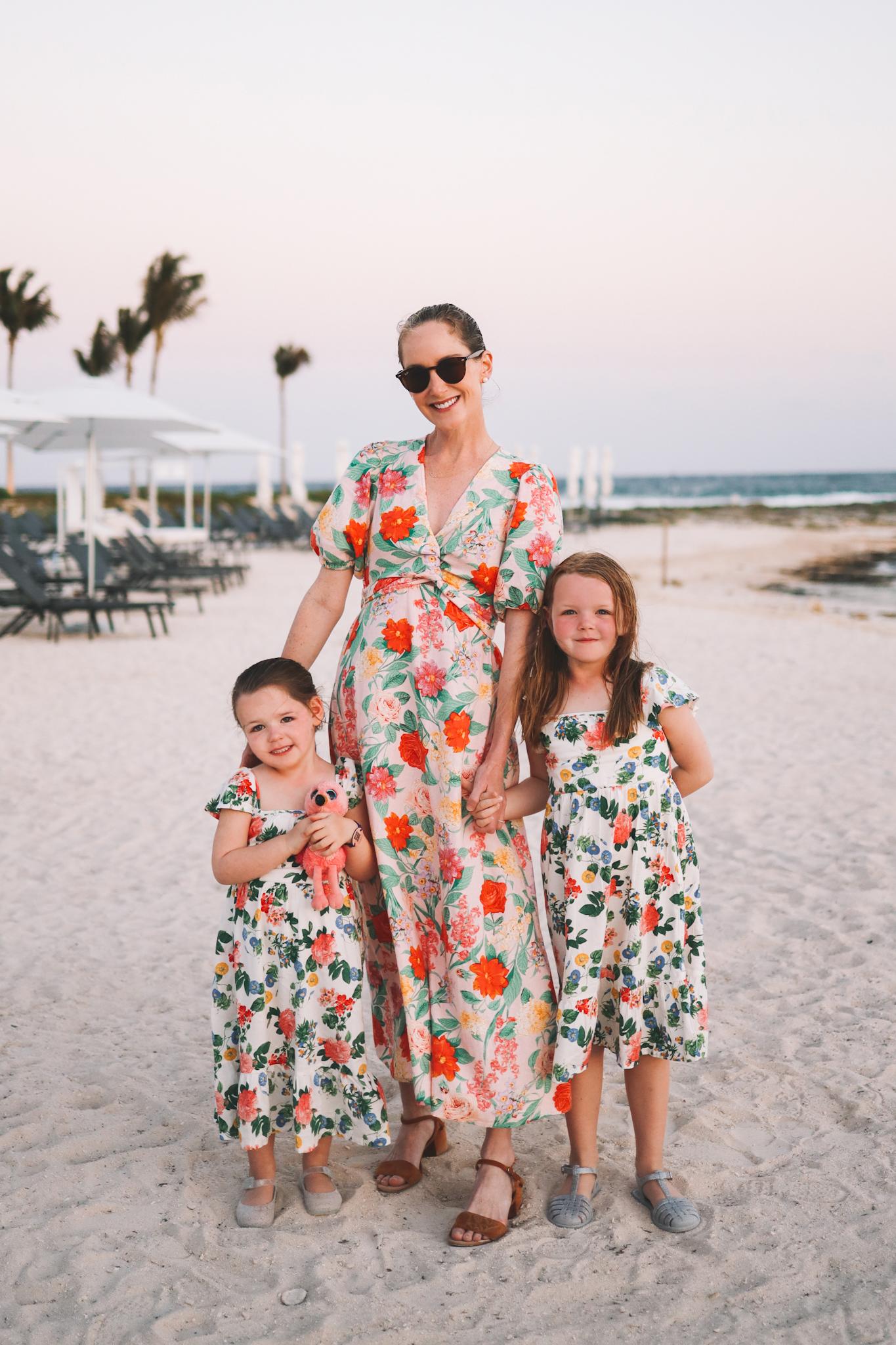 Twist-Front Maxi Dress / Girls' Floral Bow-Back Dresses / Lucy's Sandals / Emma's Sandals / Mitch's Polo Shirt / Shorts
The weather is perfect, the girls are having a blast, and our outfits are cute. We're never coming back. 😉
We wore these fun Old Navy numbers to dinner on our second night in Mexico. Right now, Old Navy is having a sale and you can get 40 percent off your purchase (Online only, restrictions Apply. Valid 4/7-4/11.) The sale makes prices outrageously low, which means there's never been a better time to stock up on quality pieces for the fam.
A few notes about some of our favorites:
Twist-Front Maxi Dress: I was so excited when I tried on this number. Between the little cut-out in front and puff sleeves, I was immediately smitten. I love the blended linen material, bow in the back, and vacation-ready print. Definitely my favorite dress I took to Tulum!
Girls' Floral Bow-Back Dresses: Oh goodness. These are just the sweetest. As you know, I love my girls in matching outfits, especially while traveling. (I'm sorry, but you only get two little girls once! Usually.) And I love that Old Navy's prices allow me to do that without the guilt. I knew these were the perfect dresses for Mexico right when I saw them.
Toddler Jelly Sandals + Girls' Jelly Sandals: I don't know about you, but I have a lot of happy childhood memories in which I'm wearing jelly sandals. Love that they've been making a comeback over the last few years! The girls couldn't get over how beautiful they were. Lucy even insisted on wearing them to the airport in Chicago. (I gave in. Pick your battles, right?)
Men's Polo Shirt: I love Mitch in pink. This polo is so soft and affordable that I think we need to pick some more up for the upcoming warmer months in Chicago!
With that, I'll leave you some of my favorite snaps from the trip:
Shop the post:
Twist-Front Maxi Dress / Girls' Floral Bow-Back Dresses / Lucy's Sandals / Emma's Sandals / Mitch's Polo Shirt / Shorts
This post is sponsored by Old Navy. As always, thanks so much for supporting the partnerships that keep Kelly in the City up and running!