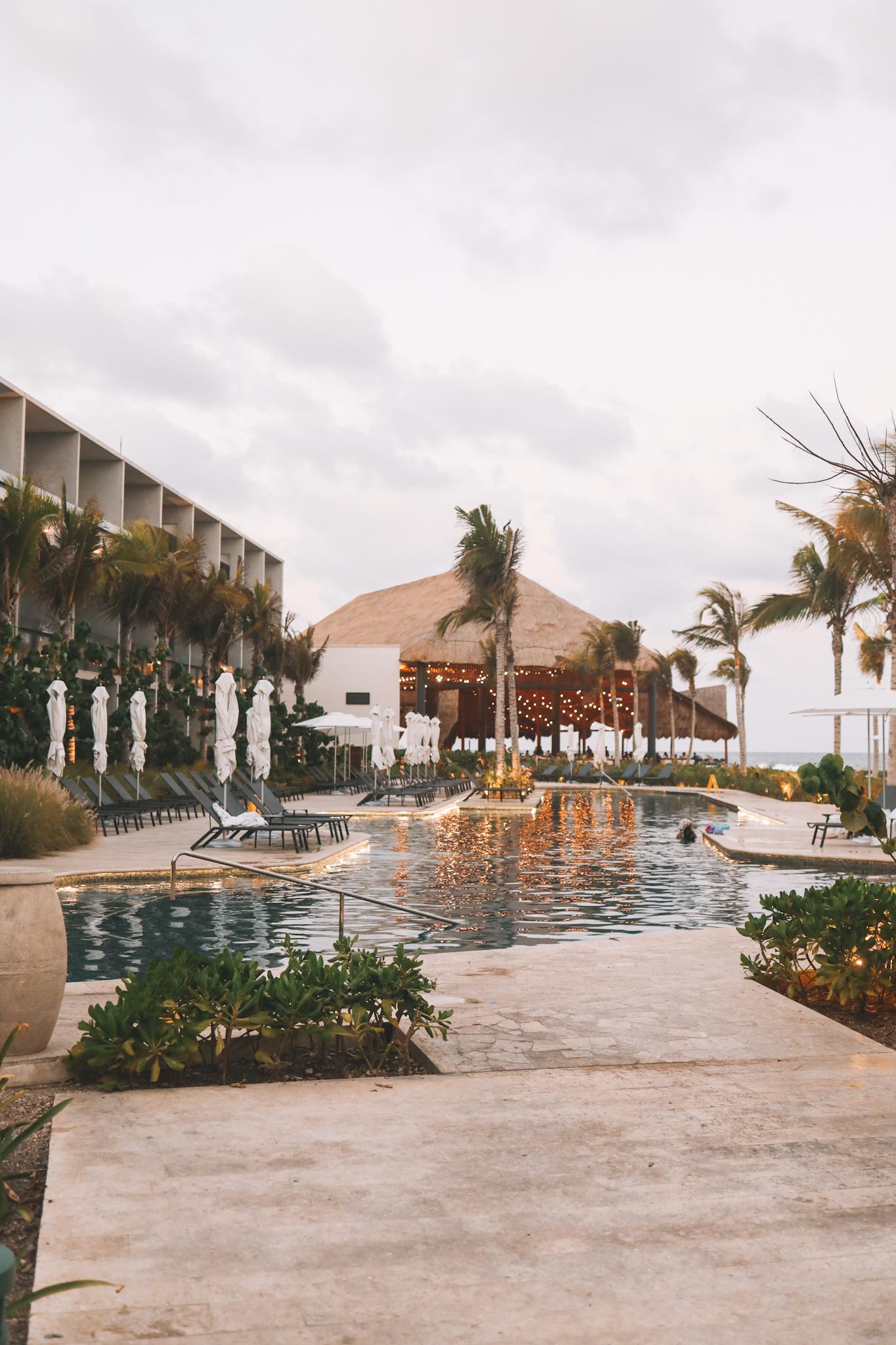 It's easy to sugarcoat (or even hide) how hard traveling with young children is. Post a happy photo with a caption something along the lines of "having the best time" and boom: you look like Mom of the Year; a master of something many understandably avoid all together. But the reality is that it's a lot, and behind every happy family photo, there's a story. (Some we can laugh about right away; others we're not quite ready to laugh about. 😂)
Mitch and I personally feel that traveling with youngsters is worth it. We don't want to miss out on incredible family experiences simply because we're nervous it could be hard. But some days/entire trips are better than others, and some are big fat disasters. 😉
Our first day in Tulum was one of 'em! From a forgotten passport at 3 a.m. and sprained arm to a potty accident at the worst possible moment and a middle-of-the-night meltdown that surely woke up the whole resort (sorry, everyone), it nearly broke us, haha. But we woke up the following morning determined to have an awesome day. And while the children initially resisted, guess what? It WAS awesome!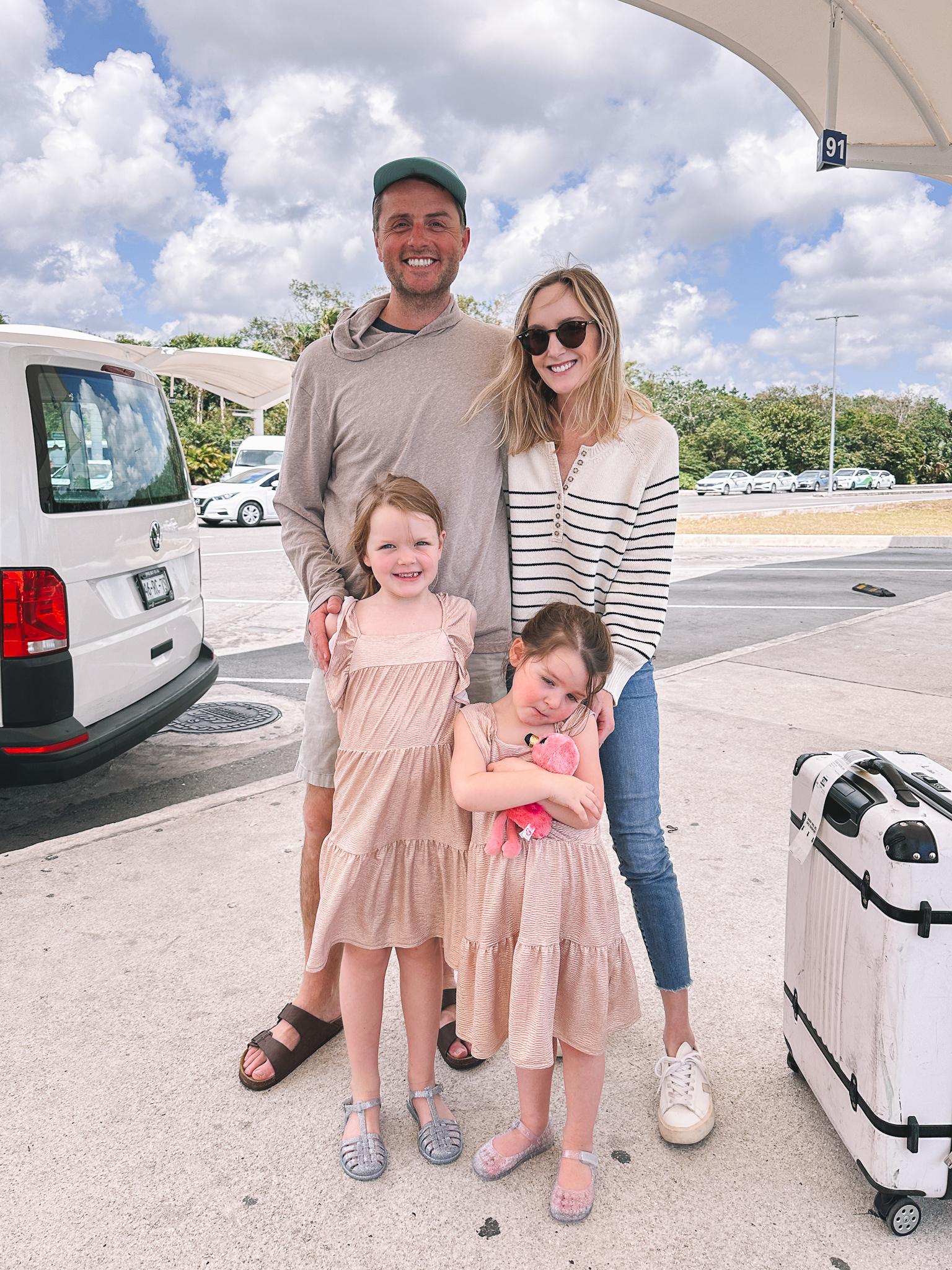 (Other details in the post: Swimsuits and dresses are mostly Minnow and Hanna Andersson! Jellies are Old Navy.)
Now that we're settled, we're having the best time here. We've never done something like this before, and the whole all-inclusive thing has taken a lot off our shoulders. We haven't had to plan or schedule anything; even the ride from the airport to the hotel was arranged for us. We bounce from pool to beach to splash pad to restaurant, and just enjoy.
As all-inclusive first-timers, we were a bit nervous that the location and all-inclusive aspect would attract a rowdy crowd. We had visions of MTV Spring Break, for sure. But the resort isn't crowded at all, and we truly haven't seen a single person who has over-imbibed. It's been mostly couples—both young and older—and families. We've loved everyone we've chatted with!
In case you're wondering, we're staying at the Hilton Tulum. Mitch really loves those weekly TravelZoo emails, and dreaming about all the places we could visit for a steal—and when this place came up, we decided to just take a chance and do it. (The girls have TWO weeks off for Spring Break and we were starting to freak out.) What sold us was the kids' splash pad, which has been a huge hit with Emma and Lucy. (It's also totally separate from the rest of the resort, which is nice for people without kids. Though kids are definitely welcome at all the other pools, too! They just tend to gravitate to the waterpark area.)
It's only our second full day here, but I'll be sure to provide my full review at the end of our stay. Thus far, though, I would give the Hilton Tulum an A+ for families who are looking for an easy, fun and relaxing vacation. We keep saying that we can't believe how quickly everyone went from being miserable to exuberant. 😂 Lucy even told us that she wants to move to Mexico.
I get it, Girlfriend!
So with that, a few fun snaps.  :) More tomorrow!
My Linen Jumpsuit / Lucy's Dress (Same print, different style here.)
Swimsuits and dresses are mostly Minnow and Hanna Andersson! Jellies are Old Navy.