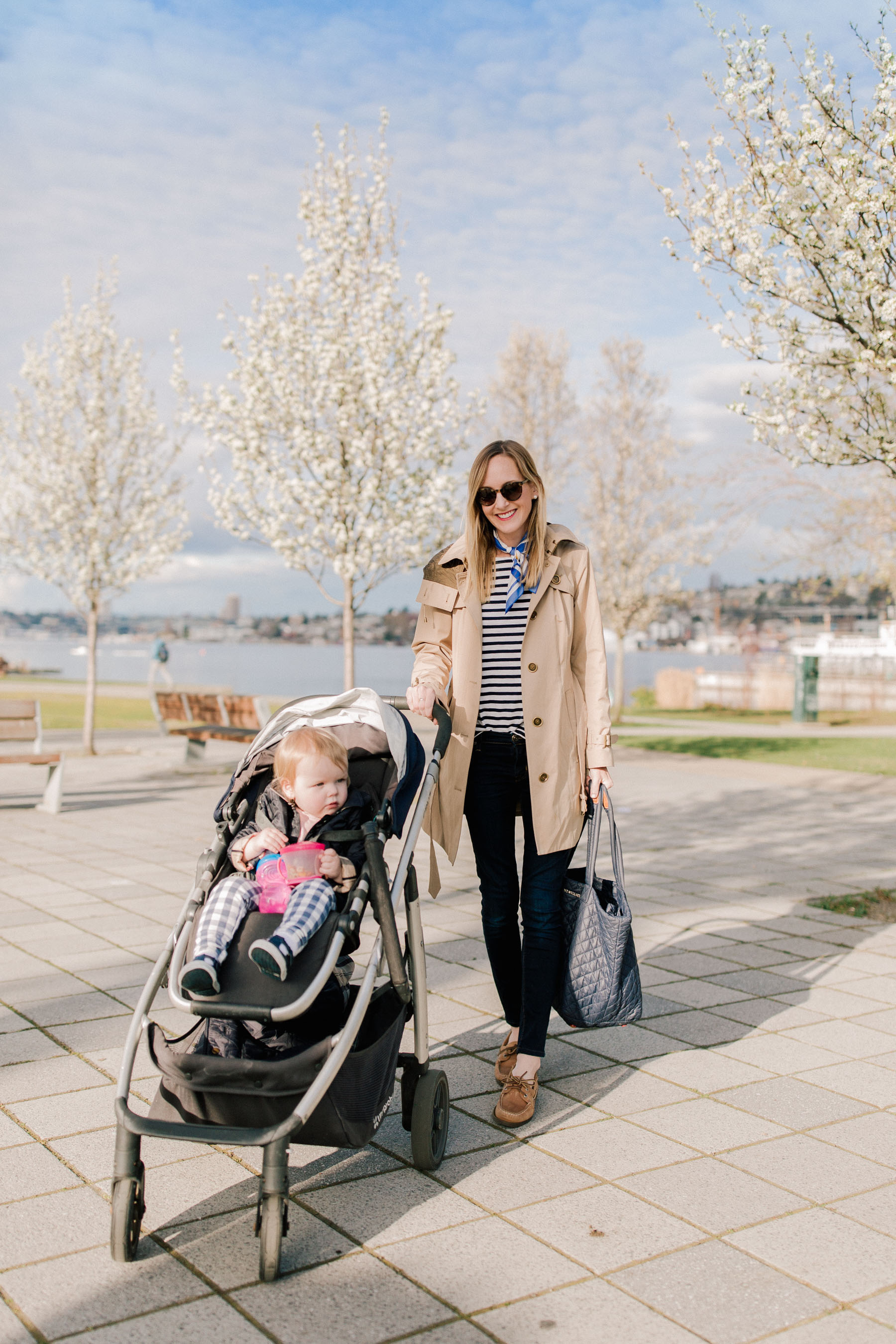 Super Warm Trench Coat with Quilted Liner (Love the double version, which comes in PINK, too! It has a quilted liner as well.) / Sperry Topsiders (Comfiest pair I own! They run TTS.) / Striped Tee / London Scarf c/o / MZ Wallace Tote (Black here.) / Hudson Jeans / UppaBaby Cruz Stroller / Emma's Burberry Jacket / Pink Elephant Organics Gingham Leggings c/o
Hello, Seattle.
:)
A couple of things before I start:
Mitch and I are speaking on a Facebook panel today, and we're really excited about it! Yes, we've been on the go for a long time now, and we're pretty tired. Things won't slow down until after Easter, either. (If you missed yesterday's post, we're headed to my parents' Shore house and to D.C. for the holiday. ☺) But we're so incredibly grateful for the adventures that this site brings us on. We honestly talk about it every day! I mean, seriously: I'm not sure we ever would have made it to Seattle had it not been for the blog, and that's certainly something to be grateful for.
Which brings me to Seattle. We're here for three days, and we'd LOVE your recommendations if you have any! We're looking mostly for fun restaurants, as we'll be busy with work during the day. I'm really into places with cool atmospheres (bonus points for high ceilings), Mitch is into great food, and Emma's into places with family-friendly vibes and high chairs, haha. We're staying in the "South Lake Union" neighborhood if that's at all helpful, and we don't have a car. Thanks, West Coast Friends! Loving Seattle so far!
But back to today's post. It's part of the Motherhood Series! (Slow start to the new year, but we're BACK and better than ever.) I'm teaming up with some of my favorite Chicago bloggers–Emily, Shaheen, Blair and Arin–to chat about how we deal with loneliness as moms. I really can't recommend checking out their sites enough; I admire all of them so much, and am proud to call these girls my friends. :) And I know I can't wait to read their pieces!
Loneliness is something I really battled my first year of motherhood. While I was so excited to be a mother and care for Emma, I was mostly home on my own all day, trying my best to keep up with my job while being a mom. And despite how often I talked to Emma, she never said anything back. ;) When Mitch came home at night, I all but tackled him.
My story is a little different now. While I was on my own during the day for my first year of motherhood, Mitch is now home with me. I'm not exactly lonely anymore, and I'm very grateful for that. But goodness: I sure do miss my friends.
Here's my situation:
These days, I wear a lot of different hats, and I'm pulled in a lot of different directions. I'm a mom, a wife, a daughter, a sibling, a cousin, a granddaughter, a niece, a friend, a cleaning lady, a cook, a writer, a photographer, a freelancer… well, you get the idea. ;) And since Emma came along, I've tried a zillion different ideas to help me better fulfill those roles. The outcome is always the same, though. One week, I feel like I'm doing an awesome job at being a good friend, but I feel like I'm failing at the daughter part. (Mom phone call was replaced with a friend phone call.) Or maybe I feel like I'm doing well with work, but my house is in total disarray. (Submitted all my projects, but when was the last time we actually saw the floor?)
The struggle is REAL.
Pre-Baby, I could handle all these roles relatively well–especially the role of friend. Post-Baby, I struggle to simply keep up with my very best friends in the world. And so often–despite the fact that I have a wonderful family and that we're so busy the laundry hasn't been done in two weeks–I find myself feeling lonely. And missing them. Those best friends that are pushed to the side because there are stories to be read and baths to be drawn and games to be played and little bellies to be fed.
I know they understand. My friends are some of the kindest people in the world. And they know that I have to put Emma first. If I don't feed Emma, she'll die. My friends? They can totally feed themselves. ;)
Still, it's hard. Weeks and even months will pass during which I won't talk to friends… and it's not because I'm not thinking of them. I am. It's just that when I've finally cleaned up the house, tackled the last project, and spent a little time with Mitch, it's 12:42 a.m., and my eyes are drooping and I wonder whether I'm getting sick again and I feel badly sending a text in the middle of the night that might wake someone up. Or worse, sending a text and not knowing whether I'll be able to respond to their response in a timely manner. Oy.
For now, I don't have any answers. I try my best to use FaceTime and texting and e-mails to stay in touch with friends who are far away, and I try to schedule dinners and get-togethers. But I drop the ball all the time, and I realized that 99 percent of my messages start out with "I'm so sorry I've been out of touch!" 🙄 I just don't want to pretend that have it all together on the "friend" front. Heck, Mitch and I celebrate if we go on one "date night" per month!
So if you're a mom–or anyone, really–who's also struggling with loneliness, I want you to know you're not alone. I'm somewhere in the middle of my battle, and for now, I'm grateful that I have so many people in my life who get it.
Are you fighting a similar fight? Would love to hear your thoughts. ❤