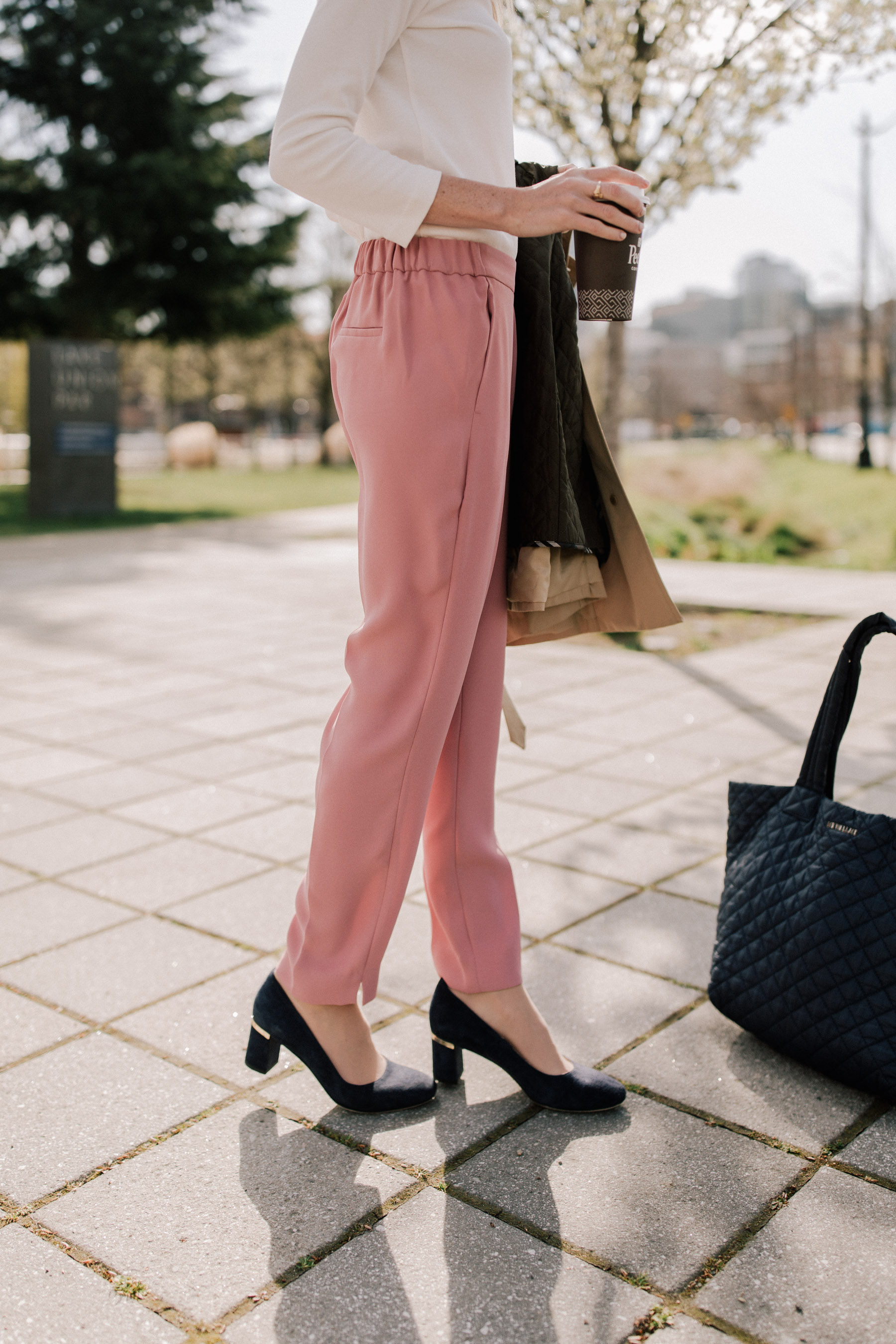 Drapey Pull-On Pants (Under $35 today, and the best dress pants EVER! They run totally TTS.) / Scalloped Tee (I've been wearing this with everything.) / Super Warm Trench Coat with Quilted Liner (Love the double version, which comes in PINK, too! It has a quilted liner as well.) / MZ Wallace Tote (Black here.) / $85 Kate Spade Pumps! (Here's the bow version.) / Mitch's Sperrys, Vineyard Vines Blazer & Performance Shirt c/o
We're running around Seattle today (more on that soon!), but I thought I'd pop in quickly to share the first pair of dress pants I've ever loved. And, okay, the first pair I owned in probably a decade. ;) Bonus? They're under $35!
I normally hate dress pants. The typical hook-and-eye closure is always so uncomfortable for me, and I find myself pulling at the waist all day. In terms of fit, they're usually pretty unflattering, too. So up until recently, I got away with wearing navy ponte pants and longer, drapey tops. But they were still a bit too casual for some business events.
But lo! I've found the perfect pair of dress pants that are comfy, affordable and flattering. If you look closely, you'll notice that the pants are flat across the front, but they're elastic across the back, making them extremely comfortable. (Not all waists are created the same… am I right?!) They also have pockets, but I'm choosing to keep mine sewn up just in case undoing them makes the pockets stick out. (Has anyone undone them? If so, can you tell us what happens? Ha!) And I adore the feminine little slits around the ankles.
And for $35, you can't go wrong! (Btw, I find that they run completely TTS. I'm wearing a size 0 here, which is my normal size.)
One final note: You need this trench coat. I know I keep talking about it, but it's quilted, making it super warm… and since it's single-breasted, it looks adorable when I wear it open. Here's the double-breasted version, which also comes in pink!
See you back here tomorrow. :)
Shop the post:
Drapey Pull-On Pants (Under $35 today, and the best dress pants EVER! They run totally TTS.) / Scalloped Tee (I've been wearing this with everything.) / Super Warm Trench Coat with Quilted Liner (Love the double version, which comes in PINK, too! It has a quilted liner as well.) / MZ Wallace Tote (Black here.) / $85 Kate Spade Pumps! (Here's the bow version.) / Mitch's Sperrys, Vineyard Vines Blazer & Performance Shirt c/o