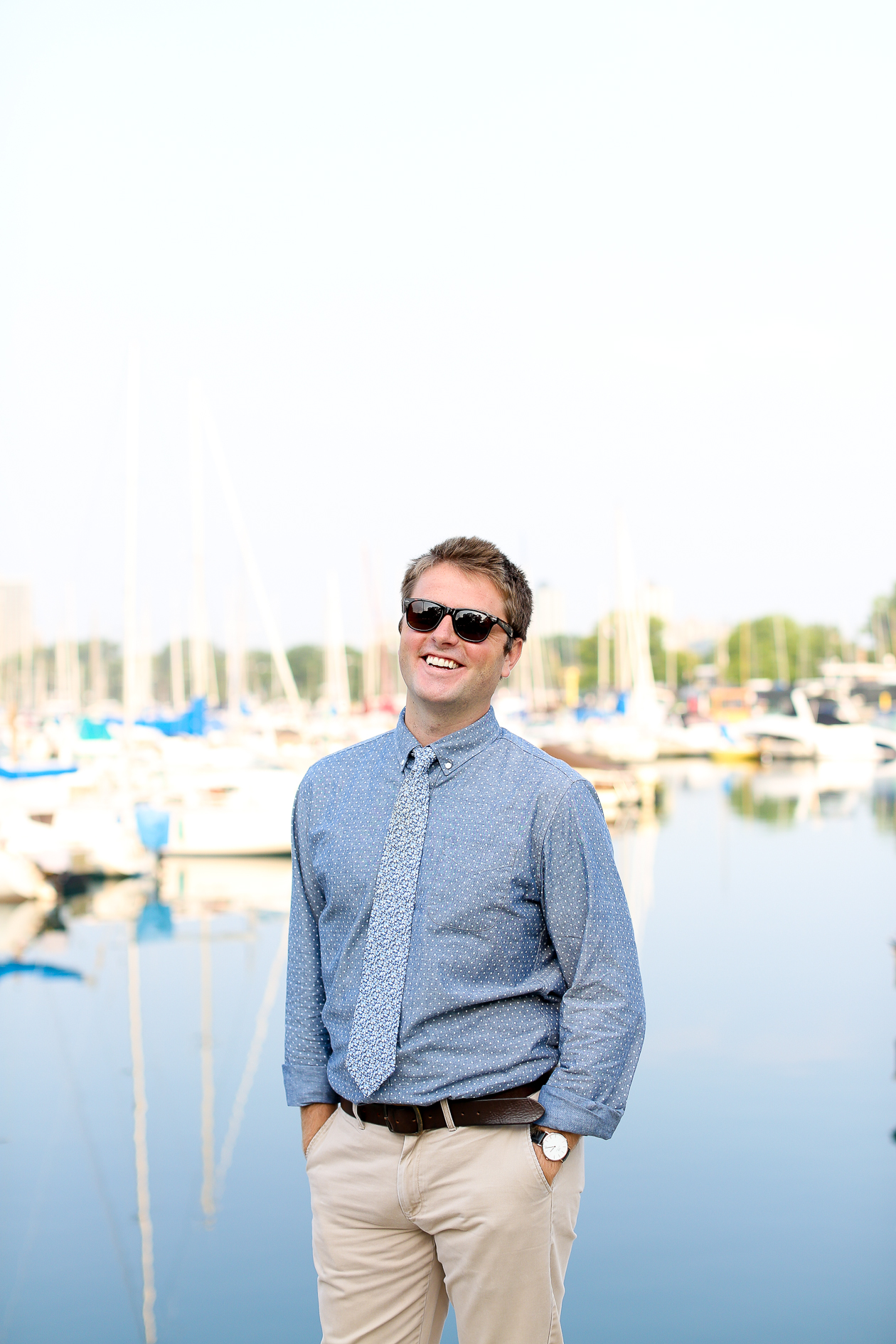 Stock Manufacturing Shirt c/o / Daniel Wellington Watch c/o / Trumbull Rhodes Tie c/o / J.Crew Khakis / Unknown Belt (Hehe.) / Sperrys
** Labor Day Sales **
Can we give it up for Mitch for a moment? Because let's be serious: I highly doubt that the guy ever thought he'd be modeling on a style blog. Yet he's such a trooper, and I think this post is a good representation of what an amazing and supportive person he is. And isn't he just the cutest?!
On to what he's wearing!
The Shirt: It's from Stock Manufacturing, a local company here in the Windy City. The quality of the Chicago-made clothing is amazing, and yet it doesn't break the bank–something Mitch is always looking for. I've also noticed that he's worn the shirt three times since receiving it, which means it's a winner! (Seriously, he hates 80 percent of his clothing. So having a one-stop shop for shirts is really nice for him us, haha.)
I also love that Stock Manufacturing is trying to make a meaningful impact on American job creation by producing their garments in the country without middlemen. Stock designs, develops, sources, manufactures, inspects, packages and ships everything themselves. They even produce non-combat garments for the U.S. military. (And you'd better believe that the rigorous attention to detail that goes into formal military garb trickles down into every item they produce.) Pretty cool!
Stock is based out of a 40+-year-old factory on the west side of Chicago that was started by the co-founder's parents. Although their son now owns the factory, the parents still work there every day, as they have since the early 1970s. Isn't that sweet?
You can shop the store here. Our favorites are the Striped Phantom Shirt, the Blue Herringbone Shirt, the Blue Oxford Shirt, and the White Oxford Shirt. What can we say? We love the preppy classics!
The Tie: It's from Trumbull Rhodes, one of Mitch's favorite tie companies! (Here's a past post featuring TR.) The one he's wearing in these photos is called the "Mayfair," and we love it. (Can you get over the pattern mixing that Mitch has got goin' on? He did it all on his own!) The 100-percent cotton tie is printed in England, and handmade in the United States. It features self tipping, handmade bar tacks, and a self-loop label, and it's fully lined.
A little more background: Trumbull Rhodes is a high-end, Boston-based handmade neck wear and boxer shorts company that uses Liberty London fabrics. I've long been a fan of Liberty London, as J.Crew and Barbour incorporates its materials. So when I heard about Trumbull Rhodes last year, I knew I was going to love their products for Mitch. :) And I was right: he wears them all the time!
Currently, you can find Trumbull Rhodes in multiple stores on Martha's Vineyard, but you can also shop online. Be sure to check out the rest of the tie collection, as well as the bow tie andboxer shorts lines! (I think they'd make for wonderful holiday gifts!) Oh, and watch this video about Liberty. So interesting!
The Watch: Clearly, we're both big fans of Daniel Wellington. ;) The company recently sent Mitch his favorite watch but in black, and I think it looks extra sharp. Totally stealing it this winter to wear with oversized sweaters!
Anyway, a huge thanks goes out to Mitch for letting me photograph him, and for allowing me to take a day off from having my own photo taken. Today was spent very comfortably in a t-shirt dress, hair undone and with no makeup. Sigh. ;)
But back to lake life! We're currently in the middle of building our very own FARMHOUSE TABLE! Eeee! I've been photographing every single step, and I can't wait to share an easy-to-follow tutorial with you guys as well as shots of the final product. Hope you're all having a great Labor Day weekend! Don't forget to hit up the sales!