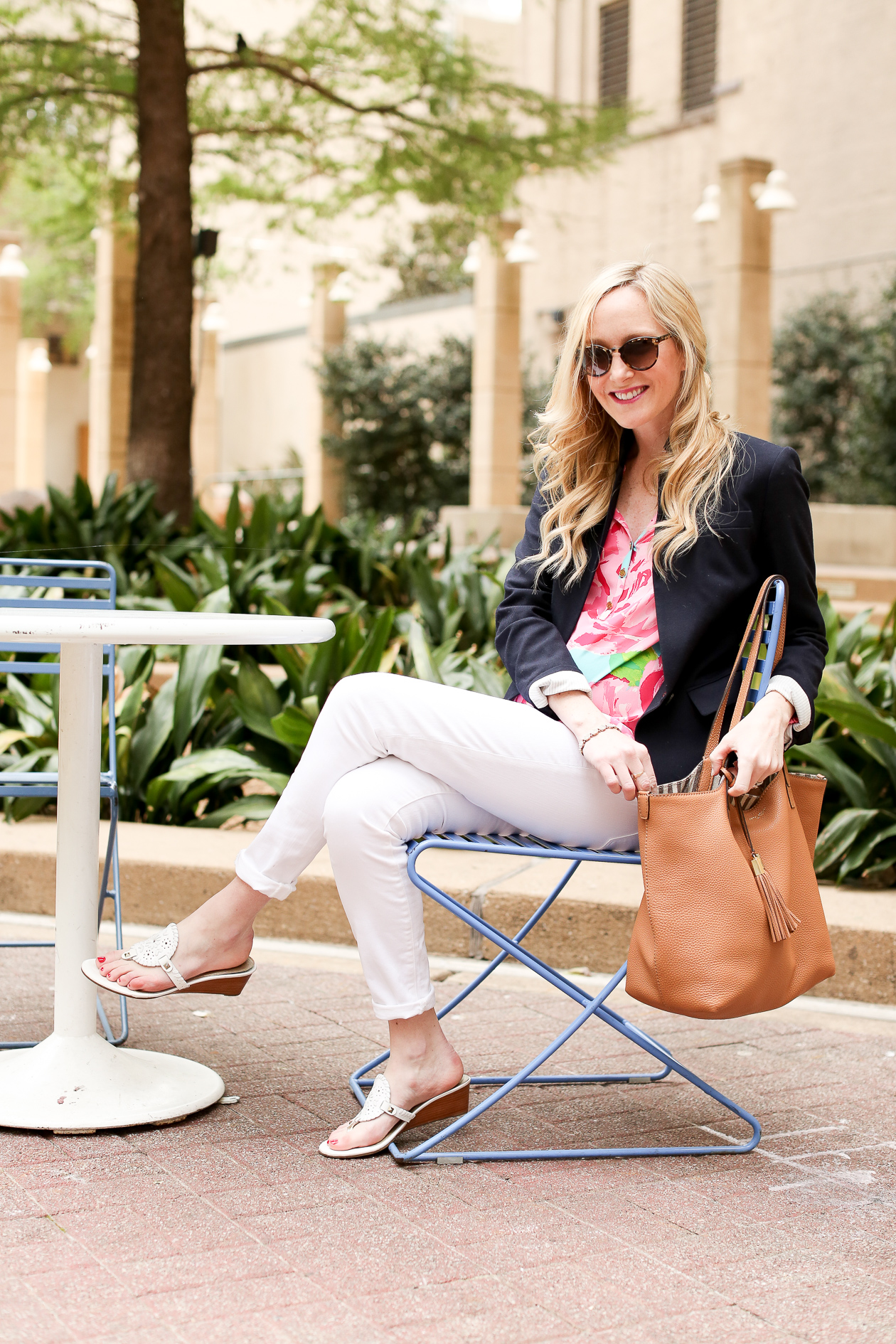 J.Crew Blazer and Jeans (Non-maternity version here) / Lilly Pulitzer Elsa Top / Henri Bendel Tote (Borrowed from Blair) / Jack Rogers Sandals / Similar Sunglasses
I didn't love what I wore for the rewardStyle conference (which I wrote about yesterday). Actually, I LOVED this dress, and I've since ordered another "Sloane" dress on eBay. While it's technically not a maternity dress, it gets the job done really well! I'm also featuring yet another LP maxi with Zappos soon. ;)
My Elsa tops were extremely helpful, too… but I really wish I'd found some dresses–besides the magical Sloane dress–that would have worked. Mostly, I just covered up ill-fitting clothing with my favorite blazer and coat.
Below is what I managed to pull together, but it was HARD.
Time to go shopping, I guess! Sorry, Mitch.
I know about A Pea in the Pod, LOFT's maternity section, Topshop's maternity line and Gap Maternity, but do you guys have any recommendations, or particular products that worked well for you or friends? I'm good on jeans; I just need a few t-shirts and maybe a couple of additional "staple" dresses for the warmer weather that's about to arrive. (One can't wear crazy Lilly prints all the time.) I like this dress! So that's a start.
In other news, hallelujah: It's finally Friday! This past week was a long one, as I spent most of it catching up… and taxes were due to my accountant, haha. But tonight, Mitch and I are attending our adorable retired neighbor's art show in Lincoln Park, and then we're headed to the Shore tomorrow morning. I can't WAIT. The automatic email responder is going on, and I'm looking forward to hanging out with my parents; eating a whole lot of crab, french toast and ice cream; and taking it easy.
Also, Katie: I'm so sorry I can't attend your bachelorette! I love you so, so much, and I promise to make it up to you in the fall when the wine's a-flowin' again. ;) Counting down the weeks until your big day! <3
Hope you have a wonderful weekend!
Outfit details:
J.Crew Blazer and Jeans (Non-maternity version here) / Lilly Pulitzer Elsa Top / Henri Bendel Tote (Borrowed from Blair) / Jack Rogers Sandals / Similar Sunglasses
Outfit details:
Ann Taylor Pumps c/o / Burberry Coat / J.Crew Jeans / J.McLaughlin Top (Old; new tops here) / Similar Bracelet 
Outfit details:
Kendra Scott Necklace c/o (Also available here) / Old Dress / Jack Rogers / J.Crew Bracelet / Beau & Ro Bag c/o / Similar Sunglasses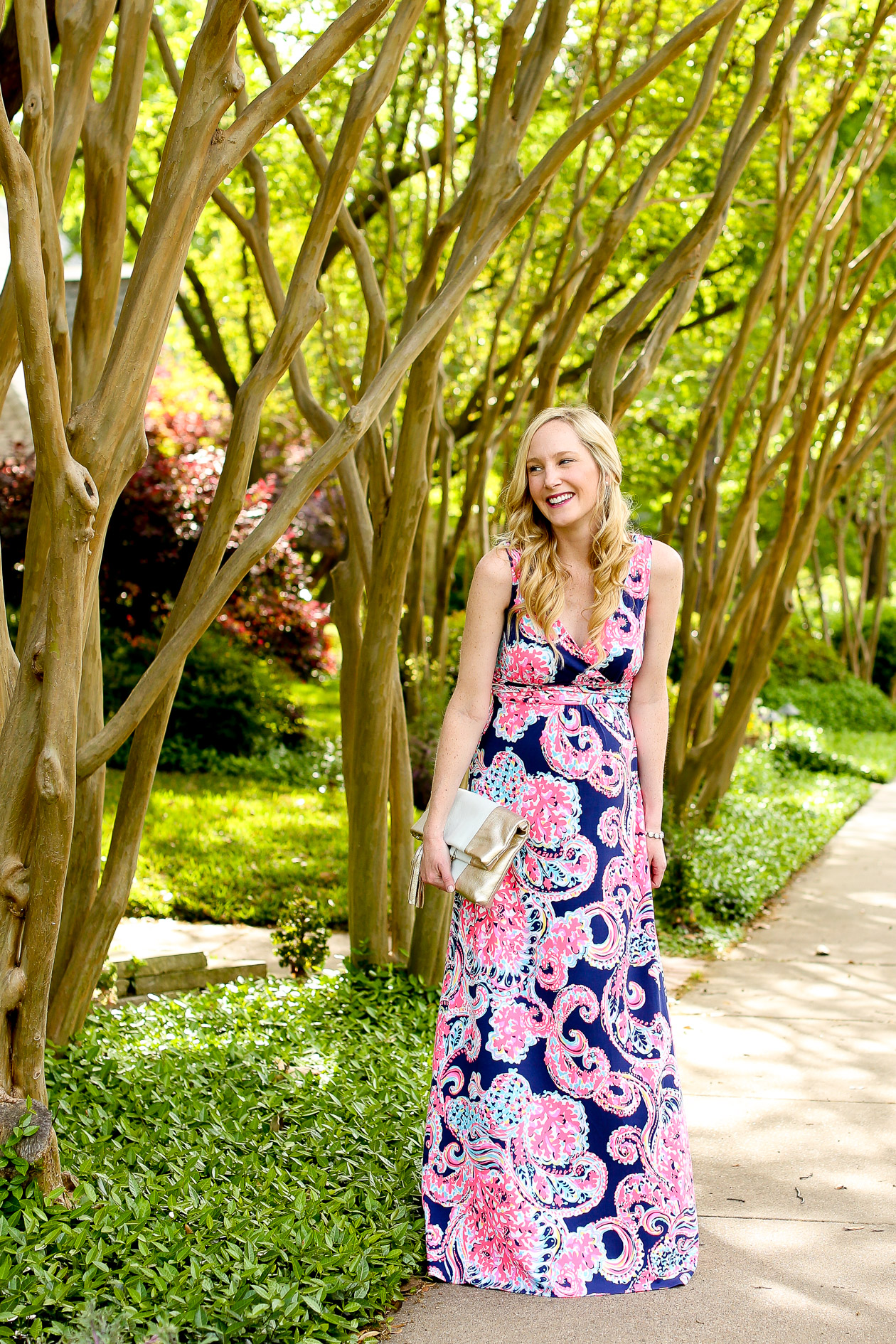 Outfit details:
Lilly Pulitzer Maxi Dress (Shop my faves below) / Beau & Ro Bag c/o / Jack Rogers / Similar Bracelet 
Shop Lilly Pulitzer Maxi Dresses: