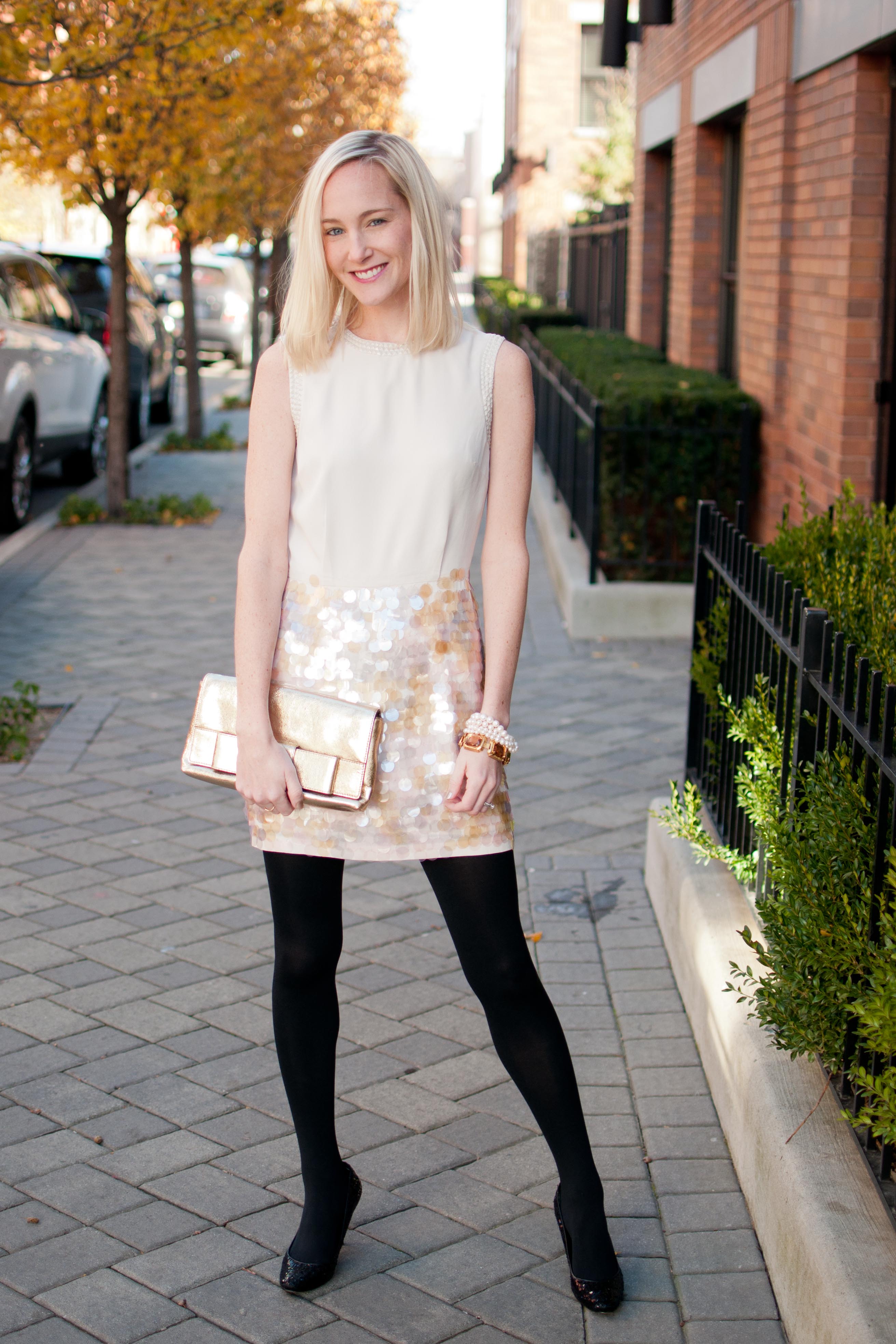 Mitch and I have been making a concerted effort this year to do more "date-like," spontaneous activities. I've talked about this before on KITC, but it's so easy to get stuck in a routine. Don't get me wrong: I love our routine. I love our walks, our dinners, and all of our crafty projects. I love wandering the city together, cooking (and eating) dinner together, and documenting the world around us through videos and photographs together. But sometimes it's fun to do something totally different, get really dressed up, and have an extra special night. So, on a whim, we booked another date through HowAboutWe.com and went to see dueling pianos this past weekend at BrickNYC. (After a delicious Thai dinner in the East Village!)
Dress: French Connection (c/o) / Clutch: Kate Spade (Sold out), but loving this rose gold glittery bow clutch! (Wouldn't it look perfect with the dress?!) / Pumps: Ralph Lauren (Sold out), similar here with scalloped edges (swoon), and here by Kate Spade with a bow! (And these Ted Baker bow-adorned beauties?! Puh-lease.) / Bracelets: Hazel & Marie (c/o) and C.Wonder / Earrings: J.Crew, cheaper version here / Lipstick: Clinique (in "Pudgy Peony.") / Tights: HUE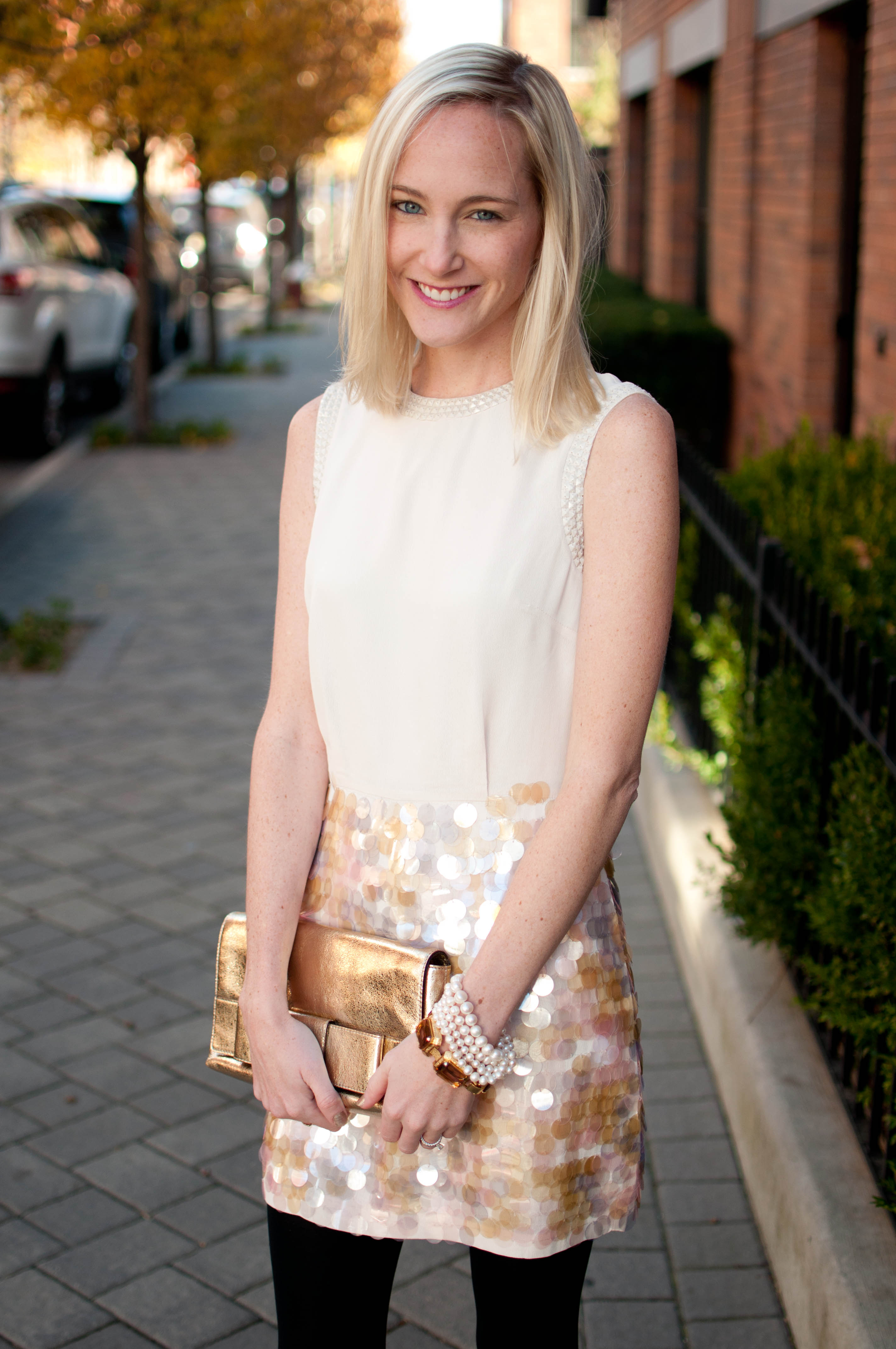 When we booked the date, I knew just what I'd wear: one of the dresses from French Connection's gorgeous "Party Wear" line. Sure, it was a bit dressy, but I loved wearing it. Who says the only time you can get dressed up is for big, magnificent parties? Please. There's nothing wrong with doing it up for date! (I wish I'd taken photos of Mitch's getup. While he'd never admit this, he looked quite adorable. ;))
All in all? The perfect night.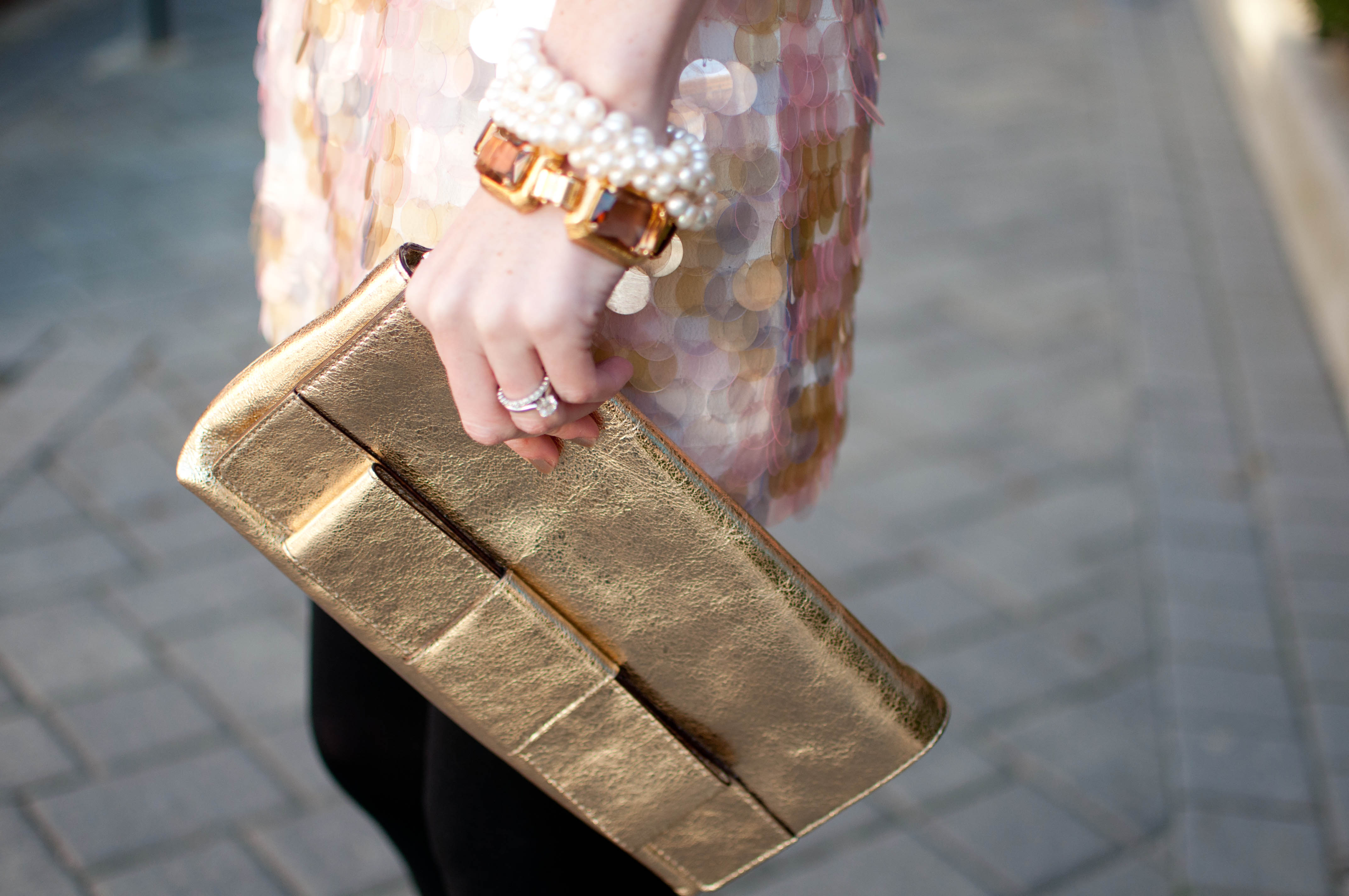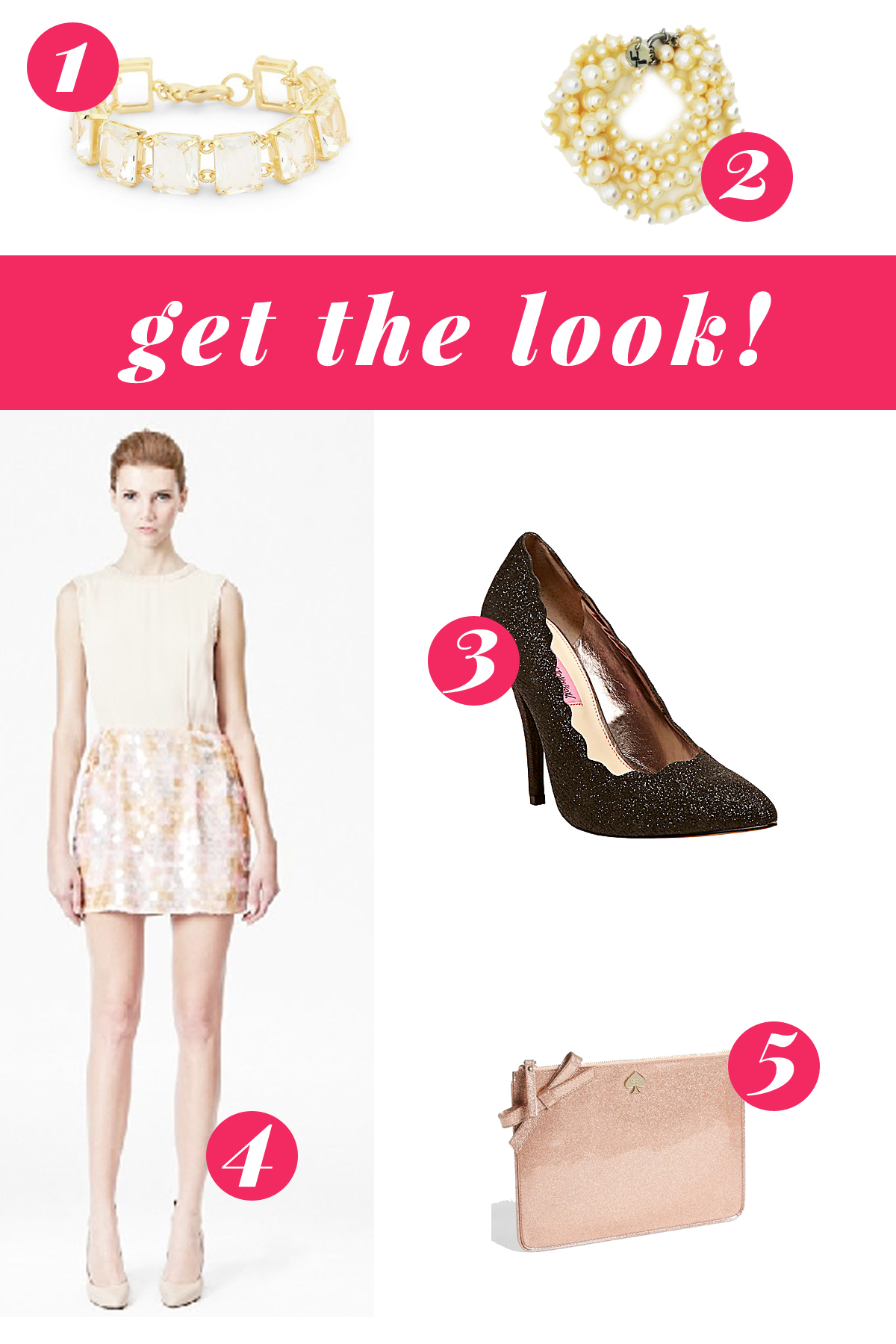 1. Bling Bracelet / 2. Pearl Bracelet / 3. Black Glitter Pumps / 4. Shimmy Sequin Dress / 5. Glitter Bow Clutch
Anyway, back to my usual ramblings. I know it's Monday night, but in my mind, it's Wednesday night, since there are only two more days of work between the turkey and me. I can't wait! I mean, so not looking forward to sitting in traffic for hours (oh, New York), but it's always completely worth it. There's nothing like walking into your childhood home to the smell of–actually, Mom, what is that magical, wonderful smell? Do you sprinkle cinnamon sugar all over the house before I arrive? ;)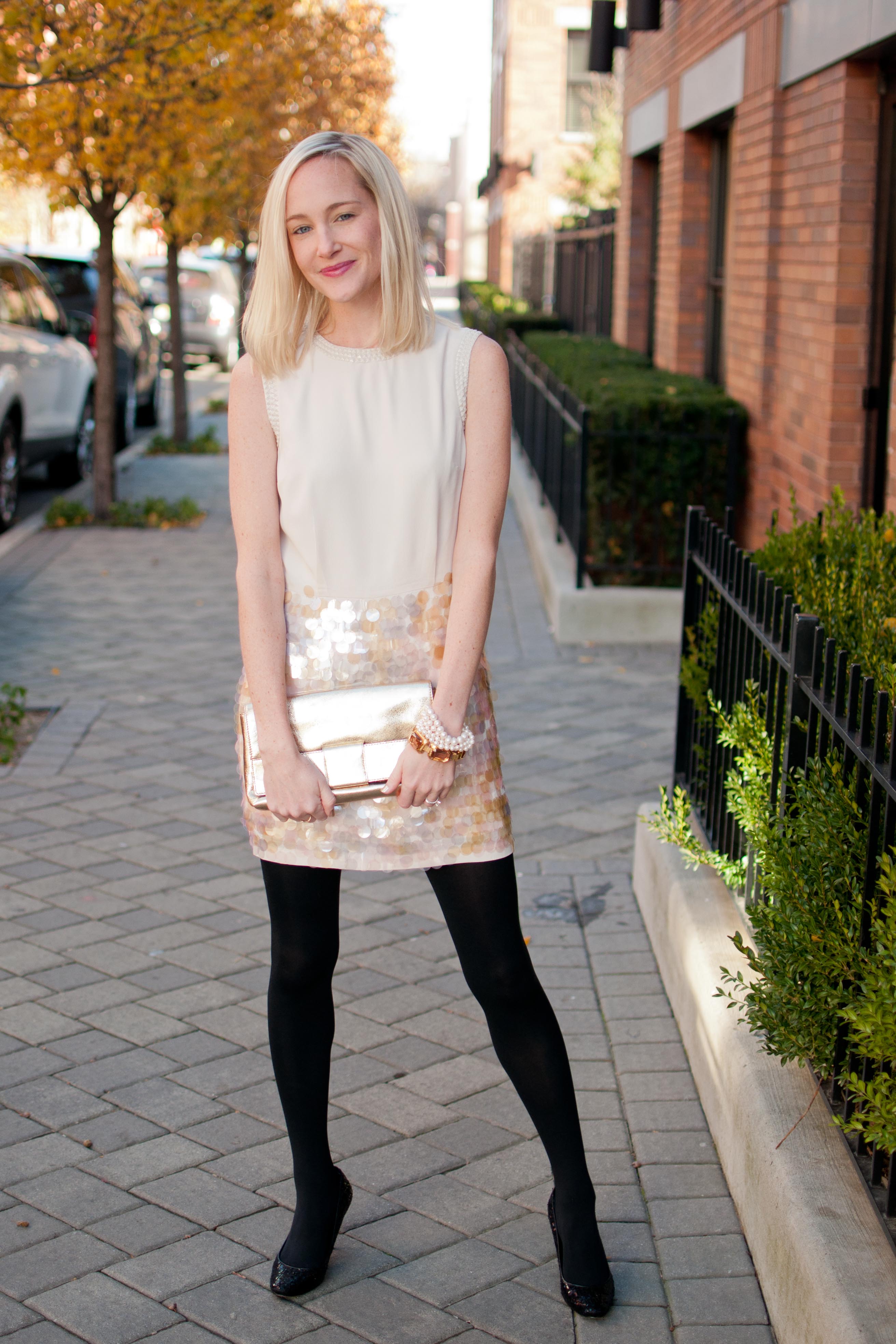 It goes without saying that I'm super excited about seeing my family. This year, Mitch and I will be celebrating with my parents, grandmother and brothers. You know what? A huge shout out goes to Patrick, my brother. Mitch and I met him for dinner tonight at Feile tonight in Midtown, as he has an interview tomorrow at Beth Israel. Patrick is in his last year of medical school and in the midst of interviewing for residency programs in emergency medicine. It's incredibly stressful–honestly don't know how he does it–and he deserves a huge pat on the back for all his hard work. Break a leg tomorrow, Patrick! You've got this. :) See you Wednesday!