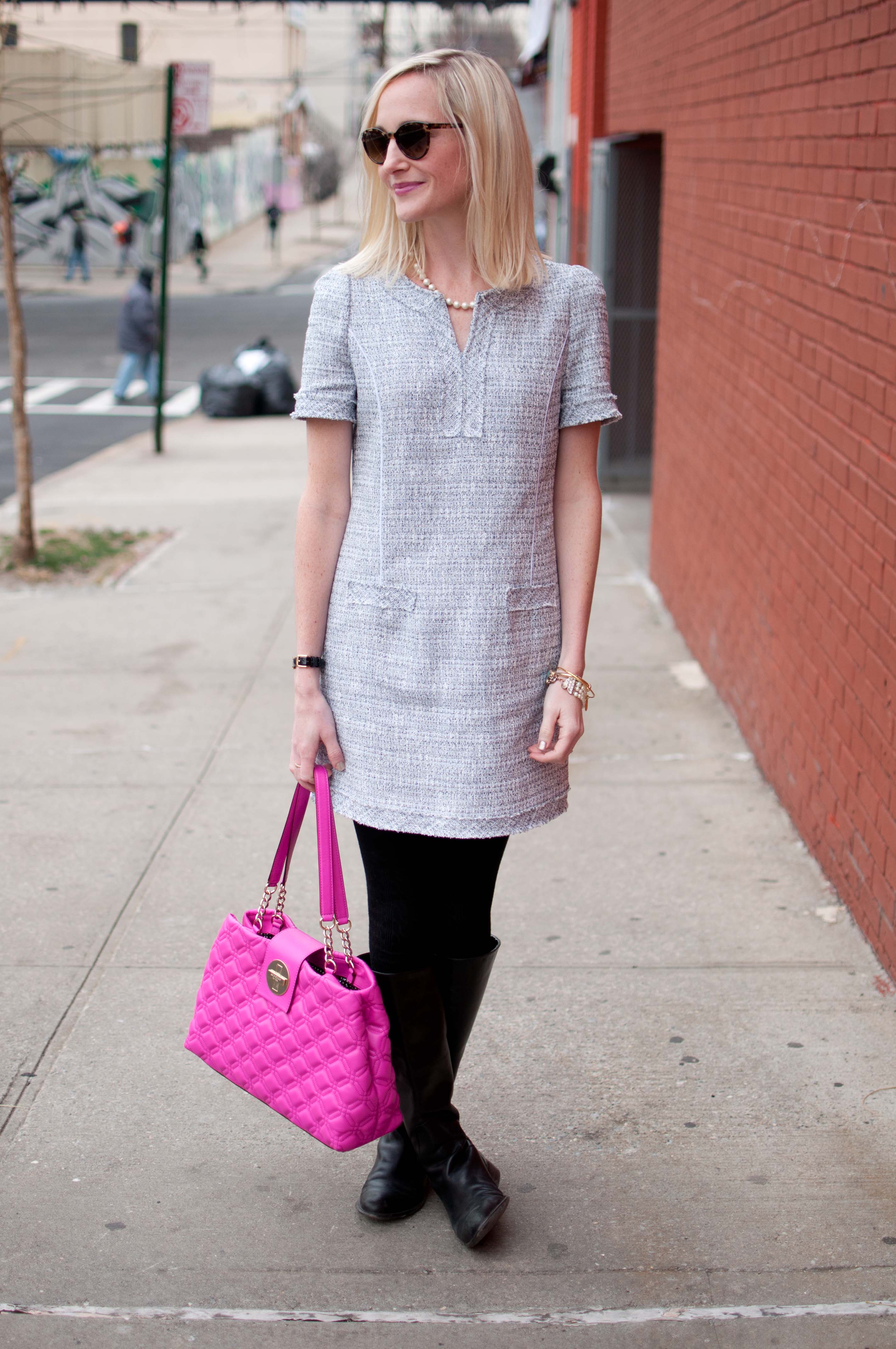 Lately, I've been getting a lot of questions about my job. I tend to shy away from talking about work on Kelly in the City just because blogging is something I do to satisfy that other part of me–the part that isn't a teacher. Nevertheless, I thought I'd answer a few of the questions I've been getting most often! ;) (And today seemed to be the perfect day, as these photos were taken around the corner from my school.)
Dress: McGinn Collection (c/o) (Slightly different version, but so similar! The version I'm wearing comes out in spring 2014.) / Bag: Kate Spade (Sold out), similar here and here / Bracelets: Fornash (c/o), Julie Vos via Tuckernuck (c/o), and J.Crew (Old), nearly identical here* / Boots: Franco Sarto (Old), loving this newer version, though (Have I mentioned how comfy Franco Sarto boots are?!) / Necklace: Kate Spade / Watch: Kate Spade, also available in pink. Bracelet version: gold, silver, white, orange, black, and rose gold / Sunnies: Kate Spade (Sensing a pattern here?) / Earrings: J.Crew*, cheaper version here / Lipstick: Clinique (in "Pudgy Peony.") / Tights: HUE
*Take 25 percent off your order with code "GETGIFTING"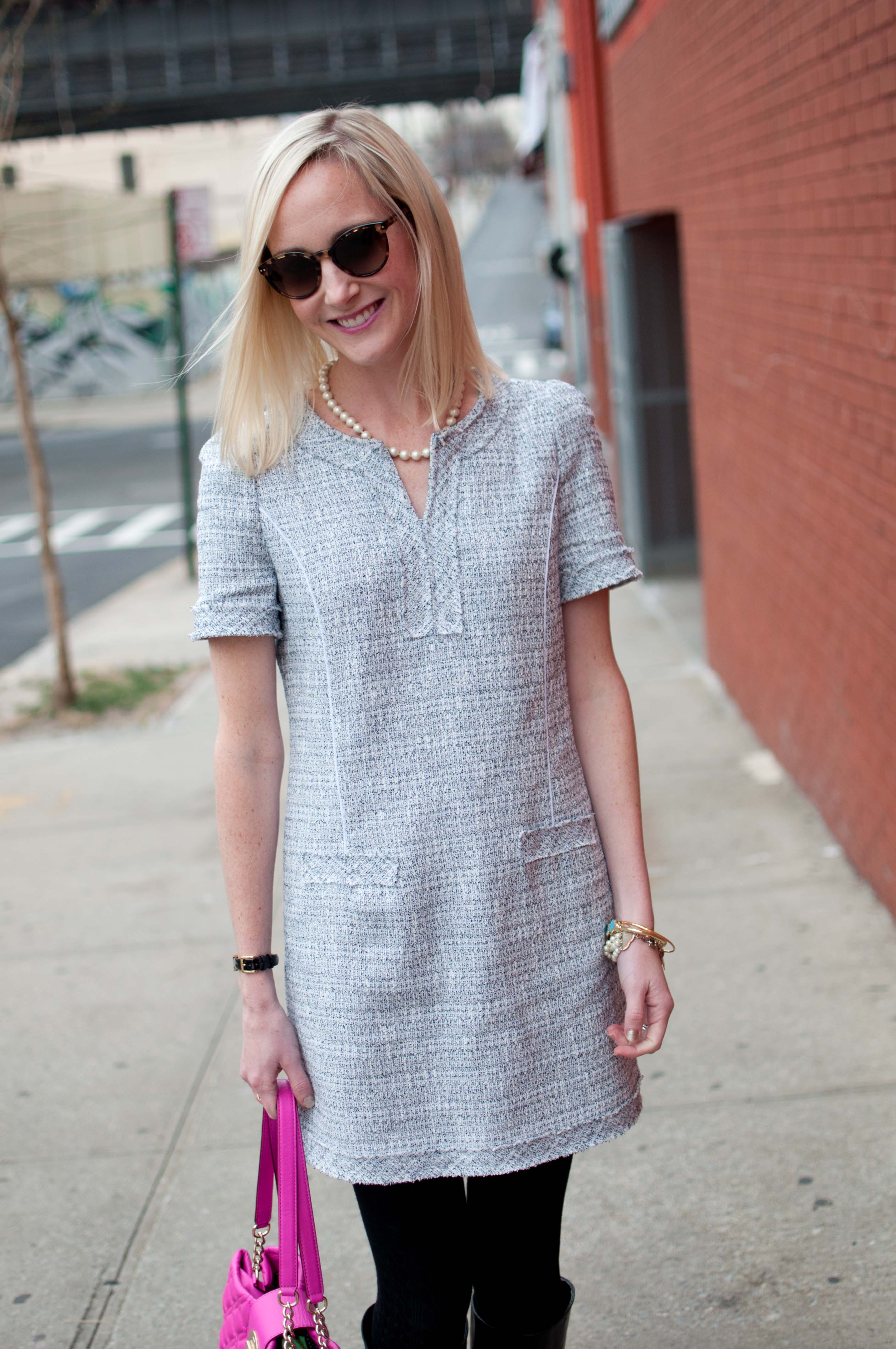 Where do you teach, and what grade and subject do you teach? I teach at a large public middle school in the South Bronx. While I taught eighth grade English Language Arts for my first six years at my school, I now teach seventh grade ELA. I really like it. I spend a lot of time teaching the persuasive essay and discussing high-interest teen books!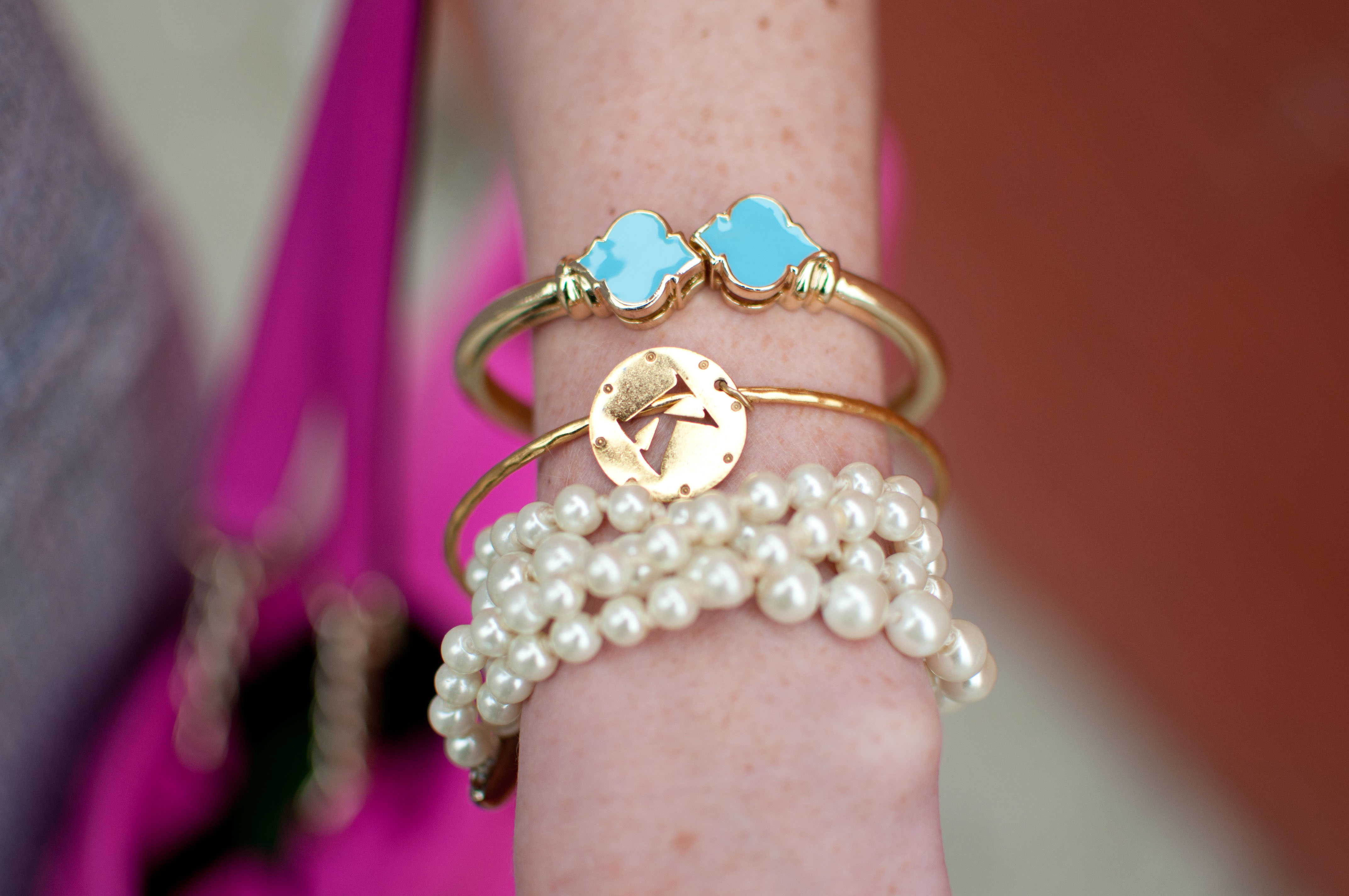 Did you always know you wanted to be a teacher? No. In college, my heart was set on journalism. I envisioned myself writing human interest stories for the New York Times. As a recent college grad, I moved down to the Big Apple to take a position as an online news editor at a trade magazine. I wasn't feeling fulfilled in my position, so I applied to the New York City Teaching Fellows (similar to Teach for America but NYC-based) about a year later when I saw an advertisement for the program on the subway. I'm so happy I did it.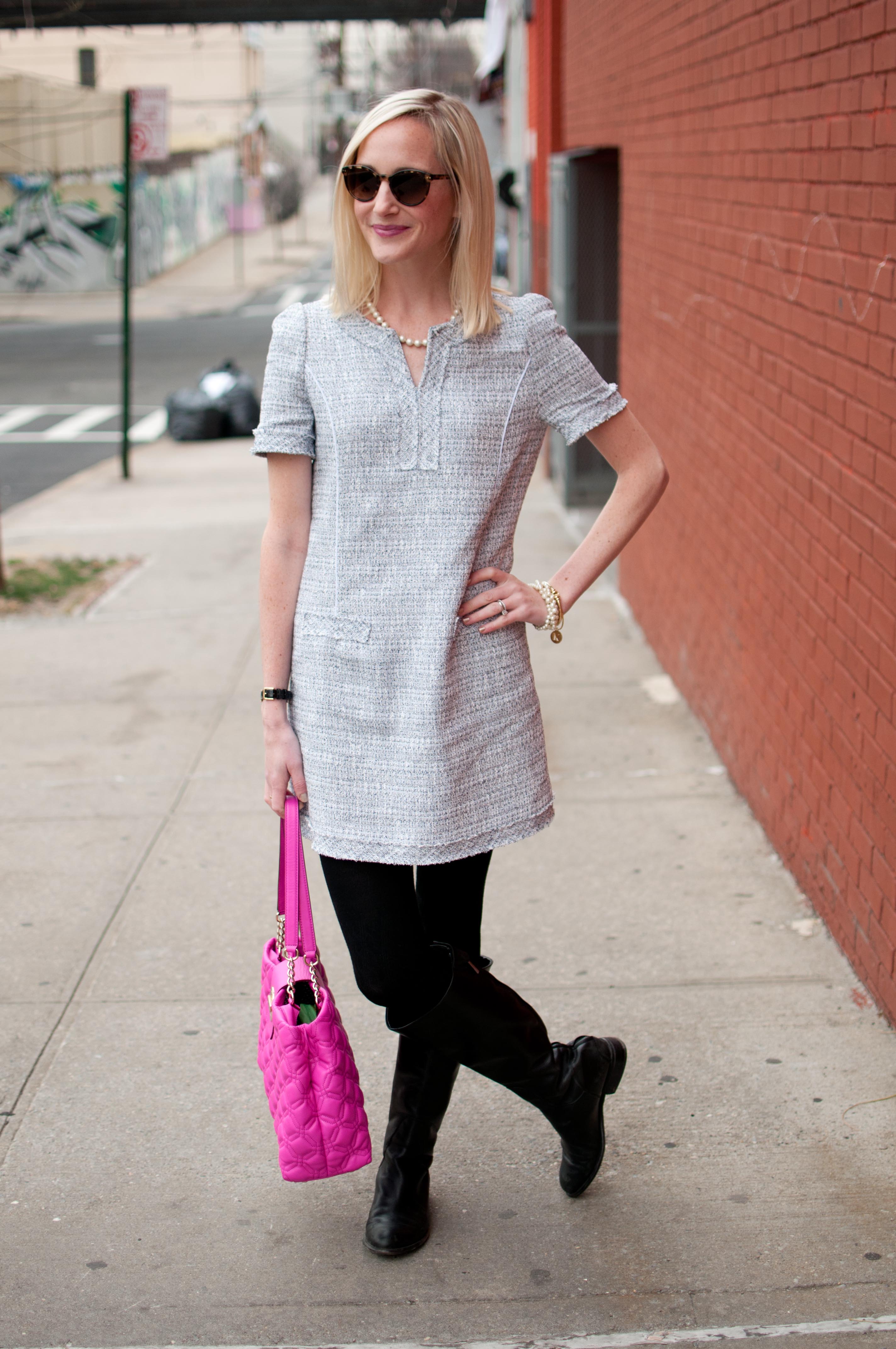 What's the most challenging part of teaching in the city? What's the most rewarding part? For me, for most challenging part of being a teacher in New York is satisfying the requirements of the city and state while keeping my students' best interests in mind. Most of our students come to us with gaps in their educations, and it's our job to help them catch up. Helping them catch up, realize their potential, and meet high expectations is definitely why I'm in this field. (The best part of the job, by far.) But it's difficult to not get overwhelmed and discouraged when you're required to teach in a way that doesn't necessarily benefit your population. (I'm lucky, though. This year has been much, much better.) Oh, and it's really hard to keep my students in line. Like, really, really hard. Things are fairy under control now, but they weren't always… ;)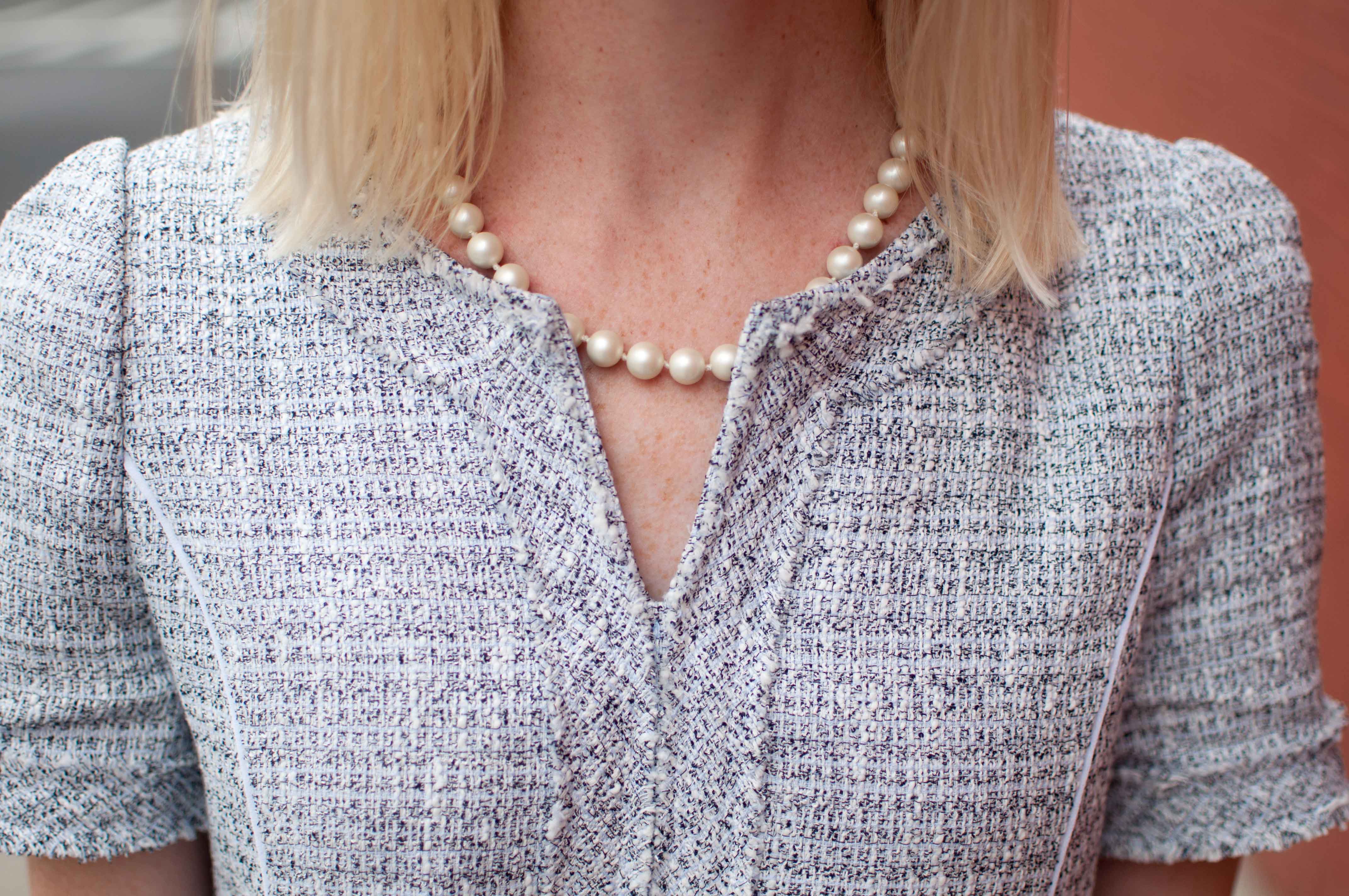 So… you met your husband there? What's it like working with him? I did! He was–and still is–a math teacher at my school. When we first started dating, we tried to keep our relationship a secret. Huge mistake. Rumors flew around the school like crazy, and it was the topic of conversation in nearly every one of my classes. Once we went public with it, though, the kids kind of lost interest. This year, my students have Mitch as their math teacher and me as their English teacher. They're pretty used to it now, but there certainly have been a few funny situations!
During our early days at the school, there were a ton of staff members who were our age, and we had a really great group. We did everything together! We planned together, celebrated Friday nights together, and traveled together. While those early teaching years were some of the most challenging of my life, they were also some of the best. We all–quite literally–married each other in the end, too. Three couples in total. (I feel like that's a lot!) Most have moved on to different schools, new careers and other cities, but we all keep in touch and remain close. I'm very, very lucky.
Anyway, working with my husband is awesome. It's so nice having him right down the hallway. I know that this situation is not for everyone, but it really works for us. We keep each other going! (And when I'm having a bad day, he's there to cheer me up. Which usually entails bringing me coffee and candy from the bodega across the street. Thanks, Hubster.)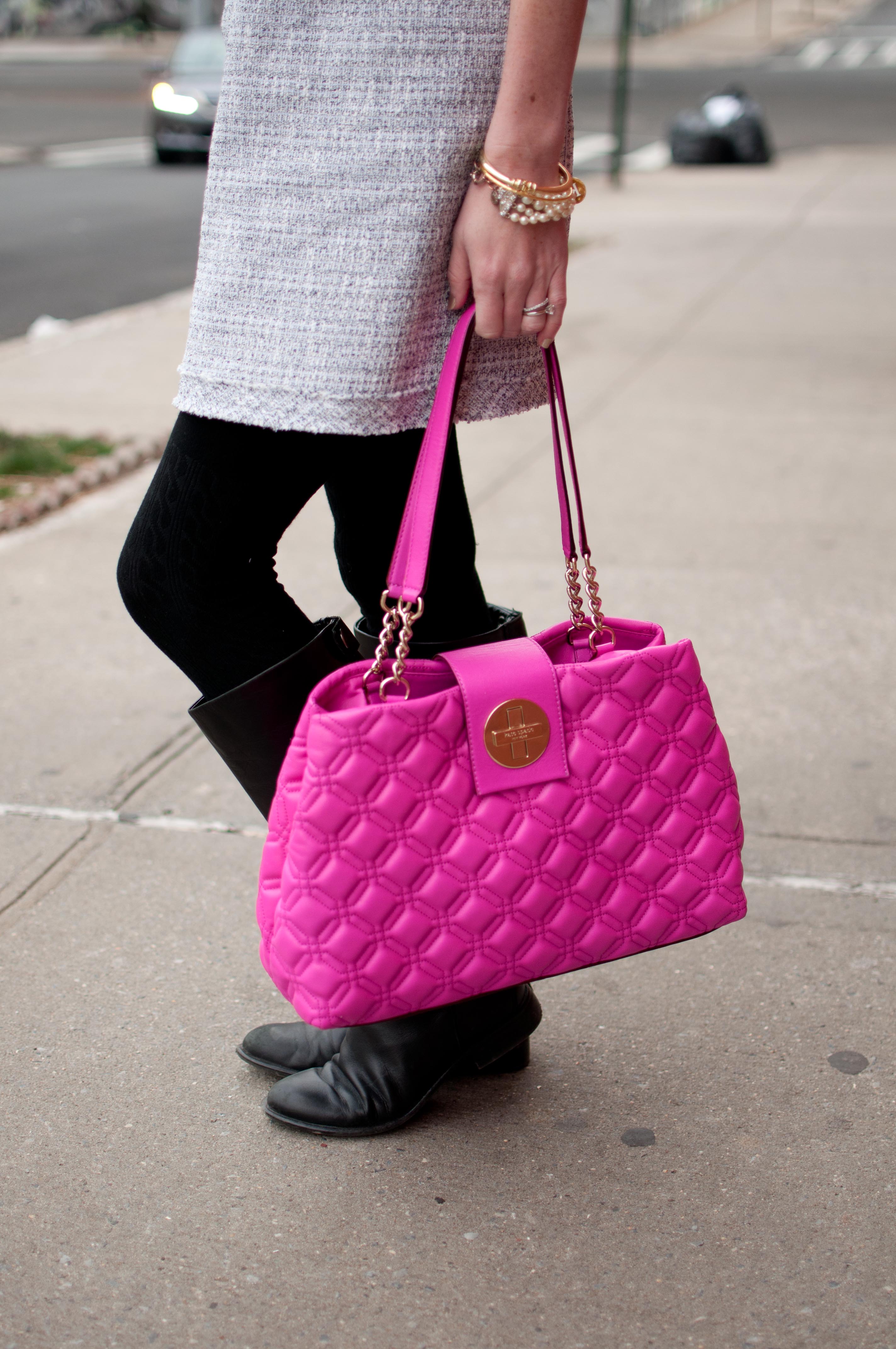 Is it difficult teaching in the South Bronx? Yes. Every day is an adventure. The neighborhood has seen better days, and its residents have to put up with a lot. (Poverty, crime, violence and drugs, to name a few things.) But it's also a neighborhood full of history, culture, potential, and a ton of teens ready to change it all around. (Did you hear?! Banksy visited us recently!) You can't help but be inspired while walking down the streets. The Bronx has taught me so much about myself, the world, and life, and I'm incredibly grateful for my experience there. It will always be a part of me.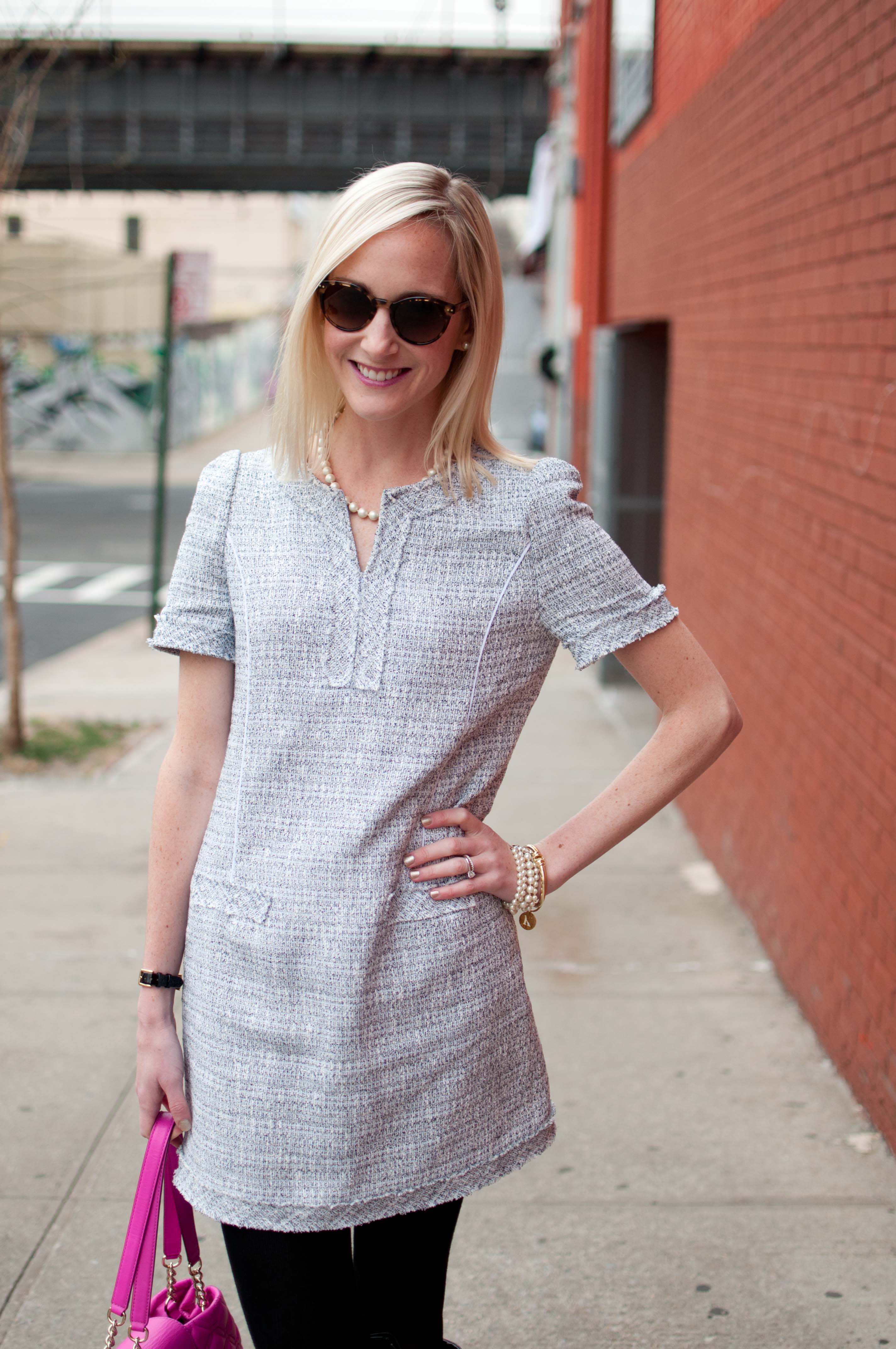 How do your students, coworkers and bosses feel about your outfits? And the blog? So far, the people I work with (who know about Kelly in the City) have been incredibly supportive and genuinely interested in what I do. Sure, I'm definitely known as the girl with the weird sense of style, but that's okay! Last year, nearly all my students found the blog, and a lot of them set up their own blogs as end-of-year projects. (So fun.) This year, only a handful have mentioned it to me. I guess it's just a year-to-year thing. ;) Regardless, my love for fashion only seems to bring us closer.
And don't forget to enter the Personalized from Me to You giveaway!