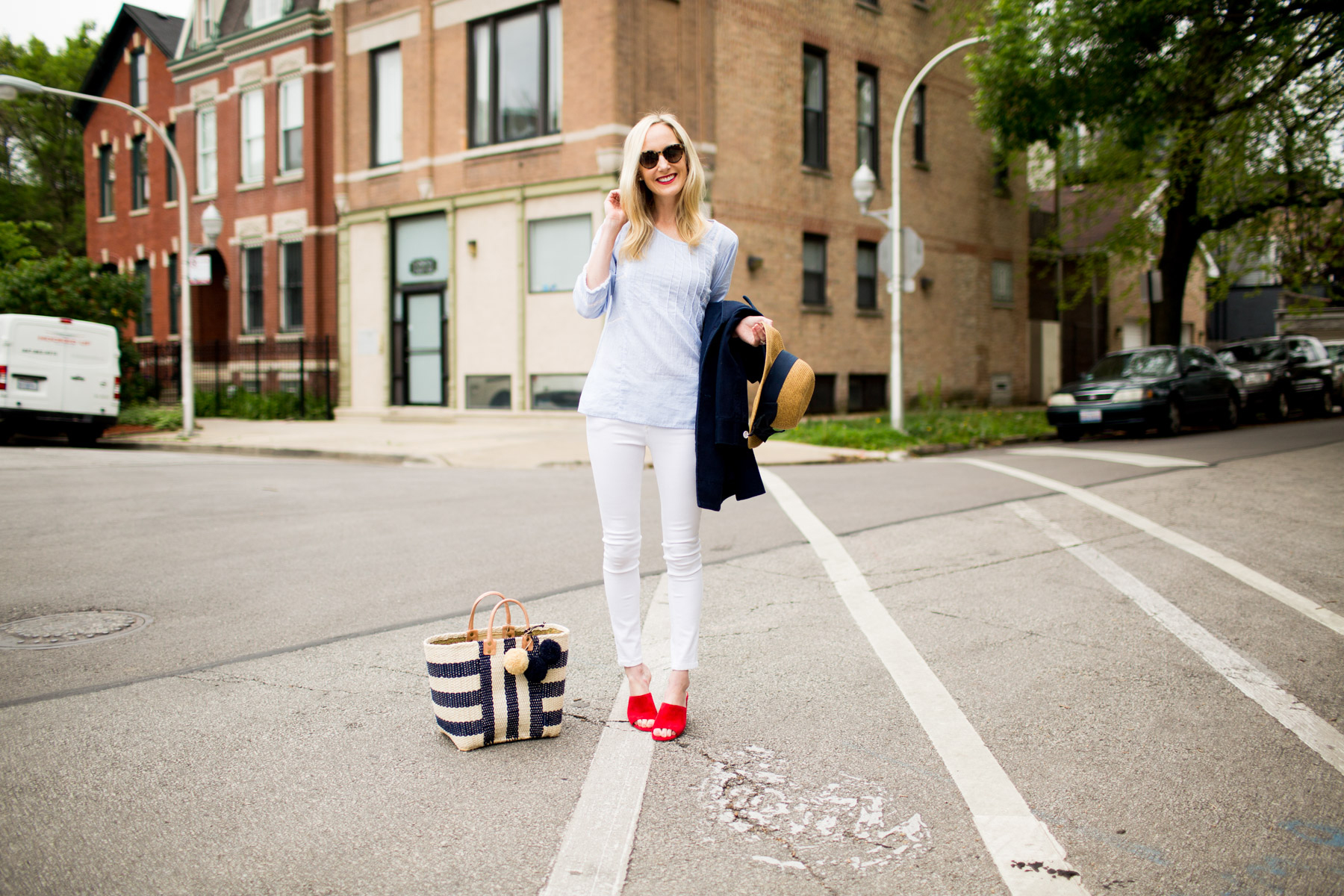 Caslon Pinktuck Pleat Top (On sale!) / Mar Y Sol Tote / White Skinny Jeans (On sale! Also love these.) / Red Slides c/o (And love the Halogen version, which comes in dark blue! Other favorite slides of the season include these kiltie slides and these bow mules. I should also mention that the mule version of my favorite loafers are on sale!) / Tuckernuck Hat c/o (Sorry. I wear it constantly. Also in white and black.) / J.Crew Twill Pea Coat c/o (And love this one!)
Before we get to today's little life updates, let's talk about Caslon for a minute. It's a brand carried at Nordstrom that I've long been obsessed with because the quality is on point, the prices are reasonable, the sales are great, and there are always some preppy gems in there. ;)
Just take this top. It's currently on sale, and it's been a staple for me over the last couple of months. I love the tiny blue-and-white stripes, the pinktucking, the lace details, and the fact that I can wear it during the day with Emma yet dress it up if need be.
On account of all the playground visits, I've been living in sneakers this season–this pair of gingham Supergas, this pair of Sperrys (Shopbop carries more on sale!), these Keds, and this Converse pair–but I always tuck the shoes that I wish I were wearing into my tote so I have 'em for nights, meetings, events, or impromptu get-togethers with friends. I know: that seems a little silly. But I'm both a mom and a girl who loves pretty shoes, and awesome red statement mules make me feel awesome.

Caslon Sale Faves

Caslon Newer Arrivals
I've included a bunch of my faves from Caslon above, but I'm currently obsessed with this gorgeous white dress (on sale!), this bow-backed striped top, this off-the-shoulder flutter top, this pom pom tank, and this blue-and-white top. Other picks at the very end of this post in an easy-to-shop format. :)
Anyway, some quick life updates:
Daycare is going SO much better! We've gone three days in a row, and Emma improves each time we visit. I'll admit that I cried the first time I dropped her off. It was just so heartbreaking to see my little girl upset like that, and it was beyond difficult to part with her–especially when she was in that state. But today, when Mitch and I picked her up, she was all smiles. I'm so proud of her, and I know this is good for everyone. She's socializing, becoming more independent, and making friends!
I haven't caught up yet. I've really only had one two-hour work session so far, as the first two times I simply sat in the hallway where Emma couldn't see me, since we weren't sure how it was going to go. I think it's probably going to take a couple of months to actually yet caught up, but that's okay. I'm a mess, you guys know I'm a mess, and if you're still reading this, it would seem that you're okay with that, haha. (Thanks!) Excited to make slow progress every day, though, and dedicate more time to this blog in the coming months!
I've started using Amazon Drive. I'll write more on about the tragedy that recently occurred (and how it affected me) in this weekend's "Life Lately" post, but seriously: back up your precious family photos, guys. And start using Amazon Drive.
We're going to Denver! Two of our best friends, Dan and Laura, are getting married in Denver in July, and we're extending our trip to a full week. Do you guys have any recommendations for where to stay, what to do and where to eat? We're thinking about spending half of our time in Denver and then going elsewhere for the rest of the trip, but we haven't started looking into it yet. With California, we relied totally on your recommendations, and it worked out AMAZINGLY. (You know us so well! Thank you!) So please, haha, plan our trip for us…
Mitch secretely planted trees in our neighbors' yard. It was the funniest thing. Long story short, the trees in our neighbors' parkway were diseased and the city came and chopped 'em down. Mitch was devastated, as he felt the loss detracted from the overall feel of our block. So he harassed the city until they sent us two tiny trees in the mail. We received them yesterday, and Mitch went out into the night and planted them in secrecy. (The property is a rental property, so I have very few fears that the management team is reading this little fashion blog. If they are, though, YOU'RE WELCOME, GUYS. <3)
Mitch gets out of school in two weeks. It's all we talk about. We're basically fourth-graders.
Over and out!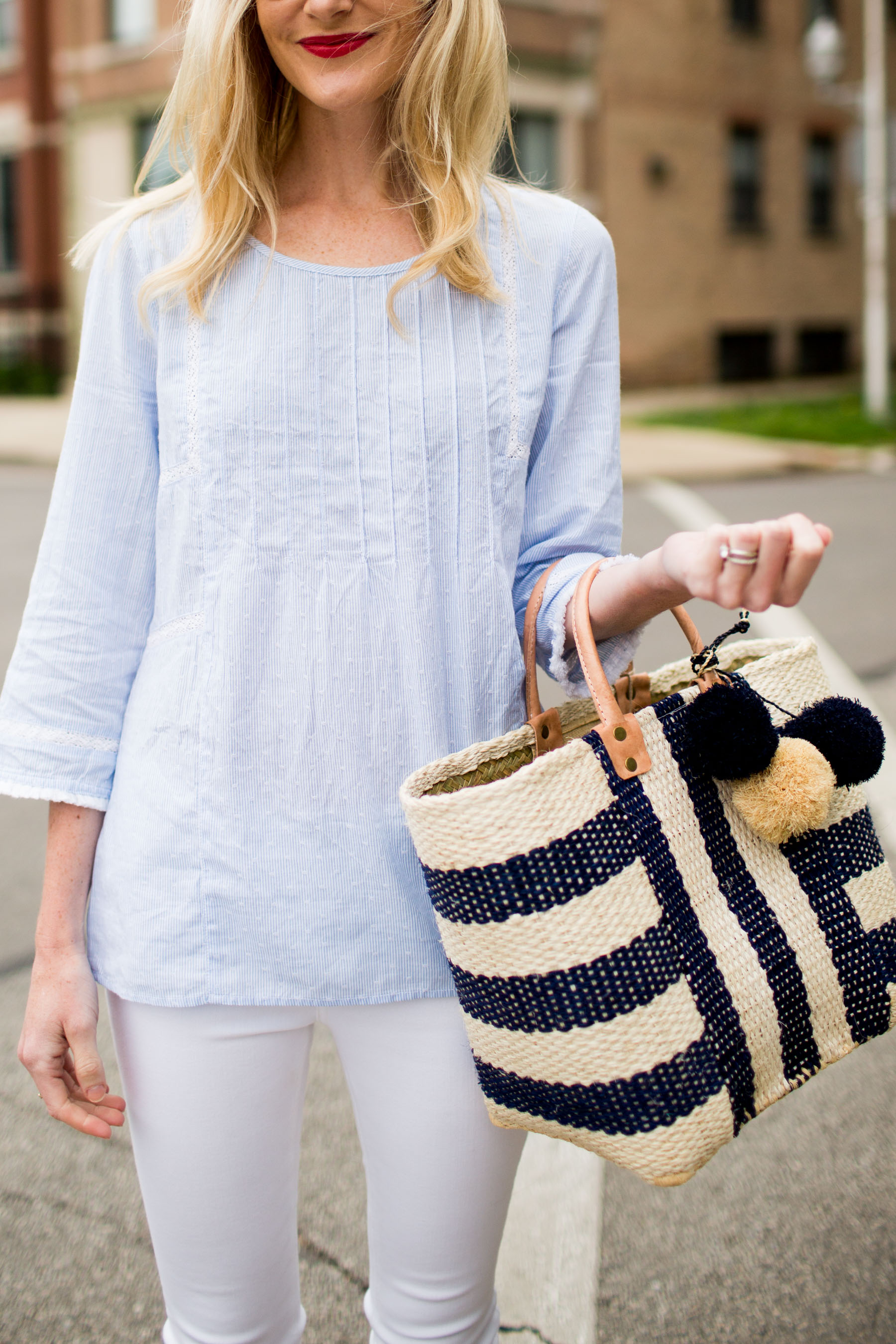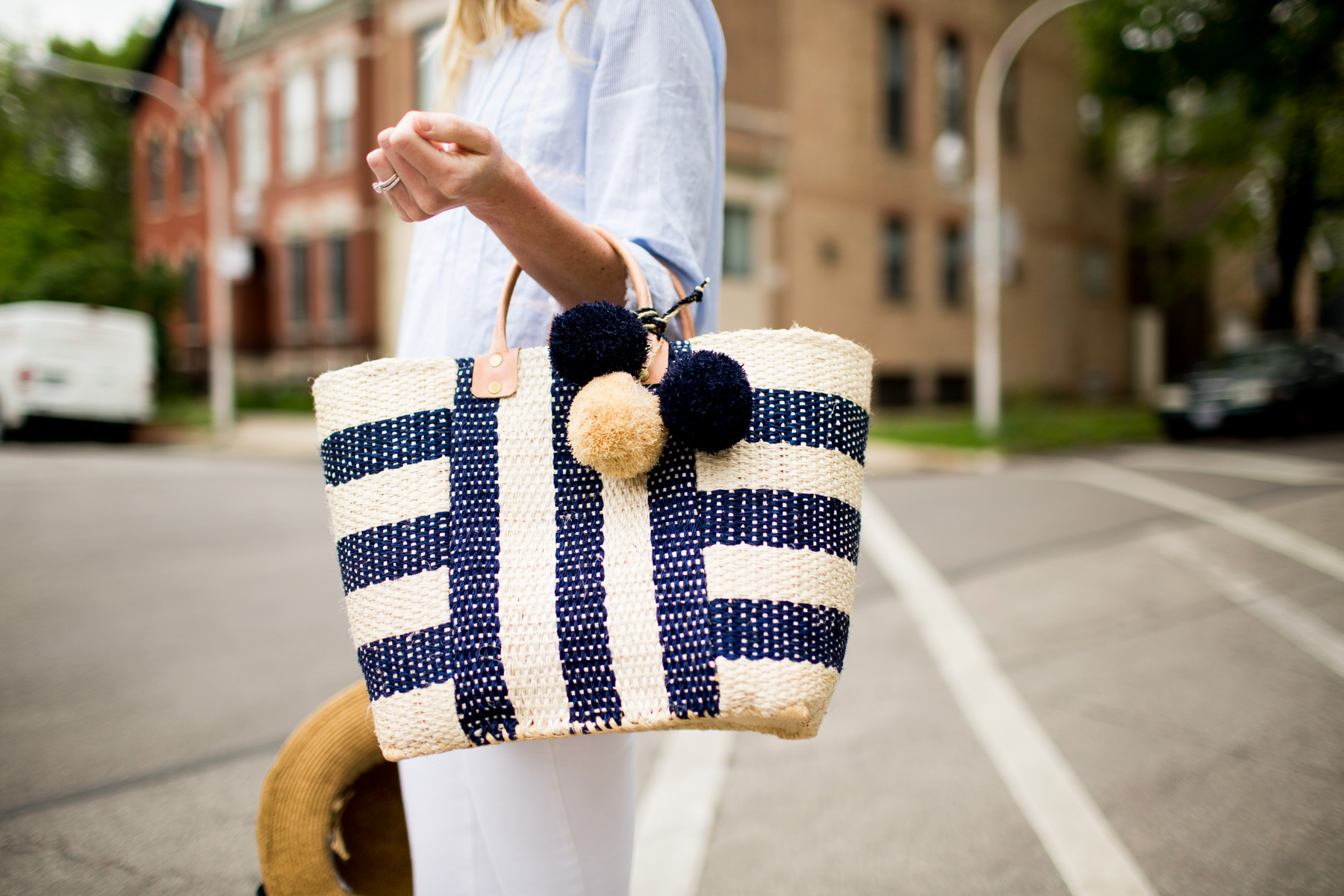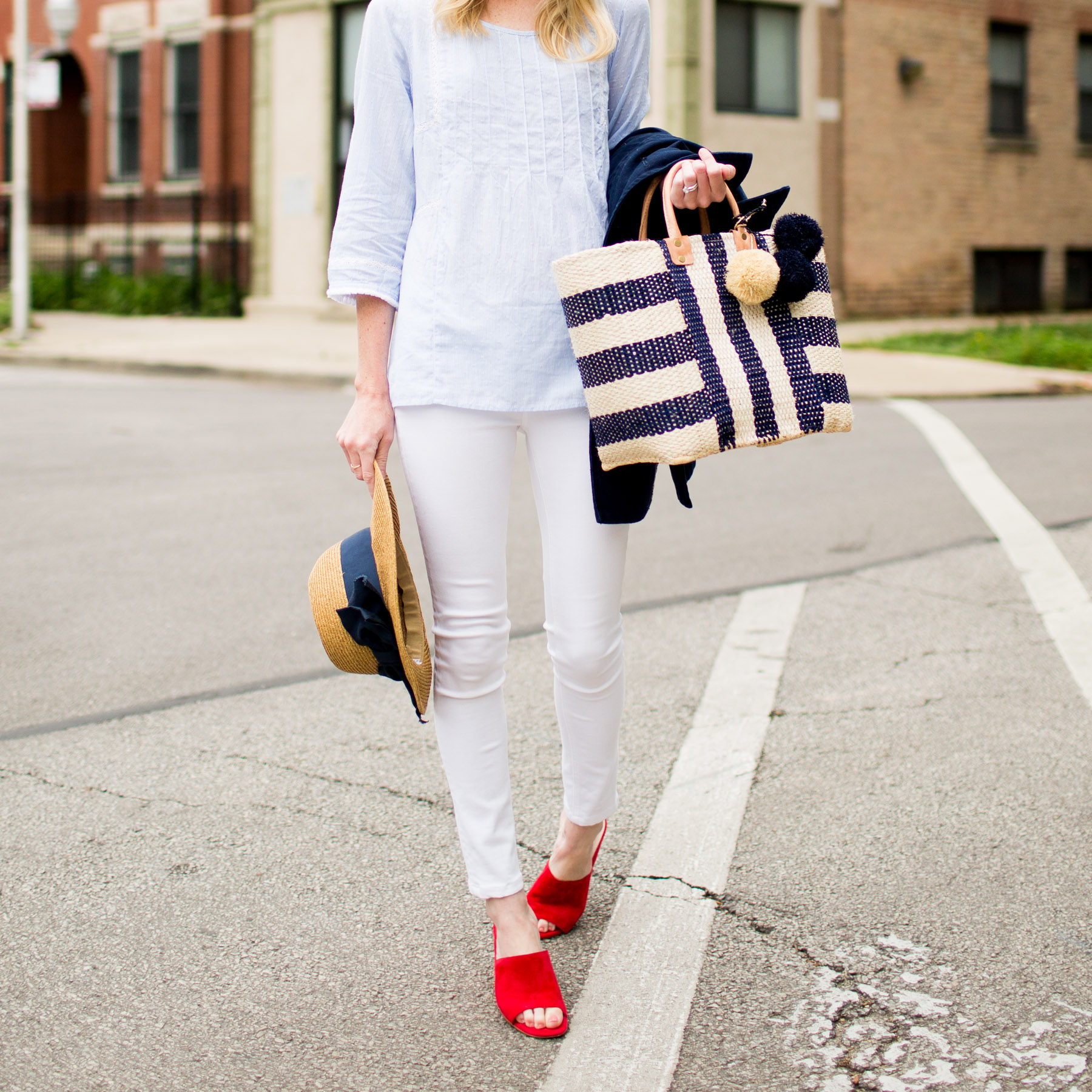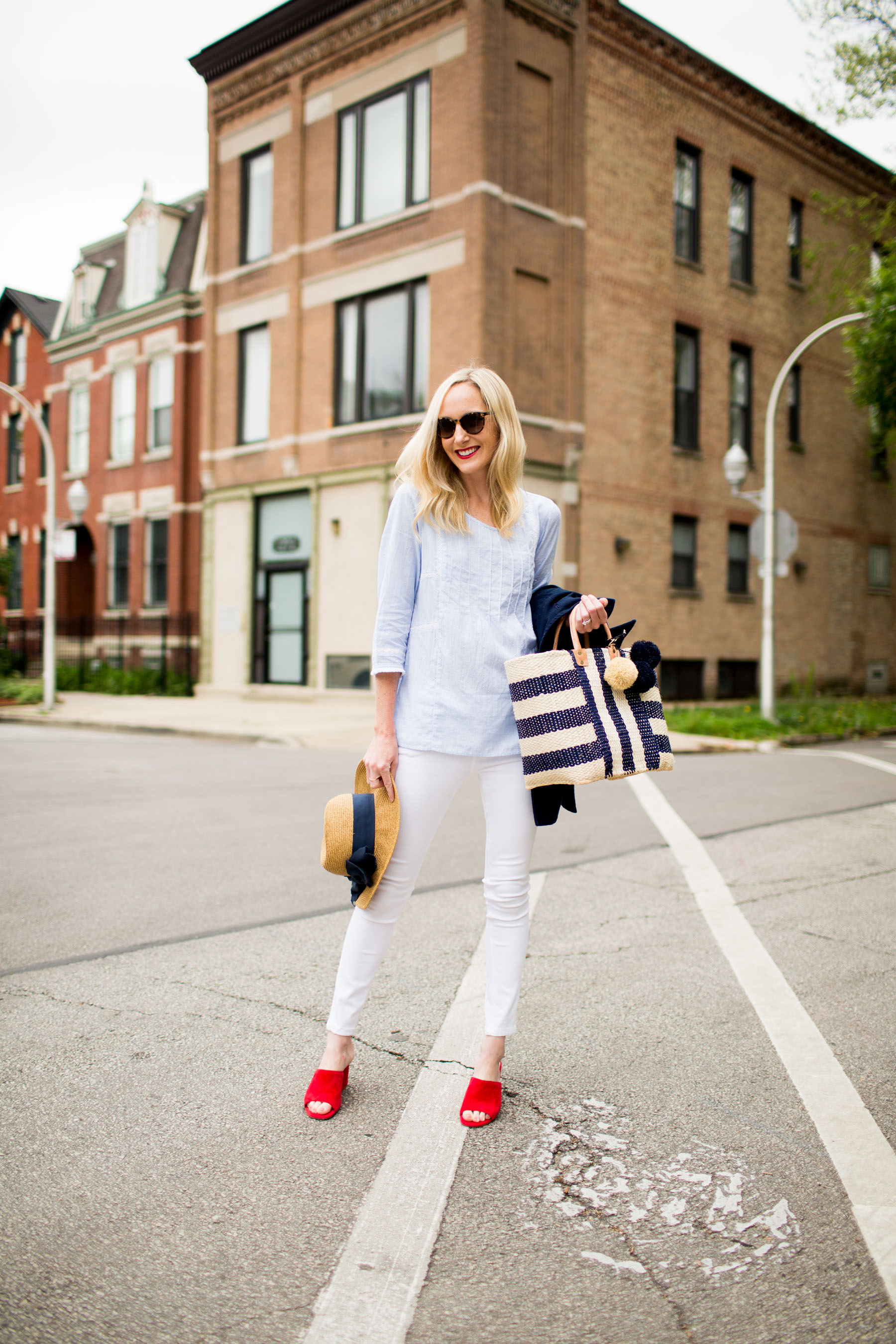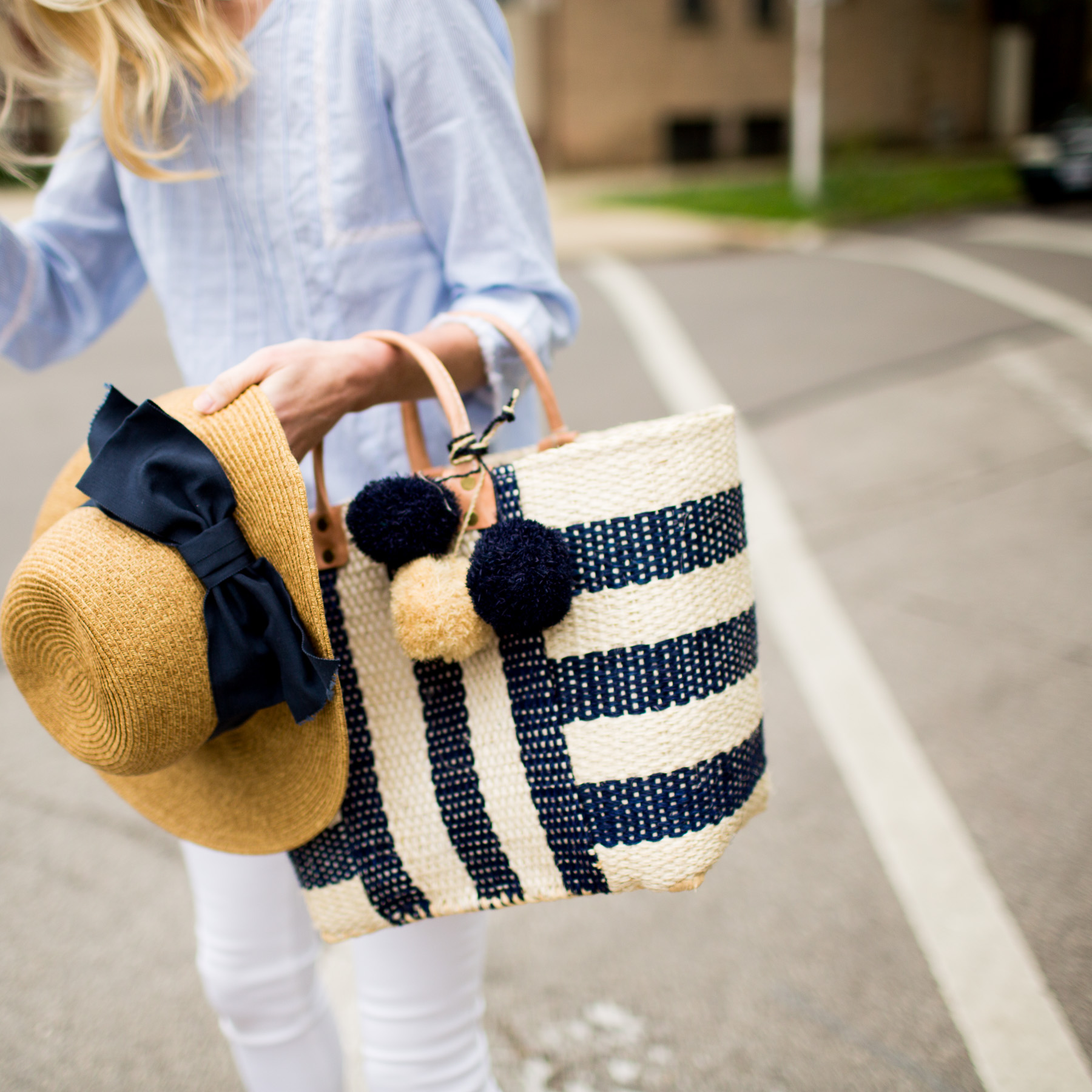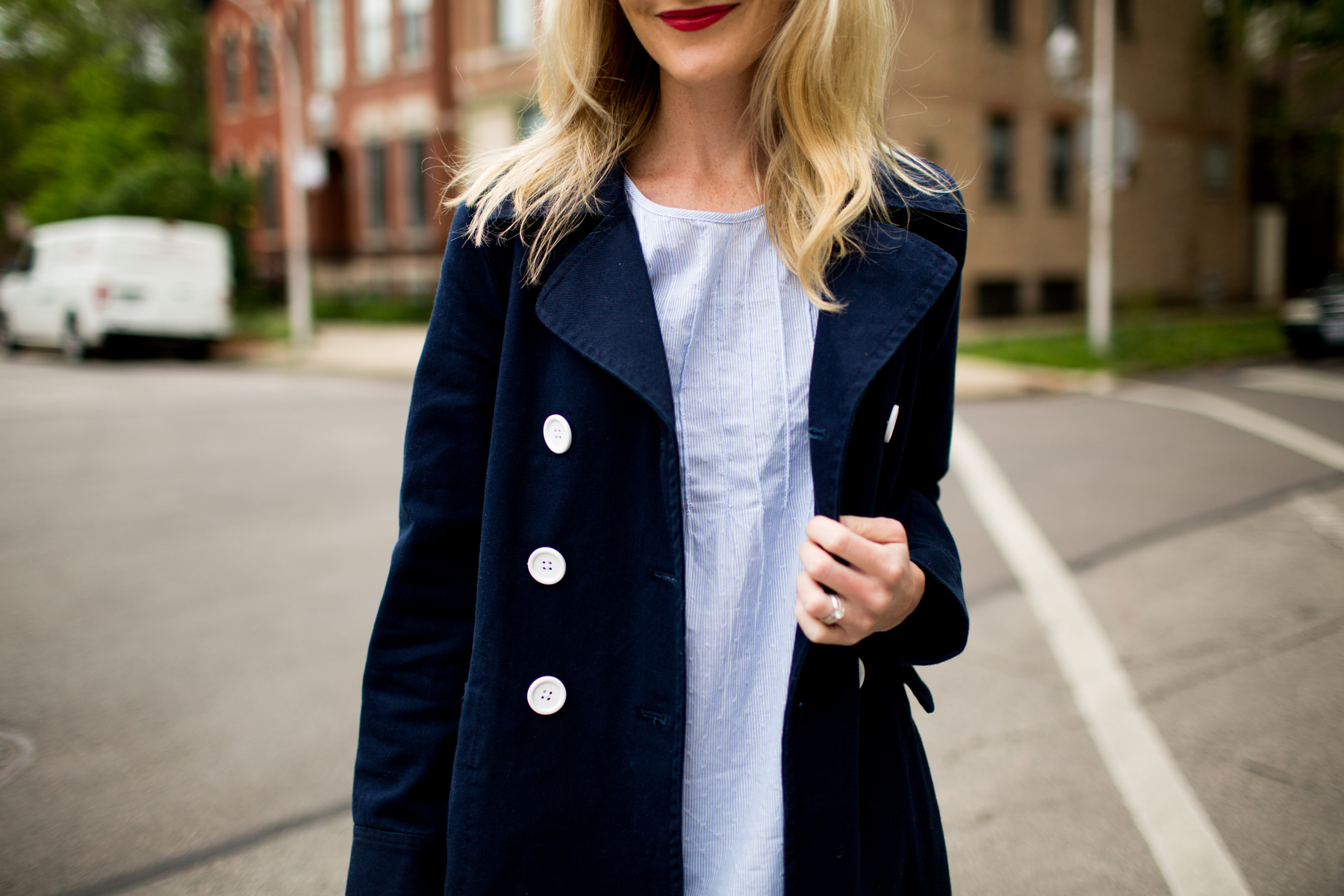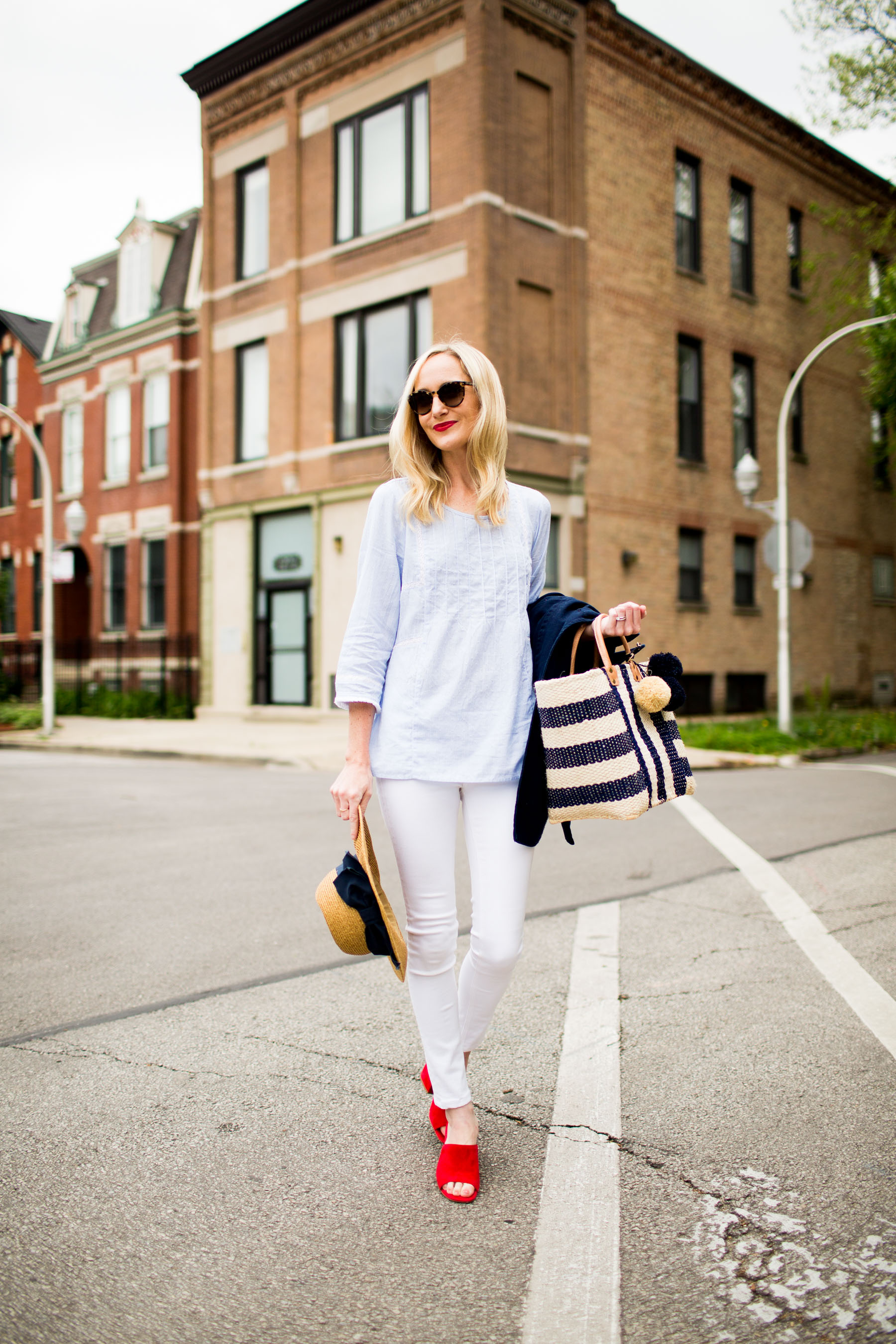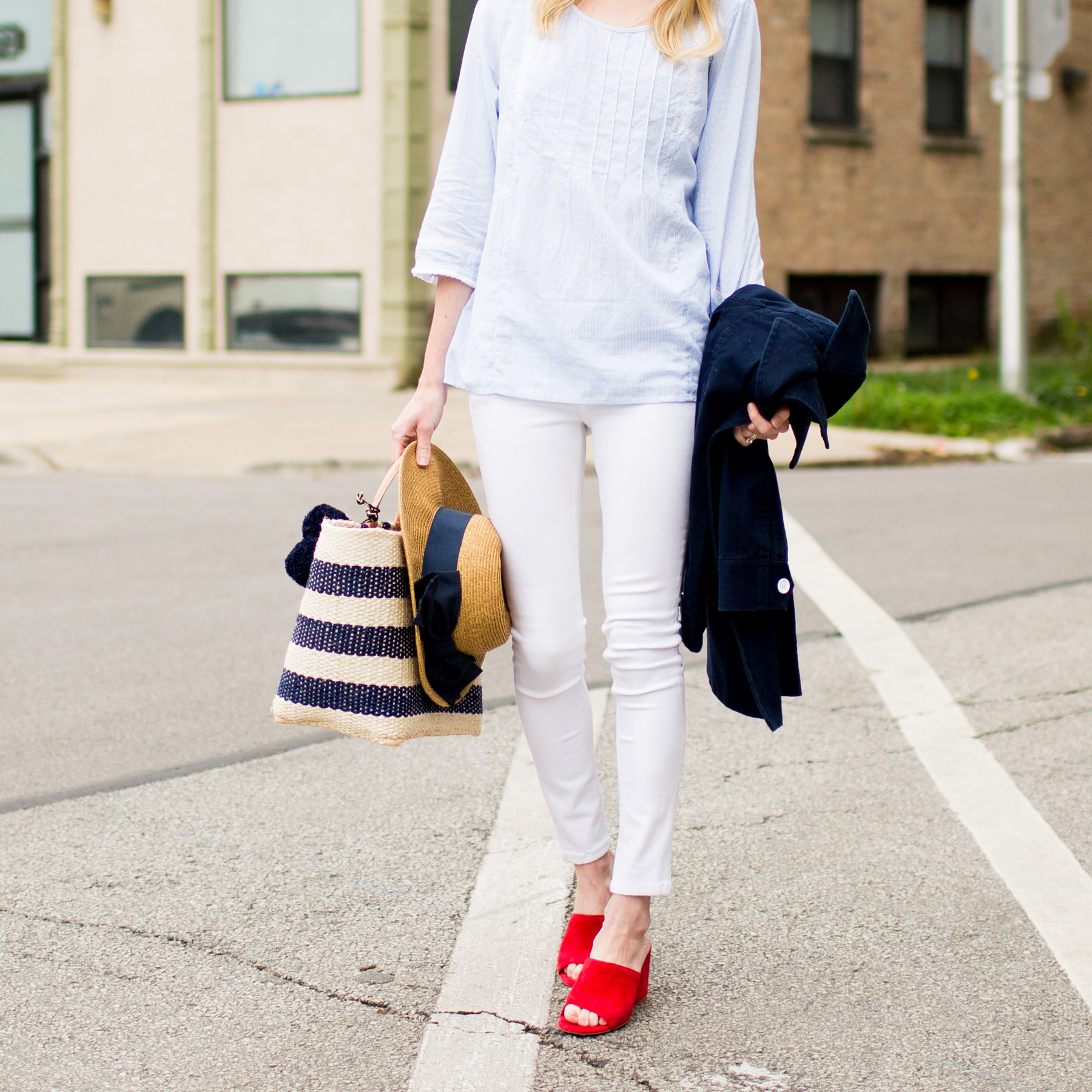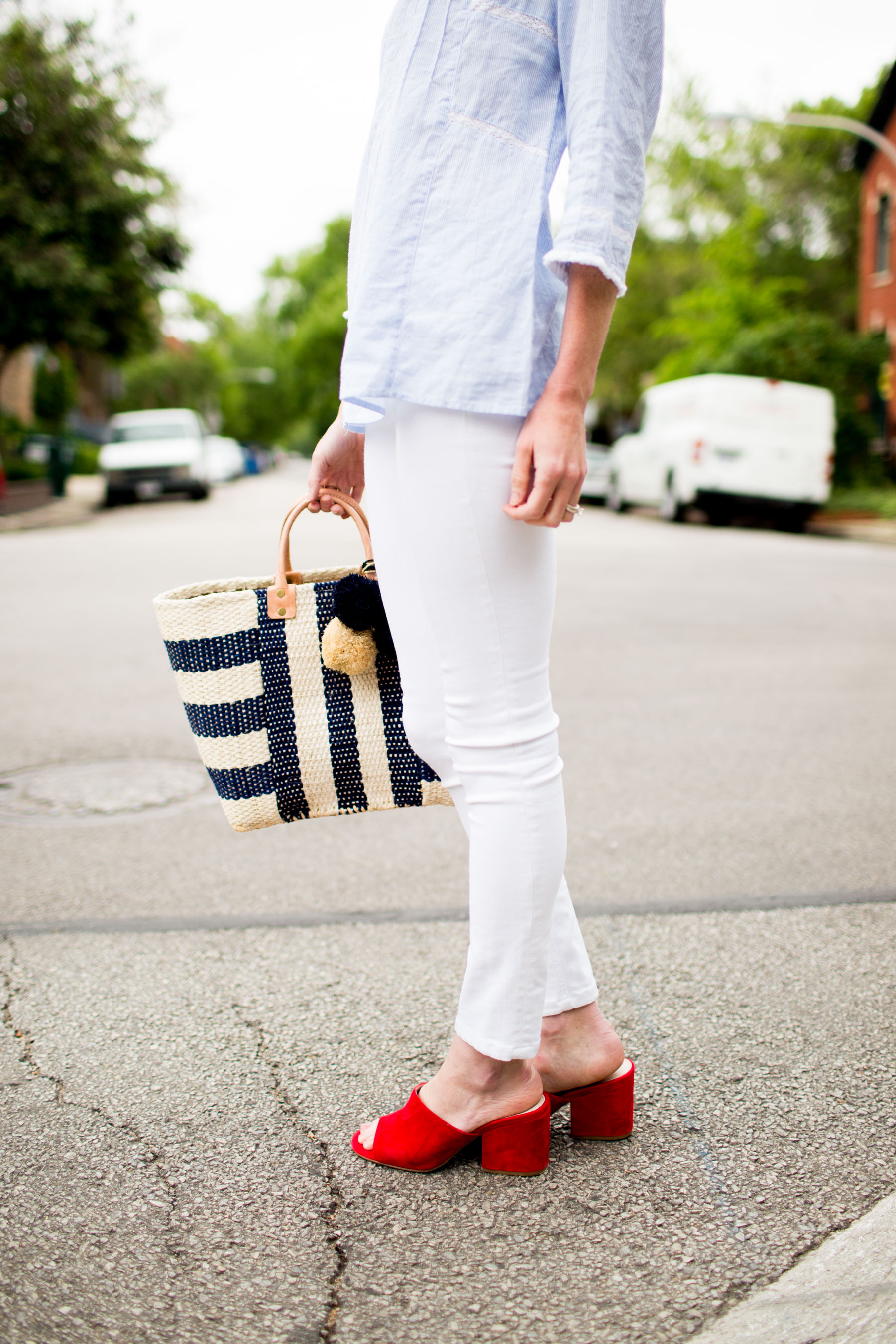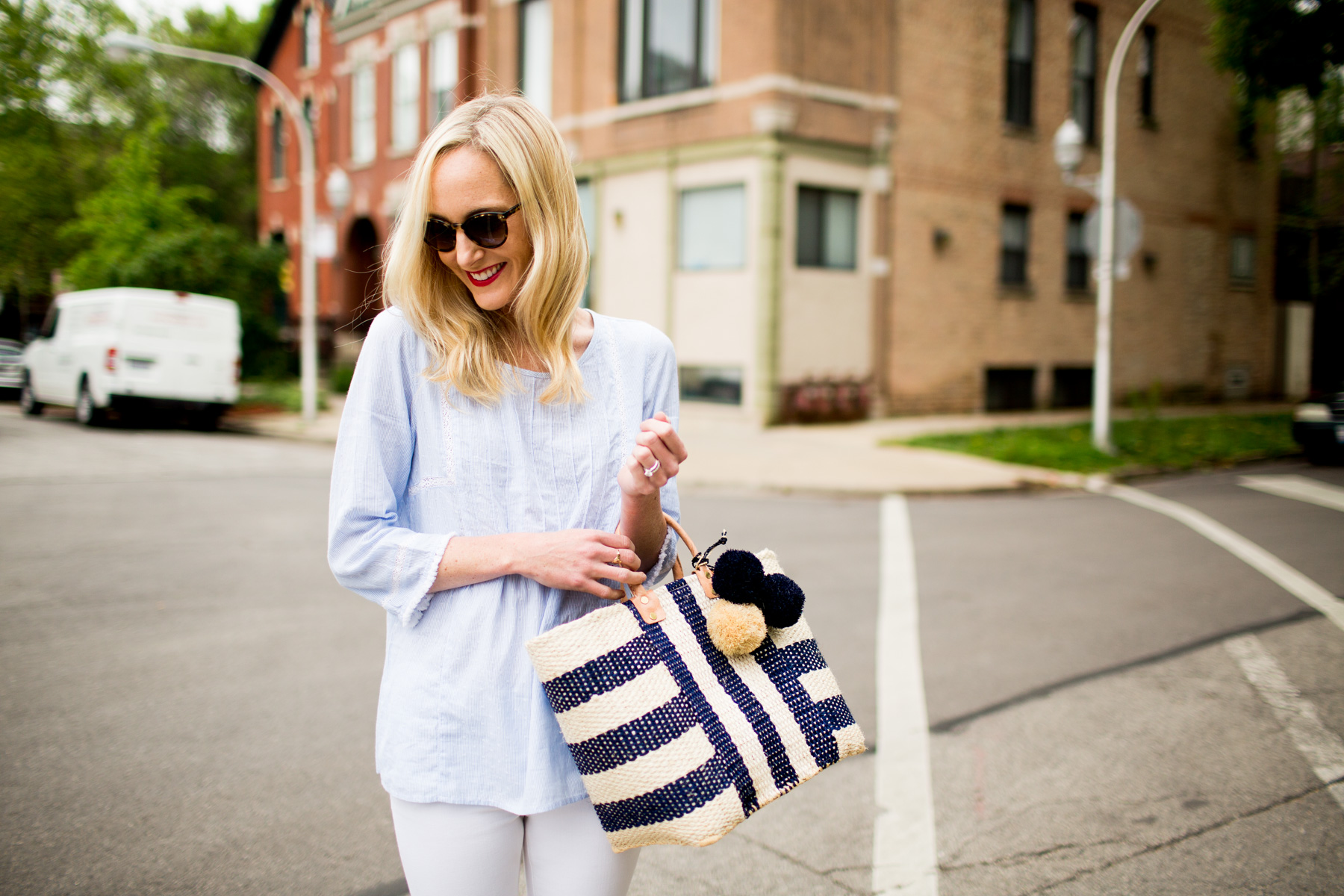 Shop the post:
Caslon Pinktuck Pleat Top (On sale!) / Mar Y Sol Tote / White Skinny Jeans (On sale! Also love these.) / Red Slides c/o (And love the Halogen version, which comes in dark blue! Other favorite slides of the season include these kiltie slides and these bow mules. I should also mention that the mule version of my favorite loafers are on sale!) / Tuckernuck Hat c/o (Sorry. I wear it constantly. Also in white and black.) / J.Crew Twill Pea Coat c/o (And love this one!)
Caslon Sale Faves

Caslon Newer Arrivals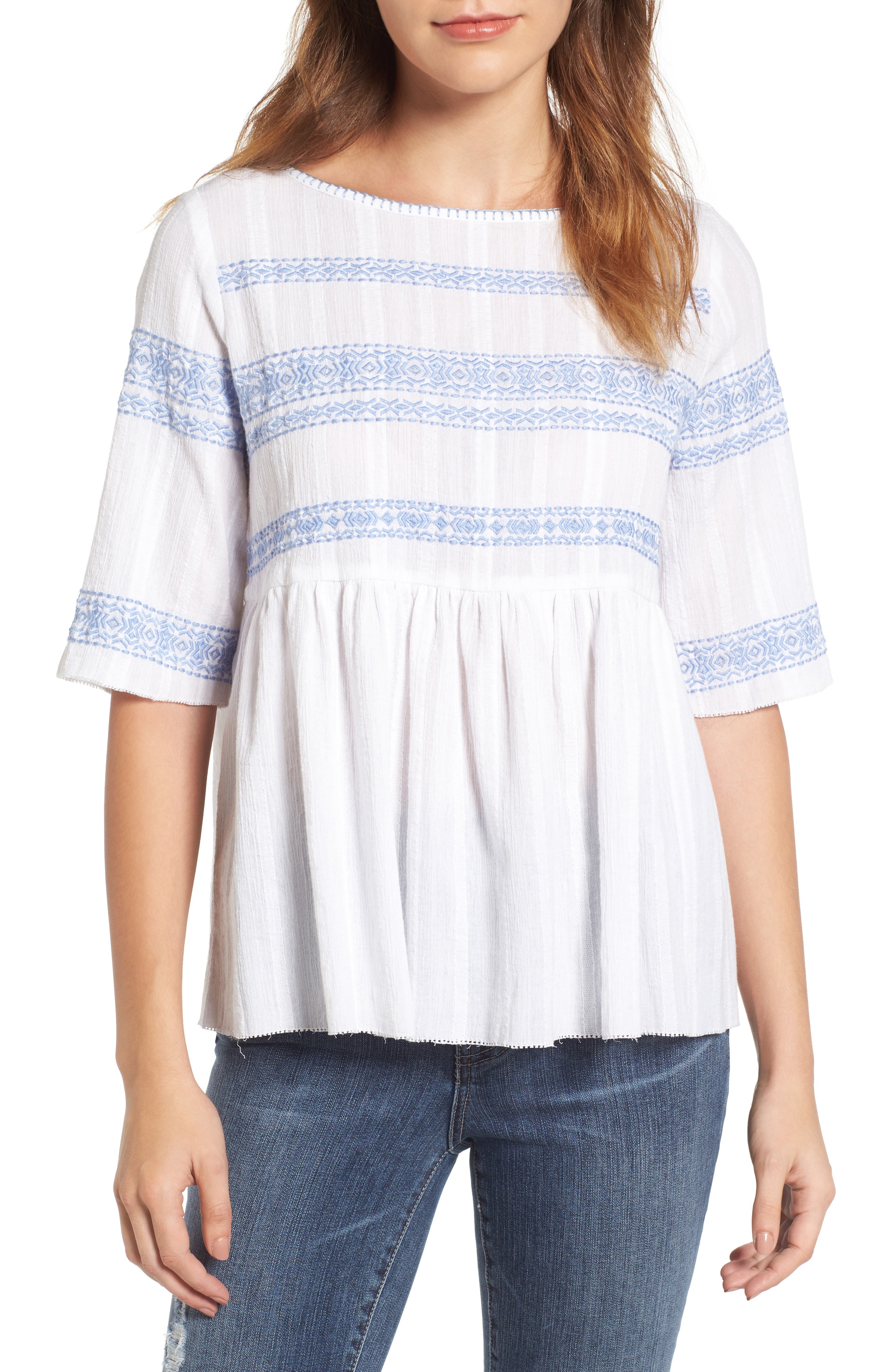 I have a super similar top from Anthropologie from last year and I adore it! I kind of feel like this top is a bit of a rip off, but who cares. Hello, cuteness!