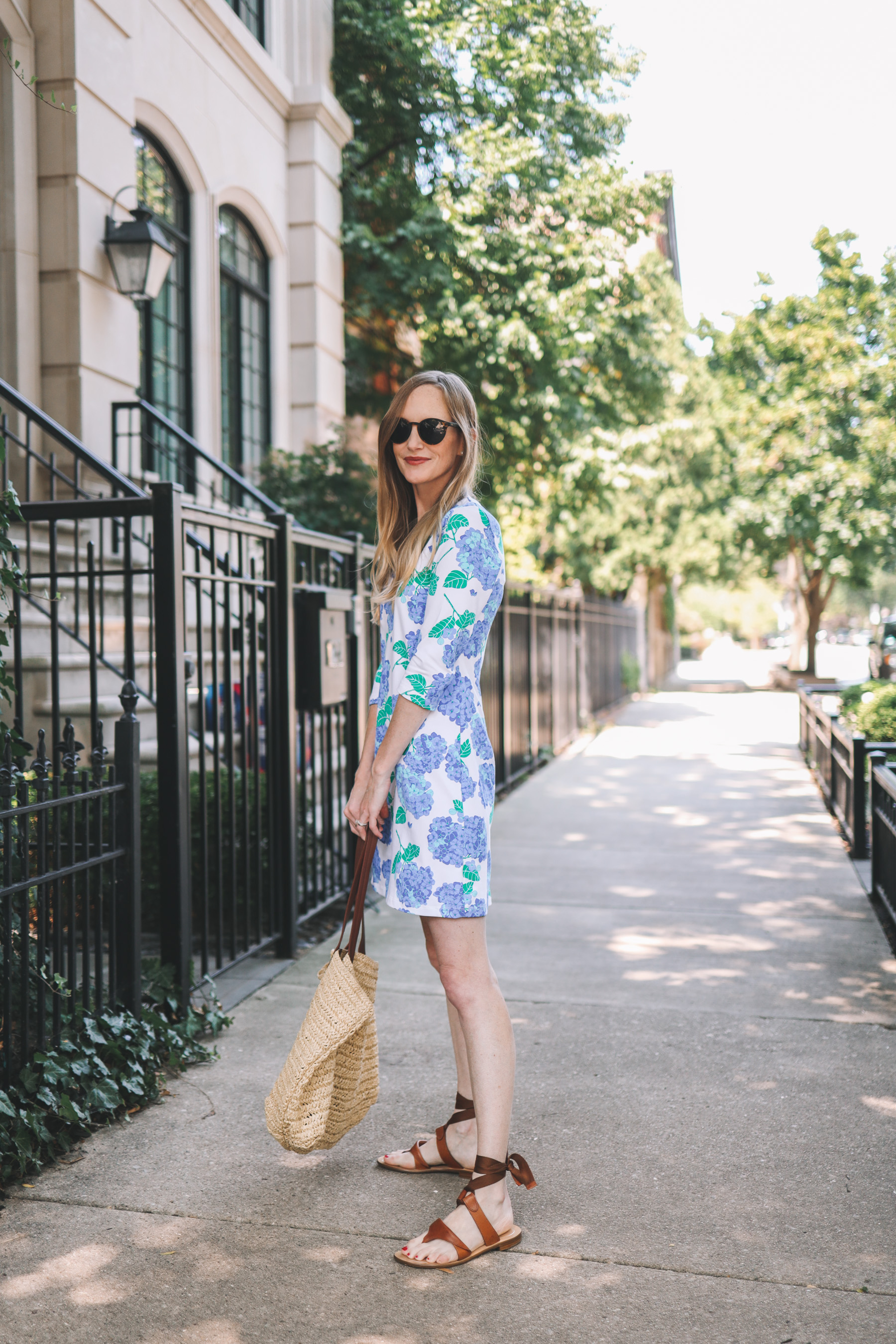 Sarah Flint Grear Sandals (Sign up for SF e-mails here and be entered to win a free pair in "Saddle"! And use code "SARAHFLINT-KELLY" to take $50 off your first order. Also love Sarah Flint's Joy Sandals and Perfect Block Sandals!) / Hydrangea Dress (Sleeveless here) / Market Tote / MZ Wallace Backpack (Also here.) / Similar Sunglasses / Emma's Tangerine Dress / Emma's Sandals / Lucy's Lilly Shift / Adult Helmets / Emma's Helmet (Also here.) / Lucy's Helmet / My Bike (Try the "Nel Lusso." ~$260 here and ~$300 here.) / Mitch's Bike (Old eBay find.) / InStep Kiddie Bike Trailer
These photos perfectly portray my life: Somewhat together in the morning; looks like I battled a tornado by the afternoon. 😆
Over the weekend, we took the girls on a bike ride downtown to get ice cream–and that's when the pics were taken. What a gorgeous day! I can't tell you how much we've been enjoying our bikes. We don't love driving, as it's kind of a big hassle in Chicago. (While parking is better than it is in New York, it's still not great.) The bikes, though, have really helped us explore parts of city that we otherwise couldn't reach because we're not taking the subway right now. I'm publishing a big bike-riding-with-kids feature on the blog tomorrow, so stay tuned if you'd like to learn more. :)
But the big news today is that I'm giving away a pair of Sarah Flint Grear Sandals in "Saddle"! (Btw: You can use code "SARAHFLINT-KELLY" to take $50 off your first order.)
To enter, all you need to do is sign up for Sarah Flint's mailing list here. (Nothing else will be done with your email address. Promise! Here's Sarah Flint's privacy policy. The mailing list will provide you with first access to Sarah Flint new product launches, sales, partnerships, events and virtual styling appointments.)
The winner will be randomly selected and and contacted on Monday, August 17th, 2020.
Aren't the Grear Sandals beautiful?! Handcrafted in Italy, they embrace a Grecian style with soft laces that can be tied into cute bows, and they have a full leather outsole. I wore them for the entirety of our excursion and no pain, either! I'm wearing the brown Saddle in these photos, but they also come in Rose, White, Black, Gold and a beautiful White with Floral Laces. They run true to size, since they only come in full sizes, go up if in between.
The coolest part?! Celebrities love the Grear and have been spotted in 'em all over the place. Fans include Halle Berry, Anna Kendrick and Cindy Crawford!
Anyway, remember to enter the giveaway, and be sure to use code "SARAHFLINT-KELLY" to take $50 off your first order.
Hope you had a great weekend, Friends. ♥️
Shop the post:
Sarah Flint Grear Sandals (Sign up for SF e-mails here and be entered to win a free pair in "Saddle"! And use code "SARAHFLINT-KELLY" to take $50 off your first order. Also love Sarah Flint's Joy Sandals and Perfect Block Sandals!) / Hydrangea Dress (Sleeveless here) / Market Tote / MZ Wallace Backpack (Also here.) / Similar Sunglasses / Emma's Tangerine Dress / Emma's Sandals / Lucy's Lilly Shift / Adult Helmets / Emma's Helmet (Also here.) / Lucy's Helmet / My Bike (Try the "Nel Lusso." ~$260 here and ~$300 here.) / Mitch's Bike (Old eBay find.) / InStep Kiddie Bike Trailer
Enter to win the giveaway here!
In collaboration with Sarah Flint; all opinions are my own. As always, thank you so, so much for supporting the partnerships that keep Kelly in the City up and running!