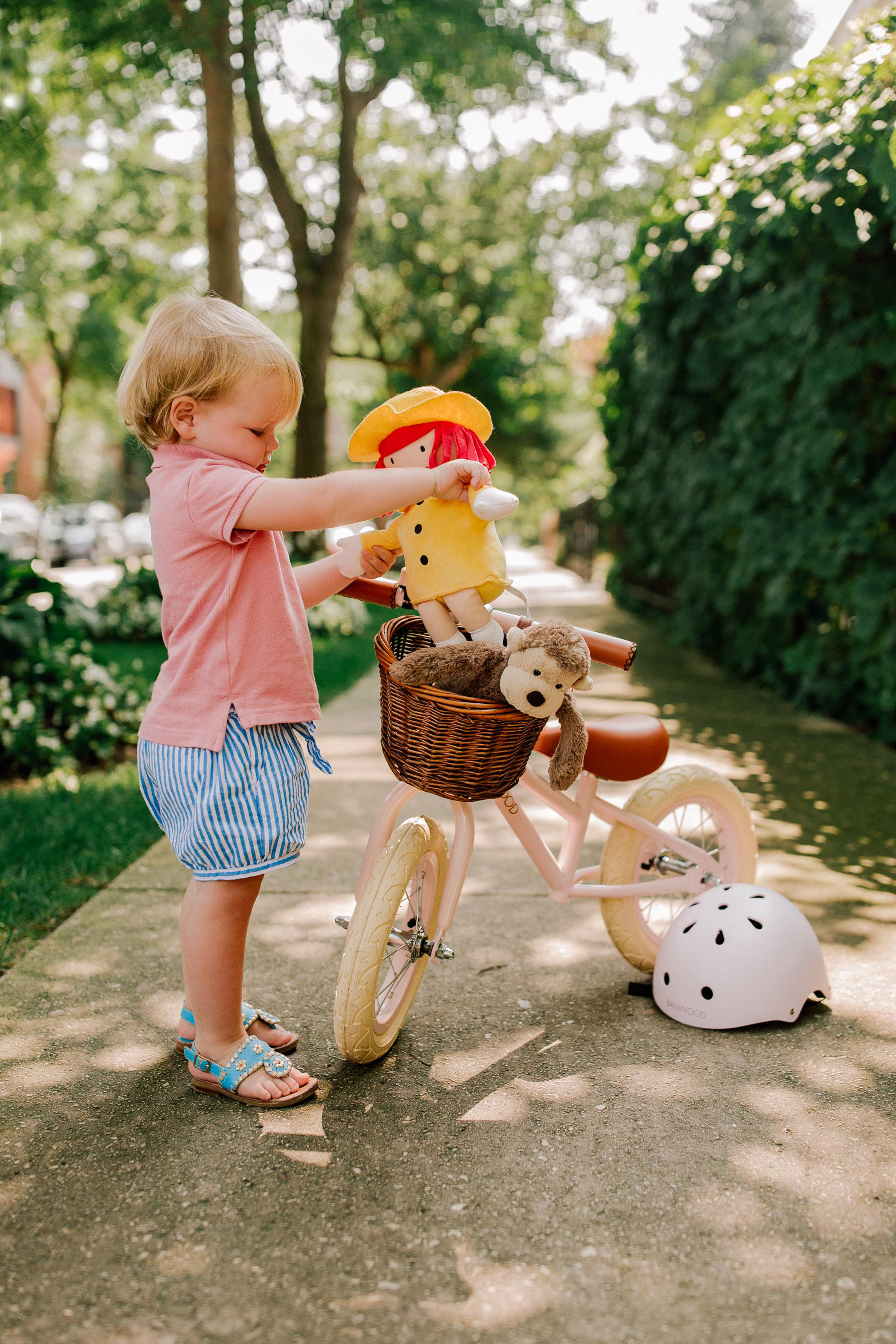 Banwood Balance Bike / My Tuckernuck Ruffled Dress (Runs large. Size down. I'm wearing an XS here. Also love this one, this one and this one!) / My Jack Rogers (Think cork is next on my list!) / Emma's Shorts, Polo and Jack Rogers (Also on Nordstrom!)

Cute story for you today. (One that I feel like I may have told you before, but whatever. Telling you again. 💁)
Back in New York, Mitch and I had our bikes stolen–which was a major bummer since we used them a lot. On the weekends, we'd bike through the West Village, up the Hudson River esplanade, and around Central Park. It was an amazing way to get outside and cover major ground in the city, and we really loved it. In a given "bike day," we probably saw five times the amount of stuff we'd see during an "on foot" day!
I ended up getting Mitch a new one for his birthday, but we didn't replace mine since we were relocating to Chicago. No sense in buying something big before a move, right? Not to mention the fact that relocating is expensive. After shelling out all that dough for the move, we wanted to pump the breaks (bike joke) on spending and continue saving for our down payment.
And then.
A few years ago on Christmas morning, my in-laws told me they had a surprise for me. They gave me a strange basket that looked like this, and then brought their perplexed daughter-in-law (who hadn't caught on yet) out to the garage and unveiled the ugliest bike you've ever seen, haha. It was brown and rusted and clearly unridable, but for the sake of being polite–Mitch's parents are the kindest, sweetest people in the world–I was like, "OHMYGOD thanks, guys!"
Everyone laughed, and then they explained that they'd scored the bike–which looked very much like the beloved beach cruiser I grew up riding down the Shore–at a garage sale for essentially nothing, and that they were going to turn it into the bike of my preppy dreams.
"All we need to know is what color you want it to be," they said.
I KNOW. THE CUTEST.
Mitch and I ran to the hardware store the following morning and picked out a fun blueish spray paint. And over the course of the next couple of days, my father-in-law turned the bike into what you see in these photos.
Unbelievable, right?! It's perfect, and what's more is the thought and love my in-laws put into the gift.
John is so good at this stuff, btw. He built our farmhouse table, and he once turned an old, trashed mail truck into a fully functioning piece of art. (He ended up selling it and I can't find any photos, but it was astonishing! Bright red and stunning.)
Anyway, I'm always asked where my bike is from when I'm cruising around Lincoln Park, which I'll admit isn't very often anymore since I kind of have my hands full. ;) But I love telling people that my father-in-law restored it for me. Nearly everyone responds with an "Awwwwww!" — and that's exactly how I feel about it:
Awwwww.
For Emma's birthday earlier this month, Mitch and I got her a miniature lookalike balance bike. She'd been obsessed with mine (and bikes in general) for the longest time, and we couldn't wait to surprise her with her very own! Of course, we bought our gift, as there's absolutely no way we'd ever be able to pull off a restoration project like John's. 😉 (Anyone remember that time we tried to replace the light switches in our house and ended up with at least four non-functioning ones? Yep. Still can't get them to work.) But it was exactly what we'd been looking for, and I can't even tell you how excited we were for Emma to unwrap it on the morning of her birthday.
Aaaaaand she hated it. 😂
Like, she actually screamed and then ran away from it crying.
Kids these days. ;)
Wasn't the reaction we were hoping for, haha, but we've made some big strides with it recently. No, we haven't actually gotten on the bike yet, but we touch it. We also enjoy putting our dolls and fuzzy friends on the seat and in the basket, which is awesome progress. And maybe in a few months, we'll take a little ride.
Or not.
Either way, I love these photos, which Mitch snapped over this past weekend during a bikes-are-our-friends session. They make me think about all the adventures we're going to have together, and they remind me to not rush things. These years are fleeting; before I know it, Emma will be begging to cruise around the neighborhood by herself or with her pre-teen friends.
We'll eventually (probably?) have our family bike ride. For now, though, I'm enjoying this stage. She's little, and she won't be little forever.
Switching gears (bike joke #2), did you guys have a nice weekend? Once again, we didn't do much, and it was lovely. We went swimming at Midtown Athletic and had park/hot dog/ice cream playdate with our friends down the block, and that's about it. Oh! And we posted this video, which Mitch worked on for weeks. ;)
That's it for now! See you back here tomorrow. Also, tune into my Instagram account at some point tonight; I have a fun surprise!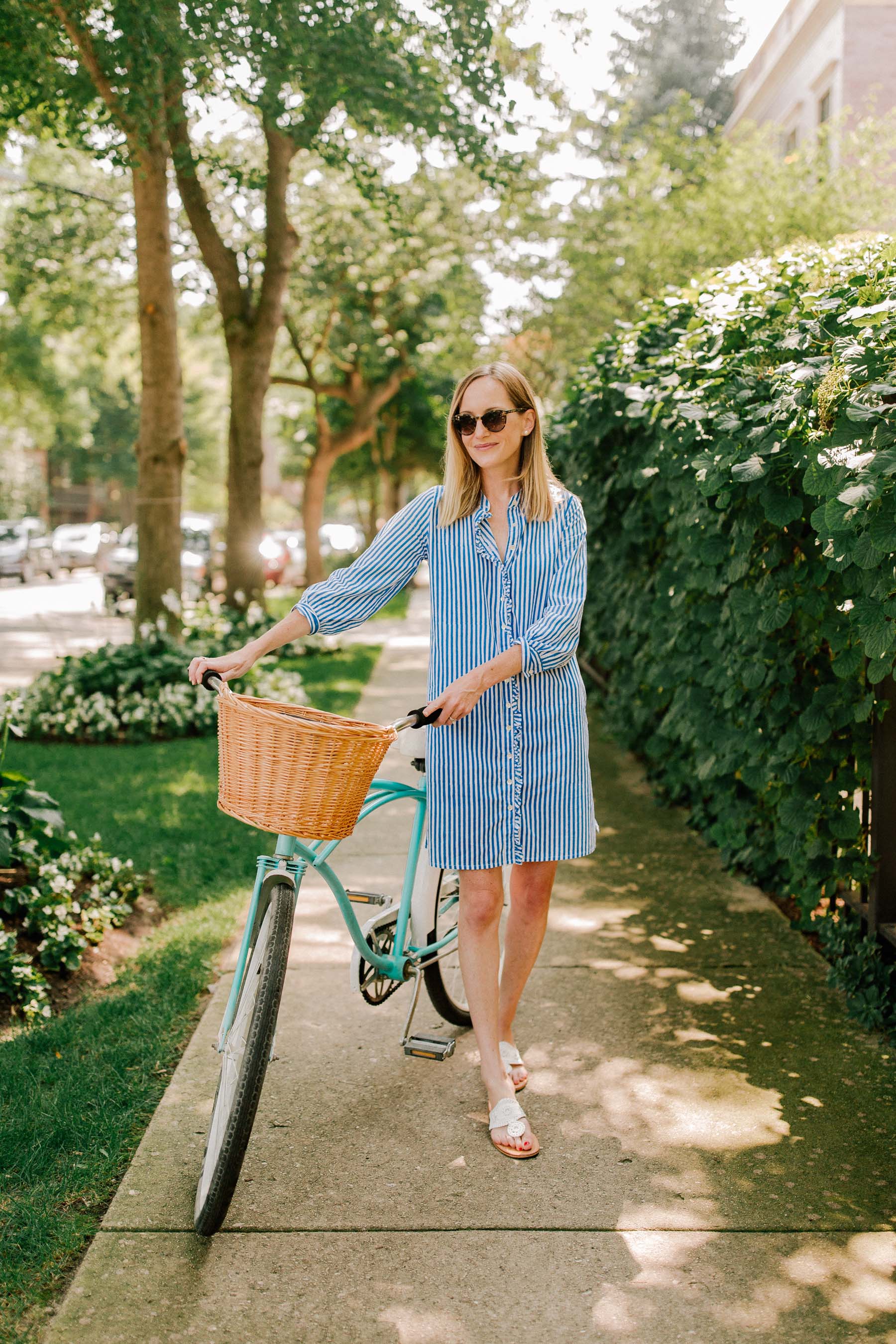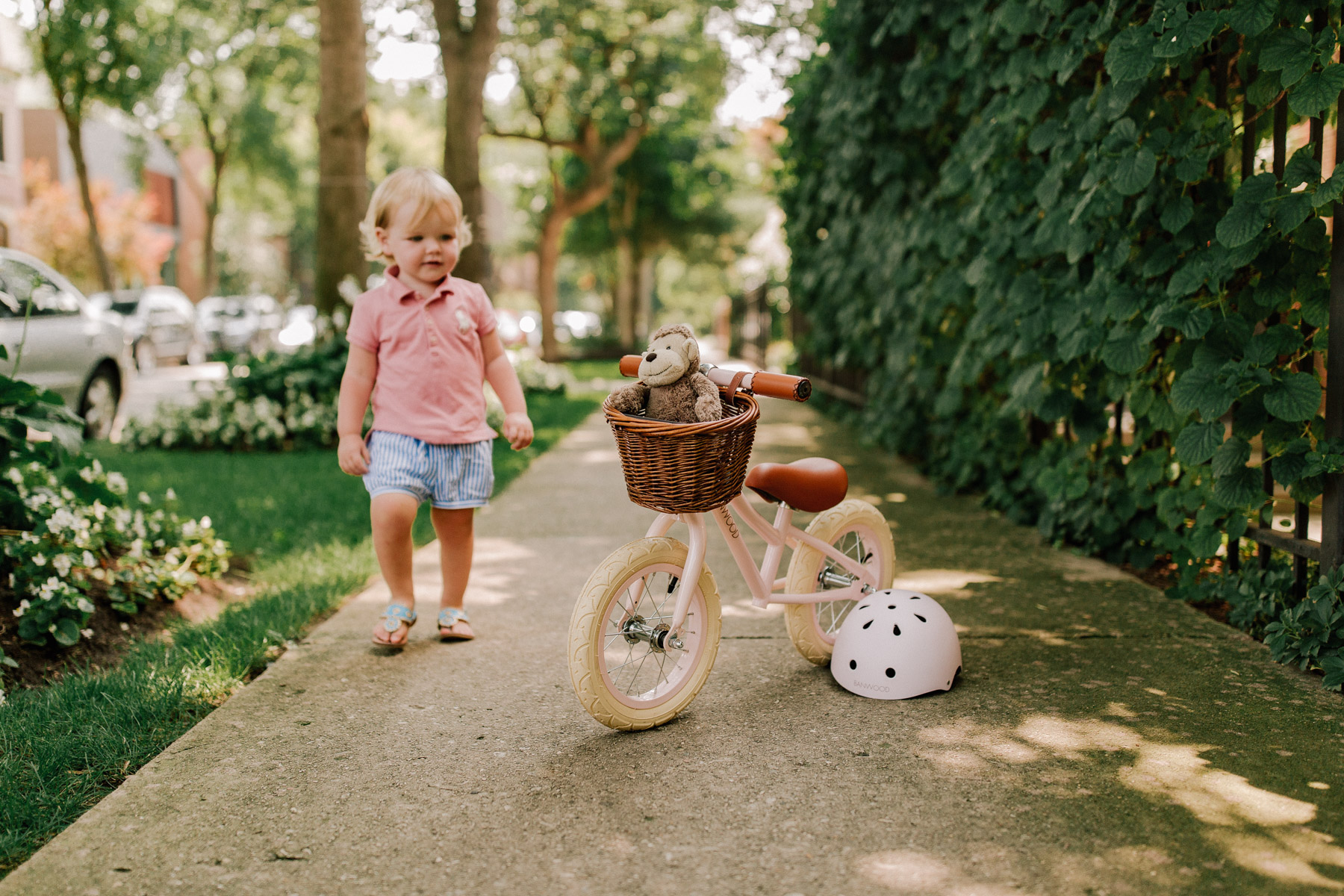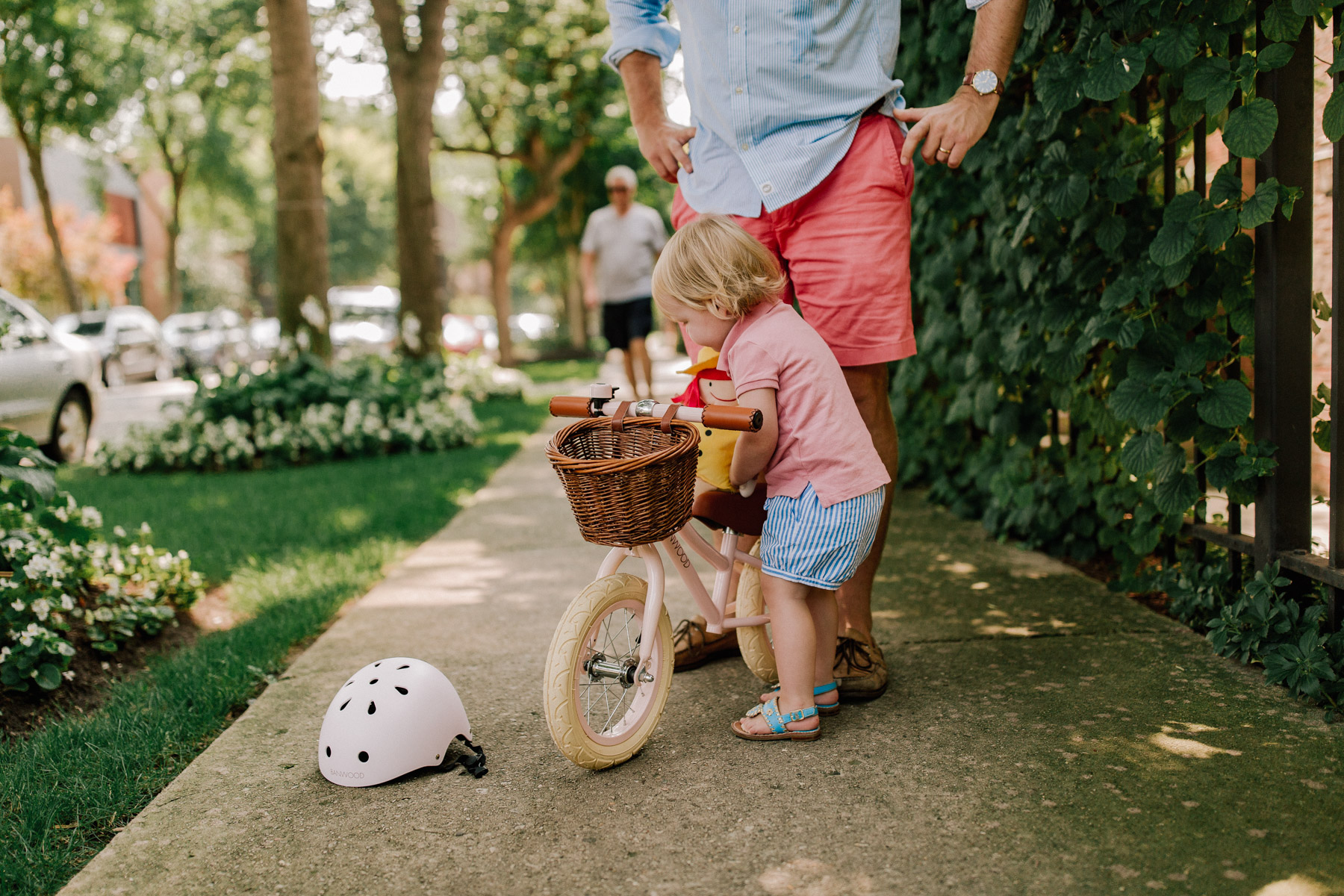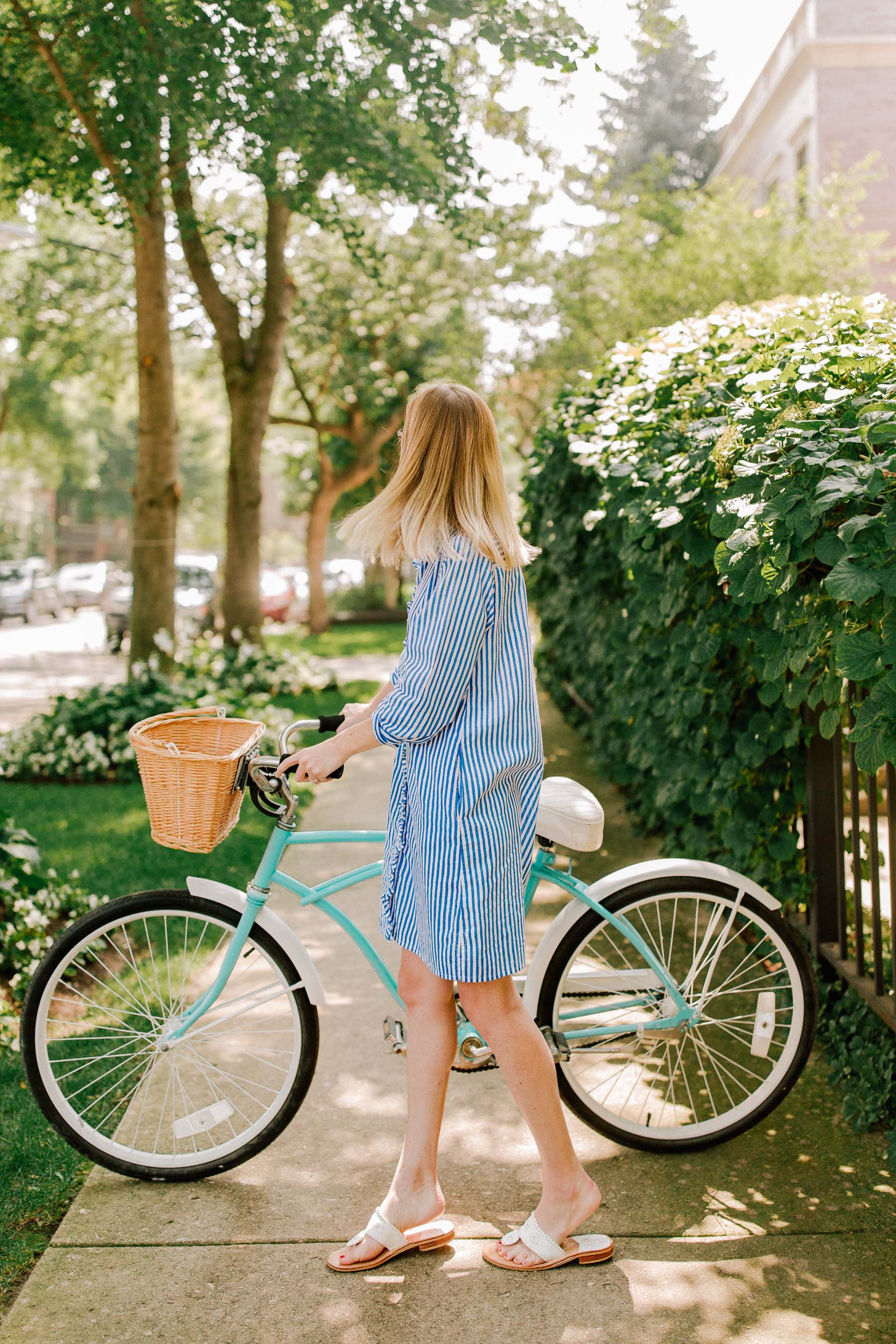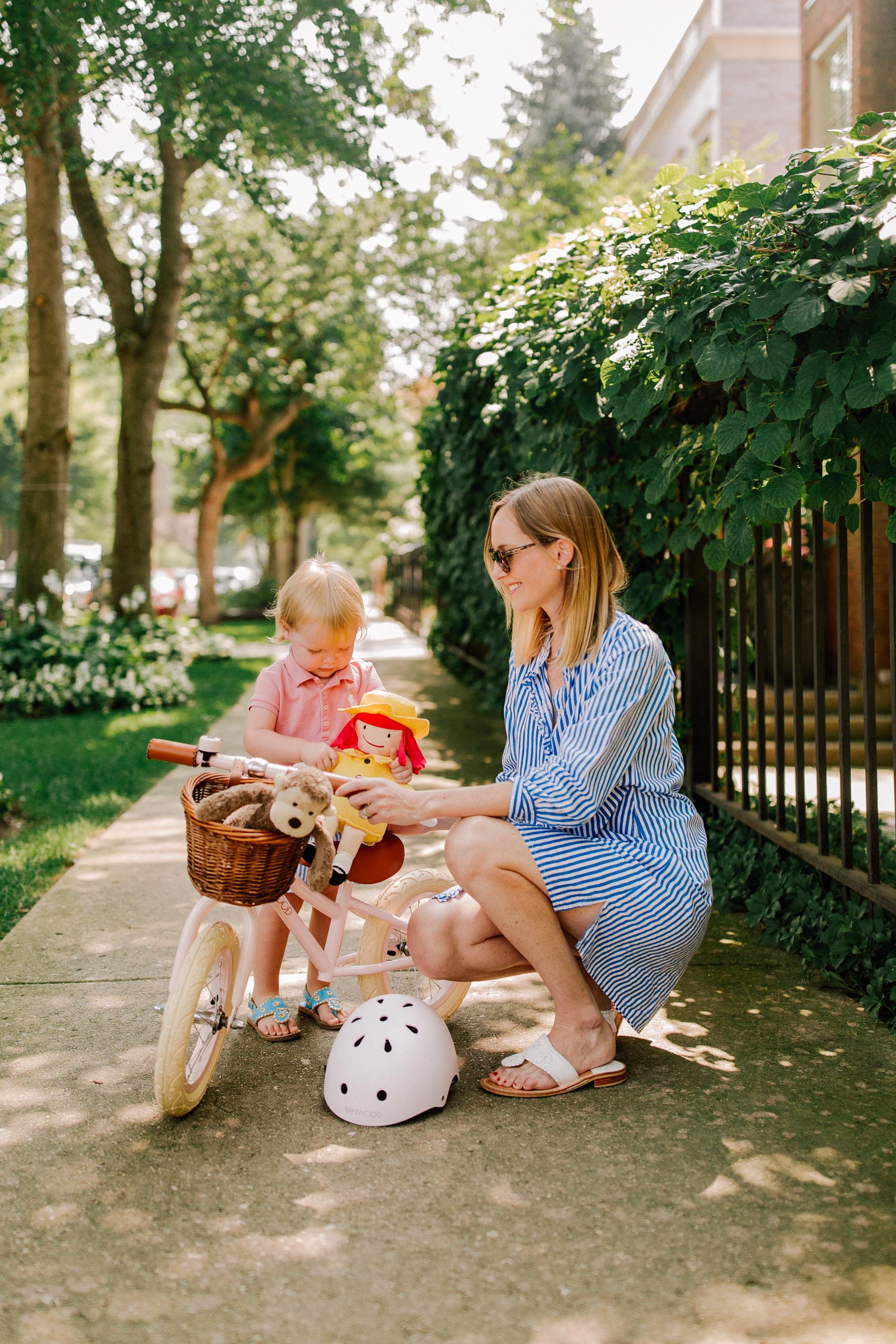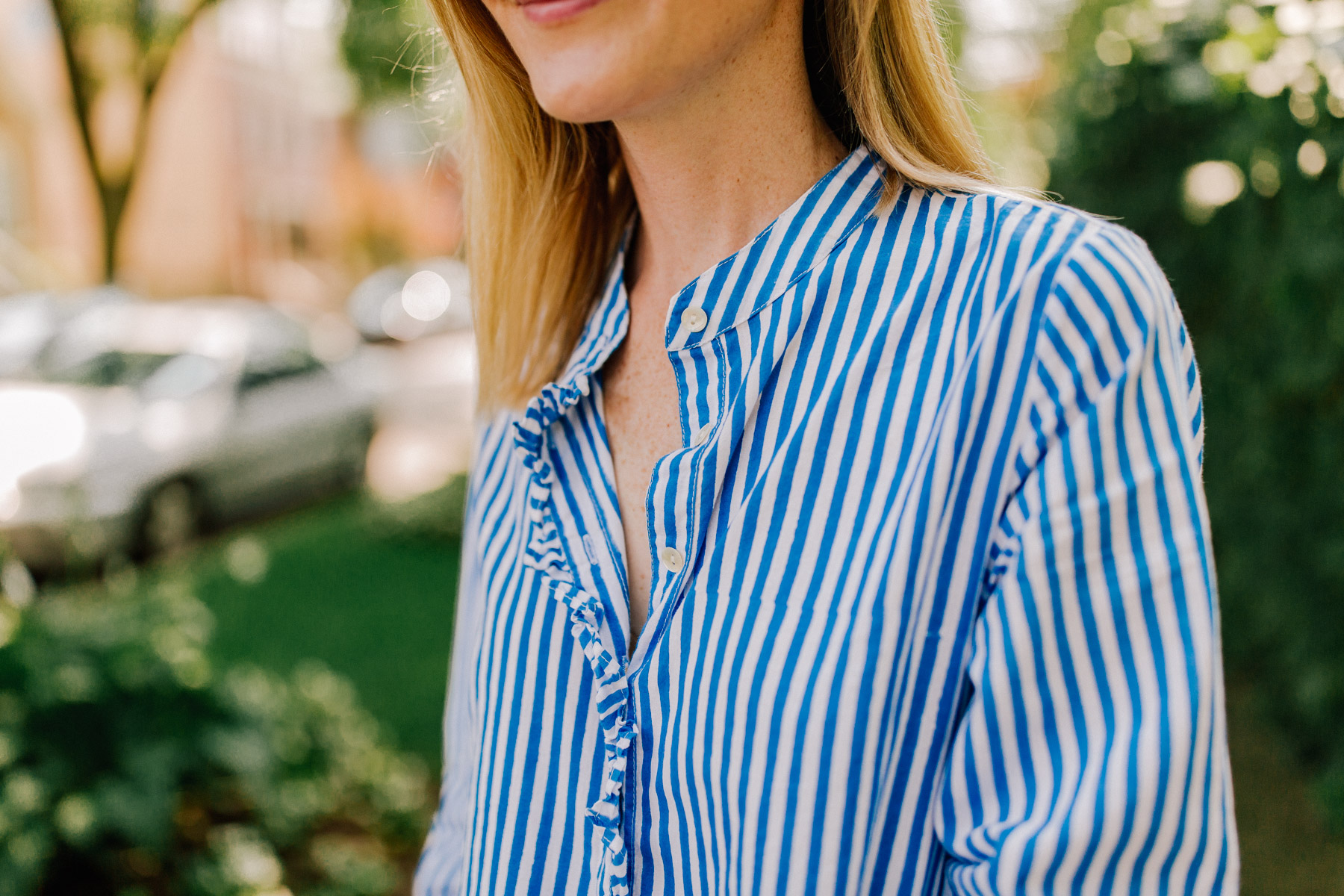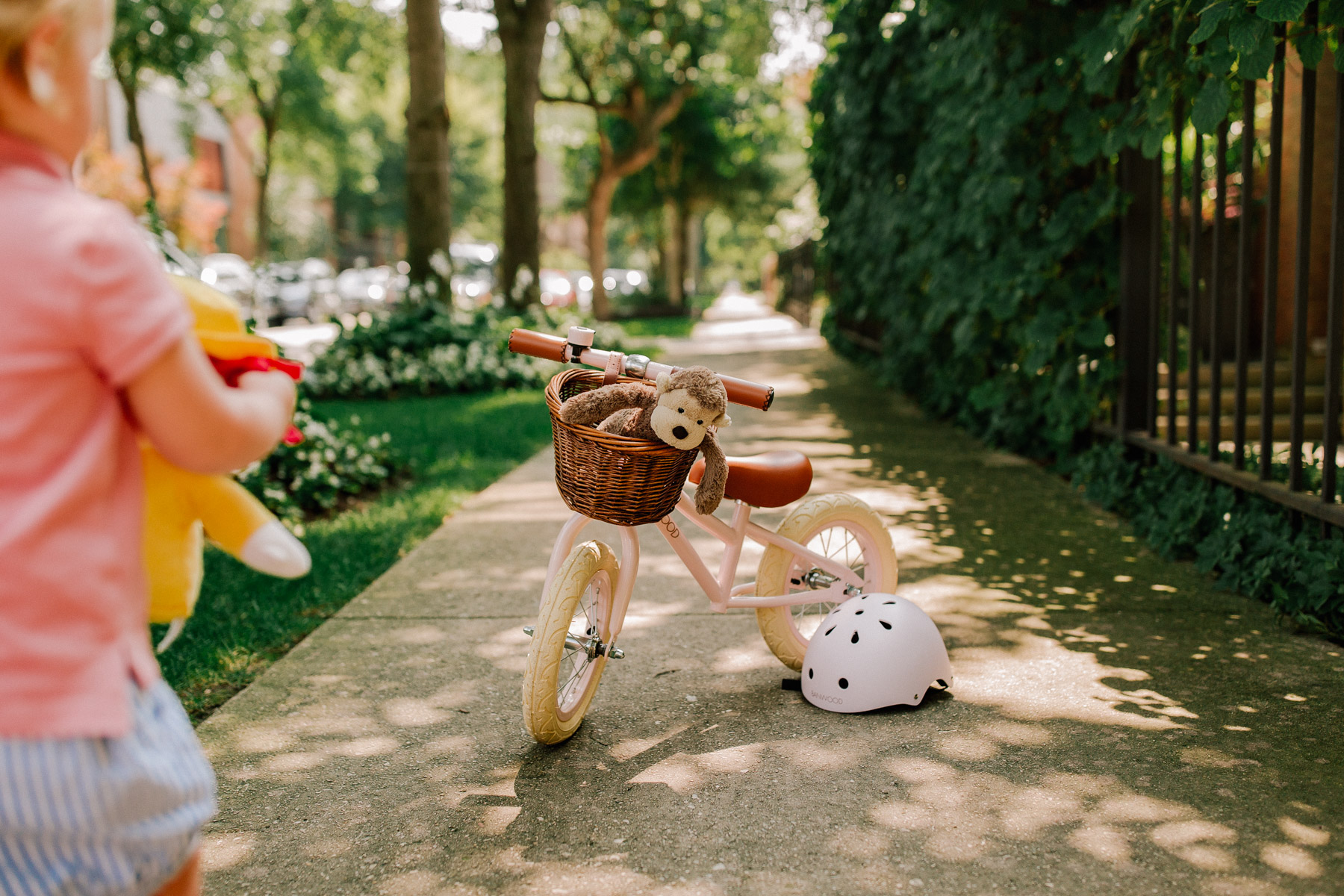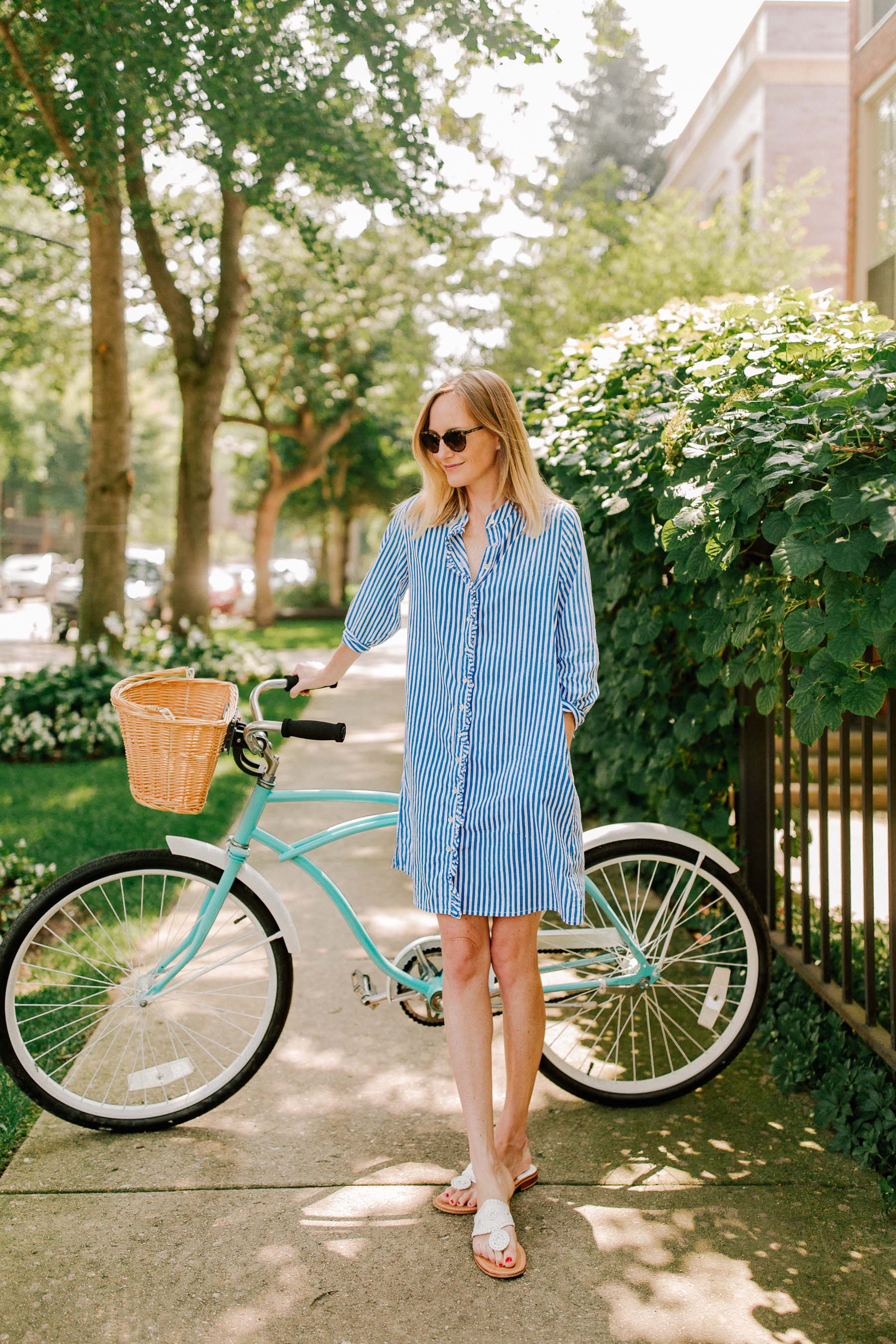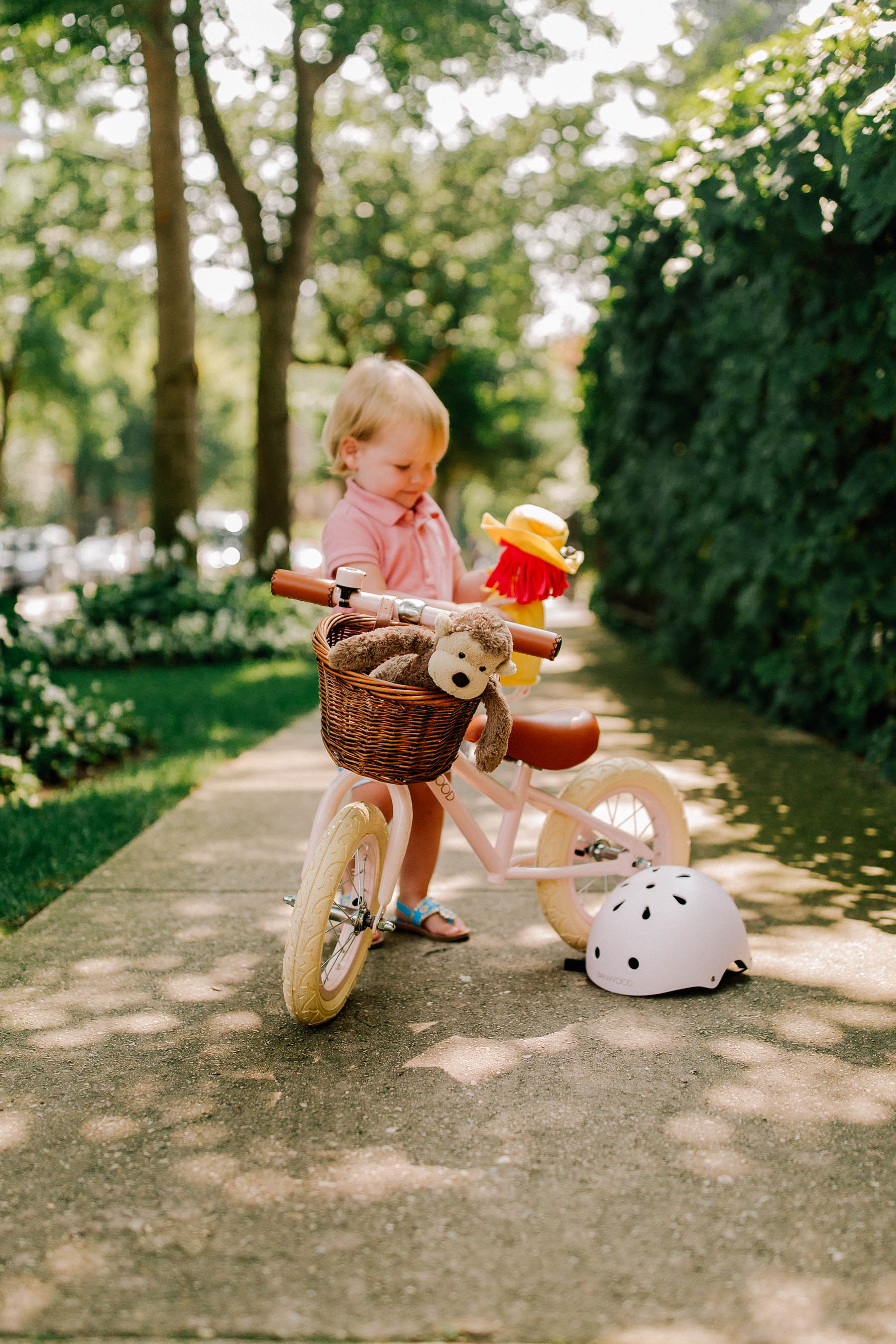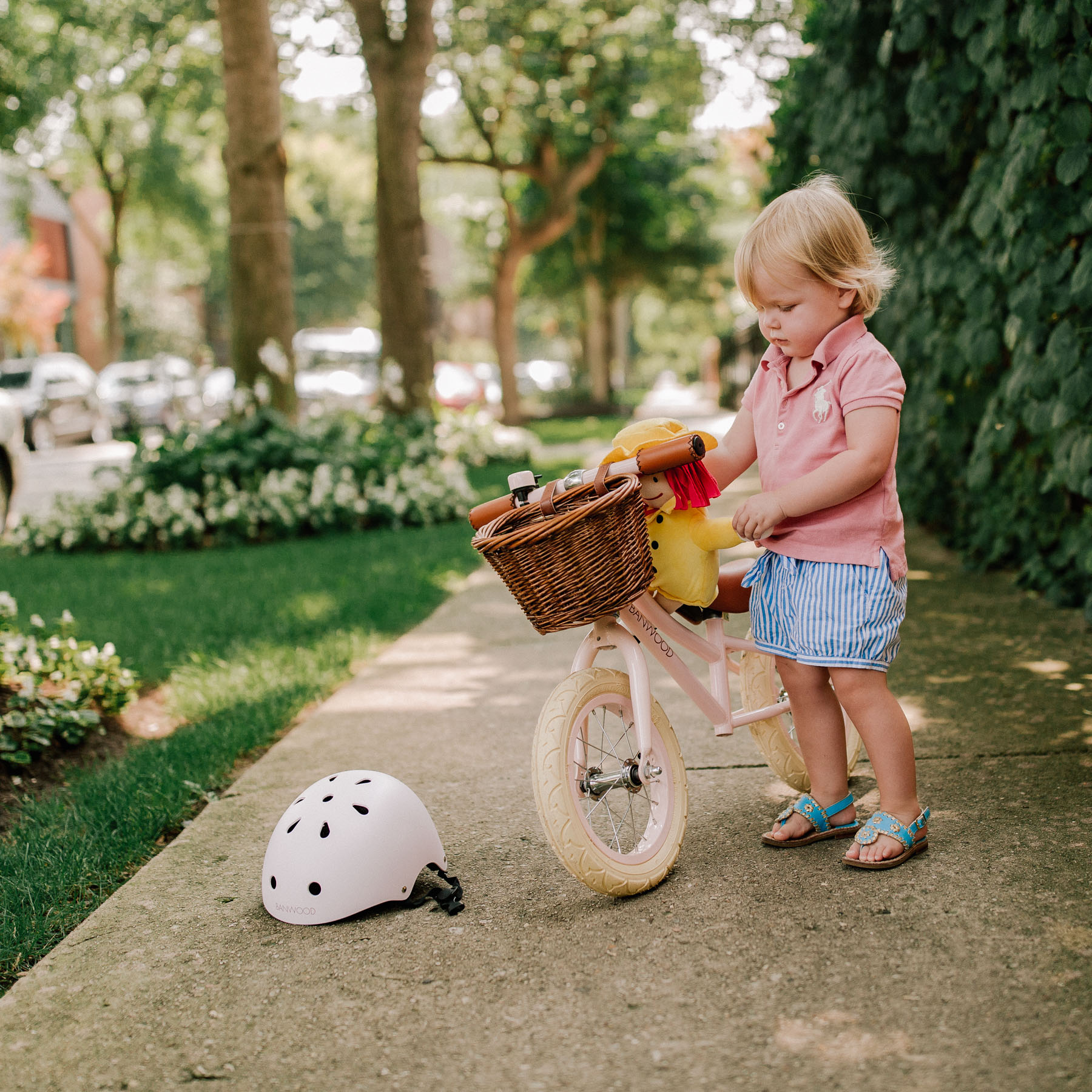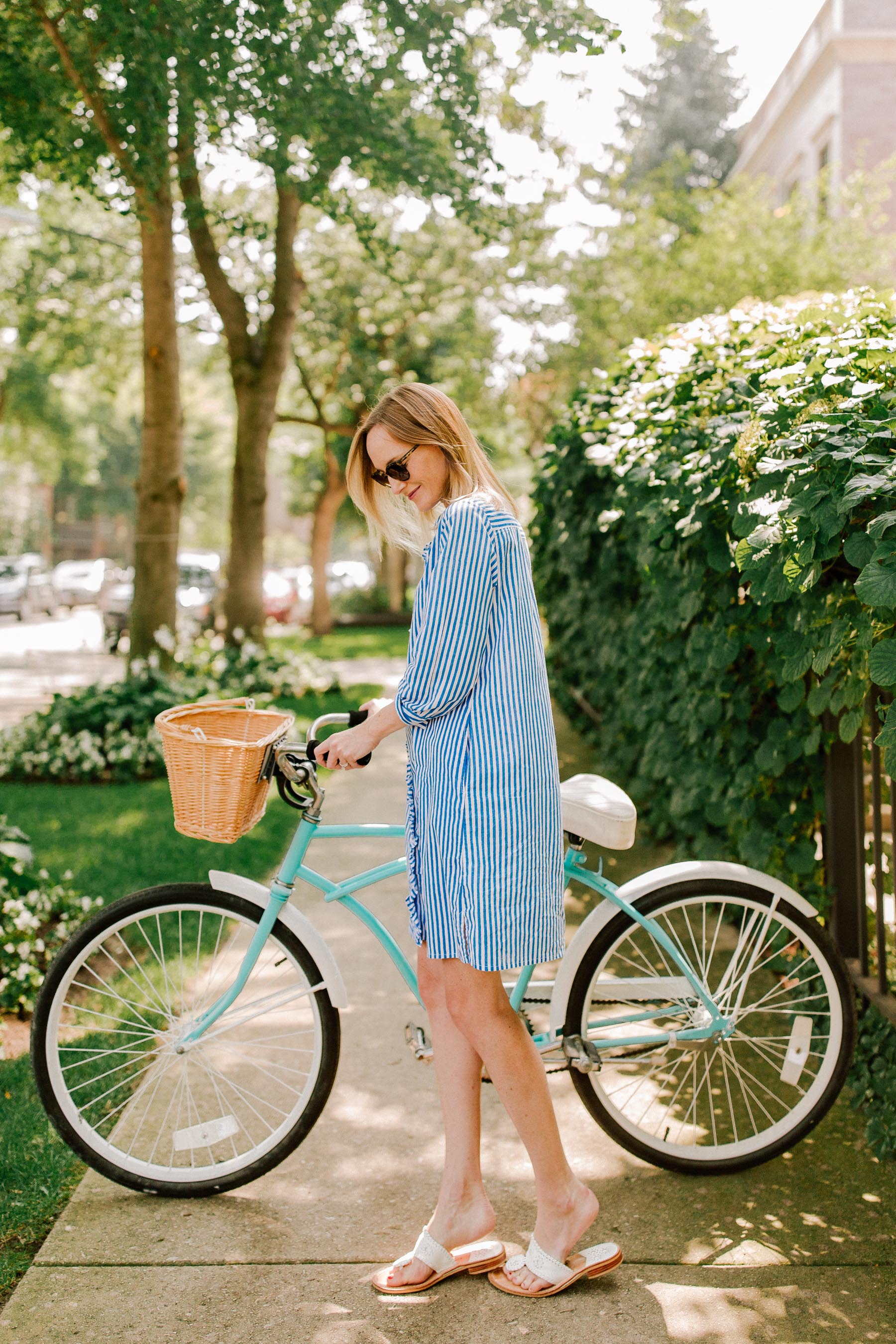 Shop the post:
Banwood Balance Bike / My Tuckernuck Ruffled Dress (Runs large. Size down. I'm wearing an XS here. Also love this one, this one and this one!) / My Jack Rogers (Think cork is next on my list!) / Emma's Shorts, Polo and Jack Rogers (Also on Nordstrom!)