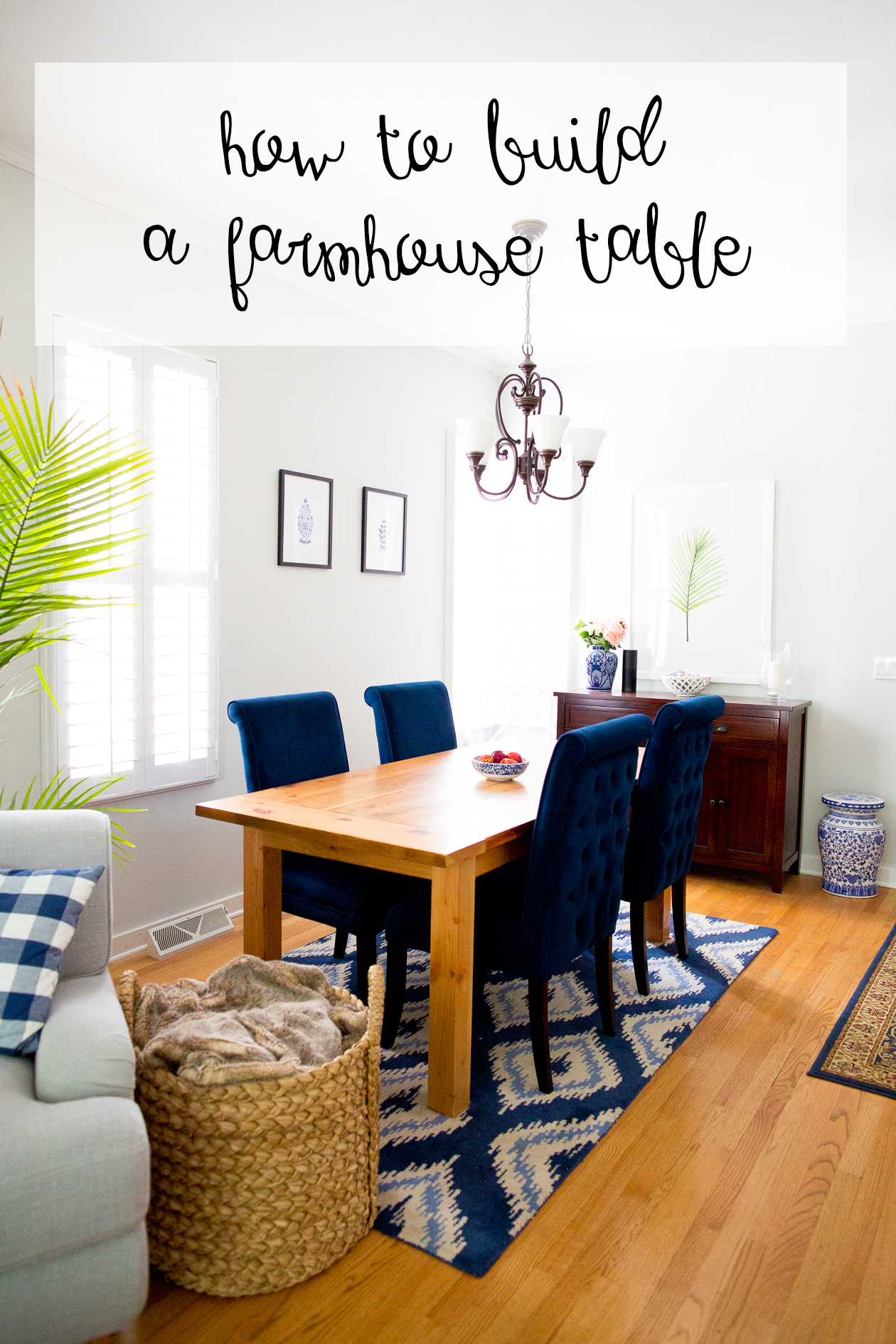 I know Kelly said that she'd be resuming with regular blog content today, but she passed out early last night, so here's good old Mitch Larkin again. (No, not the Olympic swimmer. And yes, I cracked countless jokes this past week about having just had a baby and competing in Rio anyway. #Dedication)
Anyway, I'm going to be explaining how to build a farmhouse table on the blog today. But before I get started, don't get any ideas that I'm some kind of super talented handyman guy. I struggle with the most basic DIY projects. A few examples:
I recently broke a hammer in half while hanging a picture and dented the floor.
It took me six hours to put together an Ikea dresser back in New York.
I put five nails in the wall to function as a "key holder" in the same apartment. Kelly was so pissed.
Last month, I spilled a half gallon of paint on the new floor in the nursery.
I'm the guy who hires Craigslist workers to do basic home repairs. So why would I even try to build my own kitchen table?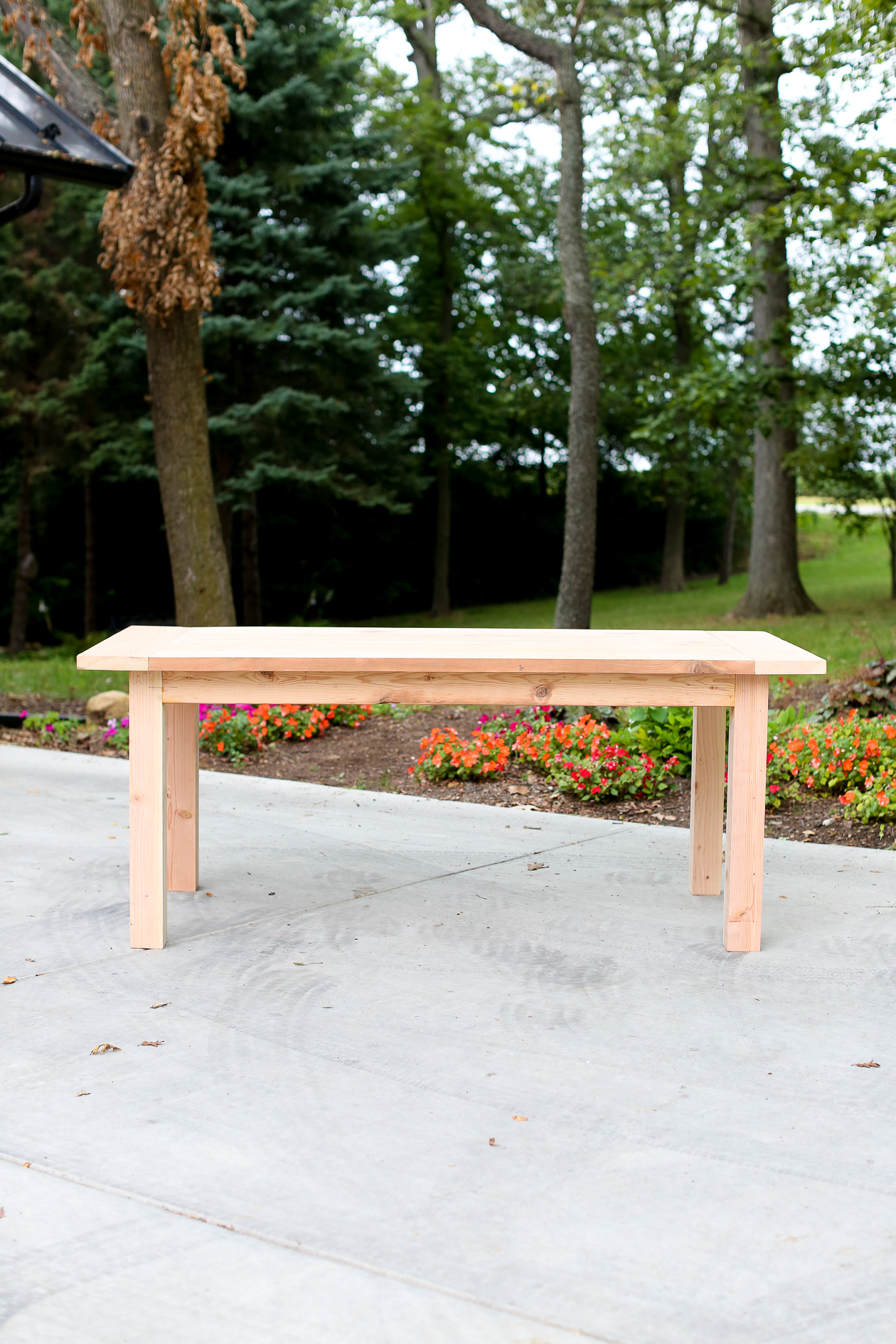 The decision
Kelly and I used this Ikea table for eight years. It was smaller than our coffee table so we would just eat in front of the TV. The Ikea table, therefore, just collected junk.
When we moved to Chicago, we decided it was time for us to own a legitimate kitchen table. My parents had always emphasized the importance of eating a family meal every night around the table, and we finally had the space for a table that allowed for that. We were excited to be together without distraction.
Kelly fell in love with this table–a $2,600 "Salvaged Wood Farmhouse Table" from Restoration Hardware. (And I have to admit: so did I.) The table was designed to look worn-in and rustic, complete with charming little defects. It looked like it was handed down from some distant relative who built it on an old family farm.
I figured:
There's an old farm in my family.
I'm an expert at leaving defects in my work.
I didn't want to spend $2,600 on a table. (And neither did Kelly.)
So I did a little research and determined that building our own farmhouse table was completely doable.
Who helped
When you're as useless in the shop as I am, you ask for help. My dad is a wizard with tools–he even sported a Ron Swanson-style mustache back in the day–and is an amazing teacher. He selected the boards, borrowed the required tools from neighbors, and guided us through the project. Dad, thank you.
All of that said, you can still totally tackle this project even if you don't have John Larkin on your team. Simply follow the steps below! The process isn't as difficult as you'd think.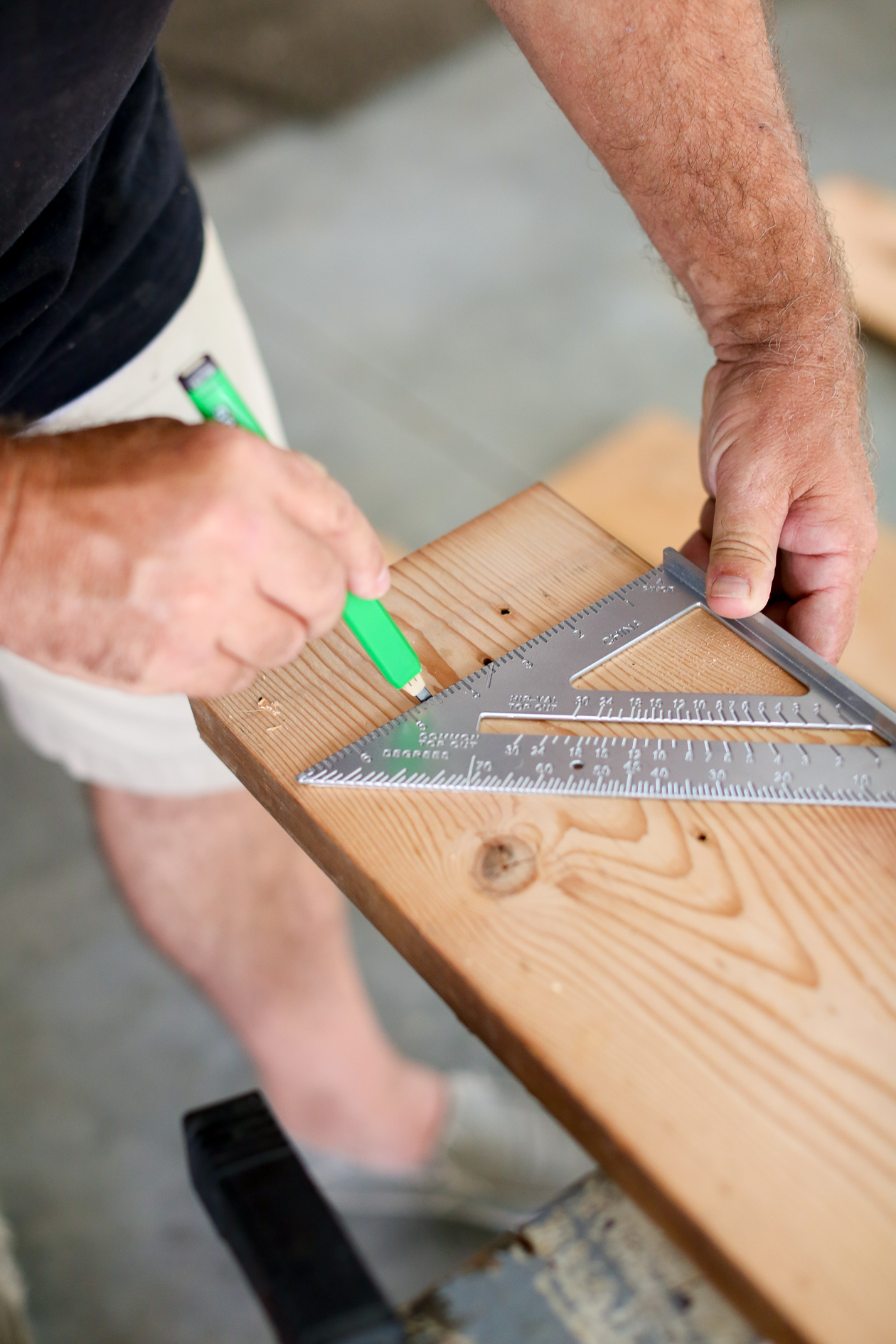 The plans
We modified plans from Tommy and Ellie and Anna White (our favorite of the plans we found) and decided to leave out supports between the bottom of the legs at the ends of the table. This decision allows for chairs to be pushed in at the ends of the table. (Dad needs to be able to sit at the head of the table, right?!) We figured we could always add extra support if the table was wobbly. (It's not.)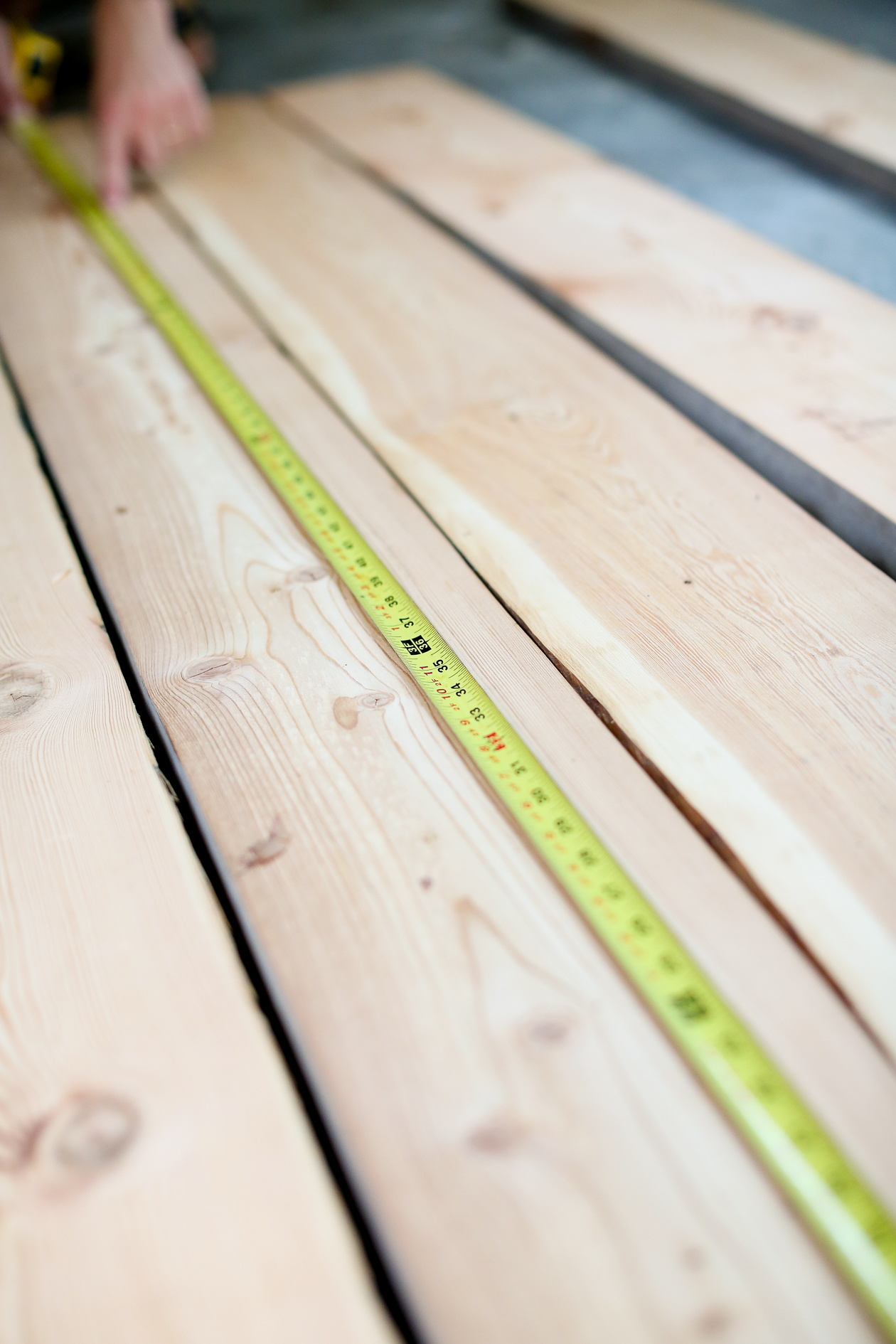 Deciding on size
One of the major benefits of building a table yourself is customizing it to perfectly fit your room. Our "dining room" is a small area between our living room and kitchen, and we were therefore pretty limited in terms of space.
As the table was built when our house was still nearly empty, we had to imagine the footprint of our eventual "forever furniture." A place setting is typically 24″ wide and chairs typically need a minimum of 36″ inches for comfortable pushing in/out, so we built the table legs far enough apart to allow for two comfortable settings on each side. (With the idea that we could squeeze in two extra settings at the ends of the table.) We measured and taped out shapes on the floor and practiced pushing chairs in and out to double check. In the end, we decided that our table should be about 74″ long and 36″ wide.
Typical table heights range from 29 to 30 inches, so we aimed to hit 29 inches because Kelly is short and we wanted to put the table on a rug.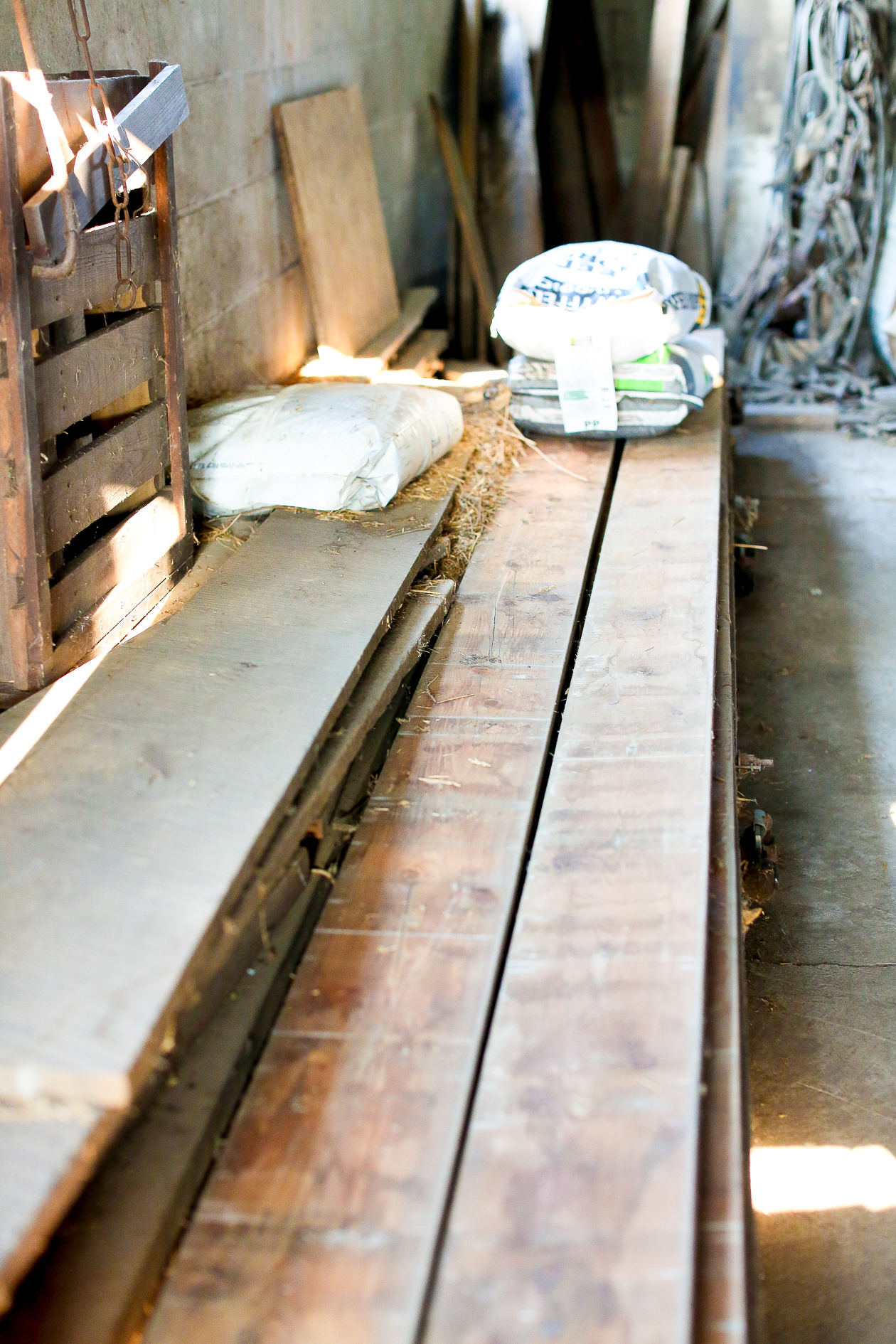 The wood
The Larkins have had a farm north of Normal, Illinois since 1927. My grandfather has run the farm for over 50 years. (More on our family farm here.) Luckily, an old barn door blew off a few decades ago and had been waiting for me ever since.
If you don't have a family farm, simply head on over to your nearest hardware store and purchase pine boards. (We used 2″ x 8″ boards for the top, but you can obviously select whatever size works for your space. For the undercarriage, we used 4″ x 4″ and 2″ x 4″ boards.)
Planing
The first step in preparing the wood is to run it through a planer to shave the boards to uniform thickness. (If you're using old wood like we did, this also helps to strip off decades' worth of wear and decay.) We were lucky enough that a neighbor had a planer in his garage, but again: most major hardware stores will plane for you. The planer worked magic on our boards!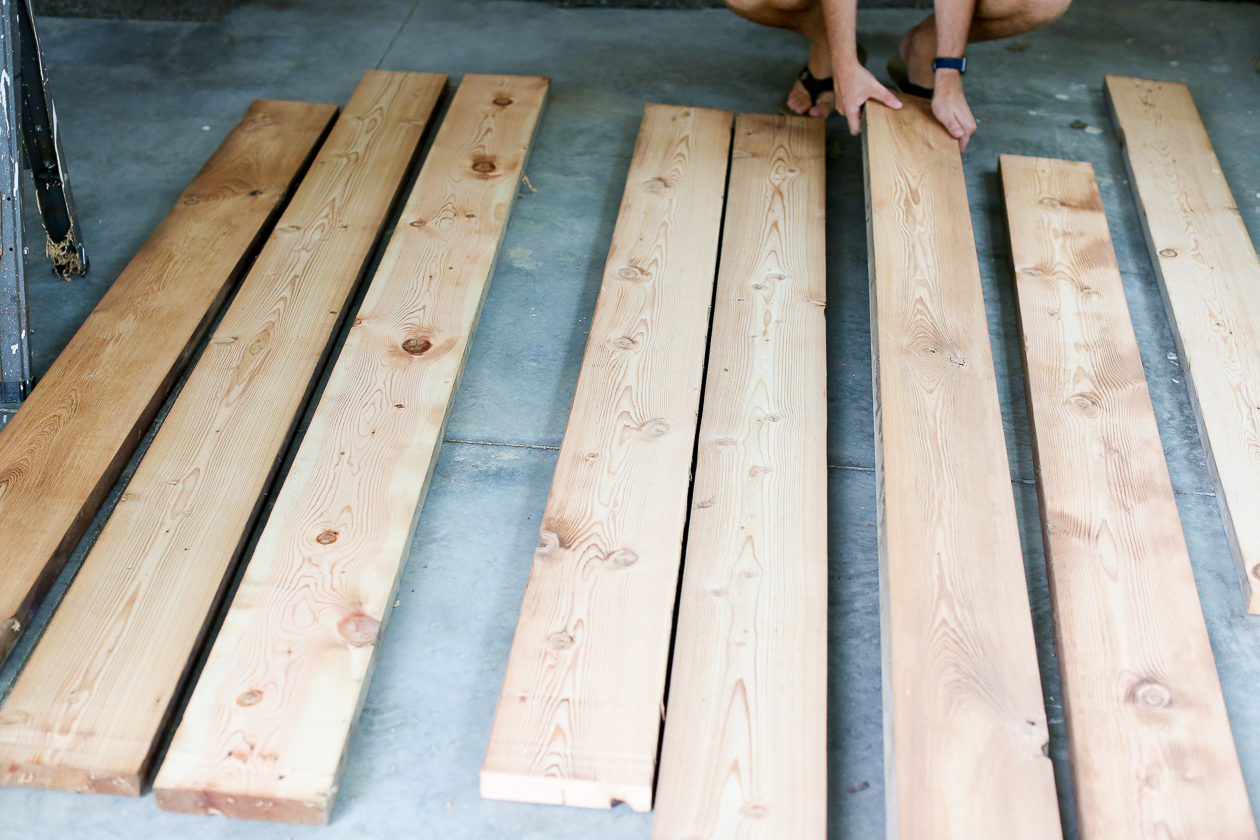 Orienting the boards
Boards have natural curves and bumps which would make for a pretty terrible table top if thrown together haphazardly. We laid the boards out to see what combination would fit together best, with the fewest gaps. We sanded the edges where necessary to give everything a perfect fit.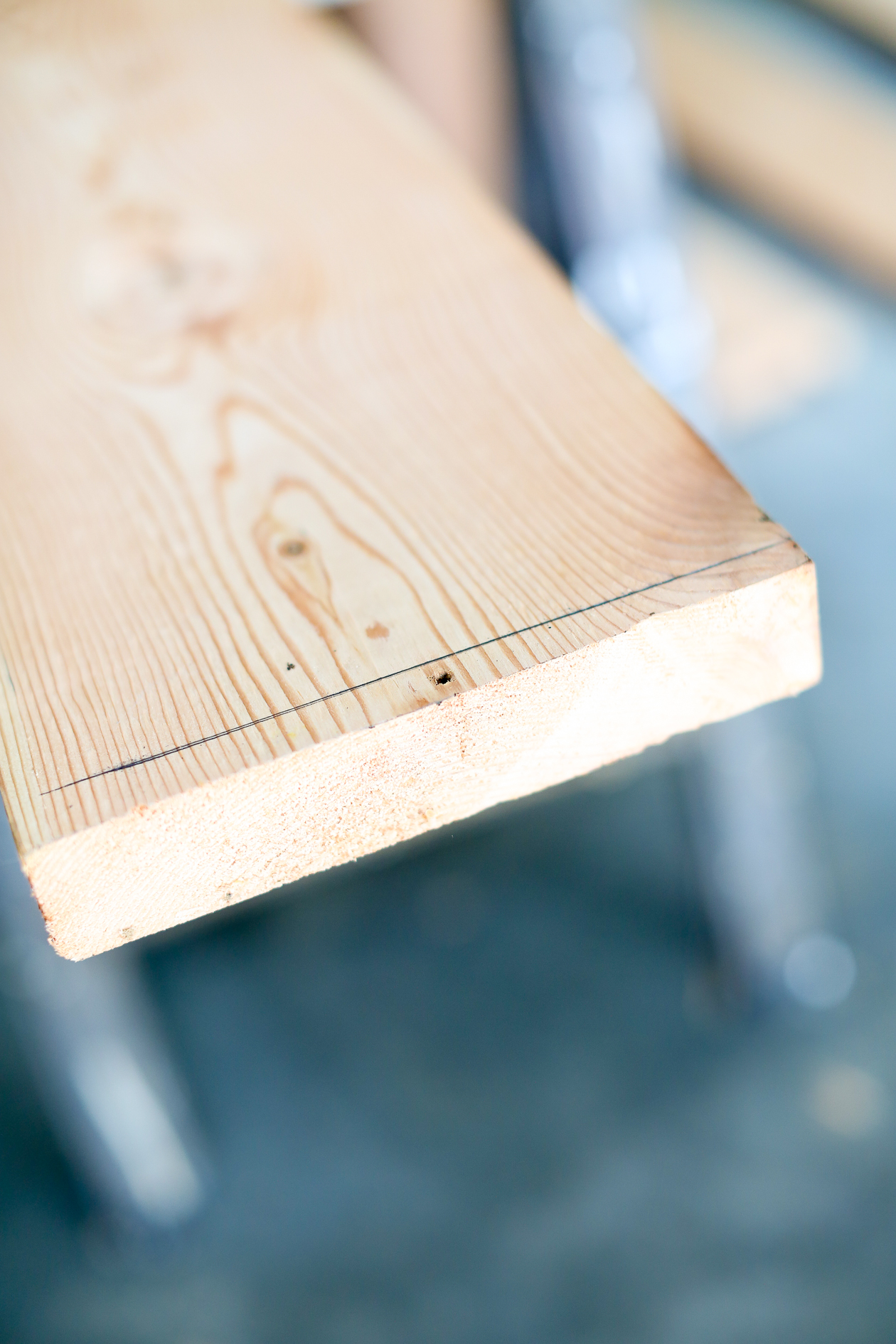 Deciding which parts to cut off
It would have been smart to avoid any knots or defects on the ends of the boards. We (unfortunately) left a small knot at the end of one board, which eventually cracked in the dry winter air.
On the flip side, we love that our table has a large gauge down its middle. Farmhouse tables are meant to have character, so we purposefully left it. I think it gives a nice effect in showing the age of the wood!
Jointing
We used a biscuit jointer to connect the tabletop boards. Incredibly, biscuits and glue provide superior strength to other joint forms and leave no holes or exposed screw heads. My dad also borrowed the neighbor's biscuit jointer and really wanted to use it. ;)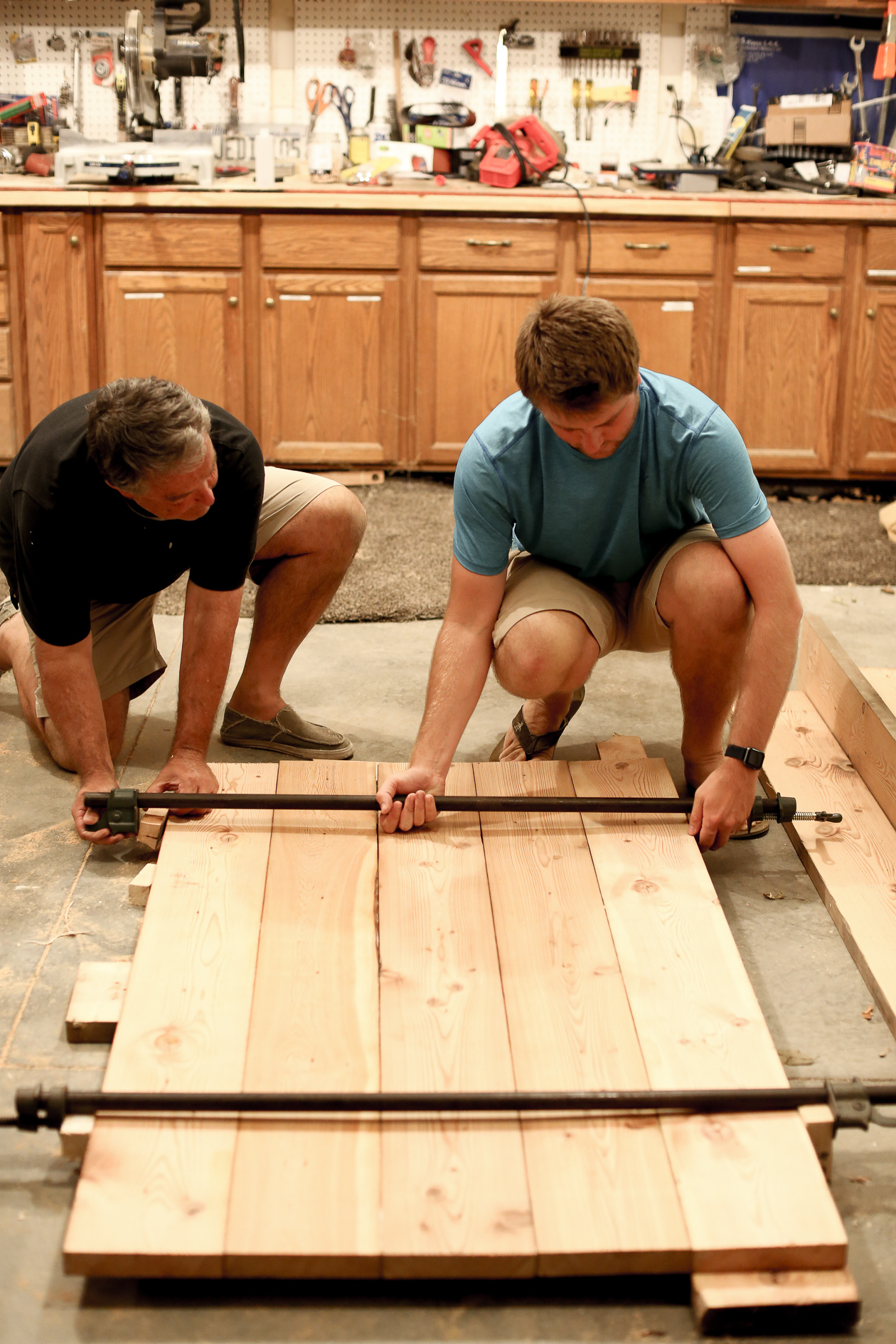 Clamping
Word to the wise: Make sure you have the appropriate pipe clamps on hand when you start gluing. We had to run down the block and ask the neighbors for more clamps after we laid glue. (Thanks, Terry and Barb!)
It was surprising how much the pipe clamps bowed the table on the ends. We found success in clamping both under and over the boards to provide torque in both directions. We also weighed down the corners of the table to ensure flatness.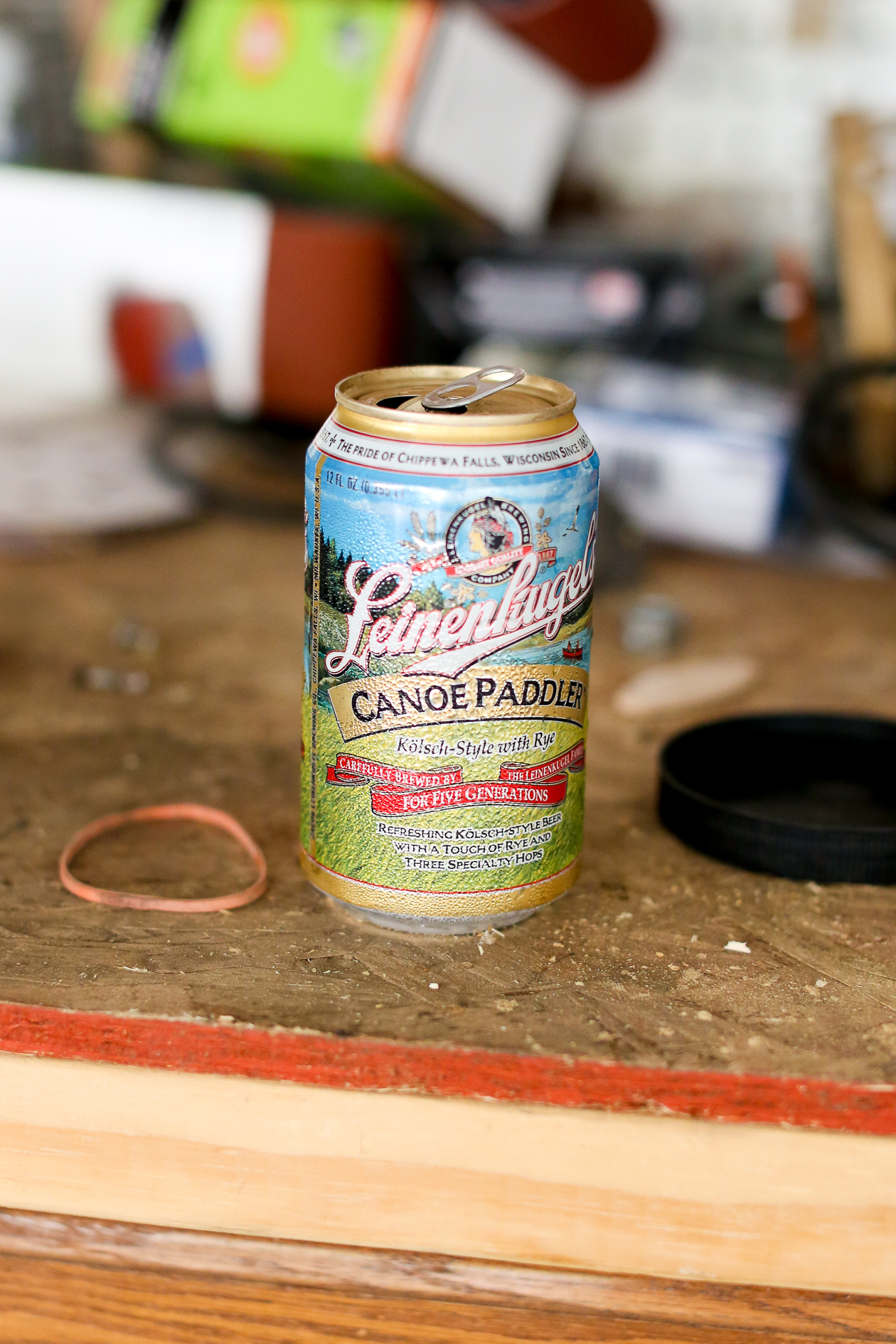 Break!
Waiting for the glue to dry is the best part of the work. Beers get opened, the family comes out to check on the work, the grill gets started, and then everyone jumps in the lake.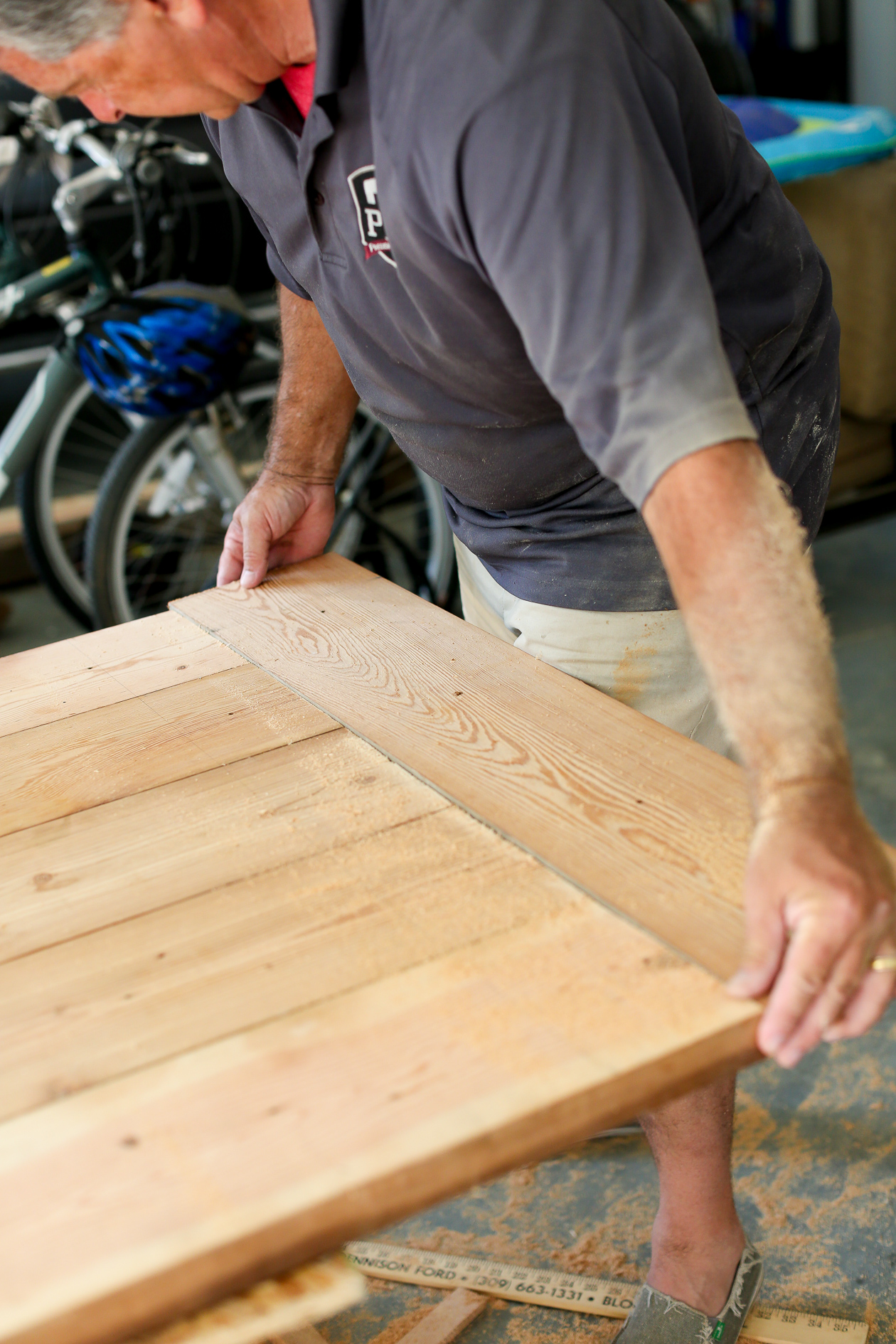 Attaching breadboards
Selecting the perfect breadboard lengths was more difficult than expected as they were attaching to five boards. We tried our best, but ended up needing to heavily sand in order to eliminate gaps. This is where Kelly's sanding skills came into play.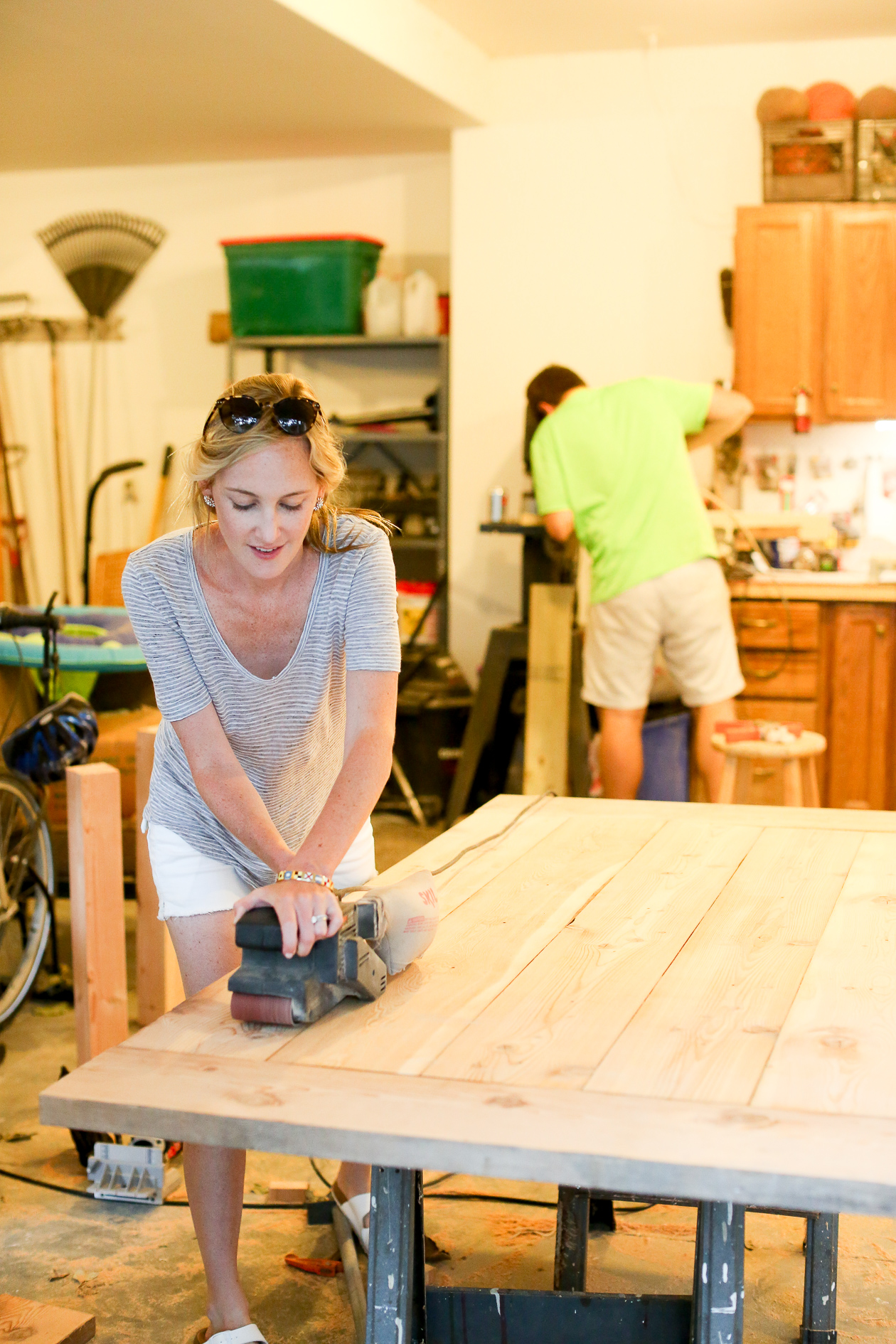 Sanding, sanding, sanding
After all the glue was dry, it was time to sand our butts off. We sanded for hours, starting with rough sandpaper and working towards a finer grit.
We officially broke two power sanders. Thank god farmhouse tables are meant to be imperfect. ;)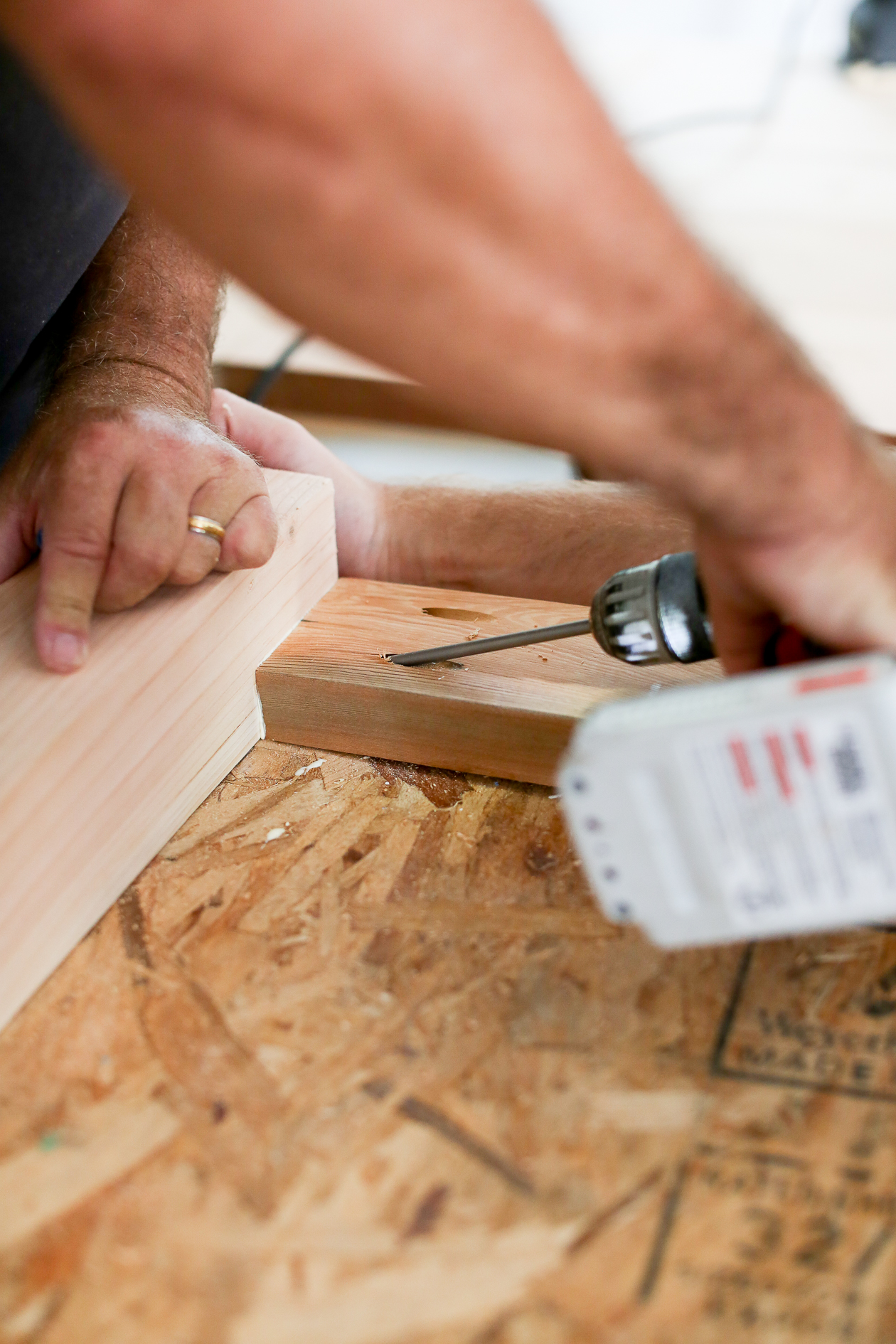 Legs and undercarriage
We used a Kreg jointer to cut pocket holes for the undercarriage. (Wow. That sentence really makes it seem like I know what I'm talking about!) Pocket holes and screws worked well underneath because they are strong and easy, and we didn't mind the holes since they were located where no one could see them.
A temporary support board was put in place to prevent the legs from moving during assembly. A few extra horizontal support beams were added up top to make up for the missing lower supports. Ultimately this worked fine and we're glad we left bottom support out.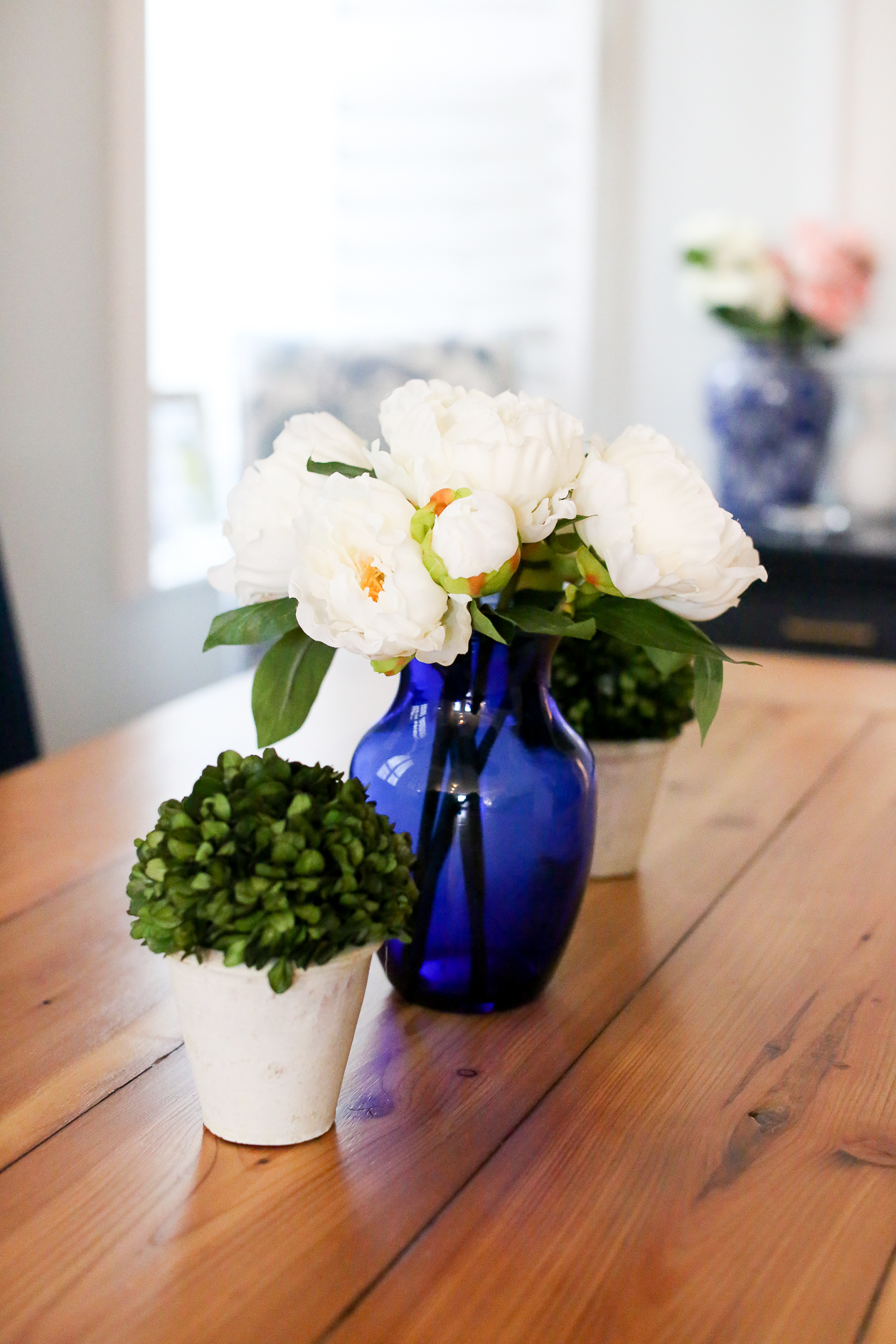 Finishing work
Once the table was fully sanded, we were ready to apply a stain. Kelly and I loved the look of the table in its unfinished form and we were worried that a heavy stain would cover up the table's character. We tried out five different stains on scrap wood and selected a light one. After the stain, we applied a few layers of protective polyurethane, and the details of the wood popped out beautifully.
We left the tabletop and undercarriage unattached so we could get the table in through the front door. And, to be honest, we still haven't attached them. The tabletop is heavy enough that it hasn't budged since we put it in place, but we should probably attach them one of these days. ;)
It's done!
The table fits our space amazingly well. Over the last year, we've had huge parties, friendly dinners and countless bowls of mac 'n cheese around it, and it's held up just as perfectly! The table is so loved that Kelly actually moved out of the office and commandeered it as the Kelly in the City World Headquarters. I can't say I blame her!
As our house was filled with construction dust from renovations this past year, the table was really our savior. Without a bedroom, living room or office, Kelly and I sat at it for hours all night, every night. We're so happy with our farmhouse table. If you're considering building your own, do it!
Questions? Leave 'em in the comment section below or reach out via mitch@kellyinthecity.com.
Mitch. Out.
Materials used:
Pipe clamps
2″ x 8″ wood boards (tabletop)
4″ x 4″ wood boards (legs)
2″ x 4″ wood boards (undercarriage supports)
Wood stain
Polyurethane