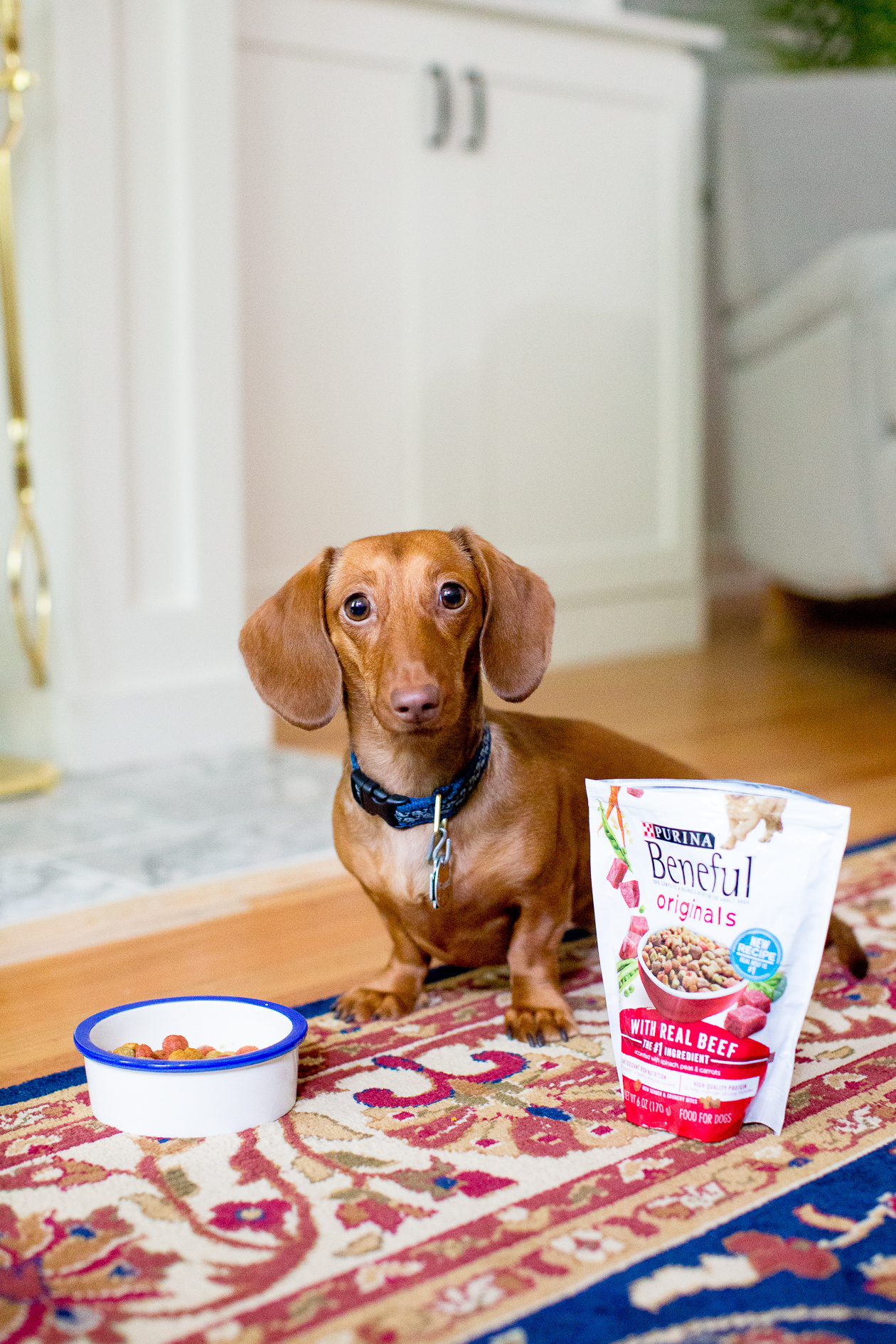 Okay. Mitch and I feel pretty badly about all of this.
We always thought that Noodle just wasn't a big eater. That by nature, she was lean and conscious of her ladylike figure. Turns out she simply HATED her dog food.
I know. So bad.
When Beneful launched its new line of dry food recipes, though, Little Noods' ears perked up.
Beneful has been working to evolve its dry food recipes for the past two years, changing things up to use more ingredients that owners are familiar with and want in their dogs' food. The #1 ingredient in the new recipes? Beef and chicken. Which just happen to be Noodle's favorite foods. ;) Beneful is also excluding ingredients that owners don't want, which means no added sugar.
As I mentioned, Noodle loves her new Beneful food. She tried it for the first time when these photos were taken, and it was the cutest thing: she spent a while sniffing the bag, then sampled some of the food out of her dog bowl, and then stuck her whole head in the bag and went to town. Mitch and I couldn't stop cracking up!
If you'd like to try the new Beneful Originals with Beef recipe, sign up for a free sample here. :) The company would love it if you shared your experience with a rating on Beneful.com, too!
Anyway, below are a ton of photos of Noods during her first experience with the new recipe because, well, holy cuteness. And stay tuned for an update on how Noodle has been transitioning to life with Emma. :) While posts have been pre-scheduled for the last couple of weeks, regular content commences tomorrow!
*It's important to note that dogs can be sensitive to change, especially when it comes to food. Even if you currently feed your dog Beneful, you'll want to transition to the new Beneful recipe as you would for a new type of food. Check out these helpful feeding tips and tricks for how to make the transition smoothly.
This post was sponsored by Beneful, but all opinions are my own. (And Noodle's!) As always, thank you so much for supporting the partnerships that keep Kelly in the City up and running!