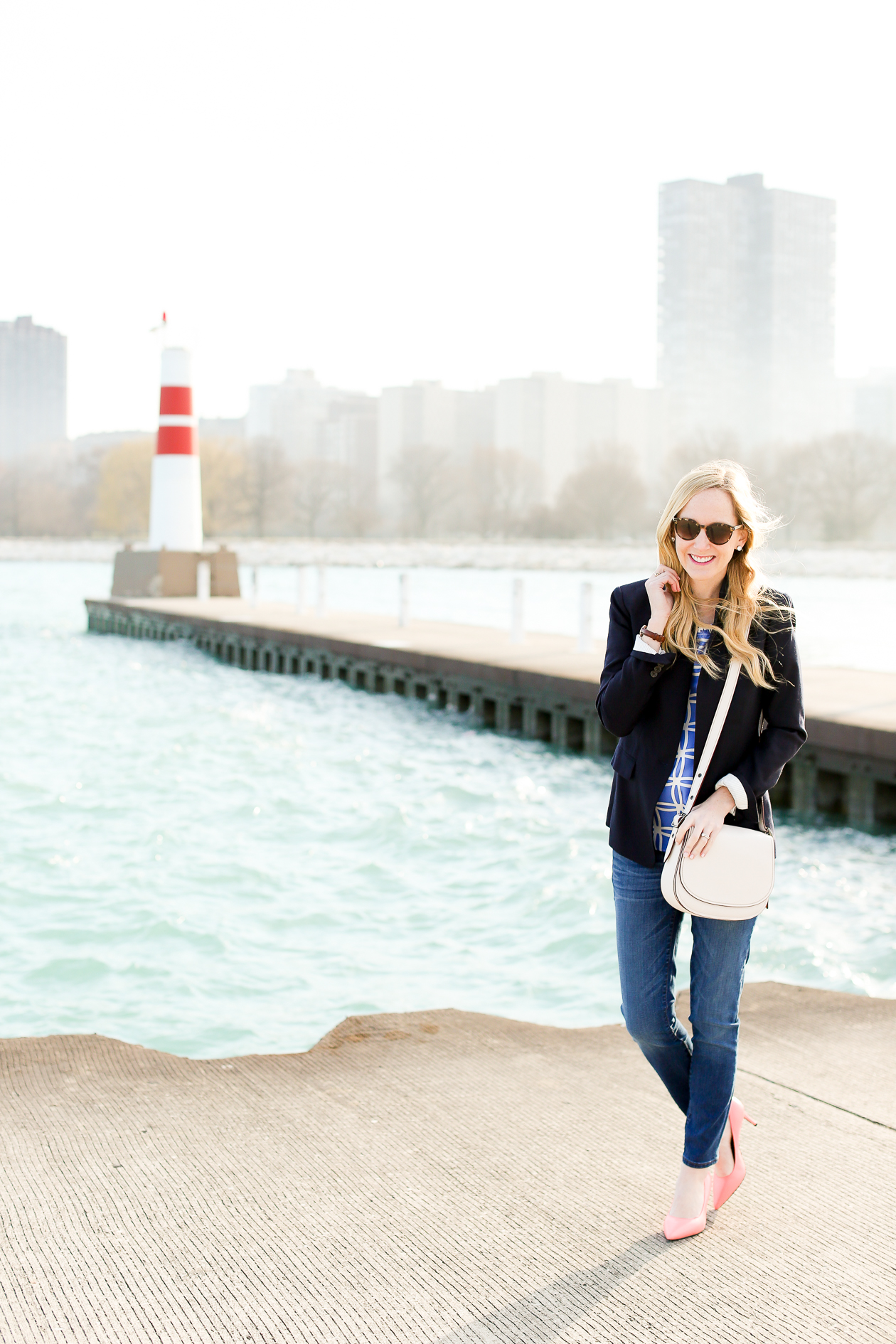 This post has been pre-scheduled because of Emma's arrival. #maternityleave ;)
J.Crew Navy Blazer and Jeans / J.McLaughlin Top (Borrowed from Mom) / Coach Bag c/o / Banana Republic Pumps c/o (Sold out, but love these, these, these and these!) / Daniel Wellington Watch c/o / Similar Sunglasses / Mitch's Patagonia c/o (Women's version here… Also available here!) / Mitch's Khakis / Mitch's Topsiders (Women's version here)

These photos were actually snapped when I was trying to hide the pregnancy. It's absolutely crazy to look back on them, considering that by this point, Mitch and I have actually had our baby! Content this week is pre-scheduled, so I'm writing this before Baby Larkin's arrival. ;)
One thing I'm wondering is what I'll be wearing for the first month or two after Baby. I've heard so many different takes on it: some say I'll be in maternity clothing for a long time, others say I'll look about five to six months pregnant and can therefore get away with some pre-pregnancy clothing, and still others say the body bounces back incredibly quickly and I'll be in my normal stuff before I know it.
I think I've just decided not to have any unreasonable expectations. Everyone is different, and as I've never been through this before, how can I predict what it'll be like? Besides, living in my favorite comfy tops and dresses (also available here and here) for a while sounds pretty great to me!
Anyway, I imagine it's been a weird week for the blog. I mean, who knows if my pre-scheduled posts even went live?! Clearly I've never been this ahead before, haha. But I'm looking forward to resuming either tomorrow or on Monday, and sharing stories and photos and all-new content from our all-new lives. :)
Thank you for bearing with me this week, and I hope you guys have a wonderful couple of days off!
Hi, New Dad! <3
J.Crew Navy Blazer and Jeans / J.McLaughlin Top (Borrowed from Mom) / Coach Bag c/o / Banana Republic Pumps c/o (Sold out, but love these, these, these and these!) / Daniel Wellington Watch c/o / Similar Sunglasses / Mitch's Patagonia c/o (Women's version here… Also available here!) / Mitch's Khakis / Mitch's Topsiders (Women's version here)