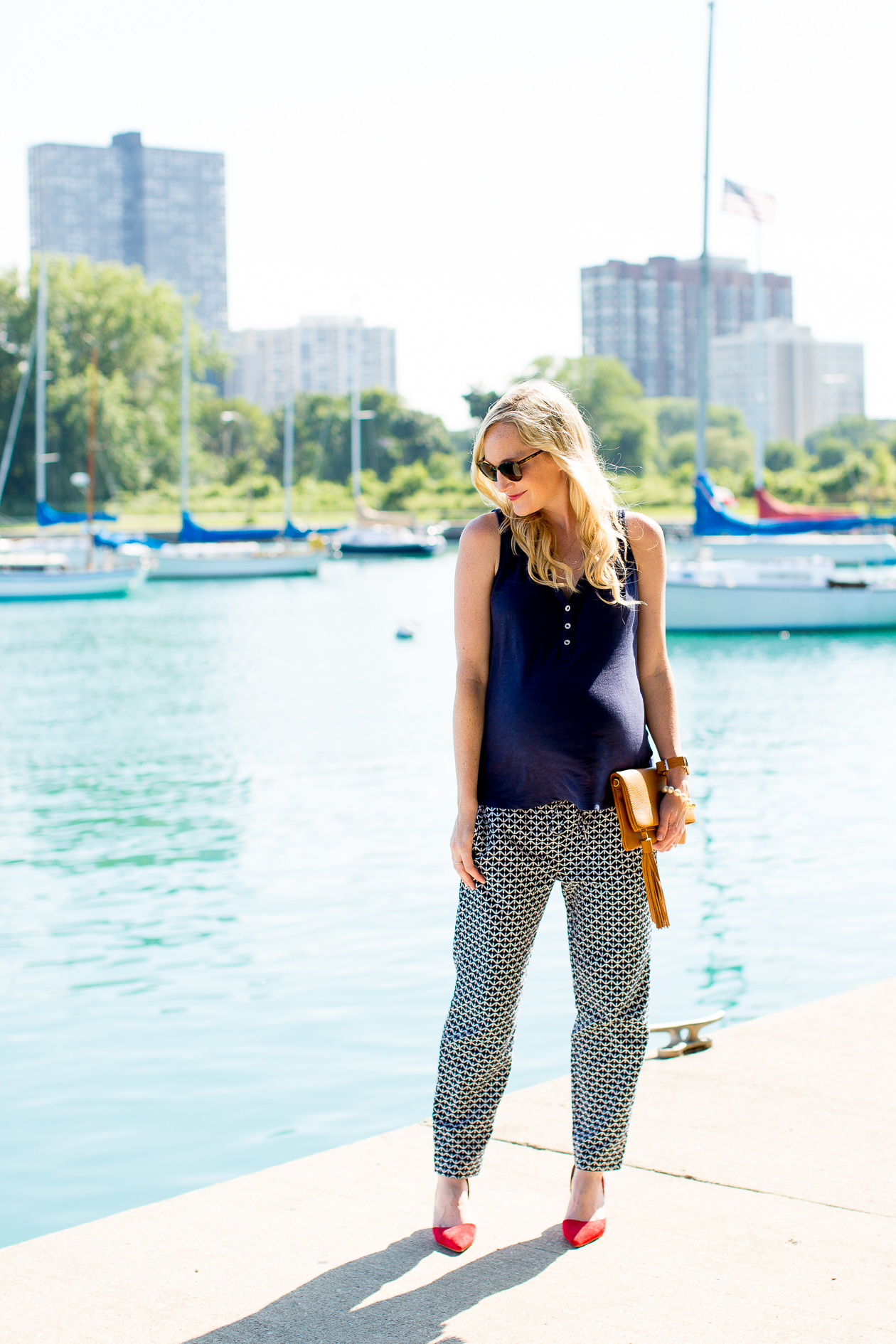 Lilly Pulitzer Essie Top (Also available in pink as well as this dress version and this dress version) / Timex Watch c/o / J.Crew Factory Linen Pants (Also available in solid.) / Sole Society Pumps c/o (Also available here.) / GiGi New York Clutch c/o / Kate Spade Pearl Bracelet (Necklace version here) / Helen Ficalora Necklace c/o (Kate Spade version here; love this "state" version, too!) / Similar Sunglasses
These photos were taken right before Jess and the rest of my amazing Chicago girlfriends surprised me with the most thoughtful baby shower ever! I can't believe I didn't pick up on any of the clues: Mitch insisting I bring along my camera to see Jess and Neal's new place for the first time, Jess being a stickler about making a reservation and getting to dinner on time (we're both always late, haha), how the boys completely ditched us right before, the laughing waitress when we first arrived, and seeing Shaheen through the window of the restaurant. (Really, Kelly? You don't put two and two together THEN?! So oblivious.) But I can't tell you how much the night meant to me. Truly, it was one of the most memorable nights of my life, and I'm even getting a little teary-eyed right now as I type!
I said this in last night's Instagram post, but if you'd told me a couple of years ago when I was packing my bags for Chicago that I'd make lifelong girlfriends here, I'm not sure I would have believed you. I thought I'd missed the prime friend-making time, and that I was destined for loneliness in a new and unfamiliar place. Today, though, I have this amazing group of girls who have made this city home for me. Without them, I think I would have left quite some time ago. With them, though, I can't imagine ever leaving.
Jess, Lauren, Maya, Kit, Emily, Erin, Blair, Shaheen and Jenn, I love you guys. Thank you for last night, and thank you for the last two years. It's been an absolute blast, and I can't wait for all the adventures to come! <3
(Oh, and these linen pants are everything.)
Shop the post:
Lilly Pulitzer Essie Top (Also available in pink as well as this dress version and this dress version) / Timex Watch c/o / J.Crew Factory Linen Pants (Also available in solid.) / Sole Society Pumps c/o (Also available here.) / GiGi New York Clutch c/o / Kate Spade Pearl Bracelet (Necklace version here) / Helen Ficalora Necklace c/o (Kate Spade version here; love this "state" version, too!) / Similar Sunglasses