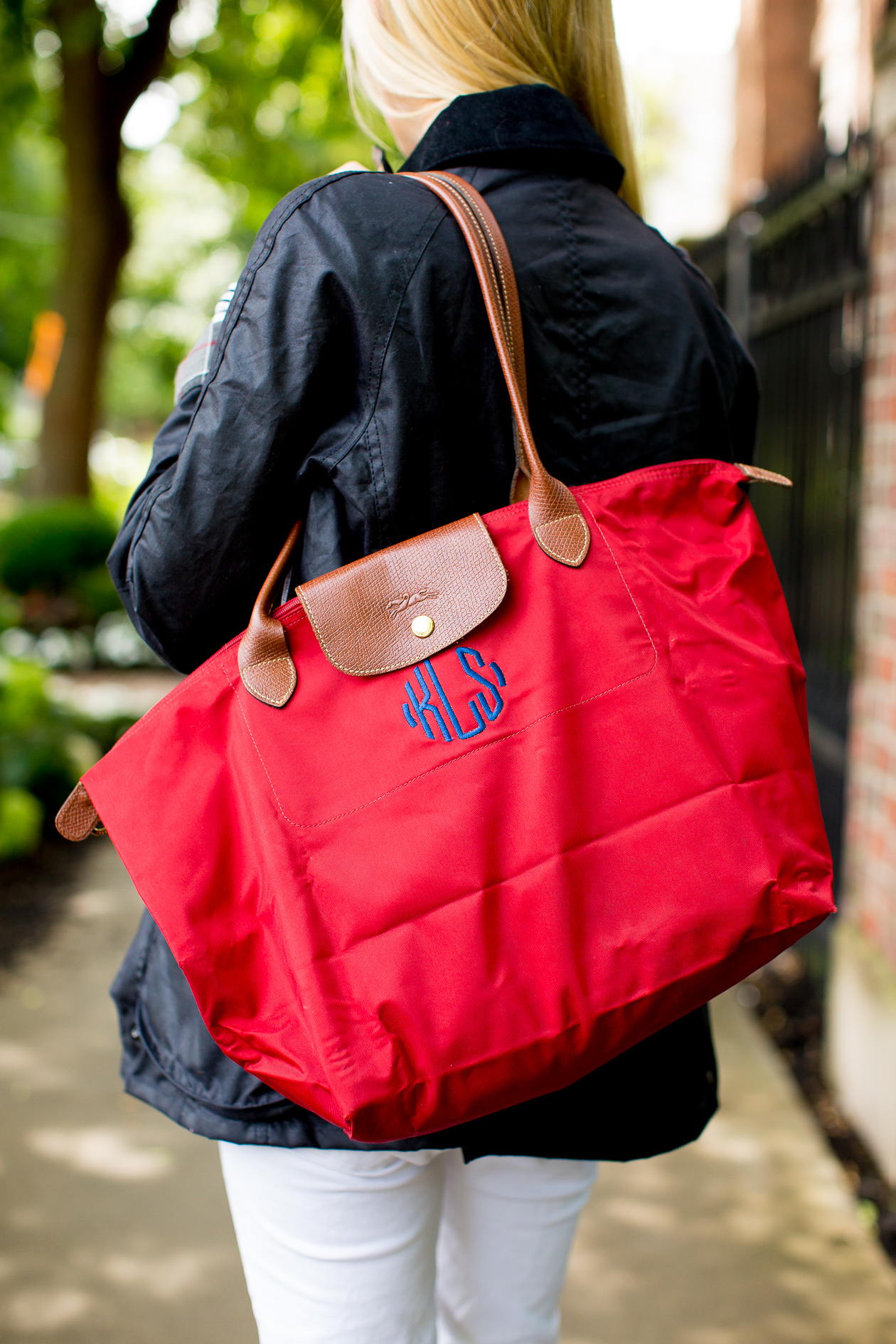 Navy Barbour Beadnell Jacket c/o (SO many great Barbour jackets on sale at Nordstrom right now, including my favorite of all time. See below!) / Longchamp Tote (#NSale Longchamp sale find here; Mom's favorite backpack here.) / Hunter Boots c/o (Also available at Nordstrom. #NSale find here! Gloss version; Short version.) / Paige Jeans (Maternity version here) / J.Crew Striped Top / Helen Ficalora Necklace c/o (Kate Spade version here; love this "state" version, too!) / Daniel Wellington Watch c/o / Similar Sunglasses
Barbour on Sale at Nordstrom:

Barbour on Sale at Tuckernuck:

Summer in Chicago has been pretty hot this year. But over the last few weeks, we have had a few cool and rainy days, which (in my about-to-pop state) have been quite nice. Please excuse the frizzy hair, though. It's something I'll never have a handle on during rainy and humid spells! ;)
I think we hear "Barbour" and immediately think spring and fall. But I get a lot of use out of my gear during the summer, too. (Early morning walks on the lake; evenings on the beach.) Which brings me to some awesome news: there are SO many great Barbour jackets on sale right now at Nordstrom! (See above.) Some are part of the Early Access Anniversary Sale, but others are just simply crazy discounted. Woo!
Anyway, I'll be 39 weeks on Wednesday, and I have to say: I'm getting pretty anxious. But for all intents and purposes, we're ready, which is something I didn't think I'd be able to say at this point. This past weekend, Mitch finished painting the nursery and putting all the furniture together, and we arranged and unpacked everything. The room certainly isn't decorated–my parents have most of decor out on the East Coast, and they're driving it out to us when it's time. :) But I'm really excited to decorate with my mom and my mother-in-law once everyone arrives. And all the essentials are here, so we're good.
The rest of the house is pretty much done, too. The master bathroom was officially finished on Saturday, and you might have seen the fireplace reveal post last week. (Clicking "publish" on that one was insanely cathartic!) Today, our contractor is putting a door on the guest room, just in time for the parents' arrival, which I suppose could be any day now. ;) He's also putting up crown molding repairing some damaged baseboards.
We may or may not get around to painting the guest room before the baby arrives, but that's fine. And we were supposed to tackle the staircase, which was damaged in the flood, next… but I think we've decided to pump the breaks on that for now, too. Yes, I hate the stained and halfway ripped-up carpeting, but as it's tucked away and only leads to the master bedroom, the only people who see it on the reg are Mitch and me. So… it's not a priority right now. As much as it pains me to say that.
The ninth month of pregnancy has been humbling. Up until now, I never thought of myself as having a "Type A" personality, but I'm starting to rethink all of that. ;) Of course, I'm sure a lot of my craziness has come from the hormones, but I've kind of been a nutcase as of late. I've been impatient and stressed, and, at times, totally unrealistic about things. I've also needed to be in control of everything, which, I've learned, isn't possible when you're having a baby. Expect the unexpected. It's almost guaranteed that things won't go as you imagine they will.
I'm starting to calm down, though. My mother-in-law gave us some great advice this past weekend: She said that typically, couples get kind of anxious during the last week or two, and that we need to take some time away from the chores and to-do lists, and distract ourselves. And now that the nursery is done, the bags are packed, and everything else is pretty much in order, I think it's important that we do just that. This is our first week without guests in a month, and we're celebrating our wedding anniversary. It's "us time," for sure!
Re-reading what I just wrote, I realize that this post is all OVER the place. But you know what? I'm a little all over the place right now, too… and not everything in life needs to be orderly and perfect. Life is beautiful in all its chaos and unpredictability, and I'm excited to let go and let it all happen.
Thanks for listening. :)
Shop the post:
Navy Barbour Beadnell Jacket c/o (SO many great Barbour jackets on sale at Nordstrom right now, including my favorite of all time. See below!) / Longchamp Tote (#NSale Longchamp sale find here; Mom's favorite backpack here.) / Hunter Boots c/o (Also available at Nordstrom. #NSale find here! Gloss version; Short version.) / Paige Jeans (Maternity version here) / J.Crew Striped Top / Helen Ficalora Necklace c/o (Kate Spade version here; love this "state" version, too!) / Daniel Wellington Watch c/o / Similar Sunglasses
Barbour on Sale at Nordstrom: