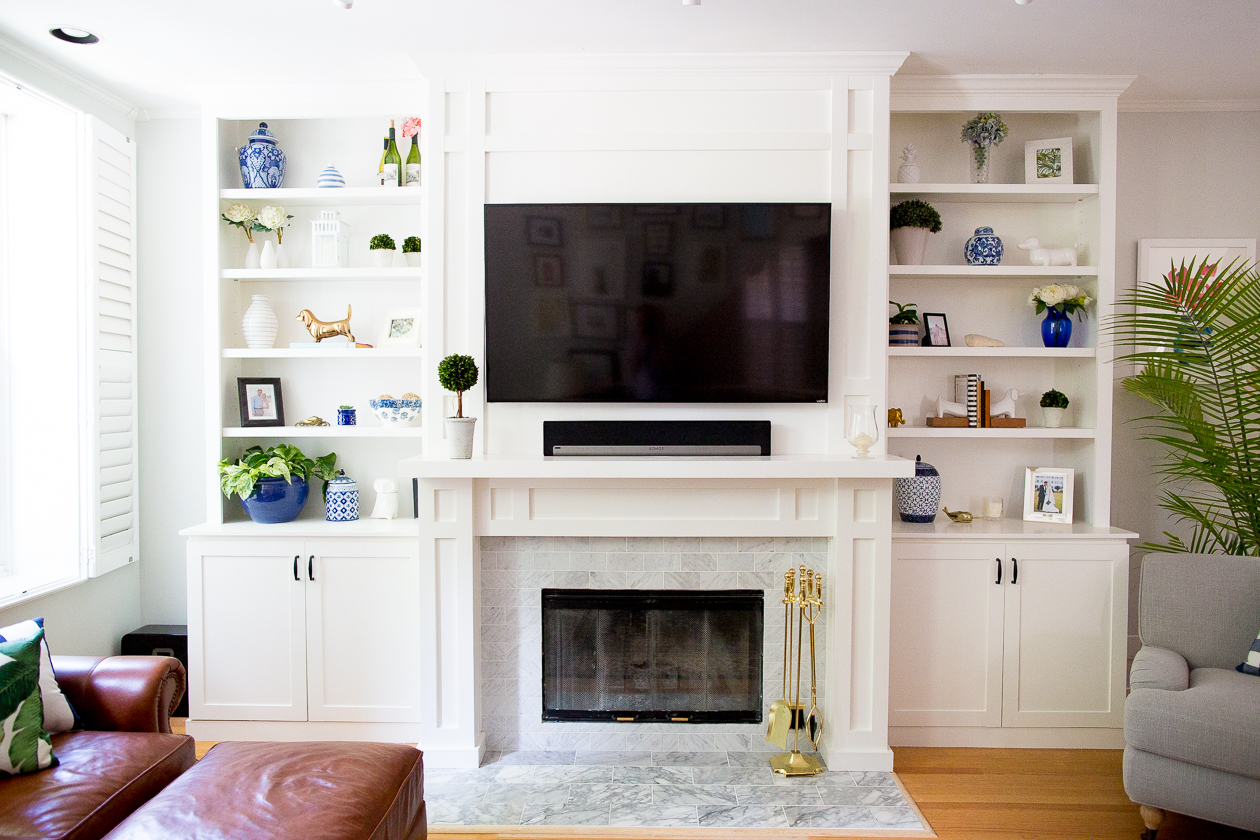 Today, I'm kicking off a series of home renovation final reveal posts, and I'm so excited about it. This post features our living and dining rooms, but over the next few weeks, I'll also be sharing our master bedroom (sneak peeks here and here), master bathroom and nursery projects. And in September, I'm going to be showcasing our guest room, which is being finished up as we speak.
It's funny: when I first started doing home posts, I totally thought I'd be able to turn around whole-room projects within a few weeks. NOPE. I'm sure some bloggers can do this, but I'm much slower. I've learned quickly that construction is almost always delayed, and that decorating is far more challenging than it looks. (Or, it is for me, at least!) So my apologies for my seemingly empty promises of the past. But here's proof that I actually can finish a project! ;)
As you guys know, it's been a trying year. An exciting one, for sure, but also a stressful one. It feels SO great to finally have a comfortable living room, a queen-sized bed, an extra bathroom with countertops, and a room for Baby Larkin. But for now, let's just celebrate the completion of the living room/fireplace project by posting a zillion photos. Because woo! It's DONE!
The short story
In hindsight, Mitch and I were kind of crazy for taking on a fireplace renovation this year considering how much else we had going on. (Here's what the room looked like before, as well as our inspiration for the project.) The original thought was that our living room was too crowded and cluttered, and we wanted to hang the television over the fireplace in order to move the love seat under the windows. When we found out we were pregnant, we decided that we should renovate and get it all done before the baby's arrival. Sadly, our first contractor booked it about halfway through the project, and we never heard from him again. It took us about a month to find another contractor to fix the original guy's mistakes and finish the project, and it literally took us six days to paint the thing. (#regrets — Should have hired someone! Primer and two coats of paint? Oy.) But in late June, everything was completed, and this past week, we finally decorated. We love the results, and we were able to hang the television over the fireplace and move the couch under the windows just as planned. So much more space than the first setup!
The inspiration
For the fireplace, my inlaws' lake house was a huge inspiration for us. We tried to bribe their contractor to come up to Chicago and build us one, but he was a little reluctant. ;) We ended up giving our contractor a photograph of it to use as a guide, along with these Pinterest pics.
Auntie-M (my aunt in Nantucket!), Pinterest, and my friends Mackenzie of MackenzieHoran.com, Julia of Lemon Stripes and Michelle from Instagram inspired the decor. I am not one of those bloggers to whom interior design comes naturally. These ladies–and my Pinterest "Preppy Home" board–were huge helps! (Thank you!)
The chair
This gorgeous Rose Chair c/o, a collaboration between Interior Define and The EveryGirl, is our newest addition to the room! You may remember this post, which I published all the way back in January, about going to the Chicago store on Armitage and picking it out. Well, ladies and gentlemen (Hi, Dad!), the chair has been with us for a long time now, but it's finally made its way from our back room into its final resting spot! :) We are so in love with it. We originally thought we wanted to put it in the nursery, but it really ties the living room together and provides the extra seating we were in need of. Maybe we just need to get another one?!
In all seriousness, it's the nicest chair we've ever owned. It's super comfortable, and the design is so Pinteresty! (Hi, Danielle. ;)) I mean, those tufted arms… #amiright? In case you're wondering, we went with "Cinder" in "Textured Linen," and the chair also comes in a couch version. Oh, and you can now select white oak or black/brass legs! Finally, I love that its neutral shade makes it easily transferrable from one room to another. Life is about to change dramatically for us in a couple of weeks, and I love the versatility that the Rose Chair provides!
The gallery wall
If you're a new reader around here, the gallery wall was completed back in October through a collaboration with Minted. (Totally should've straightened the frames before taking these photos. Oops!) Clearly, we haven't changed it at all over the last 10 months, but I think that's a testament to how awesome Minted's art is. Are you guys interested in a how-to post for hanging gallery walls? Could be a fun project for me while I'm on "maternity leave." :)
c/o Minted.com Prints/Frames: Three Dogs / Map of Chicago / Three Whales / Bicycle / Pineapple /London Phone Booth / Map of NYC
The couches
The couches are from Wayfair/Birch Lane, and I can't speak highly enough about them. (We have them in "Melton Leather." Here's the couch, here's the love seat and here's the ottoman. We don't have the chair, but it's lovely, too!) Mitch and I decided that we were 100-percent going with leather couches when we bought the house, as we'd completely ruined our twill couch from Pottery Barn. (We are real people and spill things. And we have a dog! And we're about to have a baby!) I initially fell in love with Pottery Barn's Chesterfield, Webster, Brooklyn and Manhattan leather collections, but YIKES. Even when they went on major sale, we really couldn't justify spending that much money.
When we found the Wayfair/Birch Lane couches, we were totally smitten… but we were nervous that we couldn't see or test 'em out before purchasing. SO glad we went for them, though, as we seriously don't have a single complaint with them. We've had them for almost a whole year now, and they don't show any signs of wear. Noodle frequently lounges on them, too! They're also incredibly comfortable, easy to wipe down, and somehow stain-resistant. If you're looking for leather couches, I can't recommend these more! (Still nervous? I feel you, Sister. Email me at kelly@kellyinthecity.com and I'll calm you down!)
The rugs
Another risky move, as we ordered the rug and runner from Overstock. But do you know how much big rugs from regular stores cost?! (I didn't.) Sheesh! So not happening, especially in such a high-traffic area and with a dog and husband. ;) We originally had a lovely navy-and-white striped rug in the living room, but it was a complete disaster. I had to vacuum every day, and it was constantly getting stained. So we sprung for this rug and runner, and we've never looked back. The quality is great, it's definitely held up, and I now only have to vacuum once per week. Winner! (Note: The dining room ikat rug is from Pier 1.)
The bookshelf decor
Mitch and I thought we'd need to purchase decor for the built-in bookshelves, but we ended up not having to, as we just collected stuff that was sitting on windowsills, end tables and dressers around the house. And I have to say: everything looks so much less cluttered! If you're interested, here are links to all of it, starting with the upper left-hand corner of the left shelf.
Left shelf:
Pier 1 Chinoiserie Vase c/o (Design Darling has some great ones.) / Target Striped Vase / Chateau Montelena and Trader Joe's Wine Bottles (All from special occasions, from our first date to our first anniversary.)
Ikea Vases / Ikea Lantern (Large/Small — These were our centerpieces at our wedding.) / Pier 1 Topiaries c/o
Target Striped Vase / Golden Dachshund (Housewarming gift from Maya. Similar here, and love this golden turtle!) / Kate Spade Coffee Table Book (Gift from sister-in-law.) / Frame (Unknown)
Ikea Frame / Brass Crab (Christmas gift from Mitch) / Pier 1 Container c/o (Try Design Darling.) / Pier 1 Bowl and Rope Spheres c/o
Planter (Somewhere in NYC) / Pier 1 Jar c/o (Try Design Darling.) / Jonathan Adler Owl c/o / OnHub Router (HIGHLY recommended by Mitch. See his other technology picks below.)
Right shelf:
Target Pineapple (Wayfair and Design Darling have some awesome ones. Also, this lamp?!) / Tiffany's Vase (Small/Large — Bridal shower gift from Auntie-M.) / Pier 1 Hydrangeas c/o / Jonathan Adler Frame c/o (Larger version here.)
Wayfair Plant c/o / Kohl's Chinoiserie Ginger Jar (Sold out, but Design Darling is the place to go!) / Ceramic Dachshund
Unknown Planter / Unknown Frame / Coral from a vacation in Miami / Unknown Vase
Jonathan Adler Elephant c/o / Jonathan Adler Dachshund Bookends c/o (Also available at Saks, Amazon and Wayfair.) / Elements of Style Book c/o / Dogs of Central Park / Pier 1 Topiary c/o
Pier 1 Jar c/o (Try Design Darling.) / CB2 Brass Narwhal (Christmas present from Mitch.) / Vera Bradley Candle c/o / Kate Spade Wedding Frame (Gift from NYC Teaching Mentor.)
Other:
Polished Brass Fireset and Woodbasket / Pier 1 Larger Topiary c/o
The technology:
Hi, Everyone! It's Mitch. Below is our "technology setup" for the living and dining rooms. (Not really Kelly's department.) If you have questions about any of the following products, shoot me an email at kelly@kellyinthecity.com. :) This stuff makes for some great gifts for your guys!
Vizio Television and Mount / Sonos Playbar and Mount / OnHub Router / Sonos Play:1 / Apple TV (Splurge/Save) / Gaming Controller / Sonos Subwoofer / Nest Cam Security Camera (The above timelapse video was actually taken with it! This will be used as a baby monitor, too.) / Nest Protect (Smoke Detector) / Nest Learning Thermostat / Amazon Echo (This is Alexa.) / HD Antenna
The dining room:
Pier 1 Buffet c/o / First Ginger Jar Print c/o Laura Dro Designs (Win it here!) / Second Ginger Jar Print / Pier 1 Navy Velvet Dining Chairs c/o / Farmhouse Table (Mitch made it! Tutorial coming soon, I promise! Hey Mitch. Let's get on that. ;)) / Pier 1 Ikat Rug c/o / Chippendale Chair (Original inspiration here and here) and Cushion / Pier 1 Garden Stool c/o / Pier 1 Vase (Try Design Darling.) / Minted Striped Vase Print c/o
Other furniture/products:
Wayfair Coffee Table c/o (Still available here! This was the original inspiration, and I love this one and this one, too.) / Hayneedle End Table c/o / Pier 1 Hydrangeas c/o / Pottery Barn Navy Striped Pillows / Etsy Banana Leaf Pillows / Target Navy Gingham Pillows / Wayfair Wall Mirror c/o / Minted Giant Palm Framed Print c/o / Pottery Barn Giant Floor Basket (Gift from my bridesmaids!) / Pottery Barn Faux Fur Blanket (Gift from Auntie-M! Best thing ever for Chicago winters.) / Home Depot Palm / Burlap "L" Pillow (Gift from Mother-in-Law. Mark & Graham has some great options, too.) / Vintage Oars (Wayfair has a nice selection if you're looking.) / Pier 1 Giant White Floor Vase c/o / Crate and Barrel Empire State Building Framed Print (Love Minted's NYC collection, too.) / Pottery Barn End Table Lamp (Old, but similar here)
Looking back and ahead:
It's hard to believe that we successfully completed this project. I mean, it truly seems like it was just yesterday that our priority in life was getting the best happy hour deals in the East Village. ;) And here we are, undergoing fireplace renovations and spending our time decorating?! Who are we?! It's all so surreal, and in many ways, it seems like we're playing house. At the same time, it feels so natural. But I also miss those East Village happy hours. Gah! All the emotions. Anyway, we're beyond happy!
So, without further ado, a zillion photographs:
The Before & After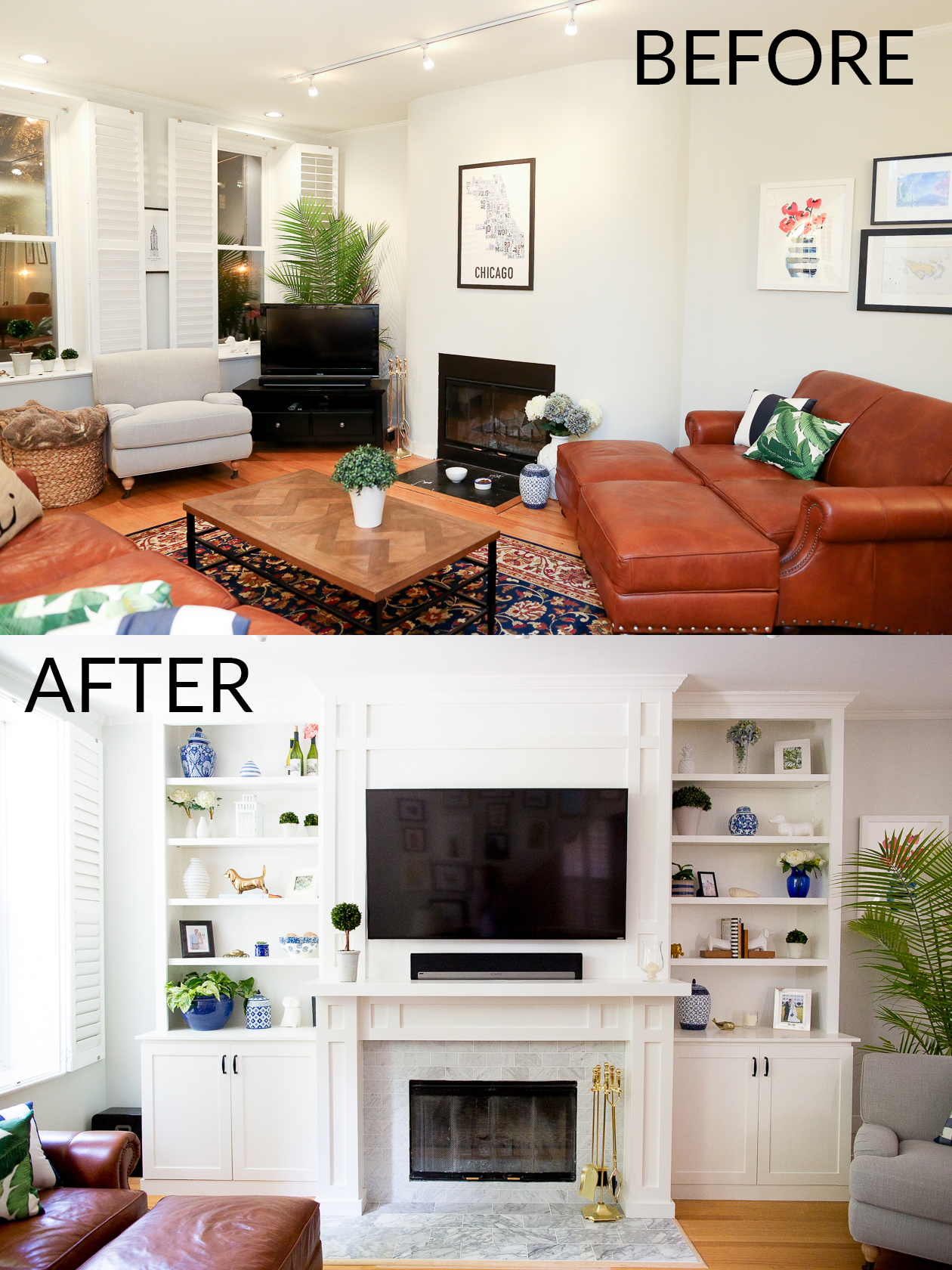 Shop the post:
The furniture:
Interior Define Rose Chair c/o / Wayfair/Birch Lane Couch, Love Seat and Ottoman / Wayfair Coffee Table c/o (Still available here. This was the original inspiration, and I love this one and this one, too.) / Hayneedle End Table c/o / Pier 1 Buffet c/o / Pier 1 Navy Velvet Dining Chairs c/o / Farmhouse Table (Mitch made it! Tutorial coming soon, I promise. Hey Mitch. Let's get on that. ;)) / Chippendale Chair (Original inspiration here and here) and Cushion
The gallery Wall:
c/o Minted.com Prints/Frames: Three Dogs / Map of Chicago / Three Whales / Bicycle / Pineapple /London Phone Booth / Map of NYC
The rugs:
Overstock Rug and Runner / Pier 1 Ikat Rug c/o
The bookshelf decor:
Left shelf:
Pier 1 Chinoiserie Vase c/o (Design Darling has some great ones.) / Target Striped Vase / Chateau Montelena and Trader Joe's Wine Bottles (All from special occasions, from our first date to our first anniversary.)
Ikea Vases / Ikea Lantern (Large/Small — These were our centerpieces at our wedding.) / Pier 1 Topiaries c/o
Target Striped Vase / Golden Dachshund (Housewarming gift from Maya. Similar here, and love this golden turtle.) / Kate Spade Coffee Table Book (Gift from sister-in-law.) / Frame (Unknown)
Ikea Frame / Brass Crab (Christmas gift from Mitch.) / Pier 1 Container c/o (Try Design Darling.) / Pier 1 Bowl and Rope Spheres c/o
Planter (Somewhere in NYC) / Pier 1 Jar c/o (Try Design Darling.) / Jonathan Adler Owl c/o / OnHub Router (HIGHLY recommended by Mitch. See his other technology picks below.)
Right shelf:
Target Pineapple (Wayfair and Design Darling have some awesome ones. Also, this lamp?!) / Tiffany's Vase (Small/Large — Bridal shower gift from Auntie-M.) / Pier 1 Hydrangeas c/o / Jonathan Adler Frame c/o (Larger version here)
Wayfair Plant c/o / Kohl's Chinoiserie Ginger Jar (Sold out, but Design Darling is the place to go.) / Ceramic Dachshund
Unknown Planter / Unknown Frame / Coral from a vacation in Miami / Unknown Vase
Jonathan Adler Elephant c/o / Jonathan Adler Dachshund Bookends c/o (Also available at Saks, Amazon and Wayfair.) / Elements of Style Book c/o / Dogs of Central Park / Pier 1 Topiary c/o
Pier 1 Jar c/o (Try Design Darling.) / CB2 Brass Narwhal (Christmas present from Mitch.) / Vera Bradley Candle c/o / Kate Spade Wedding Frame (Gift from NYC Teaching Mentor.)
Other:
Polished Brass Fireset and Woodbasket / Pier 1 Larger Topiary c/o
The technology:
Vizio Television and Mount / Sonos Playbar and Mount / OnHub Router / Sonos Play:1 / Apple TV (Splurge/Save) / Gaming Controller / Sonos Subwoofer / Nest Cam Security Camera (The above timelapse video was actually taken with it! This will be used as a baby monitor, too.) / Nest Protect (Smoke Detector) / Nest Learning Thermostat / Amazon Echo (This is Alexa.) / HD Antenna
The dining room:
Pier 1 Buffet c/o / First Ginger Jar Print c/o Laura Dro Designs (Win it here.) / Second Ginger Jar Print / Pier 1 Navy Velvet Dining Chairs c/o / Farmhouse Table (Mitch made it! Tutorial coming soon, I promise. Hey Mitch. Let's get on that. ;)) / Pier 1 Ikat Rug c/o / Chippendale Chair (Original inspiration here and here) and Cushion / Pier 1 Garden Stool c/o / Pier 1 Vase (Try Design Darling.) / Minted Striped Vase Print c/o
Other furniture/products:
Wayfair Coffee Table c/o (Still available here. This was the original inspiration, and I love this one and this one, too.) / Hayneedle End Table c/o / Pier 1 Hydrangeas c/o / Pottery Barn Navy Striped Pillows / Etsy Banana Leaf Pillows / Target Navy Gingham Pillows / Wayfair Wall Mirror c/o / Minted Giant Palm Framed Print c/o / Pottery Barn Giant Floor Basket (Gift from my bridesmaids.) / Pottery Barn Faux Fur Blanket (Gift from Auntie-M. Best thing ever for Chicago winters.) / Home Depot Palm / Burlap "L" Pillow (Gift from Mother-in-Law. Mark & Graham has some great options, too.) / Vintage Oars (Wayfair has a nice selection if you're looking.) / Pier 1 Giant White Floor Vase c/o / Crate and Barrel Empire State Building Framed Print (Love Minted's NYC collection, too.) / Pottery Barn End Table Lamp (Old, but similar here.)