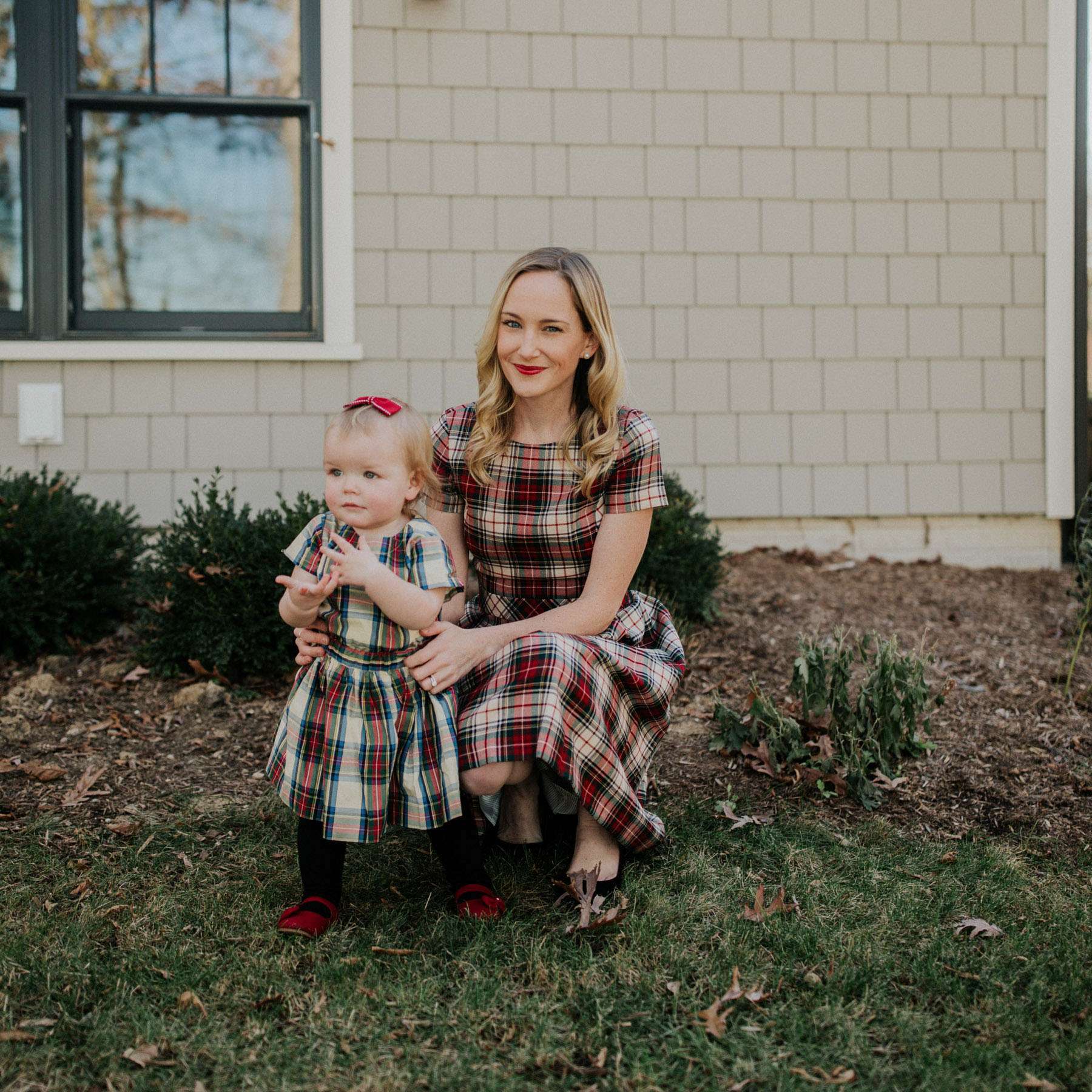 My tartan dress / Emma's tartan dress
Congratulations to Caroline L. for winning yesterday's $100 Nordstrom gift card giveaway! Enter to win today's $100 gift card giveaway by simply commenting below in the comment section. You can say anything, as long as it's PG. ;) Remember to leave your email address so we can contact you, but in this form so you don't get spammed: Kelly (at) gmail (dot) com. Good luck!
I hope you had the best Thanksgiving, and were surrounded by family and friends. Ours was amazing! We had a low-key celebration at the lake house, and we stayed up late, just chatting with my in-laws. :) Anyway, I wanted to quickly pop in this morning to highlight some of my favorite sales going on right now… and I'll be back frequently today with updates as they come in.
I'd also like to congratulate Caroline L. for winning yesterday's $100 Nordstrom gift card giveaway! The good news is that Caroline is awesome, AND you have a second chance to win another $100 gift card today. Simply comment in the comment section below! You can say anything, as long as it's PG. ;) Remember to leave your email address so we can contact you, but in this form so you don't get spammed: Kelly (at) gmail (dot) com. Good luck!
Winner: Kim M.!
On to the sales:

Vineyard Vines is offering 25 percent off everything AND free shipping when you use code "HOLIDAY17." I'm OBSESSED with this red tartan bow skirt, and this black watch plaid skirt is pretty great, too. Love this cashmere plaid button-down, and this cashmere cable-knit button down is gorgeous. (Love the red!) Other products to consider: this sherpa vest, these tartan pants, and these black watch plaid jeans.

Nordstrom just announced that they're offering an extra 20 percent off selected sale products! AMAZING selection! A few awesome sale finds: this camel peacoat which is under $38 (go one size up); this pair of scalloped pumps (SO COMFY! They run TTS… just received them); my favorite AG jeans; my red tartan top (!!!); this pair of waterproof (!!!) over-the-knee boots (again, so comfy. I LOVE  mine. Order a half size up!); this pair of Rag & Bone jeans; and this pair of solid black block heel pumps. I also recommend this affordable pair of over-the-knee boots that my cousins swear by (and this similar pair), my favorite Free People sweater ever, this $19 pair of leather leggings (!), my favorite booties, this camel fur-lined coat, this camel Ralph Lauren coat, this Penfield fleece, this buffalo check jacket, my light blue wrap coat, this cozy Free People sweater, and this gorgeous black dress. Oh! And lots of Barbour on sale.


Today, L.L.Bean is offering 25 percent off Bean Boots when you use code "FRIDAY25." CRAZY! I can't recommend my shearling-lined boots enough, and my navy boots are classics. You can also use code "THANKS20" to take 20 percent off clothes and outerwear. (Plus get a $10 gift card when you spend $50 or more.) I love this navy sweater, this shearling vest, this pullover (such a classic!), this camel coat, these flannel pajamas, this fisherman sweater (size down), this duffle coat (OMG), this cashmere sweater, this quilted quarter-zip, this classic fisherman sweater, this fleece pullover, this red coat, this pea coat, the best plaid flannel shirt in the history of the world, this super soft and cozy pullover, and this cable-knit pullover. Goodness–SO obsessed with L.L.Bean this year!

The Shopbop sale is on! Use code "MORE17" to take 20 percent off orders of $200+, 25 percent off orders of $500+, and 30 percent off orders of $800+. First, let's talk jeans. This is my favorite pair of Rag & Bone Jeans, and this is my favorite pair of AG Jeans… and both are included in the sale. I'm a HUGE fan of AG legging jeans, so this pair, this pair and this pair are on my list! Oh, and this super dark pair, which is great for the holidays and winter in general. This leopard Clare V. clutch is a fave and I wear it constantly; this pair of Commando leggings are SO comfy; David Lerner kills it with the leather leggings; I found my favorite booties for the lowest price I've ever seen them for; my Madewell tote is included; I really, really need this pair of cap toe pumps; and ooooh–the Gucci lookalike loafers! Other awesome finds: this bow-adorned dress, all the Stuart Weitzman boots, the best oversized scarf ever (and its sister), all the Hunter boots, this striped bathing suit for a vacation, the Loeffler Randall scalloped Emi sandals, all the Mar Y Sol bags, this pair of leather leggings, this Chanel bag lookalike, and all the Salvatore Ferragamo bow-adorned pumps and flats.

GAH! So exciting. As you guys know, I'm a psychopath about Tuckernuck, haha. Every look is so classy and put-together, yet EASY–something I think we all need in our lives right about now. Today, you can take 20 percent off all orders, 25 percent off orders of $500+, and 30 percent off orders over $1,000 when you use code "GONUTS." There's so much to choose from, but my favorites include the fur vest (try the Nordstrom one if it's sold out or the black version), this popcorn sweater, these cap toe pumps, this red plaid scarf, this plaid cape, this poncho, this black lace cami, this turtleneck, this metallic skirt, these dresses, these velvet leggings (such a staple!), this navy plaid scarf, this red tartan skirt (OMG), and this cashmere poncho. So good, right?!

Guys. J.Crew is currently offering 40 percent off and free shipping with code "THANKU," and the new arrivals are out of this world amazing. Let's just say you're going to be seeing a lot of them on the blog in the weeks leading up to Christmas, haha. Obviously, I'm a huge fan of the shirt I'm wearing in these photos (though mine's an older version), but I'm also obsessed with this fair isle sweater, this stewart plaid shirt, this velvet cami, this black watch plaid dress, these black watch plaid pants, this plaid ruffled top, this plaid midi dress, these black watch pajamas, these tartan loafers, and this tartan scarf. The best part is that J.Crew won't be changing its sale; it's going on through the weekend! So you can rest easy knowing you're getting an awesome deal. (Plus, a lot of the plaid stuff will likely sell out. So good to grab it now! Seriously, though: J.Crew is making a huge comeback in my book. Woo!)

J.Crew Factory is also killin' it on the holiday front. Use code "FRIYAY" to take 50 to 60 percent off everything and an extra 40 percent off clearance. There are SO many amazing products to choose from! This houndstooth dress is IN MY CART, and I also love this drapey plaid top, this velvet tank, this tartan button-down, this plaid ruffled tank, this ruffle collar plaid sweatshirt, this quilted plaid vest, this black watch plaid skirt, these tartan flats, this camel cable-knit sweater, these sequined pumps (OMG), this tartan scarf, this stewart plaid ruffled shirt, and this bow-necked sweater. I mean, how does a plaid-loving girl even choose?!

50 percent off one item until noon; 40 percent off whole order through Friday.
I know. I used to think that Talbots was for old ladies, but one of two things is happening here:
Talbots is upping its game.
I'm becoming an old lady. 😉
Either way, let's focus on the amazing selection of holiday shoes that Talbots is currently carrying. Holiday shoes sell out so quickly, but I feel like Talbots is a hidden gem in this department, and their stuff stays in stock much longer. That said, pounce now! They tend to disappear this weekend. There are so many great pairs (see above), but my faves include THIS PAIR, the pom pom plaid pair, these bow mules, this pair of bow-adorned black watch plaid pumps, this pair of block heel plaid pumps, this pair of tortoise pumps, and these black watch flannel flats. Oh, and I have these leopard pumps and LOVE them, and I'm contemplating these cap toe pumps. For sizing purposes, I usually wear either a 7 or 7.5 in pumps, and I go with the 7 in Talbots heels. Hope that helps!

Lilly is offering a bunch of free gifts when you spend $200. I love this navy dress (long sleeves for the win during the holidays!), and this GORGEOUS gold sweater. (SO PRETTY!) Lilly recently sent me this camel cardigan which I swear is the softest and most beautiful cardigan I've ever owned, and I adore this ruffled sweater tank.

Ralph Lauren is my go-to brand for Emma's clothing, but I always wait to buy during big sales. Today's is insane! Take 40 percent off your whole order when you use code "THANKS40." It's a great time to grab a flag sweater or something with the teddy bear on it, and I love this classic cable-knit sweater and this looser version. I'm tempted to get Mitch this sweater but can't do it, and there are so many adorable plaid dresses for girls.
Happy shopping! I'll be back soon with more updates.
Winner: Kim M.!
SaveSave