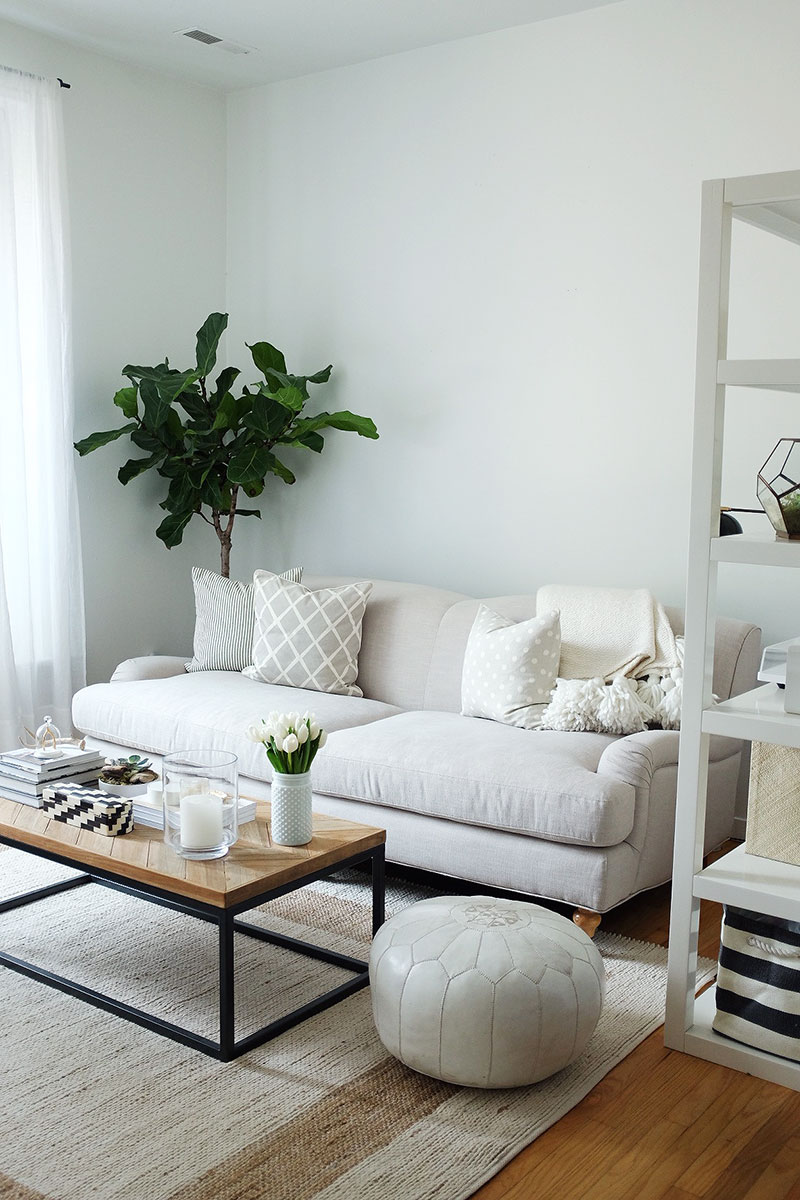 Photo credit: Danielle Moss of The EveryGirl
[dropcap]I[/dropcap]'m sure you've seen the famous light gray couches, situated in exquisitely decorated living rooms, floating around Pinterest. They're perfect. And the coolest thing? They were designed by two of my Chicago girlfriends, Danielle and Alaina–founders and editors of The EveryGirl–in collaboration with Interior Define, my favorite furniture store in the Windy City. (Though Interior Define ships all over the country, so don't break out the tissues just yet!)
I consider myself very lucky to be surrounded by so many incredible women in Chicago. Back in New York, I definitely had a great group of "blog girls" (who I now miss every day!), but because I was working so many jobs, I didn't get to spend as much time with them as I would have liked. Things are a little different in Chicago.
Don't get me wrong: I spent the vast majority of my work days with Noodle only, or with strangers at coffee shops. (Though strangers are awesome. A few days ago, I received some really great news from one of my best friends while at my regular coffee shop, and I couldn't stop crying. A nice older man handed me a tissue and asked me whether I wanted to talk. Oh, Chicago. I love you, haha.) But I do get to see a good number of my favorite Chicago ladies a couple of times per week, whether for work sessions, photo shoots, girls' nights or other projects, and I chat with them frequently via GChat, text and Facebook. Again, so grateful. Not only are these friendships invaluable to me, but the girls' presence in my life provides me with constant inspiration and motivation to grow and simply be a better version of myself.
I met Danielle and Alaina last year at their launch party for their collaboration with Interior Define in Bucktown. (Which, looking back, now makes this post extra special for me!) Since then, I've had the pleasure of hanging out with the two at various events (this one being an all-time fave!) and doing some photography shoots and fashion features for The EveryGirl. (This fall fashion post was a fave, as were this "Two Ways to Wear Plaid" post and this "Five Places to Find Paris in Chicago" post!) And I can I tell you? The ladies have a serious eye for design, just as one would think from the viral Pinterest photos. Just check out their Instagram accounts. (Danielle/Alaina) It's no wonder that the girls' partnership with Interior Define has been such a huge success!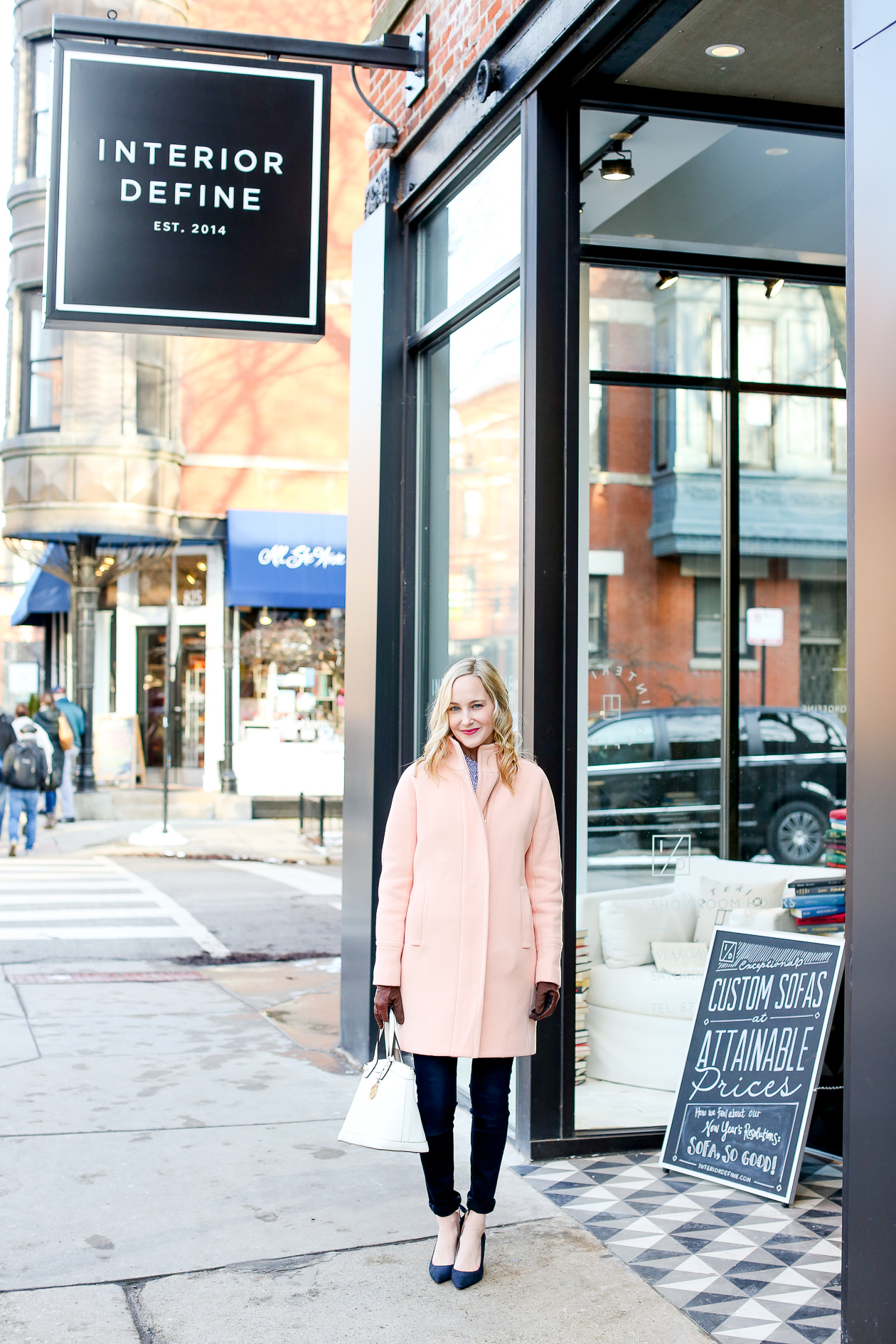 Some other really cool news: I'm teaming up with Interior Define to style one of the Interior Define x The EveryGirl products in my home. And I'm so excited about it. I mean, a little slice of that Pinterest perfection in my own place? Oh my goodness. So many dreams coming true, hehe.
Last Saturday, Mitch and I stopped by Interior Define, conveniently located in our neighborhood in Lincoln Park–to learn more about the company, browse the store, and pick out and customize a piece. And we had such a great time! We truly couldn't get over how kind and helpful the employees were, how many custom options were available for each product, and how easy and fun the whole process was.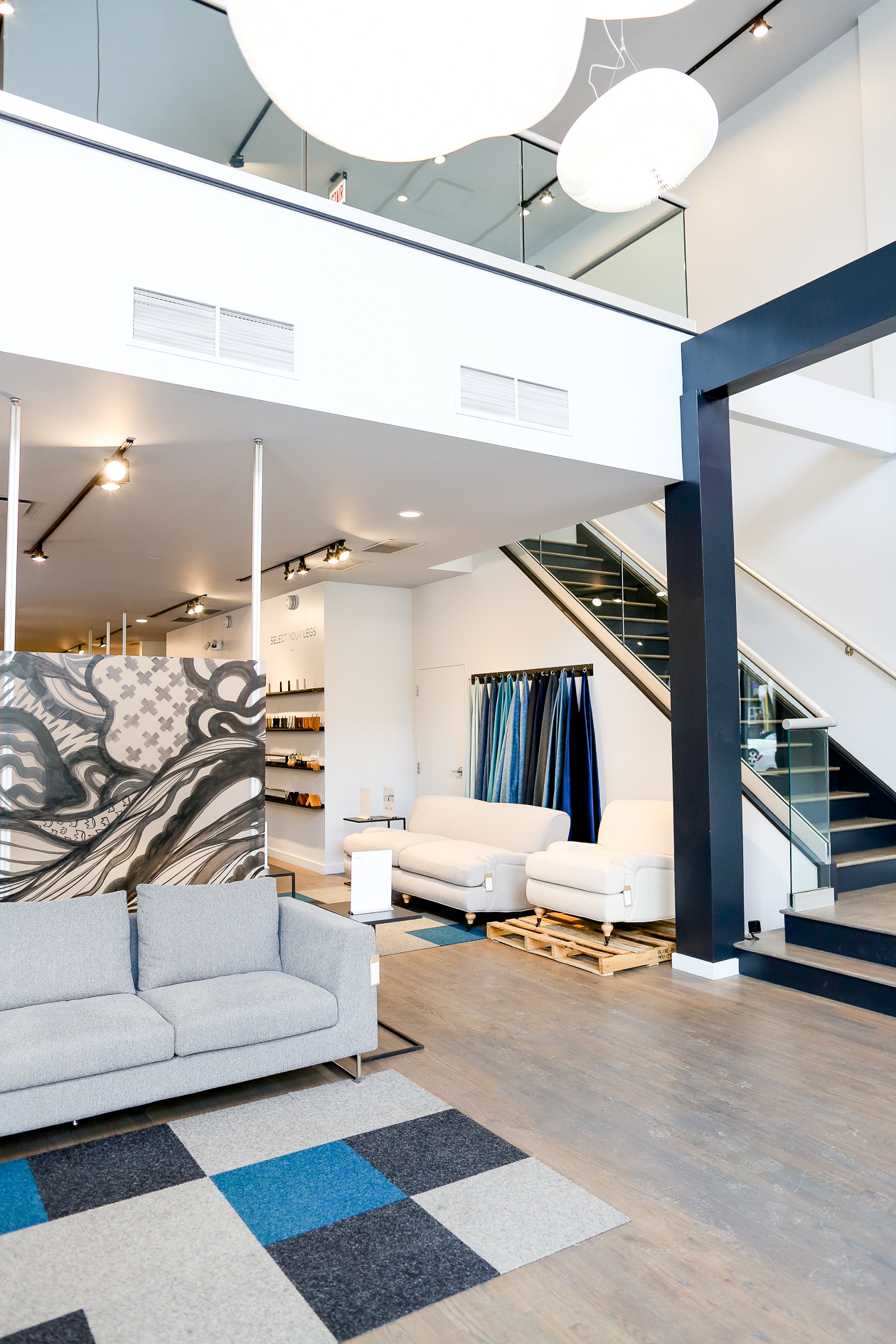 The story of how Interior Define came to be is a pretty interesting one. When founder Rob Royer was shopping for his first sofa, he couldn't believe how few options there were for people looking for style and affordability. Sure, he could have purchased a starter couch from a discount furniture store. But he wanted something that was well-made, and–coming from a family of designers–he also wasn't willing to trade style for price. So, after working as one of the first employees at the men's apparel startup Bonobos, Rob founded Interior Define in 2014.
As I mentioned before, having inspiring friends is a wonderful thing. ;)
Today, Interior Define produces its products directly with manufacturing partners, and sells to customers online and from its flagship store in Lincoln Park, Chicago. (You have to visit: 833 West Armitage Avenue!) Each piece–whether a sofa, sectional or accent chair–is made-to-order, which eliminates inventory and warehousing expenses normally taken on by furniture retailers. Interior Define also doesn't require a massive showroom to demonstrate the company's assortment of furniture, which cuts costs even more. Fabrics, legs and cushion-fill options just don't take up that much space!
The result? Fabulous designs, amazing customization options (including length and configuration!), exceptional quality, and actually affordable prices.
Rose Chair / Photo by Danielle Moss
The Interior Define x The EveryGirl products include the Lucy Sofa (which Jess owns!), the Rose Sofa, and, now, the Rose Chair. I'd always absolutely adored the Rose Sofa, but thought that the style was completely out of the question for us, as we already owned couches. Needless to say, I was ridiculously excited when the chair version recently came out. Also, the photos Danielle has taken of it in her new apartment? Yeah, I know. Absolutely gorgeous. So yes: we very quickly settled on the Rose Chair. ;)
The next step was deciding on fabric and legs. Because I couldn't stop thinking about the fabric and color Jess went with, we ultimately decided on "Textured Linen" in "Cinder," but we came very close to going with "Modern Canvas" in "Harbor." And oh my goodness… if our dining room chairs weren't navy velvet, we so would have went with "Mod Velvet" in "Oxford Blue." So many options! :)
For the legs, we had a couple of options: "White Oak" or "Matte Black." This was a tough one, because we do have iron-and-wood coffee and end tables, and a black fireplace. In the end, though, we decided to go with "White Oak," as we love how the legs brighten up the room in the first photo of this post. (And note how Alaina has an iron-and-wood coffee table, too! Woo!) But goodness. The "Matte Black"? Love those brass wheels!
Like I mentioned before, the customer service experience at Interior Define was second to none. Everyone was extremely helpful without being suffocating, and the staff was incredibly understanding that I sometimes take more than an hour to make a single decision. ;)
Now, I simply can't wait to show you the chair styled in our living room–along with a few other updates to the space–in a few weeks. Stay tuned!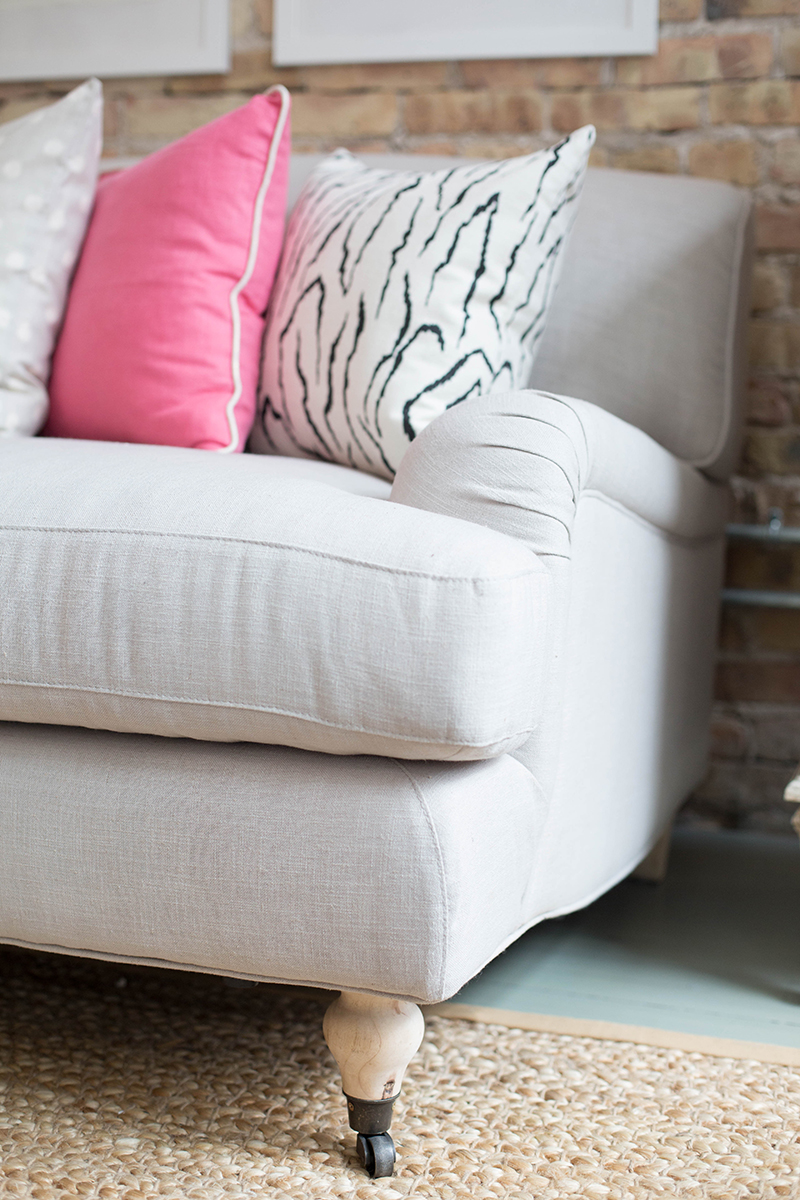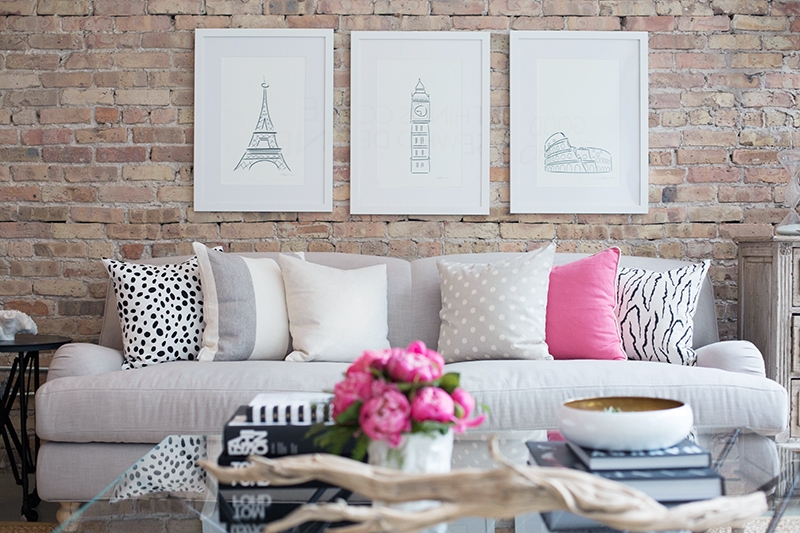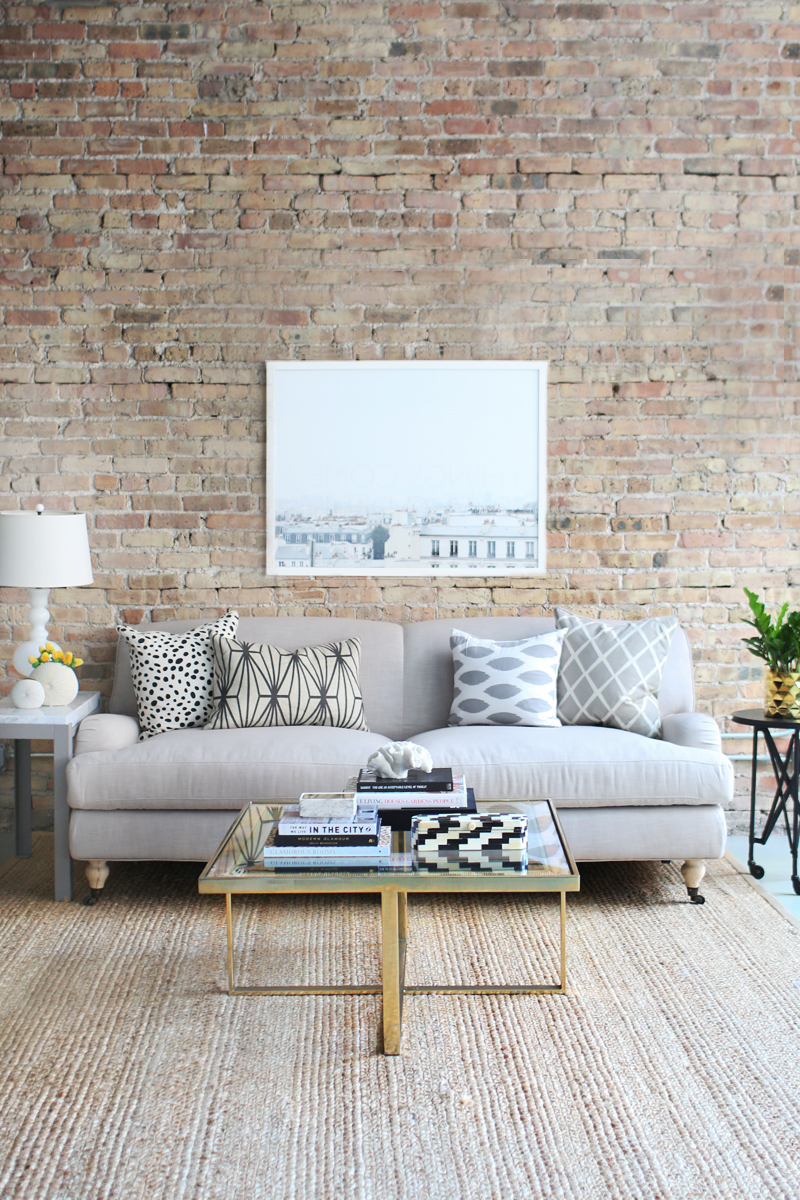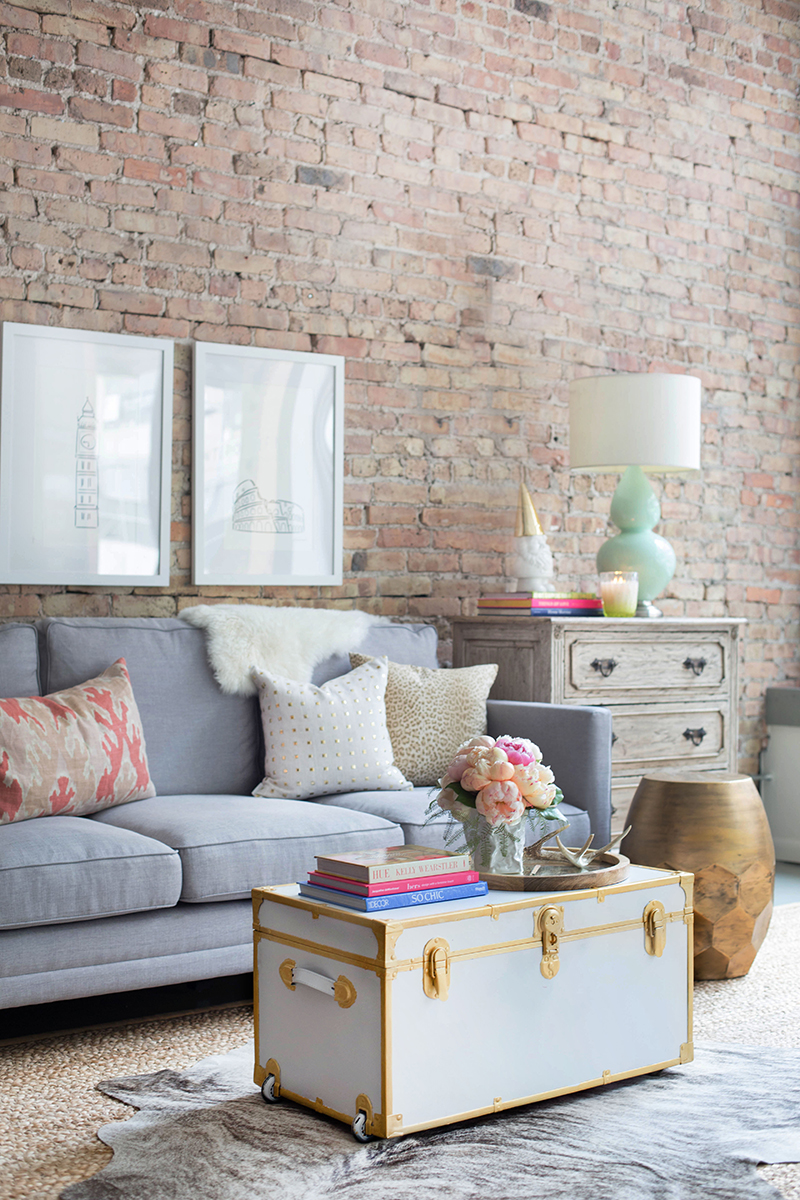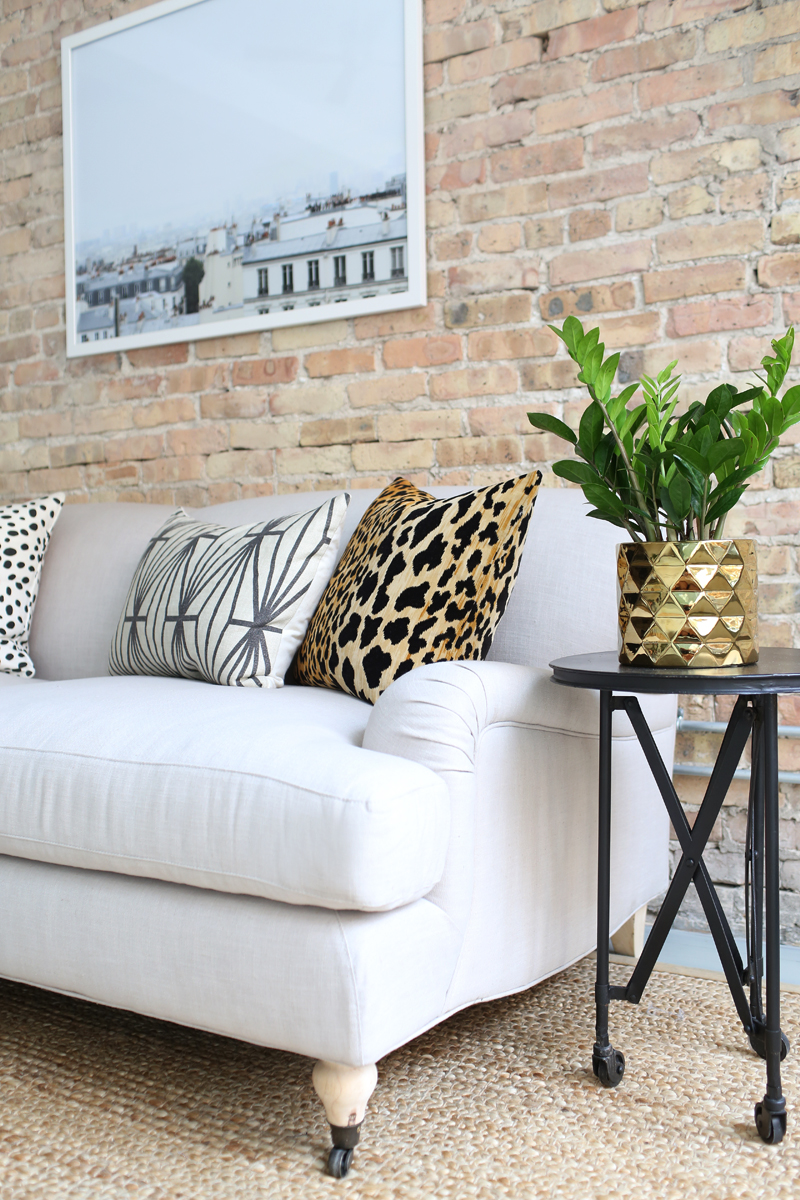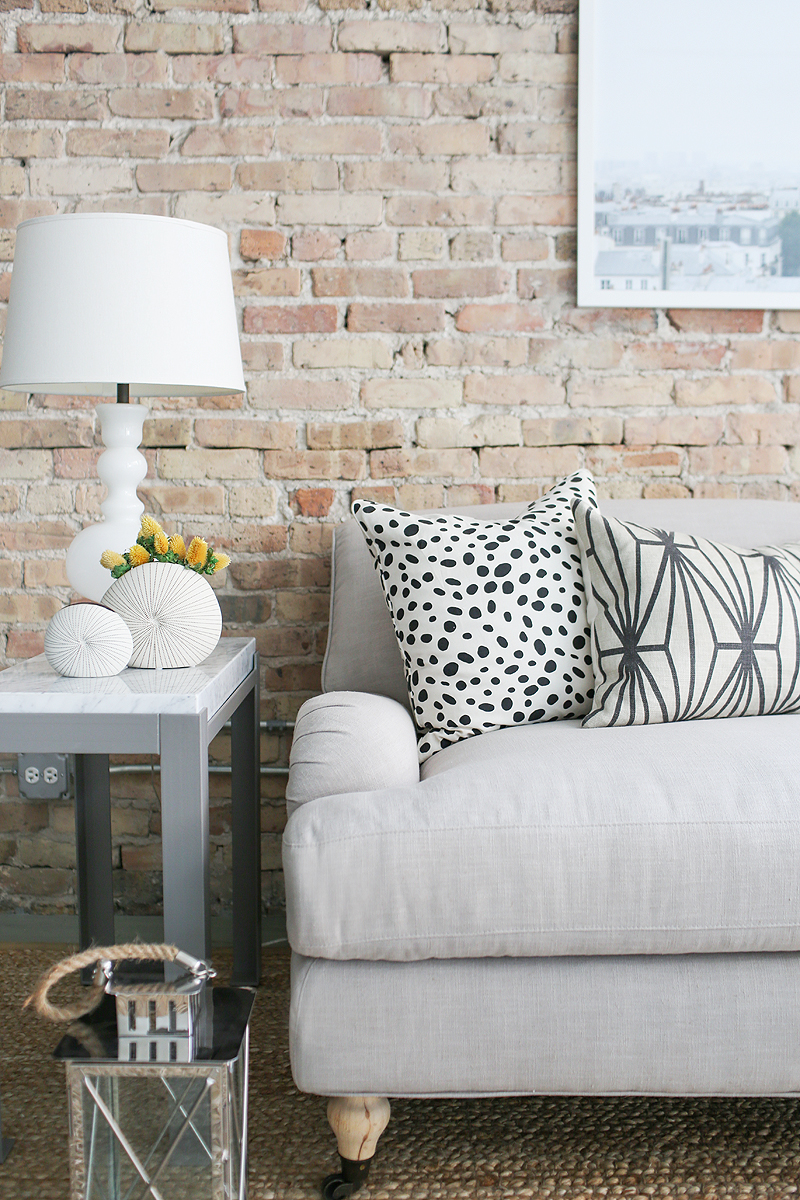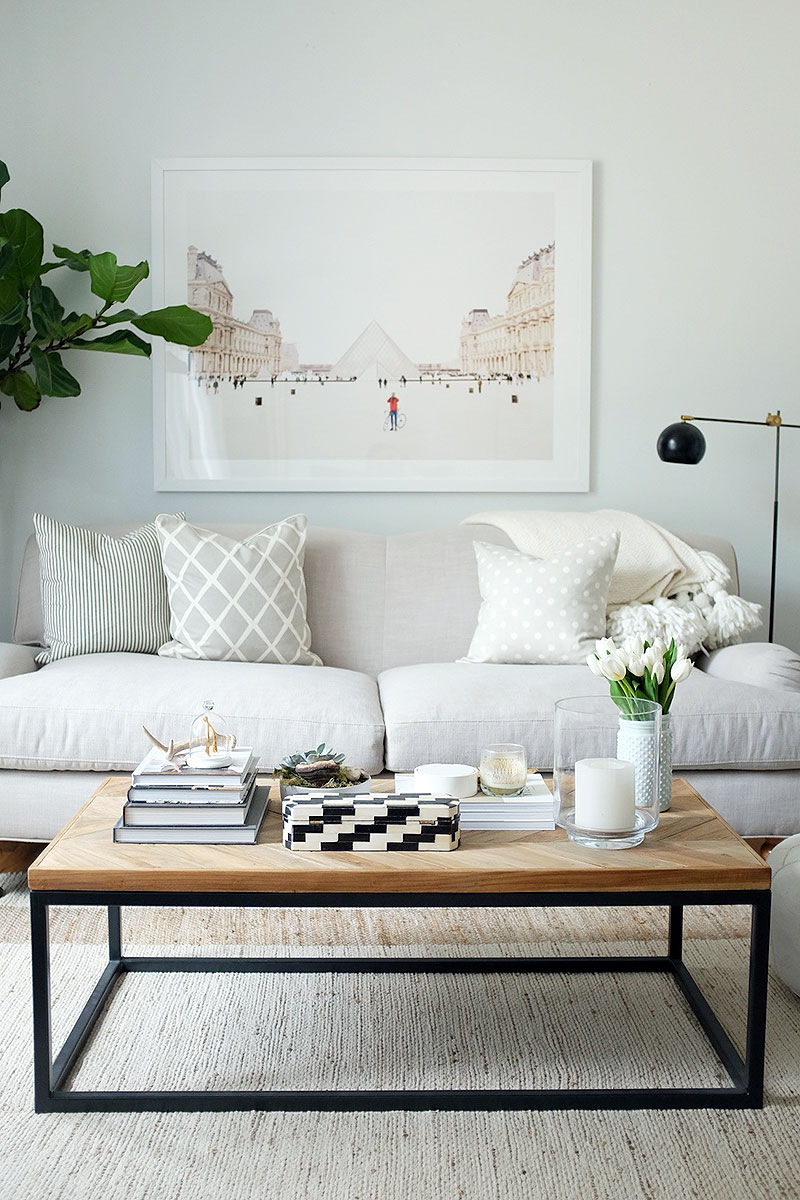 All photos by The EveryGirl: The EveryGirl Cofounders' Chicago Home and Office Tour; Big Announcement: Our Sofa Collaboration with Interior Define Now Available!; Win an Interior Define x The EveryGirl Sofa; and 3 Statement Pieces That Can Transform a Room