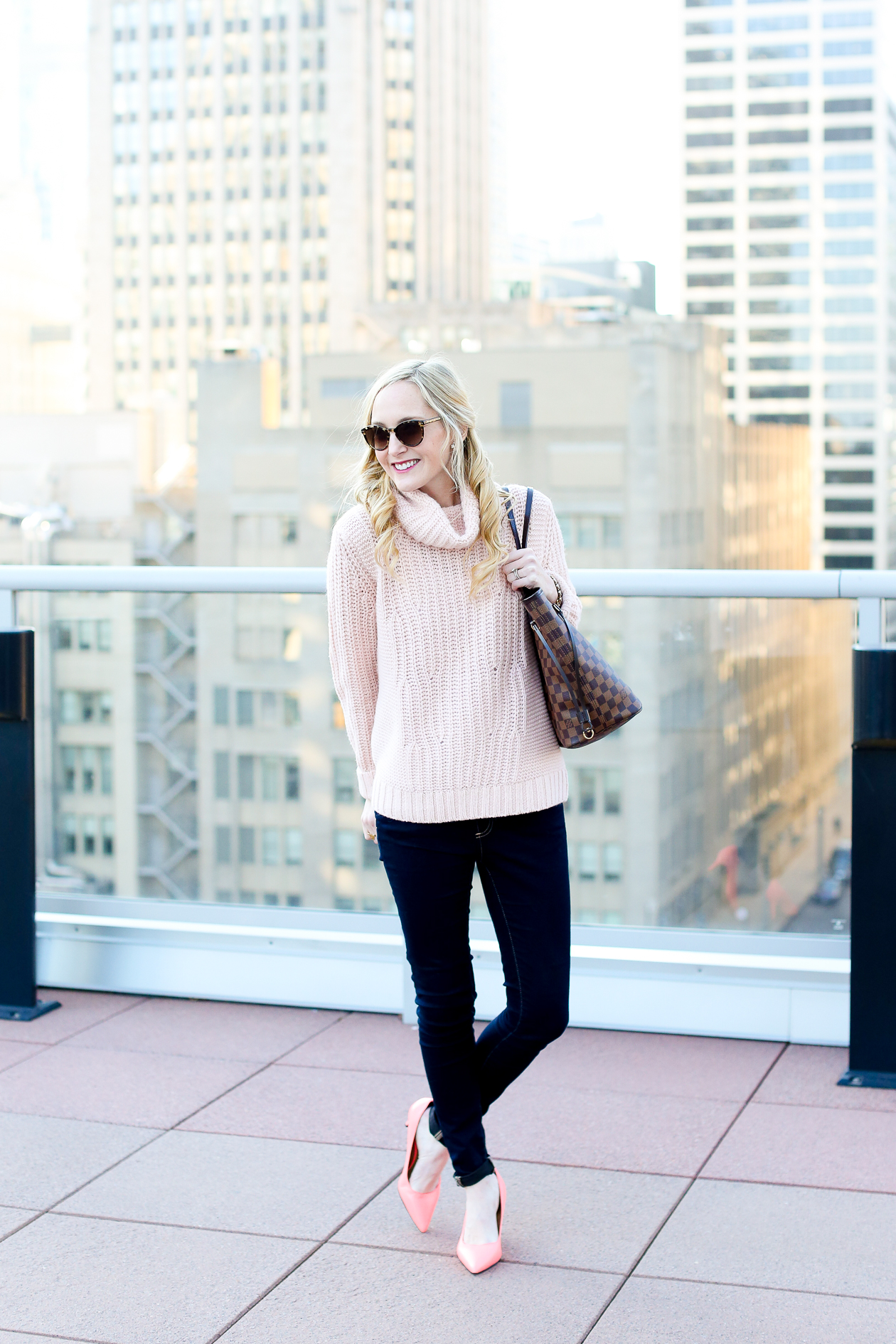 Banana Republic Sweater (Also love this one, this one and this one) and Pumps (Love this pair, too) c/o / Gap Jeans (High-rise version here) c/o / Moon and Lola Earrings c/o / Louis Vuitton Tote (Buy here or here) / Bracelet (Old, super similar here) / Kate Spade Sunglasses (Old, but similar designs here and here)
[dropcap]N[/dropcap]otice anything different today?! As I mentioned in my 2016 Goals post, one of my biggest insecurities is my hair. It's fine and limp, and no matter what I do, I'm never happy with it. (I know: vain. But we all have our hangups, right?!) Recently, though, I started wearing the extensions I wore for my wedding, and I love them.
I have that amazing feeling you experience right after getting a new haircut. (Except, you know. It's the opposite, haha.) It's a whole new me!
And I have to tell you: the extensions aren't the hassle I thought they'd be. While they initially took me a while to put in, I now have it down to about three minutes. Not bad! I really don't notice them throughout the day, either.
Do I plan on wearing them every single day? No. From what I've read, daily use isn't the best for your natural hair, and–let's be serious–I spend a lot of days by myself at coffee shops. But a few days per week? You bet!
So, yeah. That explains the sudden change in appearance. ;)
Anyway. Yesterday, my new locks and I headed downtown (where these pics were snapped) for a fun project I was working on with Shaheen, Blair, Jess and Kendra Scott. (Stay tuned!) Afterward, we made brunch and hunkered down at Blair's dining room table: my favorite place to work, as it's incredibly well-lit and overlooks the city. Tasks were checked off to-do lists, laughs were had, and later, we broke out the wine and… Skittles. Um, hello, Best Wednesday Ever.
And yes: this is my second Cocoon Coat purchase of the year. (See the first one here, haha.) Sigh. But, I mean, I've been so good for so long–and I cleared out nearly half of the outerwear in my closet… so it's okay, right?!
Also: I can't get enough of this blush sweater. It arrived last weekend and I think I've worn it three times already! Last year, I fell completely in love with a similar chunky, pale pink sweater that Blair found at Zara. But because I wait on all purchase decisions for way too long, it–of course–sold out and I was devastated. Needless to say, I was thrilled when I discovered this one! And the good news? It's majorly on sale!
Sizing help: I went up a couple of sizes in the sweater, and it's perfect. The reviews might say it's a little boxy, but not when I sized up! :) Hope that helps.

My Favorite Blush Sweaters
(Not all of them show up in pink, but just click through!)

My Favorite Gray Coats
(Not all of them show up in gray, but just click through! And Factory version of the coat I'm wearing in these photos here.)

My Favorite Pink Pumps