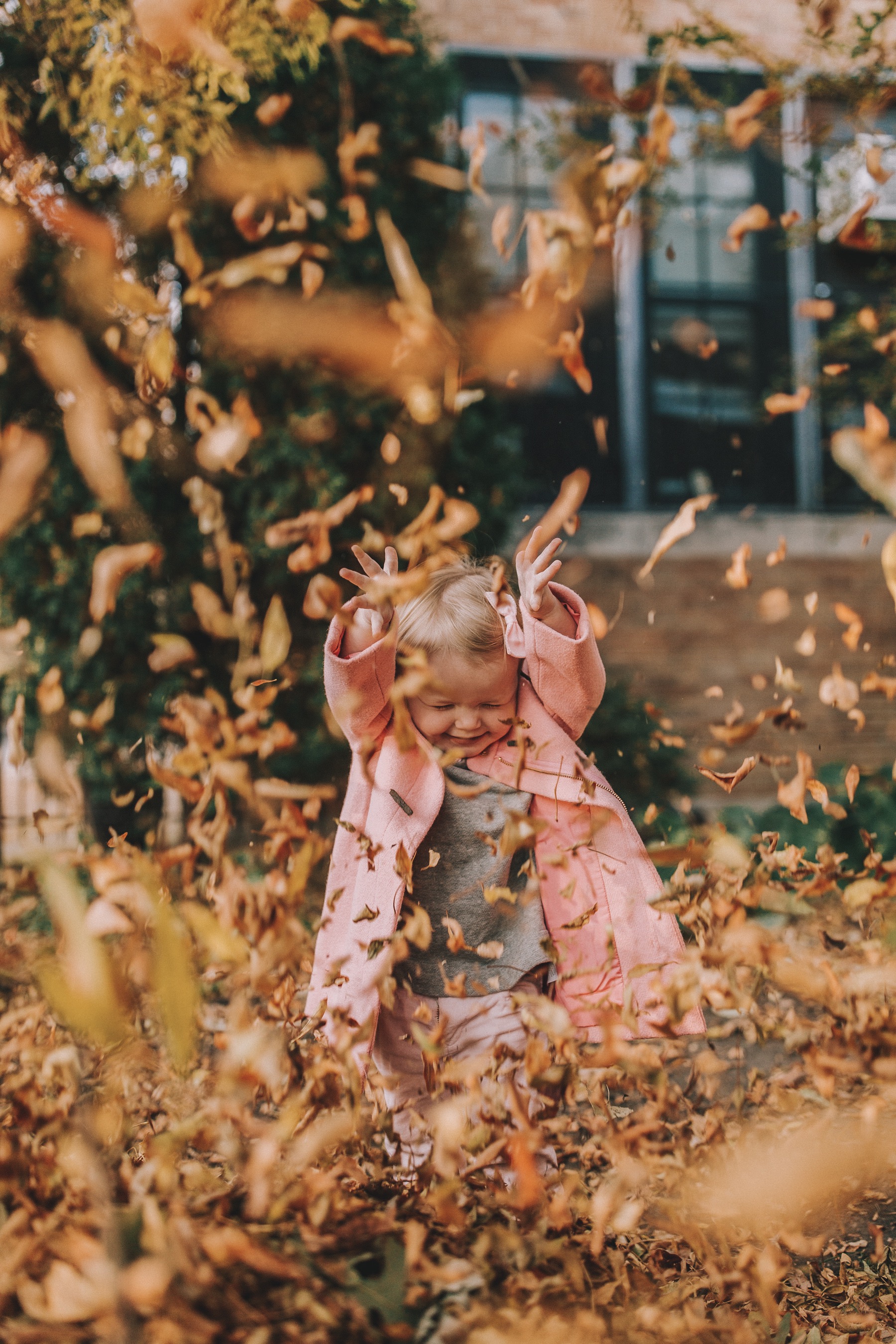 Children's J.Crew Factory Cocoon Coat (Sold out, but I love the new girls' Chateau Coat. So cute! Looking for the adult version? Try J.Crew's Cocoon Coat–which comes in pink!–or the J.Crew Factory New City Coat. FYI: The J.Crew version is considerably warmer, but they're both great! Cocoon runs large.)
Only one day late with this post! 😉 But HAPPY FALL. Mitch and I thought it would be fun to share some of the stuff we're excited about doing this season. Fall is gorgeous in Chicago; the weather changes quickly, the air is crisp, and the leaves are vibrant. Of course, it means that winter is coming and that makes my heart sad, haha. But let's push that to the backs of our minds right now and focus on these next three months, which are the best of the year!
Here's what we hope to do:
Take a bike ride on the lakefront with the girls. We want to get some sort of a little bike trailer for Emma, and then a seat for Lucy. It would be so much fun to ditch the stroller and try something new!
Take a weekend trip to Michigan to visit the Charron Family. Now that we have a real car (btw: bought a 2018 VW Atlas over the weekend!), we really want to make the drive out to Emily's. We had so much fun when they came to stay last month!
Have a long weekend with Shaheen, Trevor and Zain. They're coming in November! Can't wait.
Celebrate our birthdays. Mitch and I are turning 35! CRAZY. We aren't big birthday people, but we're only three days apart, so we might as well combine the two occasions and go on a nice date night, right?!
Decorate our home for Halloween. Our new house is on a block that's very well known for going all out with Halloween decor. You should see my Amazon cart. It's wild, haha. Will be sure to share photos!
Celebrate my grandmother's 85th birthday. We're heading to NYC next week to celebrate it with the entire family. It's going to be amazingly special. <3
Make apple cider and cinnamon doughnuts. We did this last year at Mitch's parents' house, and it was lovely. Going to try to do it on our own!
Go on our annual day trip to the North Shore of Chicago. We do this every fall, and stop for coffee and soup and walk on the beach and take in all the decor. It's one of my favorite days of the year.
Visit a pumpkin patch. Last year's excursion was kind of a dud because I was throwing up. (Pregnant, haha!) This year is going to be SO much better. ;)
Visit my brother and sister-in-law in New Orleans. We're flying down to celebrate Thanksgiving early since Patrick and Kim can't get off work. My parents and Grammie are coming, too! I can't wait to see their new house and meet their new dog. :)
Go to my in-laws' lake house for our annual [Fractional] Family Fall Fest. My brother-in-law's family just moved out to Virginia, so it's going to be a little different this year. But still looking forward to a fun-filled weekend!
Finish the first floor of our home so it's ready for winter. Construction is supposed to start on Monday. I'll share the plans soon!
Decorate the front stoop with fall stuff. We just got mums and are going out to get pumpkins this week. I love how it looks already, and I love having our own stoop!
Set up a fire pit in our backyard and have a s'mores night. Not sure whether this is allowed in the city. So we'll see about this one. ;)
Use our new leaf-blower. It's REALLY FUN. 😂
Cuddle on the balcony with warm blankets and wine. We have a balcony off our master, and it's going to be so lovely to lounge out there in sweats and under cozy blankets. I love our nightly chats up there when we recap the day and really *talk.*
Hang the TV and have a family movie night in the living room. We STILL don't have a television in our living room because we're waiting for the built-ins to go up. It's going to be lovely to watch a show or two at night after we put the girls down!
Dress up in Frozen costumes to see "Frozen 2" with Emma. It's going to be hilarious. Mitch even has a Kristoff costume.
Take Emma to see "Frozen" on Broadway. This is happening! We just bought tickets and are surprising Emma when we're in New York. Many thanks to my parents for offering to watch Lucy while we're at the show. Emma is going to "FREAK OUT," as she says.
Trunk or Treat. We thought we heard that this is happening at Emma's school this year but not sure. (Newbies; still learning!) But it's where you drive your car to a parking lot and set up a candy station in the trunk. Kids go from car to car. So. fun.
Make pumpkin spice pancakes and lattes. I love our slow weekends in the fall. And I love it when Mitch fills the kitchen with all the wonderful smells. :)
Anything else we should add to the list?!