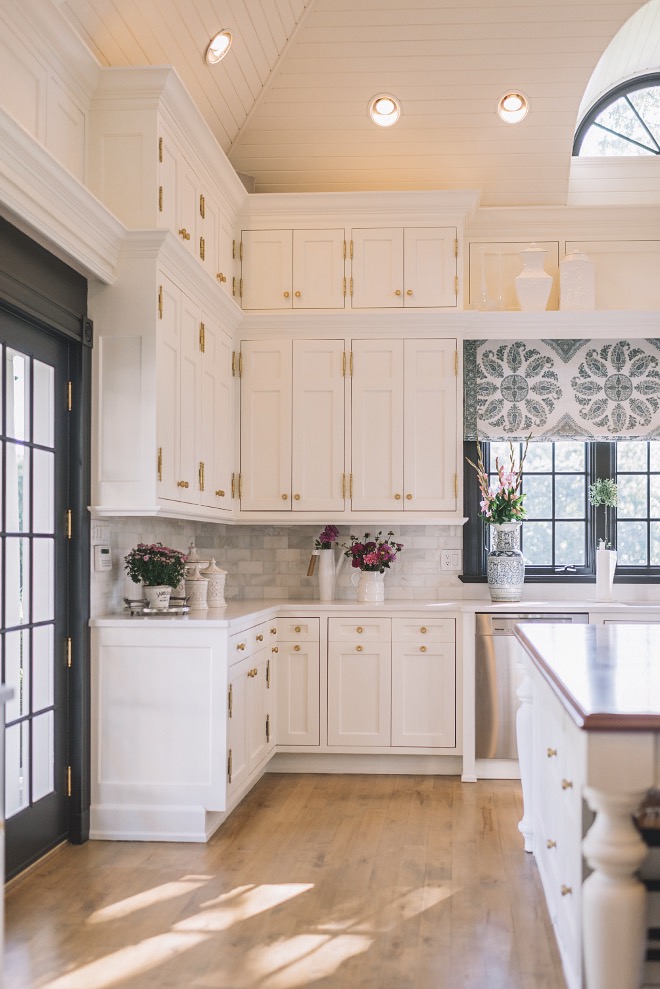 Photo credit: Missy Walsh from Capital Black Book
During our home search, I personally placed a lot of importance on not having to undergo full bathroom and kitchen renovations. (I was about to have a baby, and was still a little traumatized from the renovations we lived through in our first home. 😜) Mitch was way more open to it, but the house we ended up with was a happy medium!
With the exception of the powder room, we aren't going to be making any big changes to the bathrooms. I love them… and the powder room really only needs a new vanity and some wallpaper. No wall left un-papered! 😂 As for the kitchen, we adore the cabinetry, and feel very lucky for that, since cabinets–in our experience–tend to be the most costly part of kitchen renovations!
Over the next few weeks, though, we do plan on making a few updates. Here are the tentative plans:
Countertops
Swap out the brownish/reddish granite for marble-looking quartz
I spent a long time trying to figure out what to do here because the cabinets are a warm white. (Benjamin Moore "Ivory White" #925) I LOVE the cabinetry color; it's elegant and perfect for our older, traditional home. I worried, though, that the ivory would clash with cooler white countertops, which is what we wanted. (We briefly considered black to avoid this, but ended up going back to white because the kitchen is kind of dark to begin with.)
I looked at a lot of different options and brought home endless samples which only confused me more. Finally, though, I stumbled across an article (which I can no longer find 🙈) about our exact dilemma. And in it, the above photo was featured: a gorgeous kitchen with cabinets painted in Benjamin Moore Ivory White #925! I couldn't believe it.
Missy Walsh, from Capital Blackbook and @missyatblackbook, had gone with cooler white countertops and a Carrara marble backsplash with the Ivory… and it was STUNNING. Our designer, Kira from Kira David Design, was out on maternity leave at the time, and professionally, I wanted to respect her time with her baby girl. But she's also my best friend, haha, so I quickly texted it to her to just see if she liked it, too. "APPROVE!" was her response. WOO!
I also found Jenny Steffens' blog, and her kitchen seemed to feature a similar color palette: warm white cabinets with cooler marble countertops. Similarly, it looked great! (She also apparently has a daughter named Emma, too… so I took this as a sign. ;)
I should mention that we really wanted walnut butcher block countertops for the small desk area of the kitchen, but with installation, it was exorbitantly expensive–as much as quartz for the entire kitchen!–so we unfortunately won't be doing that. Ah, well!
In the end, we decided to go with quartz that looks like marble. (While we'd love to go with actual marble, we don't want to worry about destroying it with young kids. Quartz is much more appropriate for the stage of life we're currently in!) Will get back to you on which one soon. (Still deciding!)
Backsplash
3×6 marble subway tile in herringbone pattern
The kitchen currently has a Tuscan-looking backsplash, but we knew from the get-go that we'd be replacing this with something more classic. We went with the regular subway tile in our last kitchen, so we decided to switch things up and go with marble subway tile in herringbone to add interest. Since the marble is on the walls, we figure that we won't be able to wreck it. Fingers crossed!
For the desk area, we're going to do a marble scalloped tile. It complements the marble herringbone tile but it's also a little different, thus differentiating the two spaces!
Windows
Not sure!
Haven't figured this out yet. I love how Missy incorporated cooler curtains to tie the different tones together, but our windows are tiny and I'm not sure I want to block out any more light.
Right now, we're thinking about lining the interior of the windows with beadboard/shiplap. But definitely still undecided! (Scroll down to see the windows. Would love to hear your opinions on this!)
Hardware
Polished nickel
We chose brass fixtures from Kohler for our first kitchen and really did love it. But lately we've both been drawn to kitchens with polished nickel hardware! Like last time, though, Kohler is a definite. Polished nickel looks like this in case you're unfamiliar.
Island
No idea
There are two options here:
Leave it: I like this because it's the path of least resistance, and obviously the less expensive route. ;) And since we decided against butcher block for the island as it's not as durable as quartz, it ties in some of that traditional darker wood we'd been hoping to incorporate.
Paint it: I don't love the finish. It's not a walnut color, which is what I really love. But we can't refinish it since it's not solid wood. So if we want to change it, we'll have to paint it. Probably a dark navy?! Idk, guys.
All of that said, I don't think we're going to do anything with it this year. Because who knows?! Maybe we'll love it as it as.
Light fixtures
Over the summer, my dad replaced the old light fixtures with these lanterns from Ballard. I love them! Thanks, Dad. :)
Bench
The upholstery on the bench is fraying and stained, so it needs to be replaced. At the moment, I'm thinking about using Brooke & Lou's Life-Friendly fabric, which you can literally wipe clean. Serena & Lily also has some family-friendly fabrics, so will also look into those.
Next steps
We've decided to do the countertops and backsplash with one of the big box stores because of price, turnaround time, and ease of product selection. We honestly don't want to have thousands of options to choose from; that's just way too overwhelming at the moment. We like that we'll only have a handful of options! Mitch's brother-in-law also just did his kitchen with a big box store and it's PERFECT. (I think we'll actually just copy his choice of countertops.)
So yeah! While we haven't finalized our choices yet, I'll post an update once we do. In the meantime, here are some photos of what the kitchen looked like when we moved in! (The last photo shows the creaminess of the cabinets.)
Stay tuned!