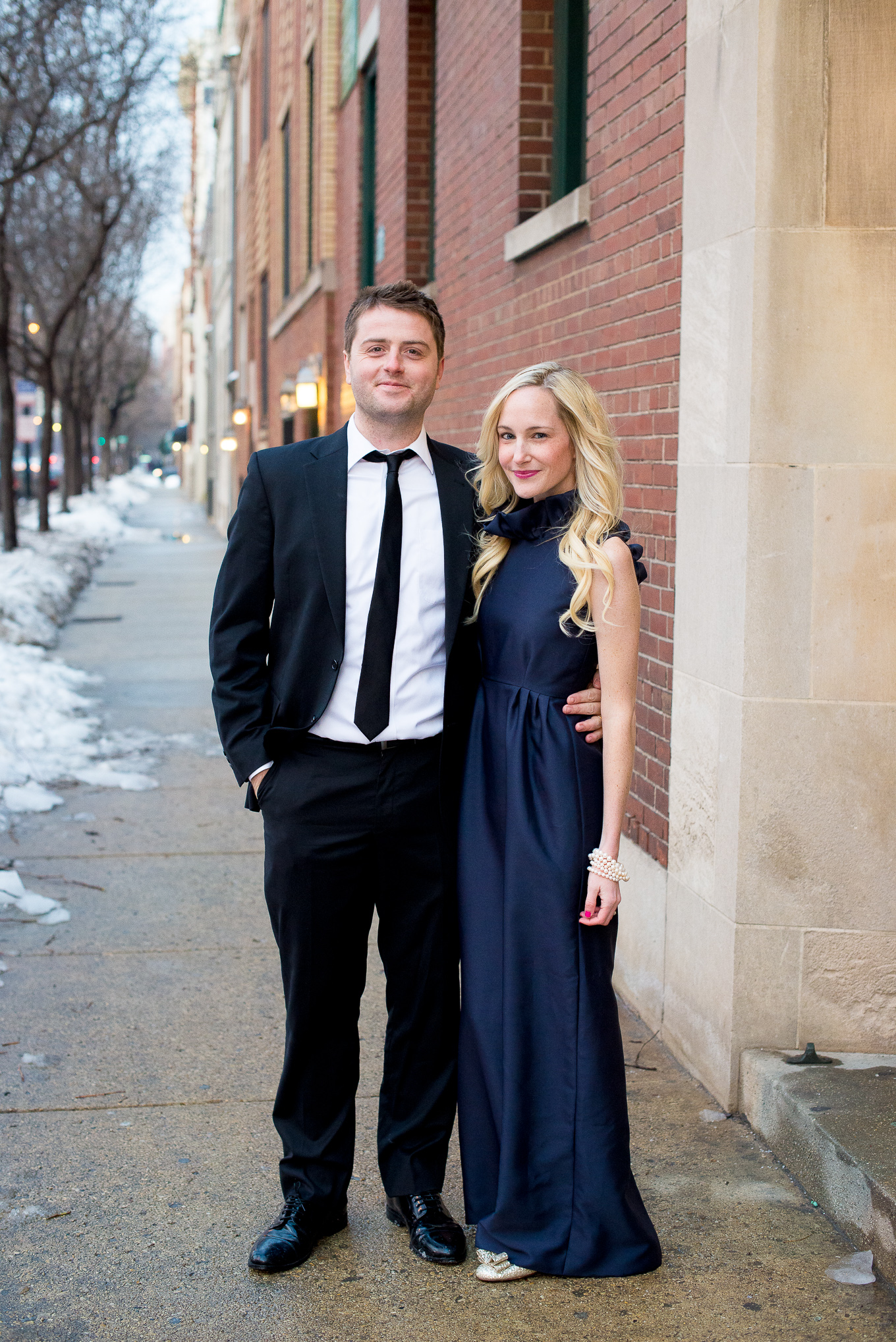 Camilyn Beth Gown (c/o Tuckernuck) / Kate Spade Pumps (I wore these for my wedding! They're old, but you can find a very similar pair here) and Clutch (Also carried at my wedding, but I love this current style!) / Hazel & Marie Pearl Bracelet (c/o — J.Crew version here) / Moon and Lola Earrings (c/o — Or, at least, I was supposed to wear these. But I somehow forgot to change my earrings! So I ended up wearing my everyday studs.)
Last weekend, Jess, Neal, Mitch and I attend the 27th annual Snowball, hosted by the Junior Council and the Robert & Ann H. Lurie Children's Hospital of Chicago. The event, which took place at Union Station in Chicago, benefited the hospital's pediatric and adolescent HIV and AIDS programs. And it was amazing.
Before the event, I ran downtown to Jess' apartment and had my hair done by Christopher of Stylisted. We used the extensions I purchased for my wedding… and I was thrilled with the result! I would kill for long, luscious locks in real life, but it was absolutely magical having my dream hair for a night! Jess had her makeup done by Elizabeth of Stylisted, and was just as pleased. She looked stunning, don't you think?! (And can we talk about her dress?! #oohlala)
By the way, Stylisted–currently available in New York, Chicago and Los Angeles–is a hair and makeup service that comes to you. If you're interested in having your hair and/or makeup done by the company, be sure to use code "KELLYINTHECITY" to take 10 percent off your services!
After hair and makeup, we got dressed. Again, a huge thank you goes out to Tuckernuck and Camilyn Beth for outfitting me for the Snowball. As I mentioned before, I've wanted a Camilyn Beth dress for the longest time, and I felt like a princess all night! Thank you. :)
Shortly thereafter, Mitch and Neal joined us, and Jess made us dinner. (Which was phenomenal. Seriously make all her recipes.) We danced to a a whole lot of country and rap songs, took a ton of photos (see below… thanks for that, gentlemen!), and then headed to the ball!
What a wonderful night. Food sponsors included Summer House, my favorite restaurant in Chicago; ZED 451, which I went to with my friend Allie — so proud of myself; and Café Ba-Ba-Reeba, which I went to with mymom, grandmother and aunt. There are so many others, too! Alcohol sponsors included Tito's Vodka, Buffalo Trace, Anheuser Busch, Goose Island and Stella Antois. Entertainment was provided by Rod Tuffcurls & The Bench Press, and the Snowball After Party took place from 1 a.m. – 4 a.m. at Cuveé Chicago. Needless to say, Mitch, Jess, Neal and I had a fantastic time. The best part? The event raised $200,000 for the hospital!
If you couldn't make the Snowball this year, you can still get involved or donate to the cause. :) Hope you can join us next year!