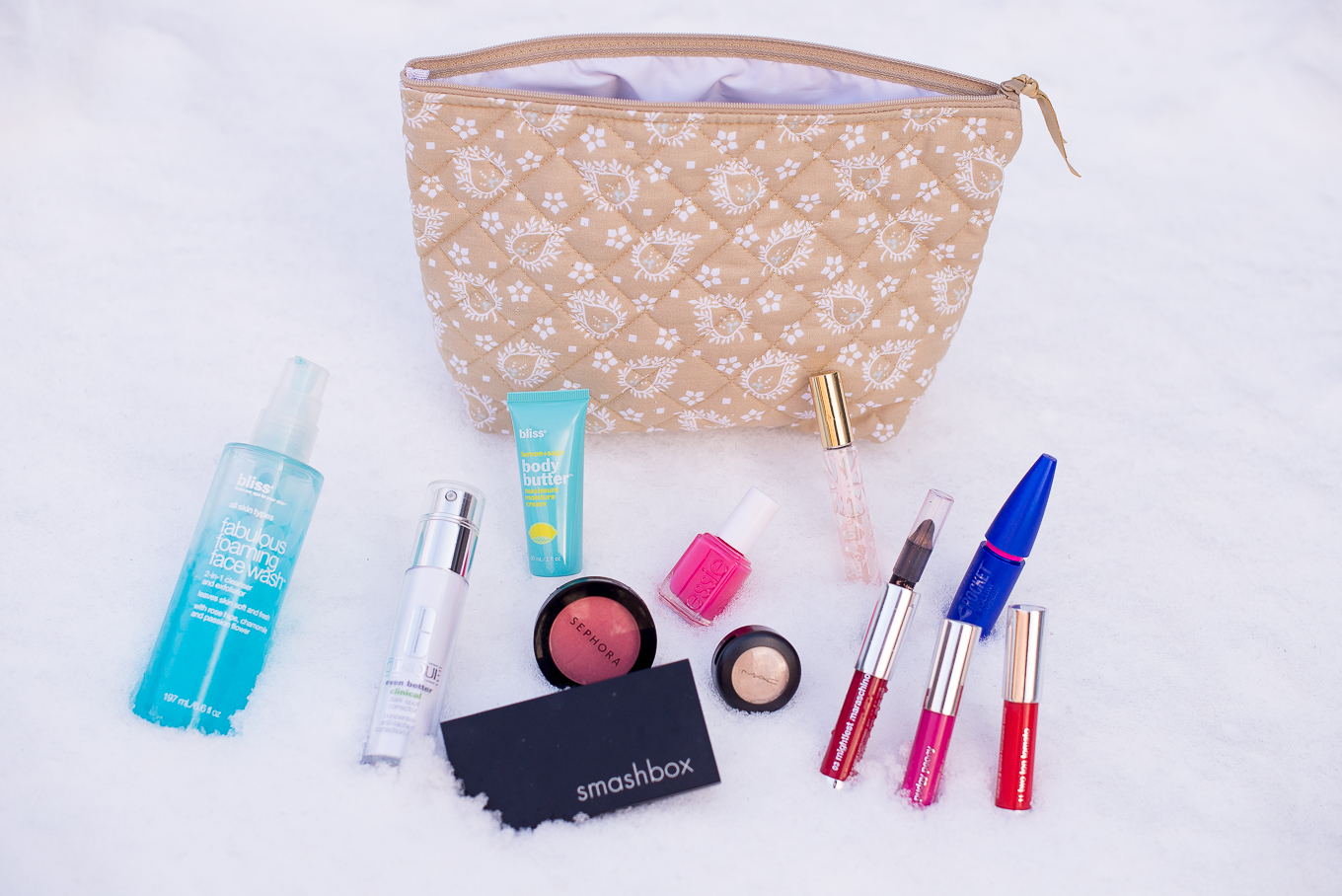 Over the past couple of months, I've received a few questions about my "can't-live-without" beauty products. So today, I've teamed up with Quilted Koala to talk about what's inside my travel makeup bag… and give away two QK cosmetic cases (one large, one small) to a lucky Kelly in the City reader! Note: the giveaway ends tomorrow, so enter soon. And if you don't win, be sure to enter the grand prize giveaway via Quilted Koala's Instagram account on Friday.
(By the way: if you haven't heard of Quilted Koala yet, it's a new accessories line created by "Today Show" contributor Stephanie Oppenheim. Made from gorgeous quilted Andover Fabrics, the company's products range from totes, bags and jewelry rolls to jewelry boxes and decorative bins and boxes. Be sure to check out the full collection here!)
Before I start, I should mention that my "routine" is anything but revolutionary, and the products I use aren't necessarily the best. In fact, I probably should change or add a few, and I'm totally up for any suggestions you might have. :) I've never been very knowledgable about this stuff, but I want to learn!
So, without further ado, here's what's in my bag:
1. Bliss Fabulous Foaming Face Wash. I recently discovered it during my "staycation" at the W Lakeshore Hotel in Chicago, and now I can't live without it. It smells absolutely incredible (like happy summer days?) and leaves my skin feeling ridiculously soft. While it's a little expensive, it makes me happy in the morning… and that's a hard thing to do! Never thought I'd abandon my Saint Ives Apricot Scrub, but I'm a convert.
2. Bliss Body Butter. As you can see, I'm still using the sample size from the W. I don't love body lotion, as it leaves me feeling sticky. But Chicago winters are the real deal, and I'm starting to realize that lotion is necessary. Again, it smells amazing!
3. Clinique Even Better Clinical Dark Spot Corrector. This stuff is a lifesaver. Don't expect it to work overnight, but if you apply it in the morning (under your makeup) and at night for a few months, you'll definitely start to see a difference. I typically use it in August, when my freckles are completely out of control and I start to resemble a 12-year-old girl… but I also use it for scars and red spots. My skin is super pale, and anytime I break out, I'm left with marks that take forever to go away. This product speeds up the process! (Use sparingly, since it's expensive. I've had my bottle for a good year and half now.)
4. Smashbox Photo Set Pressed Powder. I guess I kind of use this as foundation, when I feel like my skin needs that extra something. But I can't say I love it. The only makeup I've ever used was recently discontinued–ugh, talk about heartbreaking–and this product was recommended to me by a makeup artist. I use the lightest shade ("fair") but even that is too dark for me. I also don't like how it doesn't actually contain foundation (or SPF), like my old makeup did. Any suggestions?!
5. Cetafil Lotion (Not pictured). Every morning and every night, and always under makeup. Couldn't live without it! Lightweight and fragrance-free.
6. Sephora Colorful Blush in "Romantic Rose." Makes me look alive when I appear dead. Great for the pale, Irish-skinned.
7. Essie Status Symbol. My mom discovered this shade, and I'm obsessed! Not so impressed with the name (#pretentious), but whatever.
8. Mac Studio Finish Concealer. HOLY GOODNESS, GUYS. I know this sounds crazy, but I only learned about the magic of concealer about two weeks ago when I was crying to Jess about my skin. How did I go 30 years without trying it? It's changed my life. Of course, I can't say whether this is the best stuff, as it's the only product I've tried so far. But I love it! My only problem with it is that it's not great for under the eyes. Any suggestions? I have the whole translucent skin thing goin' on. ;)
9. Tory Burch Eau de Parfum Rollerball. I always forget to put on perfume, so I carry this little thing in my purse and use it when I remember. Love the scent, and the price isn't that bad when you go with the rollerball! Use sparingly.
10. Clinique Chubby Stick. I resisted wearing lipstick for the longest time, but this I can actually stand! It's like a mix between lipstick and chap-stick. "Tinted moisturizing balm," I suppose it's called, haha. I wear "Pudgy Peony" and "Two Ton Tomato" on the reg, but I love "Mightiest Maraschino" for nights out.
11. Drugstore mascara. I change it out every six months for whatever's on sale, but I've never found anything that's great. Suggestions?!
12. L'Oreal Paris Voluminous Smoldering Liner. This stuff is SO easy to put on, and it'll never run out. My complaint is that is smudges easily, and moves below my eyelids within a couple of hours, making me look like a raccoon. But it does make me look a bit more "grown up," haha… so that's nice! Still taking suggestions, though… ;)
What are your go-to products?! I'd love to hear!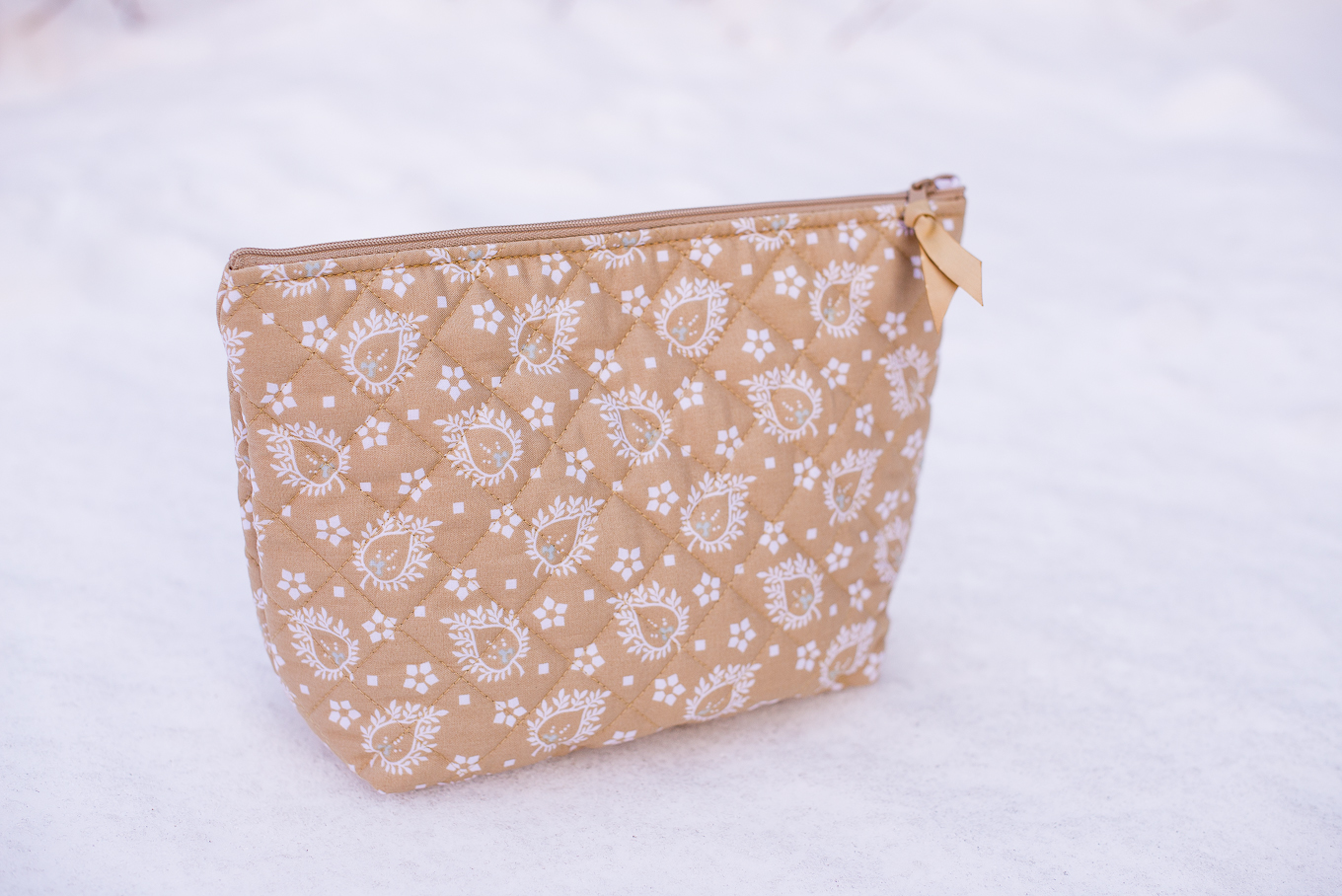 And now for the fun part. Enter below to win two Quilted Koala cosmetic cases (one large, one small)! Good luck! (And remember… the giveaway ends tomorrow, so enter soon. And if you don't win, be sure to enter the grand prize giveaway via Quilted Koala's Instagram account on Friday.)