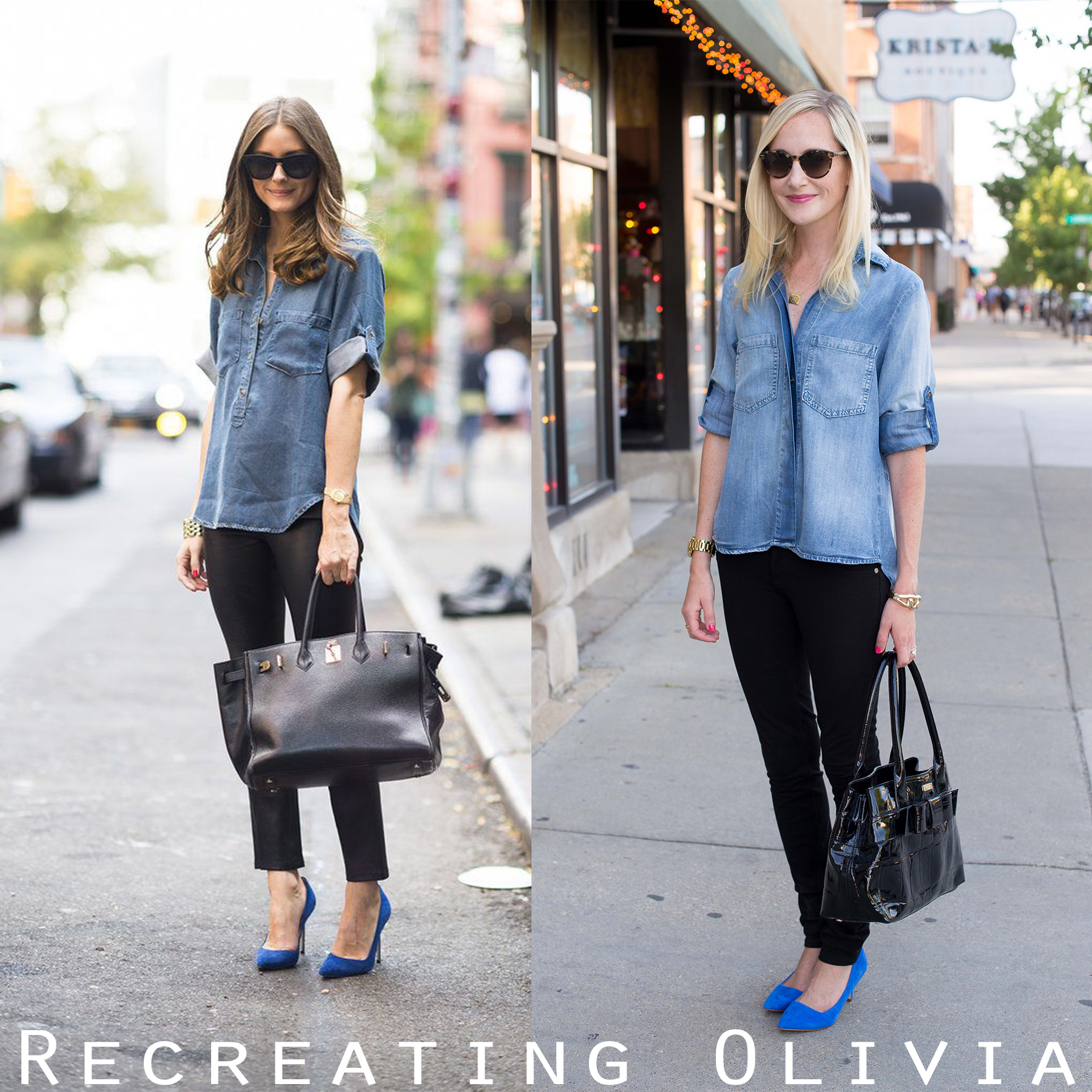 Bella Dahl Top (c/o) — Same shirt, different wash here. And the brand at Shopbop, Tuckernuck, Bloomingdales, and Anthropologie! / Vanilla Star Jeans (c/o) / C.Wonder Pumps (Sold out, similar here, original inspiration here) / Kate Spade Bag (Old, similar here) / Capwell + Co. Bracelet (c/o) / Michael Kors Watch / Miriam Merenfeld Necklace (c/o) / J.Crew Pearl Earrings / Kate Spade Sunnies (Old, newer styles here)
Who hasn't seen the above left photo of Olivia Palermo standing on a New York City street? I love everything about it, from the simple black pants and bright blue pumps to the chunky gold jewelry and perfect chambray shirt.
When I think about style, this snapshot is exactly what comes to mind. In fact, it was the inspiration for my third outfit post on Kelly in the City. (Yikes. We've come a long way, haha.) So when Bella Dahl–the company behind Olivia's famous chambray shirt–reached out to collaborate on a post, I'm sure you can imagine how excited I was. Talk about an opportunity for redemption. ;) Of course, the original photo is far superior. But I was pretty proud of my Olivia Palermo-inspired look, considering I'm not a model and (with the exception of the Bella Dahl top) was working with what I already own!
The shirt I'm wearing, while slightly different from the one Olivia is pictured in, is everything. I own a lot of chambray shirts, but none are as soft as this one. It's made from Tencera, an incredibly soft version of plant-based Tencel that the company spent a year creating. No wonder so many style icons–Jessica Alba, Sarah Jessica Parker and Taylor Swift, just to name a few–have been spotted in the brand! Thanks, Bella Dahl!
Shop Bella Dahl at Shopbop, Tuckernuck, Bloomingdales, and Anthropologie.