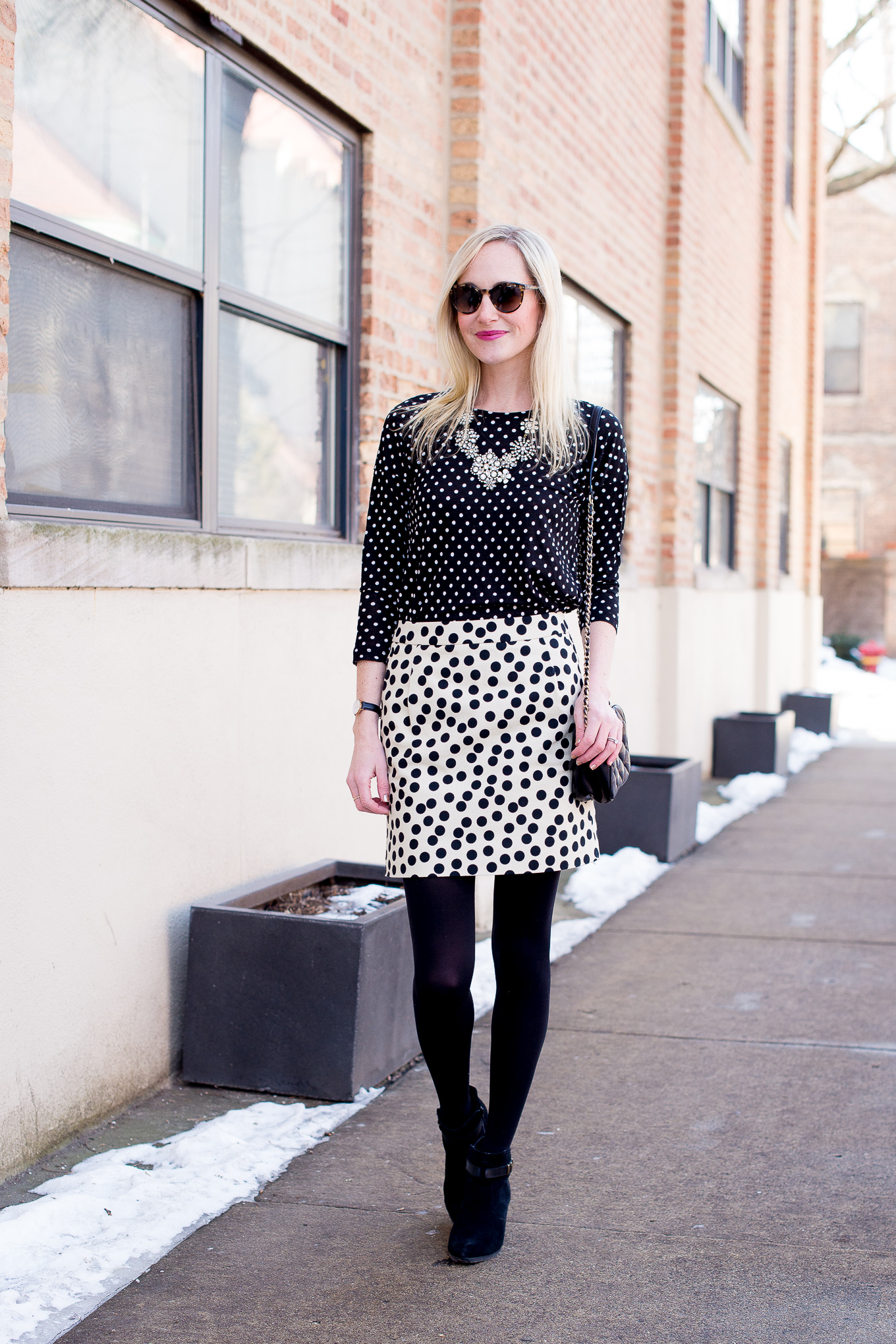 Madewell Top and Tights (Old, similar here) / Seychelles Booties (c/o — So comfy! Also available here and here) / Daniel Wellington Watch (c/o) / Kate Spade Bag (Old, similar here) and Sunnies (Old, similar here) / Benevolent Jewels Necklace (c/o) / J.Crew Skirt (Old, Shorts version here) / Capwell + Co. Earrings (c/o)
As much as I love 'em, very rarely do wear skirts and dresses these days. The bitter cold makes them impractical; the working-from-home thing makes them not worth the effort and discomfort. Especially on days when my only face-to-face interaction is with a 10-pound dog who needs to be taken outside every two hours. ;)
On Saturdays, though? Skirts and dresses for the win. They make everything a little bit fancier, a little bit more special, and a little bit more exciting. (And they're manageable if paired with warm tights… even in Chicago.)
This past Saturday was a lovely one. Mitch, Noodle and I woke up super late (Noodle's the best dog ever and snores her little head off until 10 a.m., haha), took a long walk to a park, and then made cinnamon buns for breakfast. I drank three cups of tea–stickin' to my New Year's resolutions!–leisurely putzed around and cleaned the apartment, and took a 30-minute shower. Sigh.
I spent the afternoon shooting with Emily and Blair for the launch of their new (absolutely incredible) site, Wandeleur, and then met Mitch for dinner at Athenian Room, a local Greek restaurant and one of our favorite spots in Lincoln Park. (Mitch grew up in the neighborhood, and ate there pretty frequently as a child. It's also where we went to celebrate after signing our apartment last year. It's definitely a sentimental place for us!) After gyros, hummus, salad, pita, bread and baklava, we grabbed drinks uptown and then headed home to snuggle with Noodle.
Good weekend.
Photos by Maya of Charmingly Styled — The busiest gal and best multi-tasker I know. ;) xoxo! Can't wait for next Saturday, Girl!