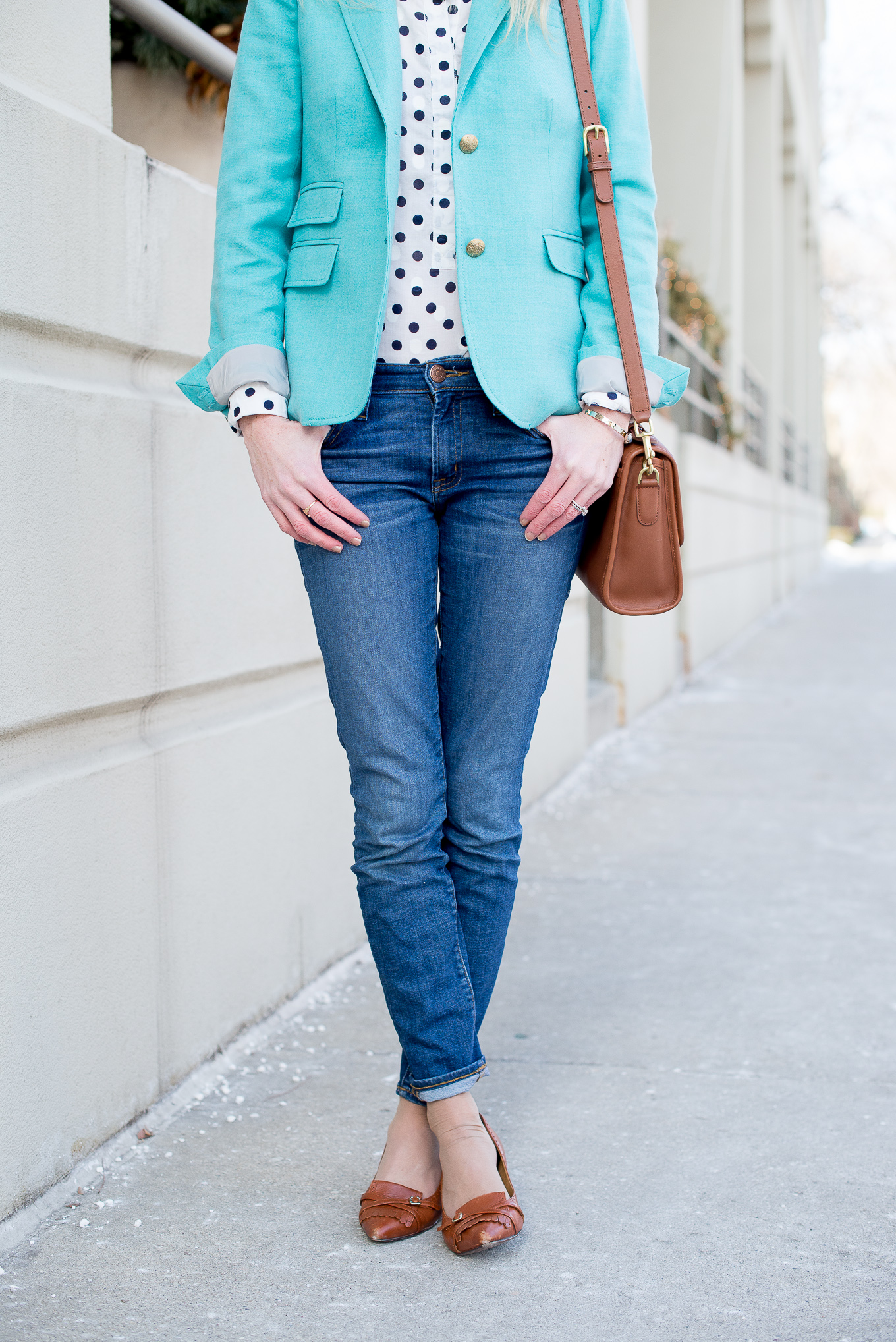 Capwell & Co. Earrings and Bracelet (c/o) / J.Crew Jeans, Blazer, Shirt (Old, similar here or here), Necklace (Old, new favorite here) and Earrings / Coach Bag / Brooks Brothers Pumps (Similar here) /  Kate Spade Sunnies (Old, newer styles here) / Clinique Lipstick ("Pudgy Peony")
1. So much J.Crew, I know. But I've exhausted my heavy sweater collection, and there's not much "winter wardrobe creativity" left in this girl. So I'm breakin' out the Schoolboy Blazers. They're a bit more fun that my usual navy and gray wool sweaters… and when in doubt, wear all J.Crew. Right? ;)
2. I realize that this look is very springy, especially considering that Chicago is still under quite a bit of snow. But I try to dress ridiculously colorful once or twice per week. It makes me happy, and, if anything, it scares the neighbors.
3. I have to get rid of these shoes. Noodle did a number on them a few months ago, much like she ate my Jack Rogers and favorite Southern Proper hat this past week. (It's okay. The Jack Rogers were from 2005.) I love them, though. Can we just pretend that they're not in the most awful shape? Yes? Great. Thanks.
4. No matter what I do, I always seem to forget to cuff both legs of my jeans. What the heck is wrong with me?
5. Back to the Academy Awards, ice cream and wine. ;) Hope everyone has a great start to the week!
Photos by Maya of Charmingly Styled (xoxo!)