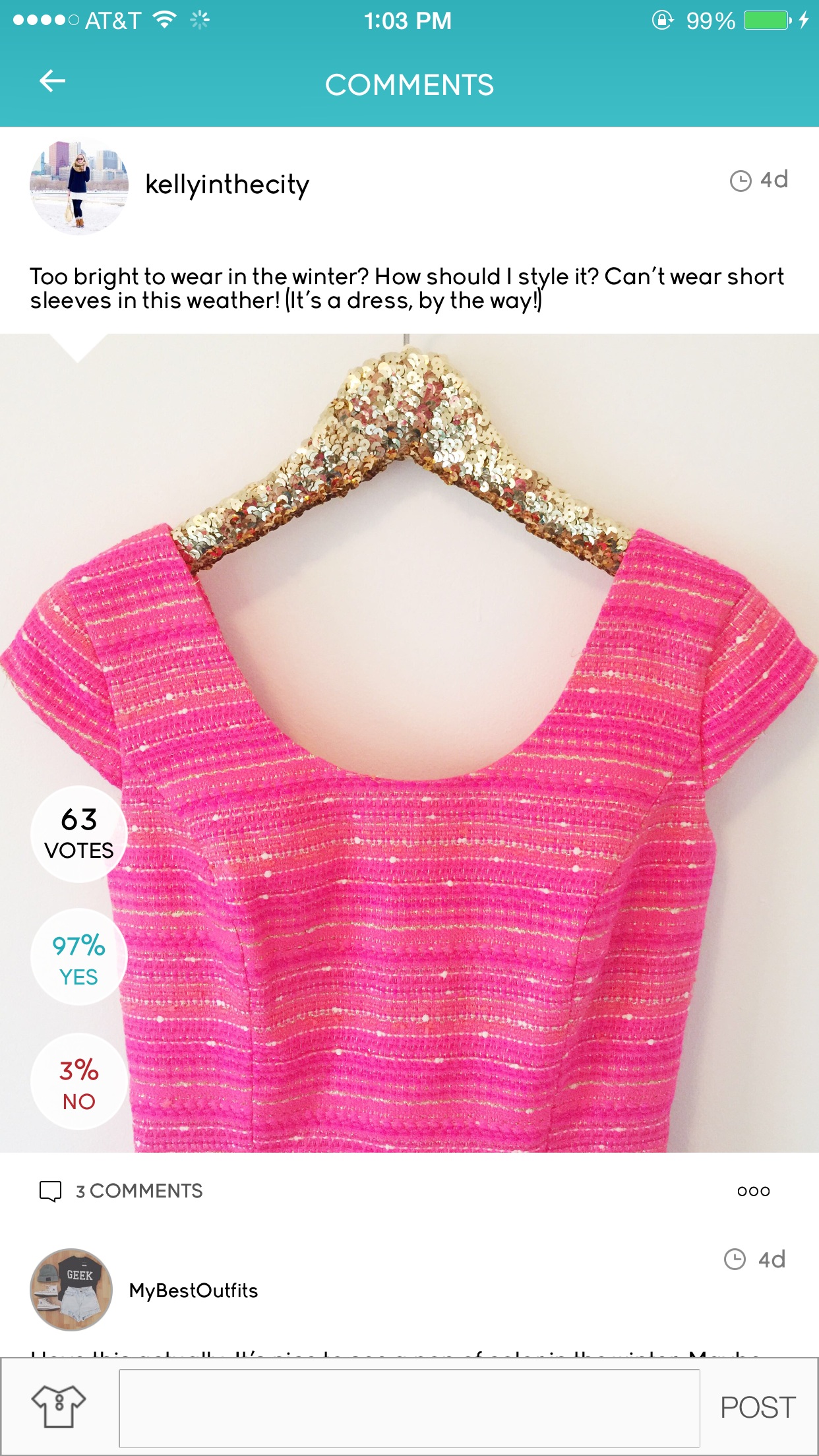 Okay, guys. New obsession! It's called WeStyle, and it's an app that provides instant style advice and inspiration so you feel confident in your outfit choices. It's pretty awesome.
I always need help when I'm in dressing rooms or getting ready for big events… and it's rough when no one's around! WeStyle, however, allows you to share your looks (up to four images at once) from wherever you are, and its community–made up of people just like you!–provides quick, real-time advice and tips. If you're between two outfits, you can post multiple looks and let everyone decide. And if you need help with a single outfit, users can vote "Yes" or "No" and provide helpful comments.
You can also give back to the WeStyle community by offering up your own advice. Post your opinions (in a polite way, of course) to the rolling feed, and suggest products you think might work for others. If you think one of your outfits could provide the community with inspiration, share that look! You can even share details by tagging brands and using hashtags, and have the app automatically post your content to Facebook and Twitter.
Likewise, if you're in need of inspiration, check out your tailored-to-you Discovery Feed, where you can browse popular looks based on your preferences. The more you use the app, the better–and more aligned to your style–your suggestions become! And if you're looking for something in particular, WeStyle's search feature helps you find it quickly.
While WeStyle is undoubtedly useful, it's also really fun. I've really been enjoying interacting with the community, and it's actually directed some people to my blog. (Which is always nice!)
Anyway, I can't recommend WeStyle enough. Download it now, and be sure to find me! My handle is @kellyinthecity. (Surprise, surprise, haha.)