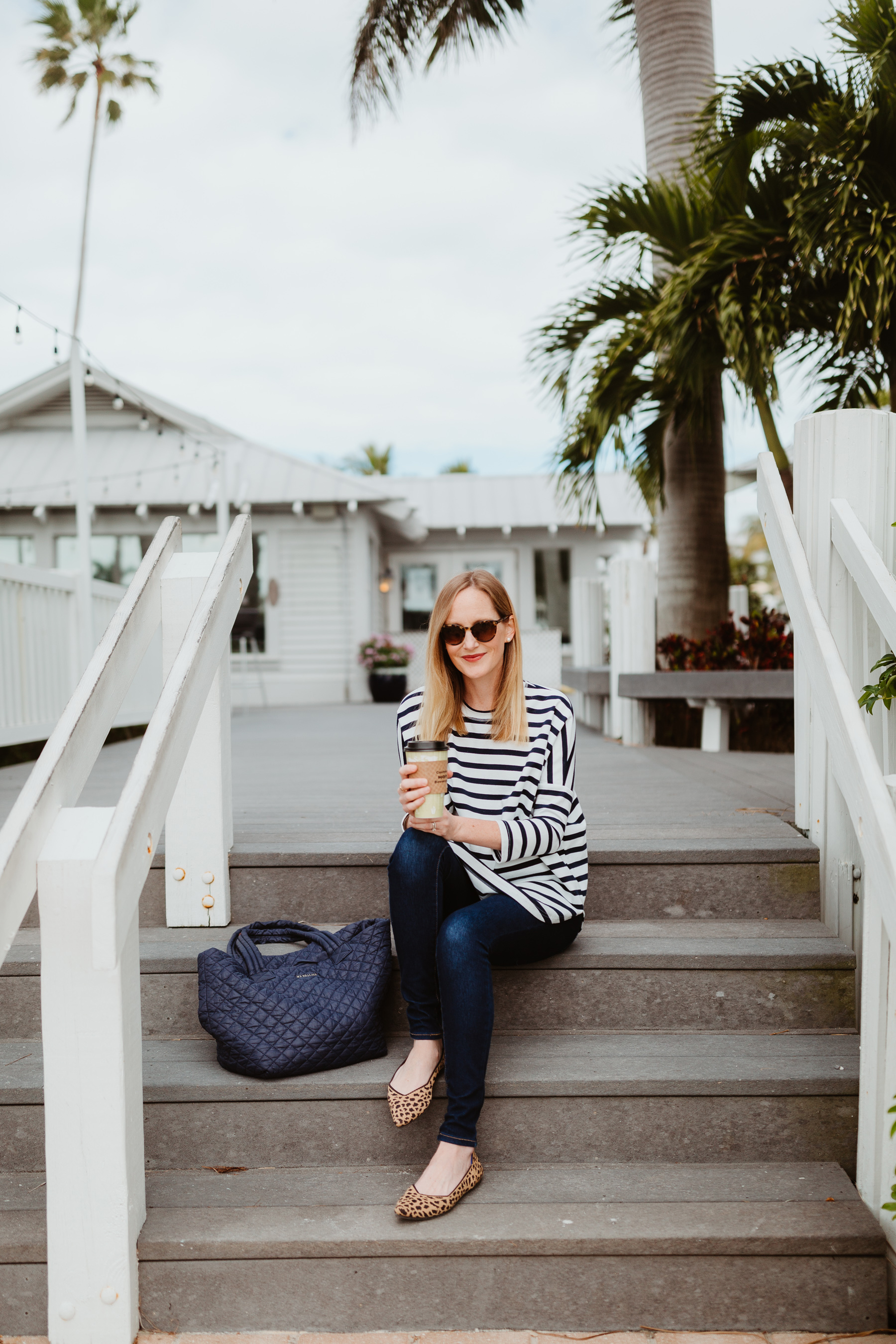 Rothy's Shoes: Are They Worth the Hype? A Review, and Everything You Need to Know
Rothy's Pointed Leopard Flat (My other favorites include the Spotted Loafer, the Mocha Spot Loafer, and the Pointed Flat in Red, Black, Navy and Hot Pink. Also really excited to try a pair of the brand's sneakers when we go to Georgia in a few weeks!) / Newer Version of my Tuckernuck Striped Swing Top (Can't recommend this more. It's "one size fits all," which makes for great gifts, too. Keep in mind that I'm pregnant, so he bump pulls it up a lot. If you're not pregnant, it will fall much lower.)
MZ Wallace Medium Metro Tote (It's back in navy! I also highly suggest investing in the large version, which is now available in navy at both Bloomingdale's and MZ Wallace. It's a GREAT travel, overnight or baby bag… and totally doubles as a pillow. ;) It can also be squished into tight spaces, like under plane seats. The medium is more of a day-to-day bag, but I use it all the time.) / Old Navy Rockstar Jeans (AMAZING. So soft and stretchy, and they don't sag throughout the day. They're honestly better than any $200 pair of designer jeans I've ever tried. I'm wearing the maternity version. Here are all the Rockstar jeans! So many to choose from.) / Similar Sunglasses Here, Here and Here
Link: $20 off your first pair of Rothy's.
Ah, Rothy's shoes. ❤️ I fell in love with them back in September, when the brand sent me a couple of pairs to try. (Btw, we later partnered in November to publish my Guide to Lincoln Park, Chicago!) And now here we are, several months later, and my love for the unbelievably comfortable, super soft woven knit shoes–made from recycled water bottles–has grown into an obsession. Honestly, I should probably be a spokesperson for the company. 🙈 I'm not exaggerating when I say that they've changed my life!
So today, I'm sharing an updated review of and guide to buying the world's comfiest shoes. (Btw, here's a link to get: $20 off your first pair of Rothy's.)
Note: I wrote this post last week so I wouldn't have to blog while we were on vacation, but since our flight home was cancelled due to the Polar Vortex, I was able to reshoot the photos at the beautiful South Seas Island Resort here on Captiva Island in Florida. Let's just say that these snaps are a bit nicer than the ones I'd previously taken inside my home because it was too cold to go outside! 😂 
"Long intro short," though, the answer is YES. Rothy's are worth the hype. Here's my review/guide, along with a fun giveaway: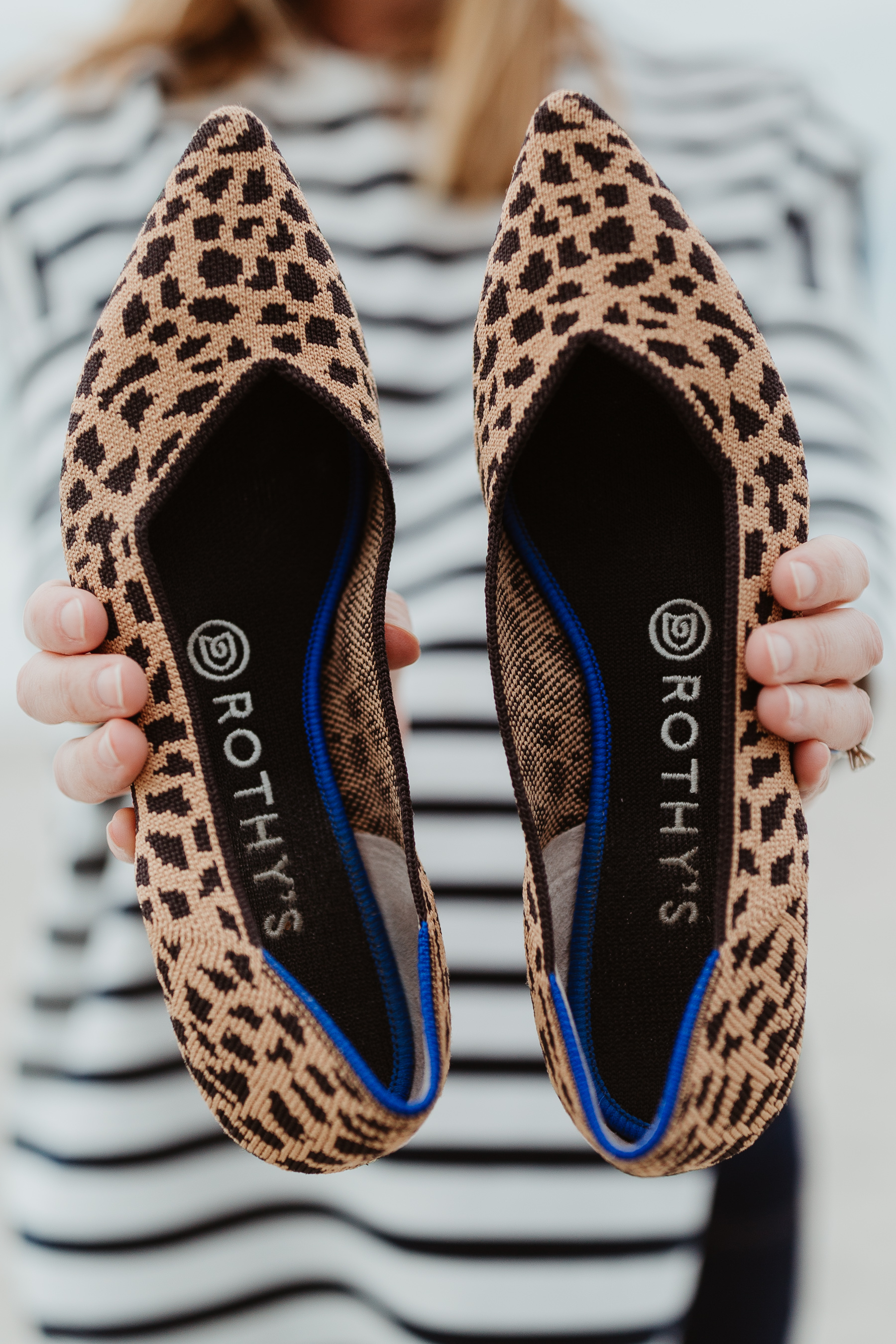 Link: $20 off your first pair of Rothy's.
Why they're so great
Like I said, they're unbelievably comfortable. First, Rothy's are made out of a super soft, flexible and durable woven knit material, and they have a seamless construction. (No hard seams or stiff edges.) All of this makes them feel like slippers. (I call them my "Cloud Shoes." They're really that comfy.) Second, they don't rub or cause blisters, and they actually offer support. I've literally walked five miles around Chicago in them, and no pain! Third, they don't stretch out, but they accomodate lots of different foot shapes. For example, I have a very narrow heel, but often find that shoes pinch around the widest point of my foot. I also have something minor called Haglund's (SO annoying 🙄), which makes most shoes extremely painful. But Rothy's stay on my feet without any pain. Again, Cloud Shoes!
There's zero break-in time. I can't stand shoes that have a "break-in" timeframe. Like, what? I'm sorry, but I'm not paying for shoes that require me to be in pain for any period of time before they become wearable. Because it takes my feet months to recover from rubbing and blisters. And that's not okay! Rothy's, though, are comfortable immediately. My pairs were just as awesome right out of the box as they are now!
They're machine-washable. Isn't that nuts? I go into detail below, so continue reading for more info. But it's wonderful. Despite the whole "shoes in a bag in the freezer" and "fill shoes with baking soda and let sit for several days" tricks, I've ended up eventually trashing a lot of the shoes I wear without socks due to smelliness. I wouldn't say that I have particularly smelly feet, haha, but over time–especially when worn in the heat–it happens. With Rothy's, though, you can just throw 'em in the washing machine, insoles and all, and they come out looking and smelling like new. It's amazing!
They're warm. Don't get me wrong. You can not wear these shoes in sub-zero temperatures. (You'll need boots for that!) But because they feature a woven knit material, they almost feel like you're wearing socks. I struggle with wearing shoes without socks during fall and spring, as my feet get way too cold. But with Rothy's, I can do it. I know this is silly, but it's been so nice not having to wear boots for three whole seasons!
They're timeless and adorable. I just love them. They're so classic-looking, and because of that, they're not going out of style any time soon. They can also be dressed up or down, and thus I often opt for them over heels. (I still feel cute and classy in them, yet my feet are happy, too. It's wonderful.) Worth the investment, for sure!
They're environmentally friendly. As I mentioned before, Rothy's uppers and insoles are made from recycled plastic water bottles. (You'd think that this would make them stiff and uncomfortable, but the bottles are hot-washed, sterilized, fused into fiber that is knit into yarn. Very, very soft!) Similarly, the outsoles are made from carbon-free rubber. Finally, Rothy's packaging is 100 percent recyclable, and all shoes are recyclable at the end of their lifespans, too.
Shipping and returns are free. It's really easy to get your sizing right the first time (see below), but just in case, Rothy's makes returns and exchanges very simple. I appreciate that!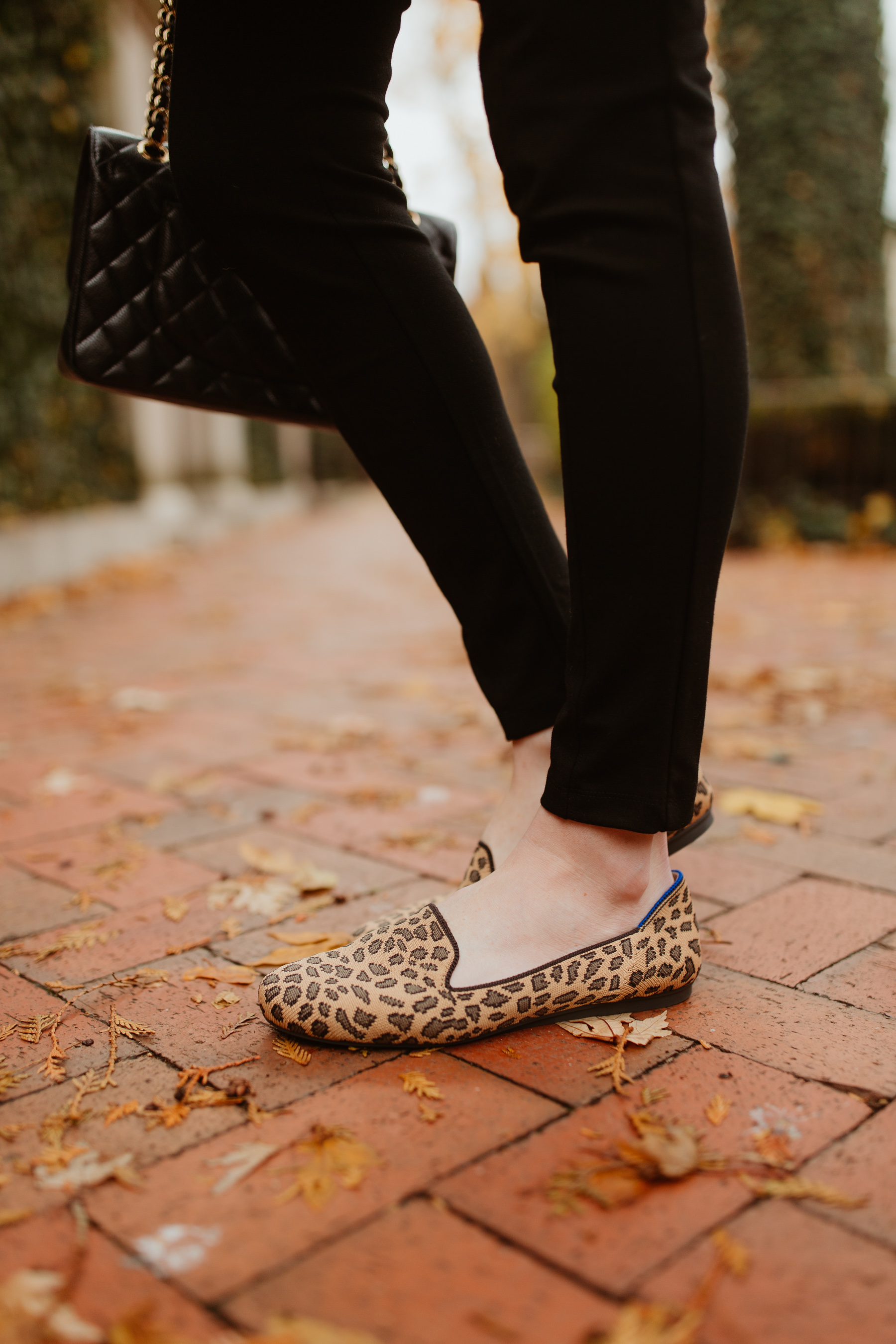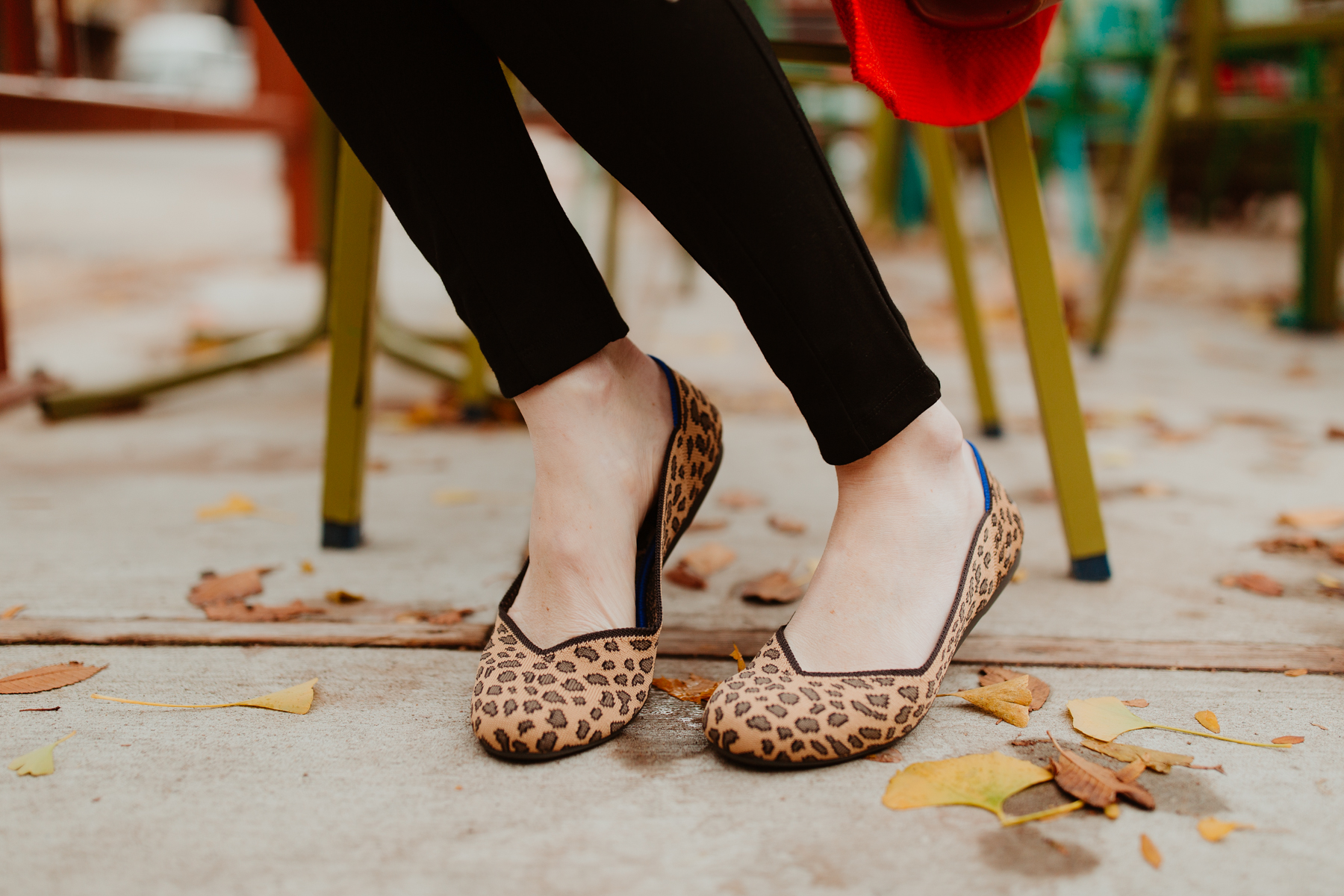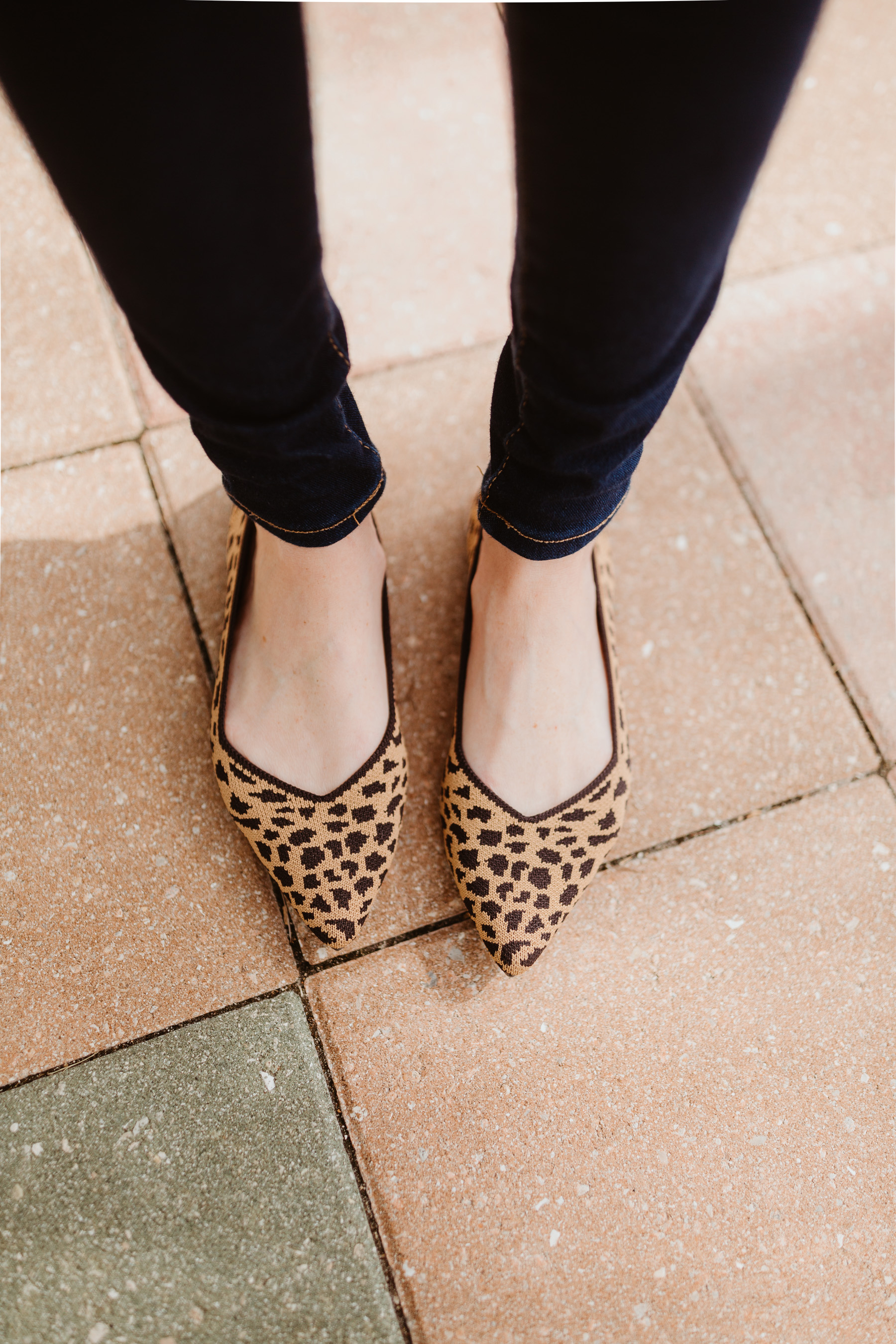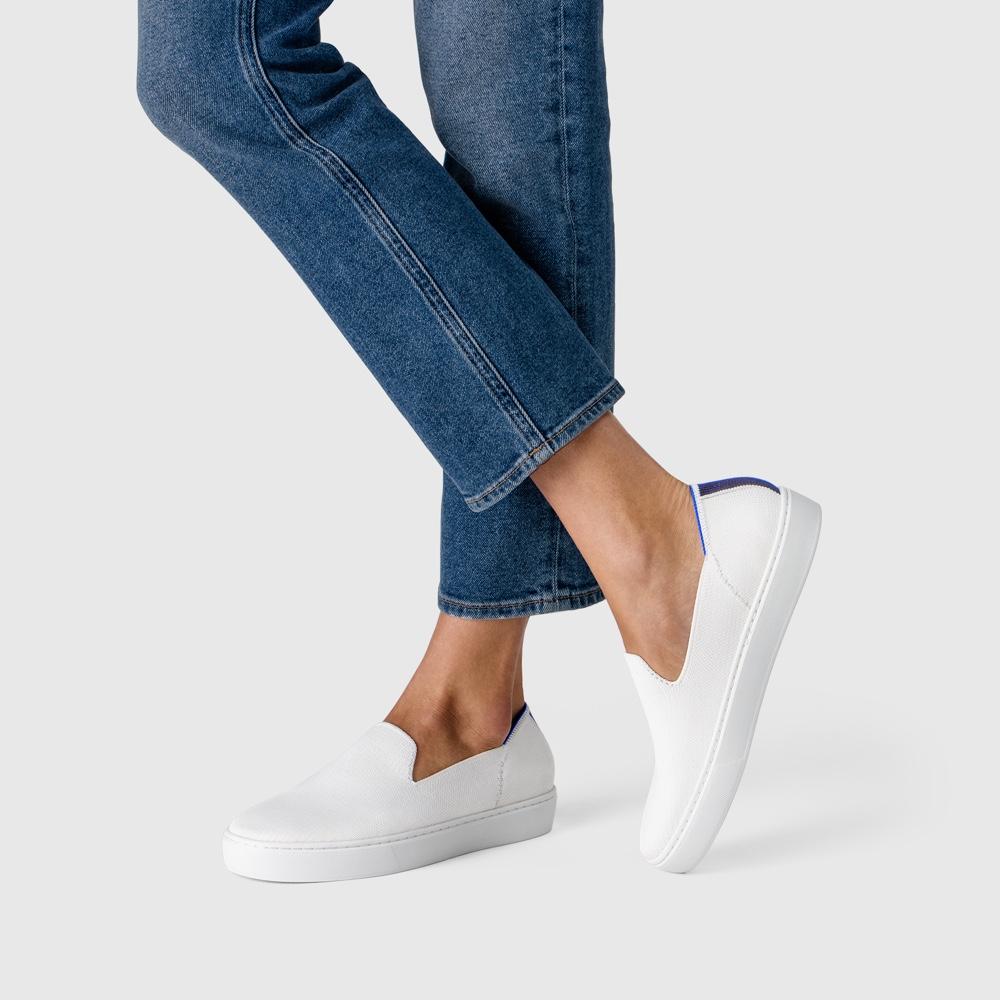 Link: $20 off your first pair of Rothy's.
The styles
Rothy's offers four styles: The Loafer, the Pointed Flat, the rounded-toe Flat, and the Sneaker. With the exception of the Sneaker, I've included photos of all the styles in the same leopard print for comparison's sake. Comfort-wise, they're truly all the same; I don't prefer one over the other there. It's just about deciding what style you like best, and which color/print is right for you. (I love so many, and recently ordered this pair of red Pointed Flats!)
The Loafer: This, in my opinion, is the preppiest option, and the shoe I see most on Nantucket. ;)
The Pointed Flat: Probably the most versatile, and what I see most in the city. While the Pointed Flat will look great with casual outfits, you can also totally dress it up. It's what you see in today's photos, since I didn't include it in my original review.
The rounded-toe Flat: I do like this shoe, but it's not my favorite, as I think it can make the toe area look a bit too wide.
The Sneaker: Haven't tried these yet, but will be ordering them for an upcoming trip to Georgia so I can review them! A friend has them, though, and says that they're the best everyday sneakers she owns, and the only pair she can keep clean since they're machine-washable.
Sizing
I've found that Rothy's run completely true to size. I normally wear a 7.5 in flats and sometimes a 7 in heels, and took a 7.5 in the Loafer, the Pointed Flat and the rounded-toe Flat. If you're truly in between sizes, I'd probably go a half size up in Rothy's, as they don't stretch out.
Note: It's been reported that some women go up a half size in the Pointed Flat due to the shape of the toe box, but I tried both a 7.5 and an 8, and went with the 7.5. If any of you guys are big Rothy's fans, feel free to weigh in on this in the comment section below! Would be so helpful!
Remember: Rothy's mold to your feet and have a slight "give," but they do not stretch out. So if they're a bit too tight right out of the box, they'll always be too tight. But fear not! Just take advantage of the company free and easy return/exchange policy. So simple!
Whether they hold up
THEY DO. I've worn the heck out of my Rothy's, and they still look brand new. This was definitely surprising to me, since they're made of a knit material! I assumed that they'd start to look grungy pretty quickly, but again, they're holding up GREAT. I've washed them a couple of times, too, and no deterioration. I anticipate that they'll last me years.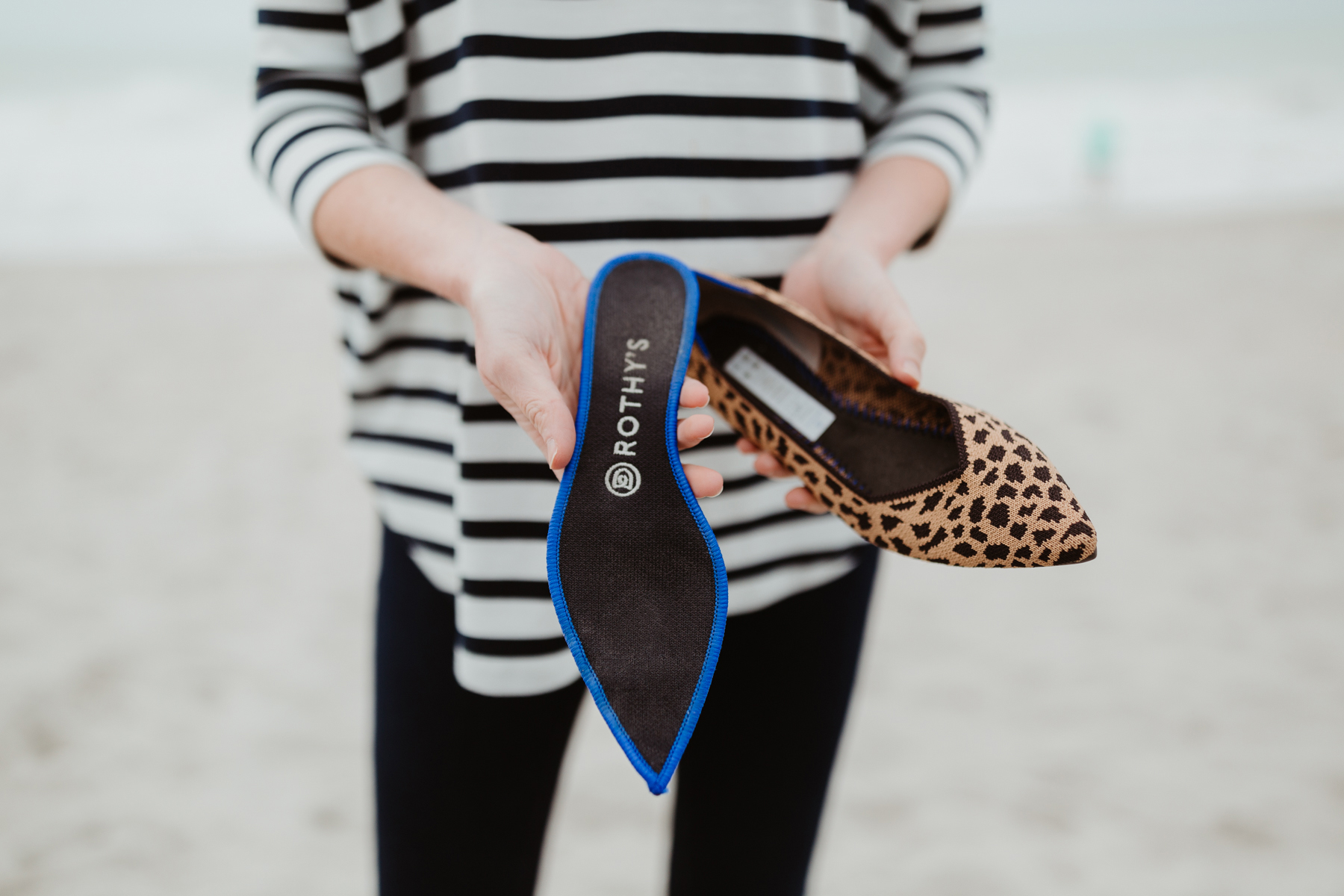 Link: $20 off your first pair of Rothy's.
Whether my feet sweat in them
I've received a few messages about sweatiness, so I thought I'd add this in! While yes, my feet get a little toasty in the shoes if temps are in the 80s, I would say that they sweat WAY less than they do when in Sperrys or in loather flats and loafers, since they're knit and therefore breathable. They also absorb very well. Either way, though, they're machine-washable, which means you don't need to worry about it. (So nice!)
How to machine-wash them
Take the insoles out, and put both the shoes and the insoles in a delicates bag, and wash on gentle with cold water and a mild detergent. (I use Arm & Hammer. Works wonderfully and smells great!) Do NOT dry them or apply any type of heat. If you dry them, you'll alter their shape, and they'll likely shrink. Instead, simply lay them out to dry. It should take no more than a day for them to dry, in my experience.
Meghan Markle approval
There's not much to say here, haha, except for the fact that the Duchess loves them, too, which is pretty cool! Do a quick Google search and you'll see her clad in Rothy's. (Love her outfits, btw!)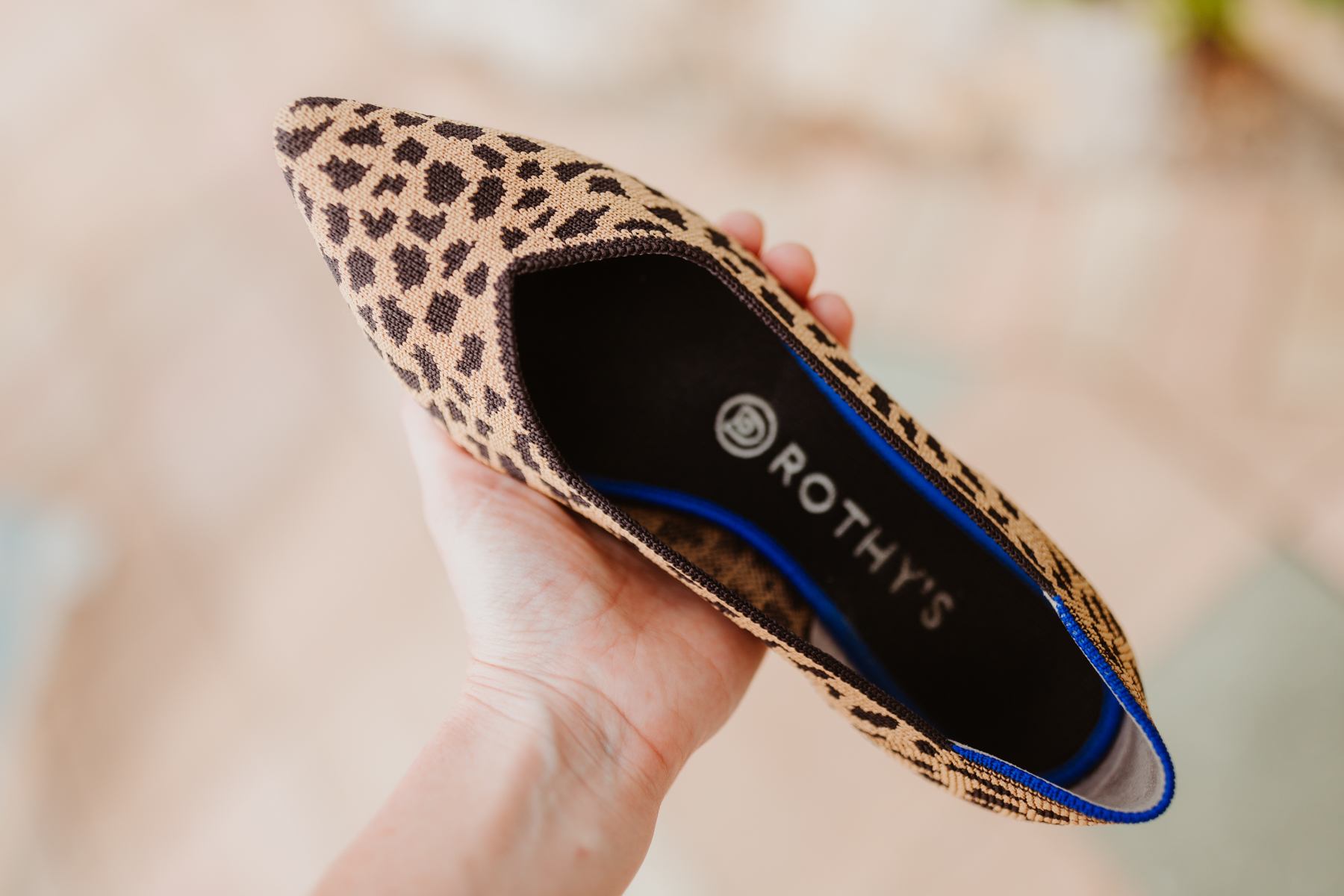 Link: $20 off your first pair of Rothy's.
Where you can buy in-person
At the moment, Rothy's has one store, on Fillmore Street in San Fransisco. If you're nowhere near California, though, you can order online like I do. :)
Pricing and how to get them for a discount
Rothy's are priced between $125 and $165. Yes, they're an investment, but I swear they're worth it.
Rothy's do not usually go on sale, but you can utilize the "Refer a Friend" program. Basically, you can send a friend $20 off their first purchase, and if they make a purchase, Rothy's will send you a code for $20 off your next pair. I didn't tell you this, but you can obviously send yourself the $20 off if you have a second e-mail address. 😉
Rothy's also offers teachers 20 percent off select products, since they're such great shoes for the classroom. Verifying your eligibility is easy.
How to win a free pair through me!
I have two pairs of Rothy's shoes that I'd love to give away today. If the size works for you or a friend, simply leave your e-mail address in a non-spammy format (kelly [at] gmail [dot] com) along with your shoe preference, and I'll select two winners next week when I get back from Florida!
The "Spotted" rounded-toe Flat, Size 7.5 (Worn once very briefly, but decided I would wear my Loafers and Pointed Flats more. Only so many pairs of leopard flats a girl needs, haha. You can't tell that they've ever been worn; they look brand new, and they're still in the box!)
The "Mocha Spot" Loafer, Size 7 (LOVE! But was accidentally sent to me for that first blog post. I wear a 7.5, so this pair was too small. I now have the 7.5!)
Questions?
Let me know in the comment section below. Happy to help however I can… but YES: They're worth it! :)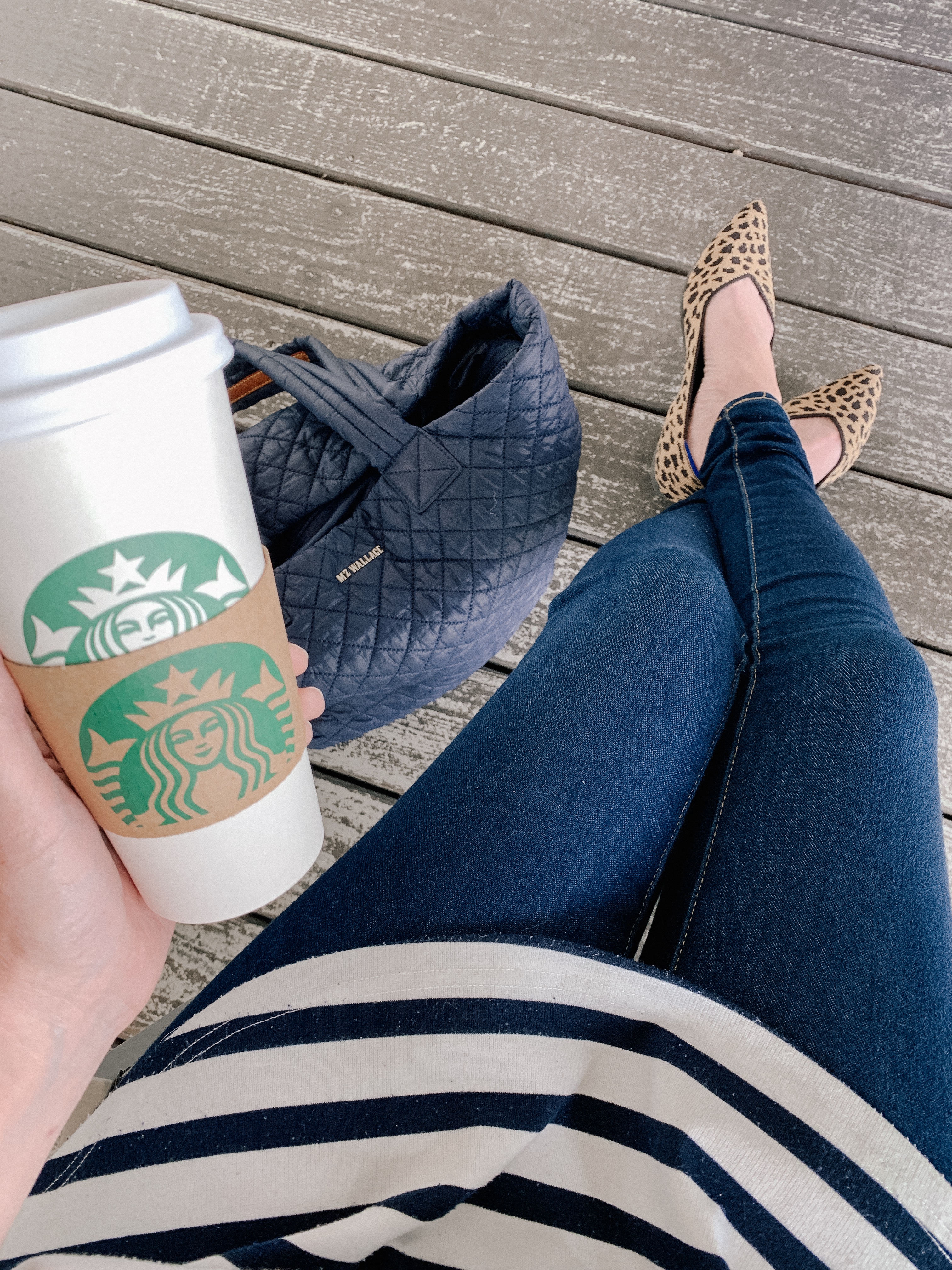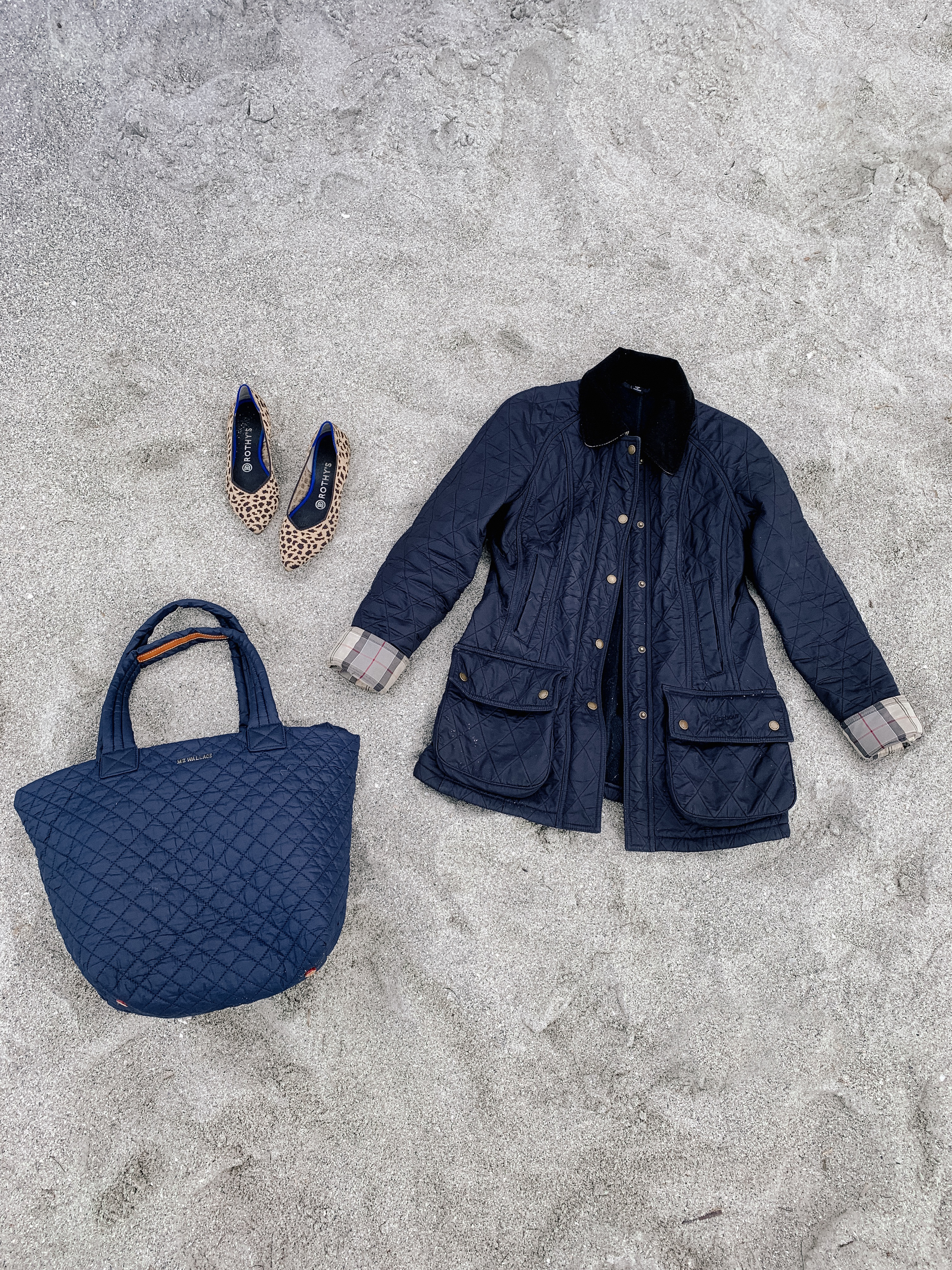 Details on everything else I'm wearing
Newer Version of my Tuckernuck Striped Swing Top: Can't recommend this more. It's "one size fits all," which makes for great gifts, too. Keep in mind that I'm pregnant, so he bump pulls it up a lot. If you're not pregnant, it will fall much lower.
MZ Wallace Medium Metro Tote: It's back in navy! (For some reason, it looks a little lighter in my iPhone pics. The professional photos are a more accurate representation of the color.) I also highly suggest investing in the large version, which is now available in navy at both Bloomingdale's and MZ Wallace. It's a GREAT travel, overnight or baby bag… and totally doubles as a pillow. ;) It can also be squished into tight spaces, like under plane seats. The medium is more of a day-to-day bag, but I use it all the time.
Barbour Quilted Beadnell: Hands down, the best Barbour I own. It features the same cut as the original Beadnell jacket, but it's SO much warmer because it features polarquilting. It's available at Nordstrom and Tuckernuck, btw.
Old Navy Rockstar Jeans: AMAZING. So soft and stretchy, and they don't sag throughout the day. They're honestly better than any $200 pair of designer jeans I've ever tried, at least out of the maternity stuff. I'm wearing the maternity version. Here are all the Rockstar jeans! So many to choose from.
Similar Sunglasses Here, Here and Here: These are my classic "Kelly Sunglasses," which I've had since 2013. I would probably die without them. Kate Spade is the original maker, though I think they came out around 2011 or 2012!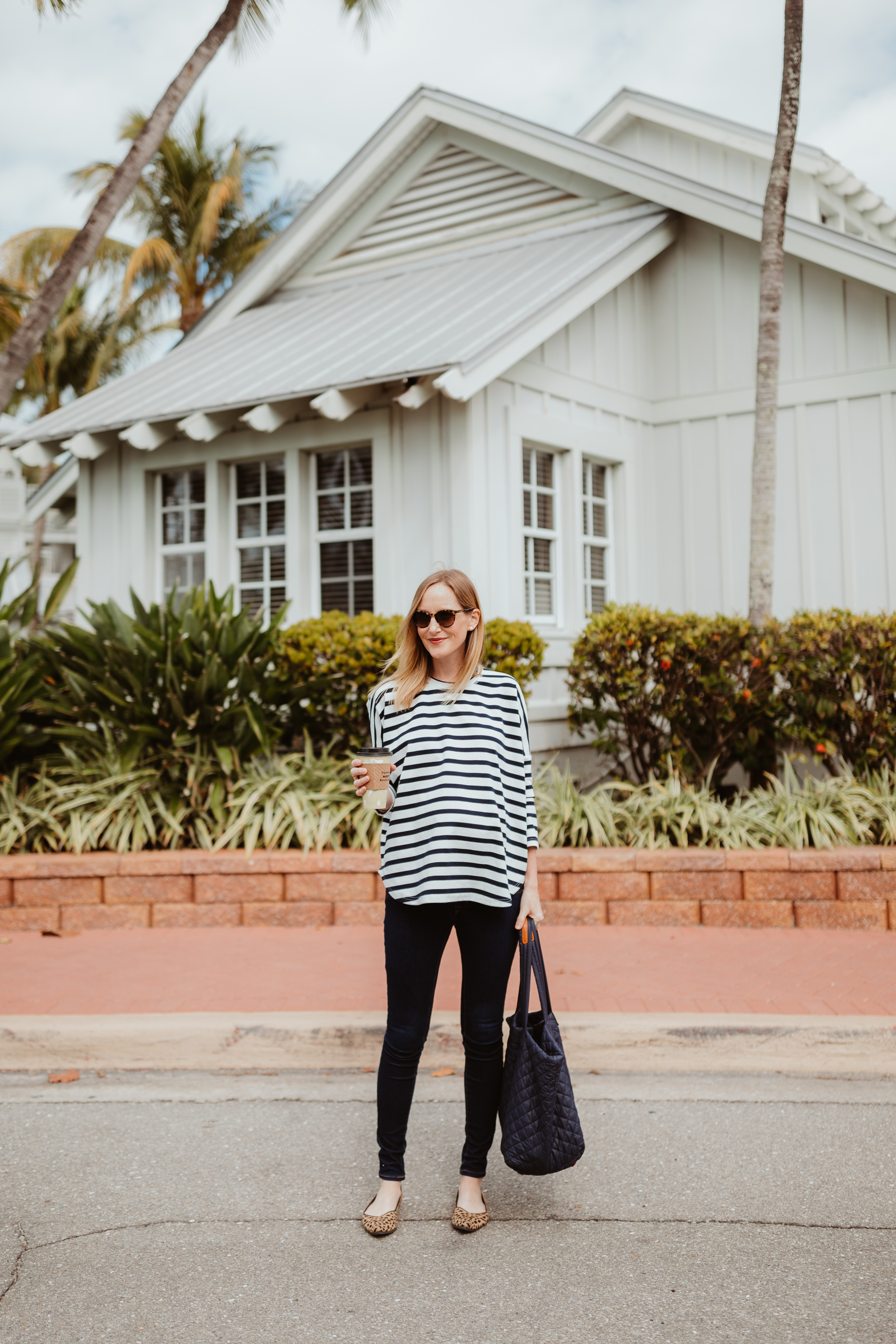 Shop the post:
Rothy's Pointed Leopard Flat (My other favorites include the Spotted Loafer, the Mocha Spot Loafer, and the Pointed Flat in Red, Black, Navy and Hot Pink. Also really excited to try a pair of the brand's sneakers when we go to Georgia in a few weeks!) / Newer Version of my Tuckernuck Striped Swing Top (Can't recommend this more. It's "one size fits all," which makes for great gifts, too. Keep in mind that I'm pregnant, so he bump pulls it up a lot. If you're not pregnant, it will fall much lower.)
MZ Wallace Medium Metro Tote (It's back in navy! I also highly suggest investing in the large version, which is now available in navy at both Bloomingdale's and MZ Wallace. It's a GREAT travel, overnight or baby bag… and totally doubles as a pillow. ;) It can also be squished into tight spaces, like under plane seats. The medium is more of a day-to-day bag, but I use it all the time.) / Old Navy Rockstar Jeans (AMAZING. So soft and stretchy, and they don't sag throughout the day. They're honestly better than any $200 pair of designer jeans I've ever tried. I'm wearing the maternity version. Here are all the Rockstar jeans! So many to choose from.) / Similar Sunglasses Here, Here and Here