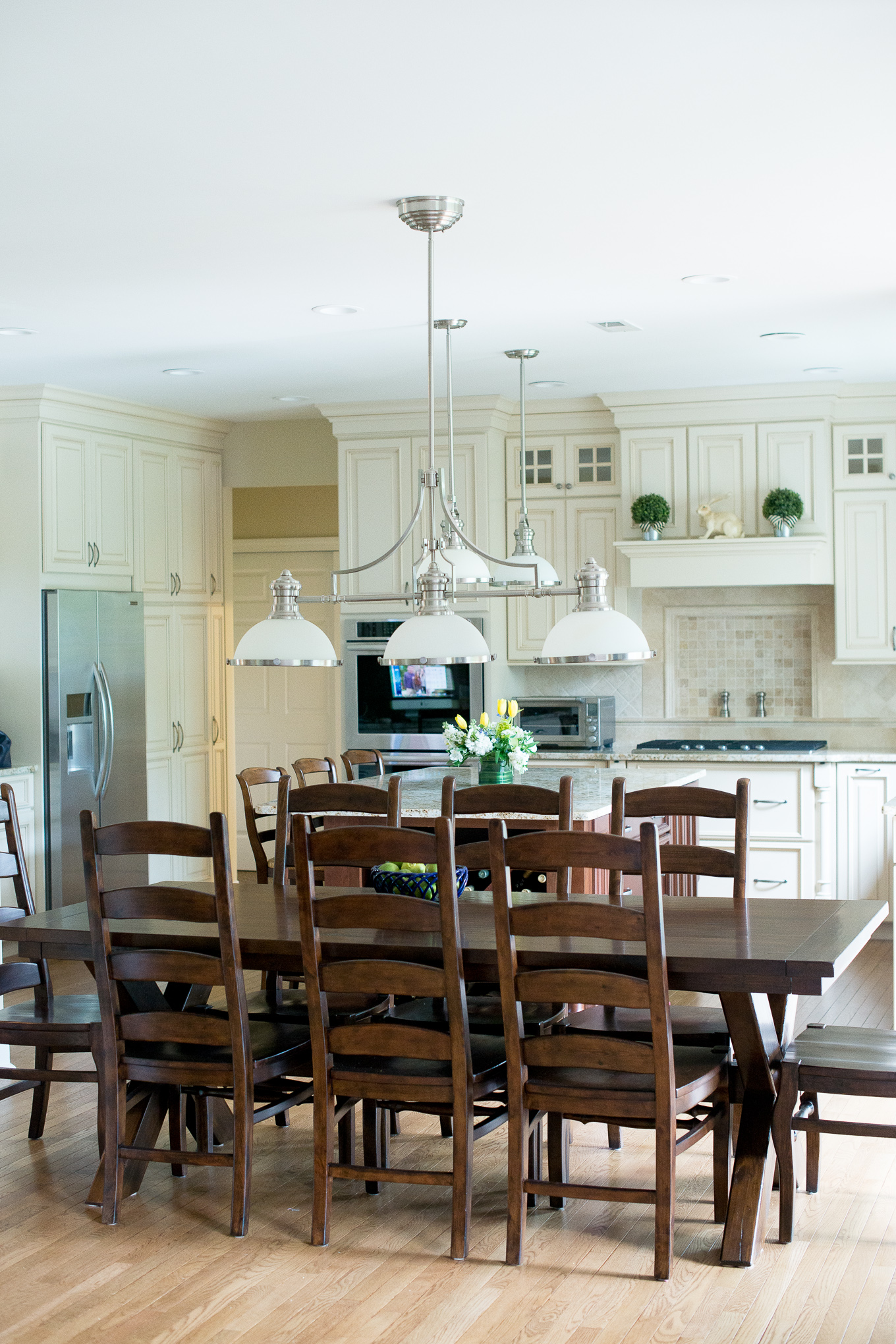 The only "nice" kitchen I've ever had was in the East Village. Which seems like an oxymoron, no?
It was eensy weensy–I mean, it was a struggle to fit two people in there at once–but it was so pretty. We had granite countertops, stylish cabinetry, and updated appliances. Even the floors were stunning!
And because of it, we cooked all the time.
But alas.
Today, we have a less-than-gorgeous kitchen that hasn't been updated since the 1960s. (One reason I've never done a complete home tour.) While it has the potential to be big, it's laid out in all the wrong ways, and we have very little countertop space to work with. As a result, we don't enjoy cooking like we used to. We also don't have a dishwasher. Enough said, right?!
But our hopes are high. Now that Mitch and I understand Chicago more, we're hoping to move this summer. One of our must-haves? An updated kitchen that allows us to cook and entertain and actually enjoy that part of our home. (Fingers crossed!)
The thing about having a nice kitchen, though, is that you have to maintain it. It's been a long time since we had that tiny East Village one–and I have to admit, we didn't take care of it like we should have. So on my last visit home to see my parents, I asked my mom whether she'd provide me with tips for keeping nice kitchens nice, and whether she'd be okay with featuring her newly renovated kitchen on the blog.
She said yes. ;) Mom, you're the best.
And HOW GREAT did her kitchen turn out?! It took a very long time to plan–so many choices!–but it was totally worth it. I wish I had "before photos" to show you, but these will just have to do. ;) I love everything about it, from the navy curtains and navy bump-out room to the white cabinetry and dark wood they used for the island and table.
Anyway, without further ado, Mom's Easy Tips for Maintaining Your Kitchen!
1. Avoid wetness. Granite and marble are rocks, and rocks are porous. Which is why spills and wet dishes, glasses and cooking utensils can leave stains, marks and rings if left for too long. (Even water can do this!) Mom's best advice is to use coasters, and wipe up messes when they happen–not the next morning. (Tsk, tsk, Kelly. Clean as you go.)
2. Use multi-surface cleaner. Mom's favorite is Pledge Multi Surface–which also comes in an antibacterial version–because it's easy to find at stores, saves her money, makes cleaning much easier, and quickly revitalizes her kitchen. It's safe to use on wood, stainless steel, granite, porcelain, electronics, laminate, marble, plastic and glass… and it smells natural–not like harsh chemicals that need to be neutralized or masked. Oh, and unlike other cleaners, Multi Surface is also pH-balanced, which means its formula cleans surfaces without clouding up or stripping away finishes. No more worrying whether you're ruining your kitchen by using the wrong products!
3. Speed Clean! There are some tasks that you should do every day, while there are others that should only be done one per week or one per season. For example, it's important to wipe down your sink, countertops and stovetop as well as sweep on a daily basis, but other tasks–like mopping; wiping down your cabinetry, backsplash and other appliances; and cleaning the inside of the garbage can–can be done on a weekly basis. Still, other tasks such as cleaning the inside of your utensil drawer and cleaning the inside of the fridge can be done monthly. No need to clean everything every day, but it's important to know when you should clean. Again, Pledge Multi Surface works exceedingly well for this.
4. Use lemon. After wiping the sink down, Mom freezes bits of lemon in vinegar (a tip she read online once), and then runs them through the garbage disposal. It keeps everything smelling fresh and clean!
5. Stay on top of fridge organization. There's nothing worse than a dirty or messy refrigerator. Stuff falls out, food goes to waste, messes are made, and mold and mildew grows. Wipe the insides of your fridge every month with Pledge, and invest in high quality storage solutions. Mom also suggests using baskets and labels, and organizing your fridge's content by size and usage.
Thanks for all your help, Mom!
Thank you for supporting the partnerships that keep Kelly in the City up and running!
I was selected for this opportunity as a member of Clever Girls and the content and opinions expressed here are all my own.