One / Two / Three / Four / Five / Six / Seven / Eight / Nine / Ten / Eleven / Twelve / Thirteen / Fourteen / Fifteen / Sixteen / Seventeen / Eighteen / Nineteen / Twenty / Twenty-One
Mitch here!
Valentine's Day wasn't made for guys like me. My days of surprising gifts and romantic evenings out are long past. If I'm lucky, this year's February 14th will involve an early bedtime for Emma and takeout on the couch while we marvel at the sound of silence, Kelly's legs draped over mine because she'll be six months pregnant and her back will hurt. ;) But whatever! It's proper Valentine's Day for the rest of you rascals, and if you're struggling for a good guy gift, I've got you covered.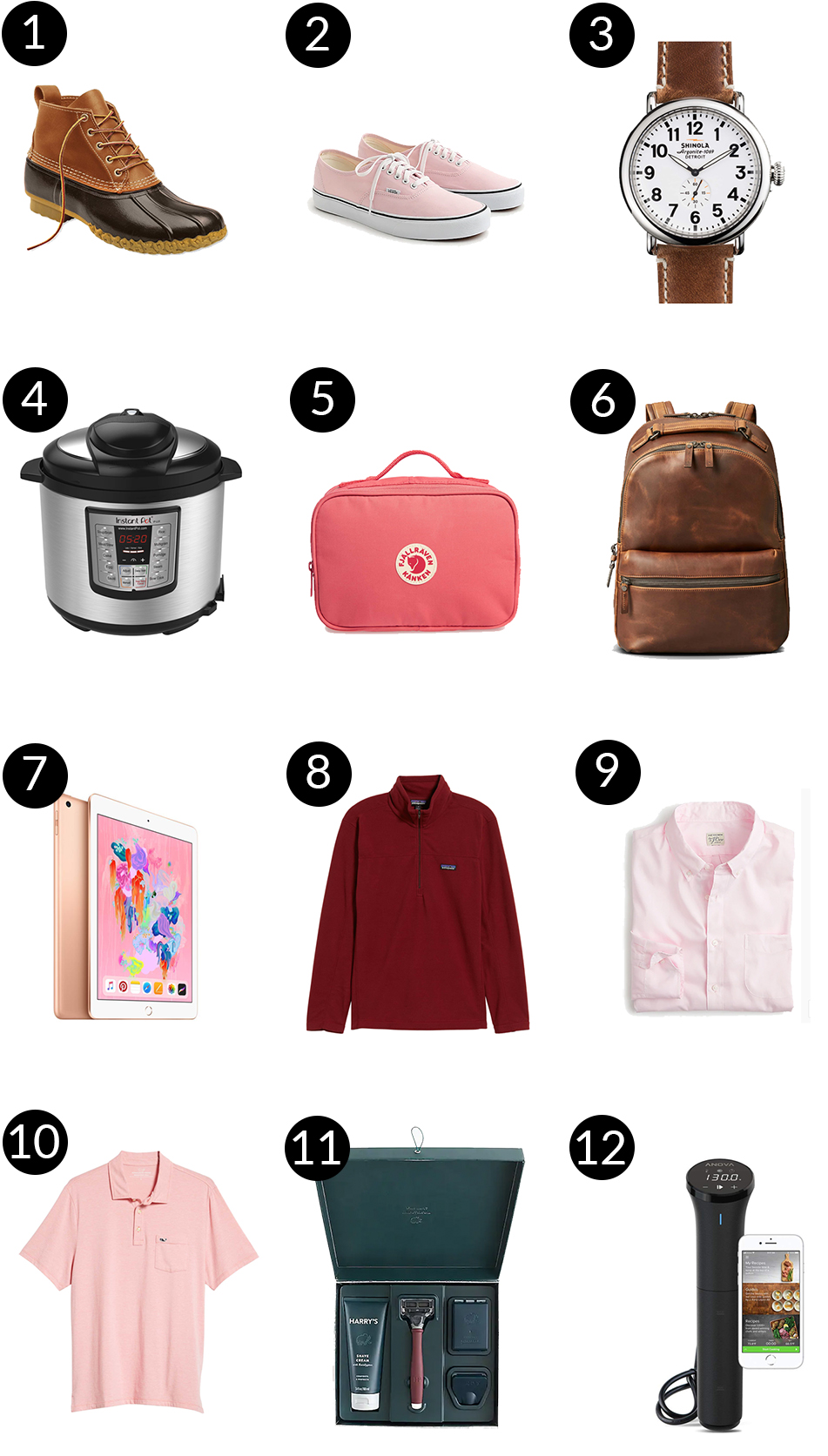 One / Two / Three / Four / Five / Six / Seven / Eight / Nine / Ten / Eleven / Twelve
Valentine's Day Gift Guide

I'm not going to lie to you. I'm writing this while in Florida. It's 9 p.m. and I'm still sticky from sunscreen. I have one thing on my agenda for tomorrow, and it's to make it to the pool before noon. The only issue I'm dealing with down here is that I actually miss Noodle and I didn't bring my Bean Boots for the trip home. I miss them and I sent them a postcard. 
Pink Vans are exactly the kind of thing a formerly cool, future father of two who is now a preppy blogger's husband would need. And if you know anyone like that give him a hug for me.
The wrist is the last bastion of fashionable fashion us guys have left, and the Shinola Runwell is my current favorite. I just checked and I've included it in five gift guides and, to date, I've never received it as a gift. Hi, Kelly! (She's asleep. No way she'll see this tomorrow, either, so… Better luck next year.)
I love my Instant Pot because it gives me the perfect excuse to sit on the couch while dinner cooks itself.
How in the world do you pronounce Fjällräven? It took me half an hour just to figure out how to type it. But this case is cool and pink and it looks good in the spread, so I highly recommend it!
Leather backpacks are a hotly discussed topic in our house. Why do I wear a backpack? Do I want to look 14? What, exactly, goes in the backpack? Listen, I like backpacks. Get off my back! Or, on it. Or whatever.
iPads are straight cheap now; they're on sale on Amazon and they're just about the best gift imaginable for any dude who doesn't already have one. I know that $300 is steep for a gift, but he'll use this thing until it crumbles in his hands, and if you're okay to losing him into it for a few hours a day, I say go for it.
Now that I'm a full-time Floridian, I know not the need for fleece, but I hear they're nice at keeping the rest of you chumps warm up in the tundra. (Just kidding. I love this thing, and own multiple. Couldn't live in Chicago without it.)
The pink button down is the unsung hero of any guy's closet. He won't reach for it every week but I'll bet he busts it out once a month and when he does, his day will be filled with compliments. I wore mine until the collar fell off. and if you saw last night's Instagram Stories, you know this is something South African Mitch would definitely do.
I have a stressed relationship with polos. Typically I buy them when they're on sale and throw them away immediately when I get home because I like the idea of them but never the quality. But this Vineyard Vines "Edgartown" Polo is made of that super comfortable stretchy material that fits perfectly and never wrinkles. Sometimes–and I'm not proud to admit this–I'll wear one as an undershirt just to hold it close. They're that good.
I know that women shave and I know that it sucks. But guys have to shave a giant bristly beard off their face every day and it's a freaking nightmare. Harry's makes the best razors I've ever used and, even better, J.Crew has this gift-able shave set just in time for the big day.
I wrote recently about my love for Sous Vide cooking, and this guy is apparently the best cooker around. If your dude spends any time in the kitchen and that kitchen is missing one of these cookers, I couldn't recommend them enough.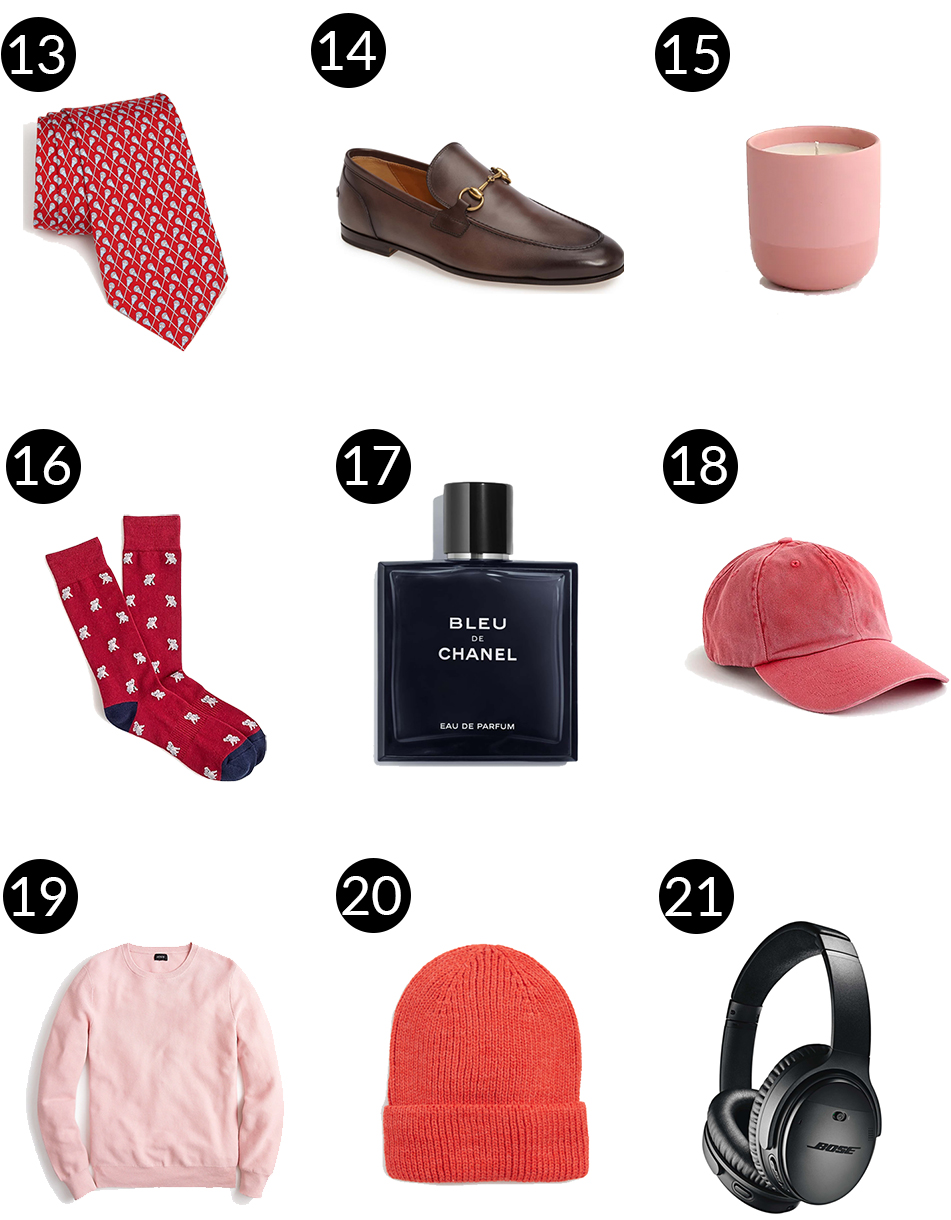 Thirteen / Fourteen / Fifteen / Sixteen / Seventeen / Eighteen / Nineteen / Twenty / Twenty-One
Valentine's Day Gift Guide

I hate wearing ties and, as a teacher, I had to wear one every day. It's just so stupid. Anyway, I had two VV ties back then and I saved them for especially rough days to give me an extra boost of confidence and remind me of the summer. I bet your tie-wearing guy could use the same.
I don't own Gucci loafers, but every fashionable person I know does. So… could be a good bet. But then again, I don't know what's going on.
I'm dat candle pusha. I blaze all day e'er day. It's straight fyre over 'er.
When I quit teaching, I stopped wearing socks all together. But these are nice.
I love this Chanel cologne. I'll admit that sentence makes me sound like a jerk, but it smells like something a super hero would wear. I own a small sample that I've been stretching for the last six months.
For five years of my life, I wore a plain red hat all the time. It was my calling card and my affectation. I wore that hat until one of my students stole it and, apparently, threw it away. (According to him. He admitted to the crime eventually.) I've been hatless and not really the same ever since.
Marie Kondo recently emptied out my closet and apparently crewneck sweaters give me joy. I'm resisting this pink sweater but not resisting that hard.
A parka and a beanie qualify as an outfit, and in Chicago, you can wear that same outfit for eight months of the year. Better make it good.
Noise-cancelling technology has reached crazy new heights and Bose is the best of the bunch. I call these my wife-cancelling headphones and, as long as I have the headphones on, Kelly doesn't mind the name. They're just that good.
Mitch. Out!