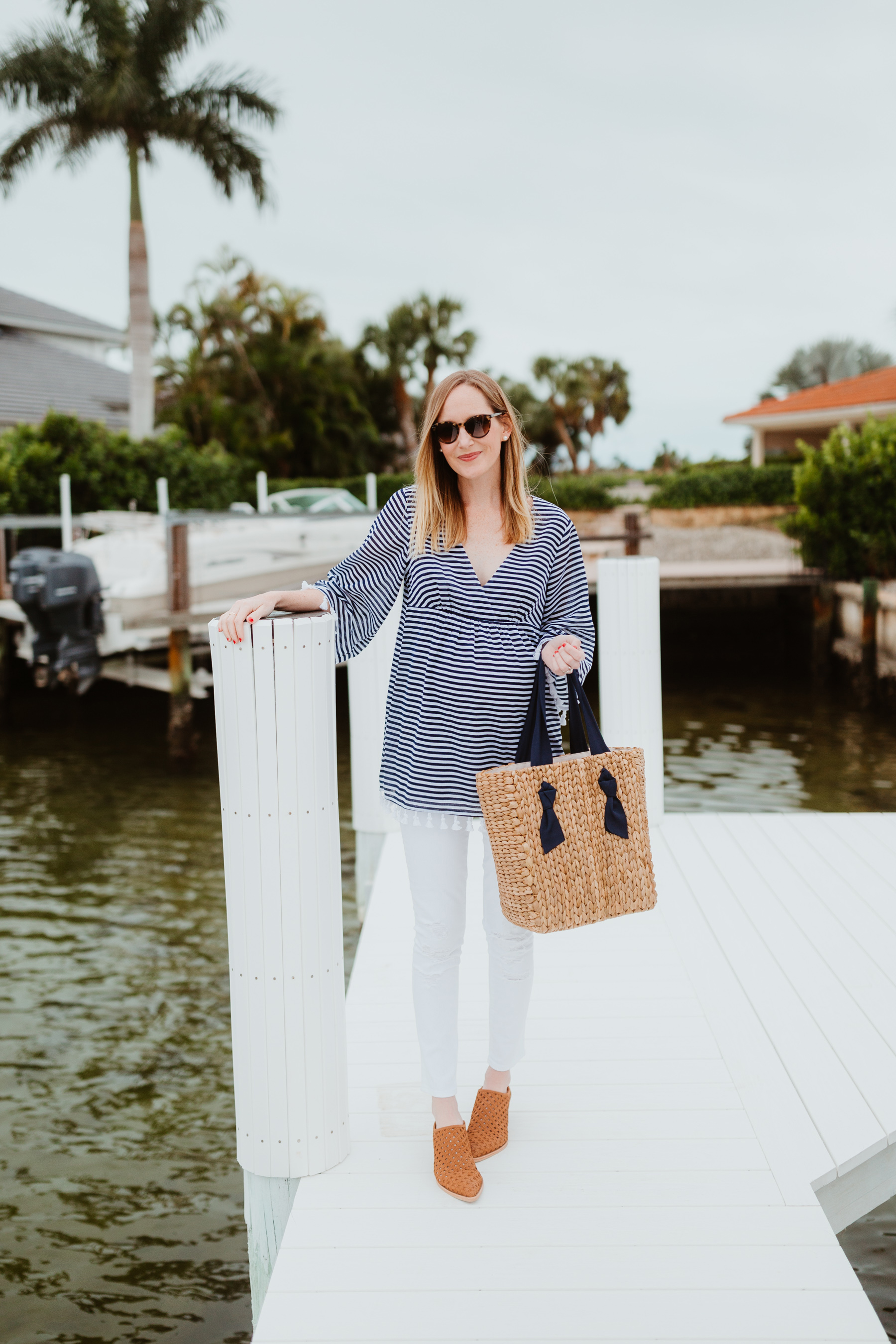 Dolce Vita Sayer Mule (I went a half size up, btw. You can find them on sale via Amazon right now! Oh, and here's the bootie version, which is also on sale via Zappos and Amazon. Also available at Shopbop.) / J Brand Maternity Crop Jeans (LOVE THEM, despite the rips. First pair of ripped jeans, haha! They were just so soft and comfy. If you can do "full panel" maternity jeans, though, I would honestly suggest Old Navy's version. I LOVE the maternity Rockstar jeans! Also look into this pair from the Gap. They're GREAT, and on major sale right now.) / Sail to Sable Crinkle Cotton Tunic Top (Short-sleeved dress here; tiered dress here; tie tunic here.) / Pamela Munson Woven Tote (Full collection here. Looking for more affordable options? This is a GREAT tote; it's packable! This one is super versatile, too… and how cute is this?!) / Newer Version of my Sunglasses
I have some awesome news. :)
For the first time ever, the "Larkin Family Flight Curse" worked in our favor, and our flight back to Chicago was CANCELLED due to the extreme cold. We'll be in Florida until Sunday, thus avoiding the scary Polar Vortex that the Midwest is currently experiencing.
We're so grateful! The National Weather Service is saying that Chicago should expect lows in the -30s… and with windchill, possibly in the -60s. Which means that if a person is outside for as little as three to five minutes, he or she is at a serious and very real risk of getting frostbite. Understandably, flying home to this was terrifying since we have a toddler in tow and would need to safely transport her from the airport to our home in Lincoln Park. (I also have a circulatory disorder that puts me at risk of getting frostbite in much warmer temps, so I was like, "😬.") And while I know that I might sound dramatic in saying this, we'd kind of decided ahead of time that even if our flight did take off, we wouldn't be on it. Why risk anything?!
We packed up our Airbnb yesterday, and then later, went to a celebratory dinner at Campiello, one of our favorite restaurants in Naples. It was absolutely divine. :) We were also just so happy, haha, which added to the magic of the experience. We really can't complain at all (especially with what's happening back home right now!), but we had a lot of rainy days in the 50s and 60s this past week, and were a bit bummed that we didn't get more pool and beach time with Emma. The next few days, though, are expected to be a lot warmer, and we can't wait to take advantage.
The South Seas Island Resort on Captiva graciously offered us a good deal on a last-minute stay, so we're here now. :) Yes, we kind of had to scramble to get a plan in place, and it took a lot of time to coordinate. But it all worked out, and we feel very lucky that the blog (which really means you guys) made things a lot easier. Thank you!
It was dark when we arrived, but everyone keeps telling us how amazing South Seas is, so we're ridiculously excited for the next few days! If you'd like to keep up with us, I'll be Instagram Storying throughout this adventure, and content will continue to go up on the blog because–huzzah!–I planned extra posts just in case our flight was cancelled.
Because it always gets cancelled. 😂
Okay. My eyes are drooping, but I'll see you back here tomorrow. Outfit details linked above and below… and, of course, sending warm thoughts to everyone back home and in the surrounding areas. Stay safe, Friends! Thinking of you! ♥️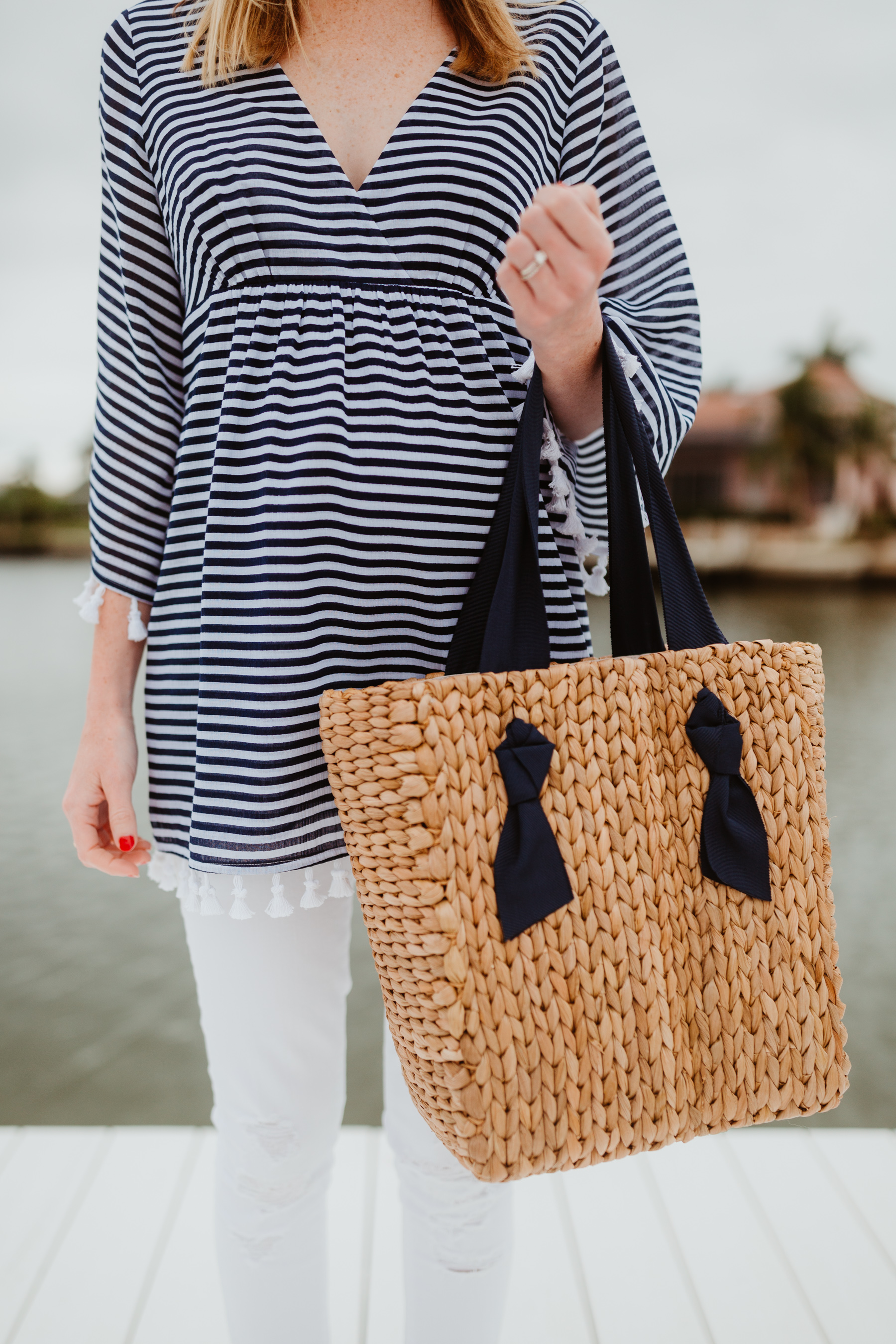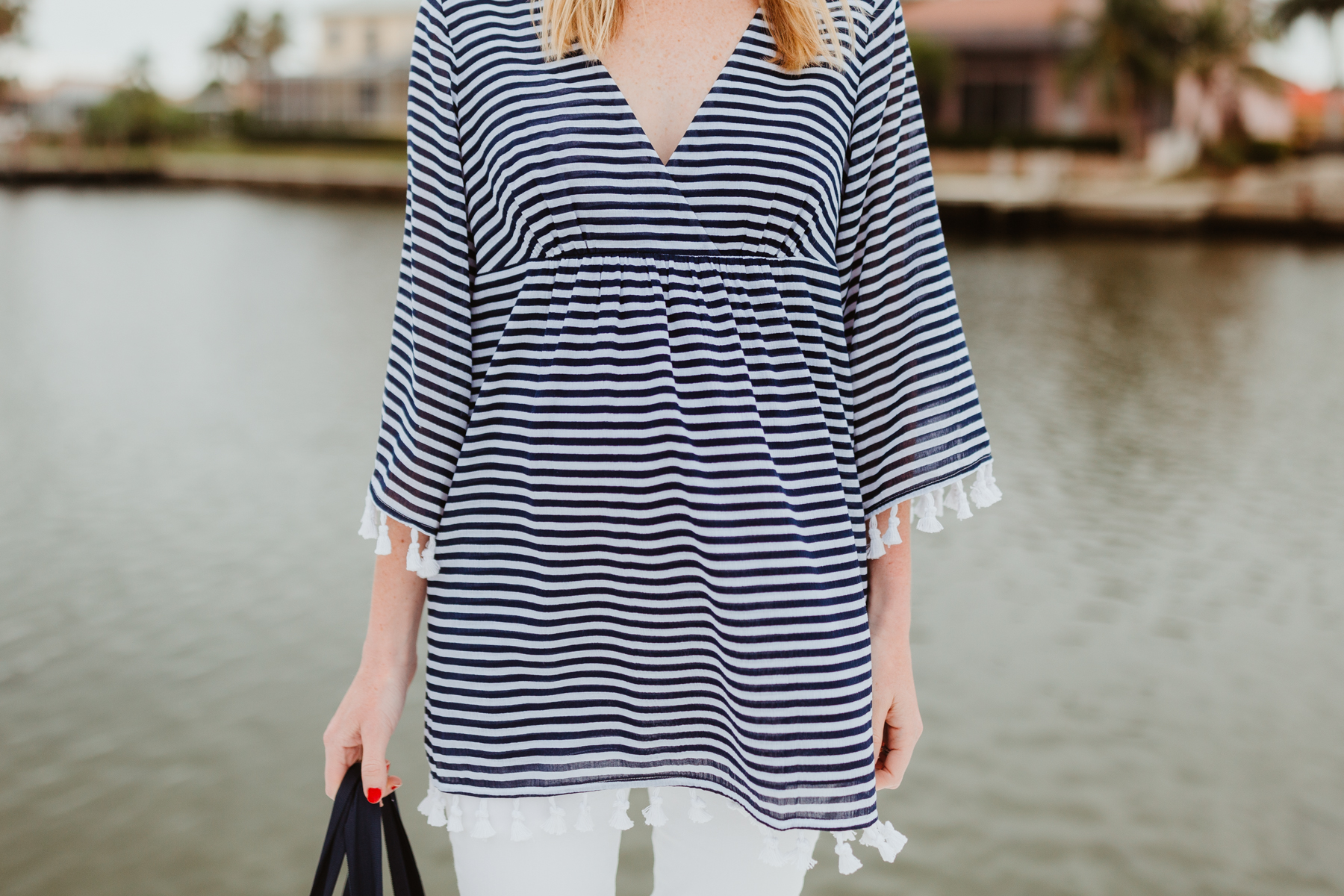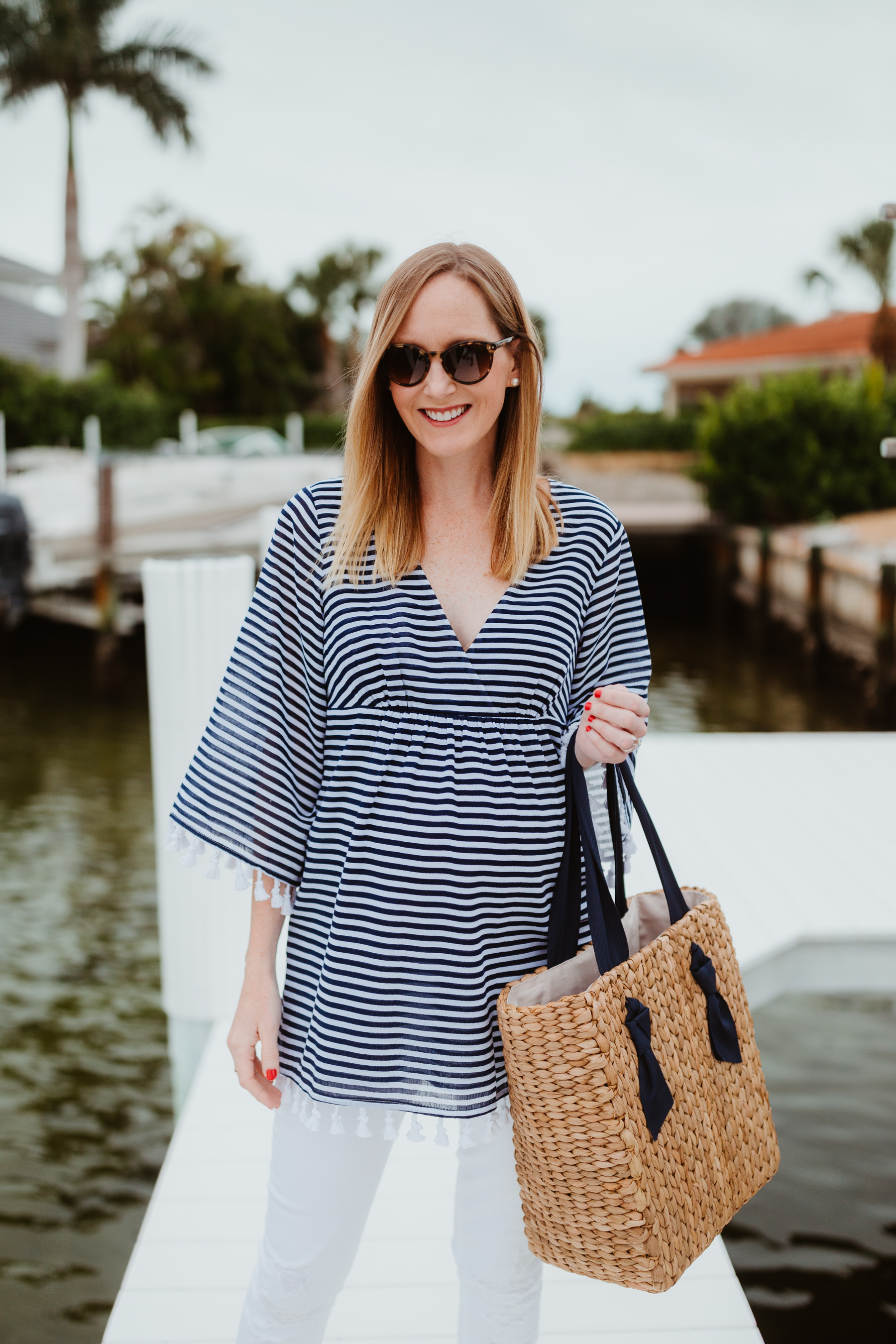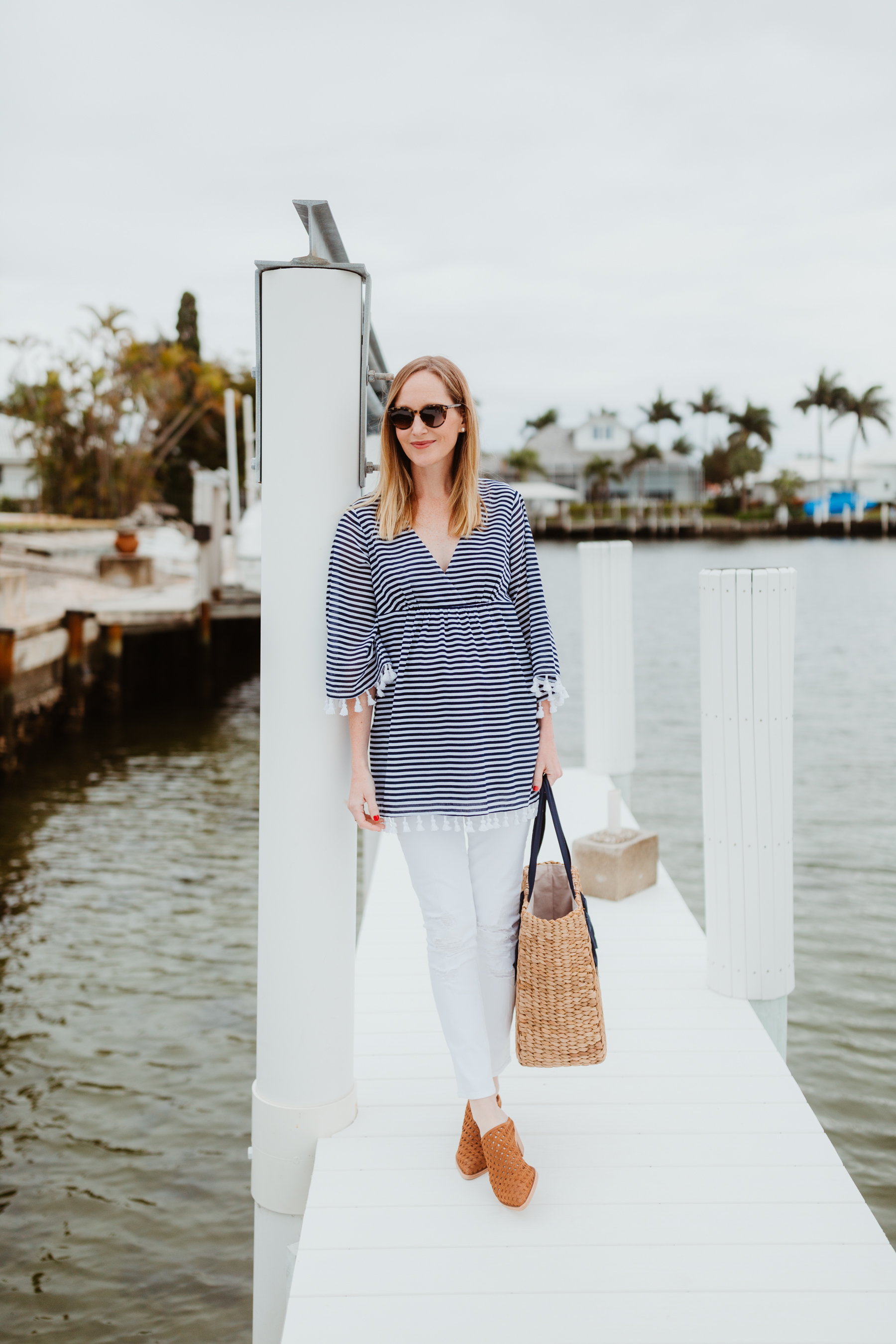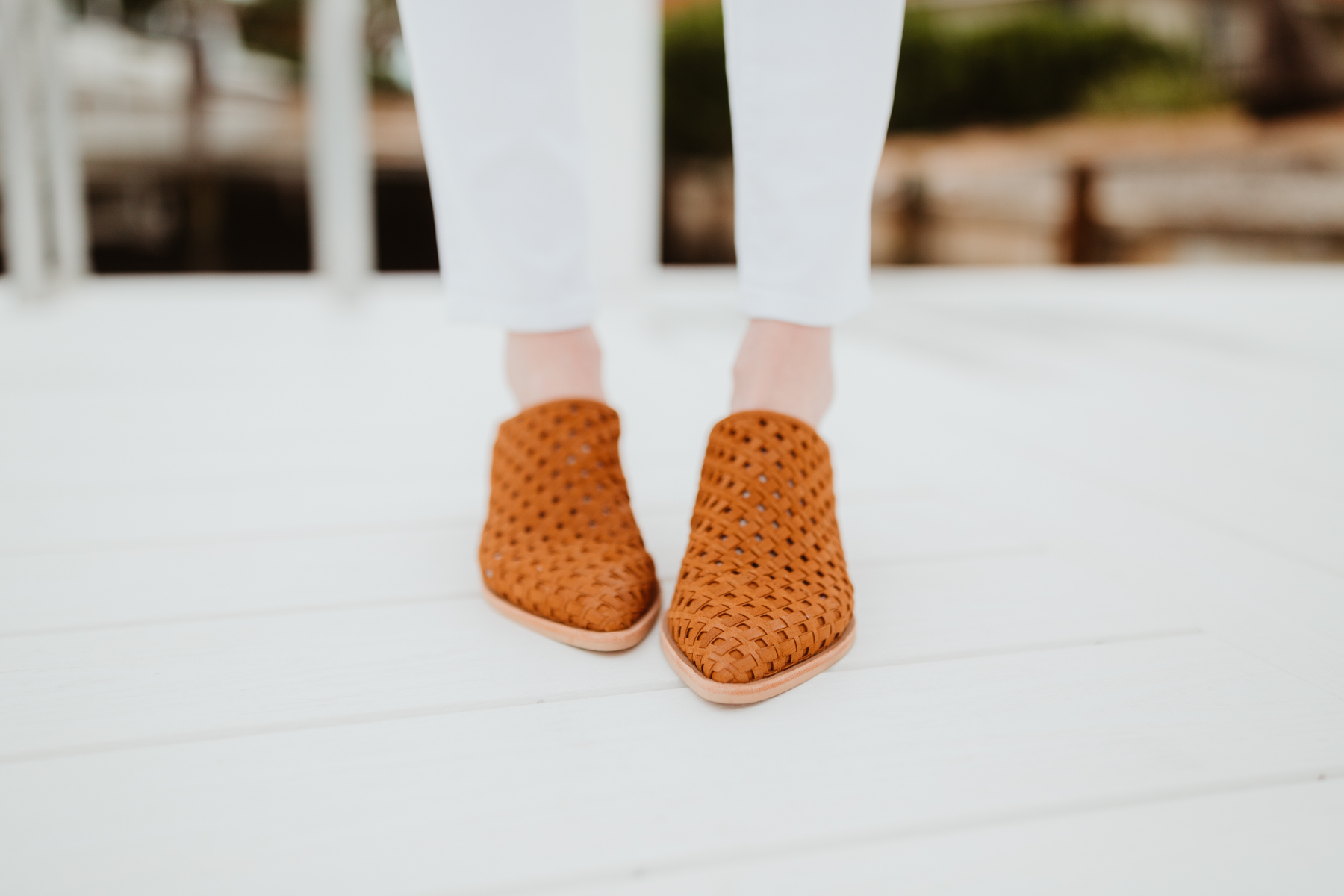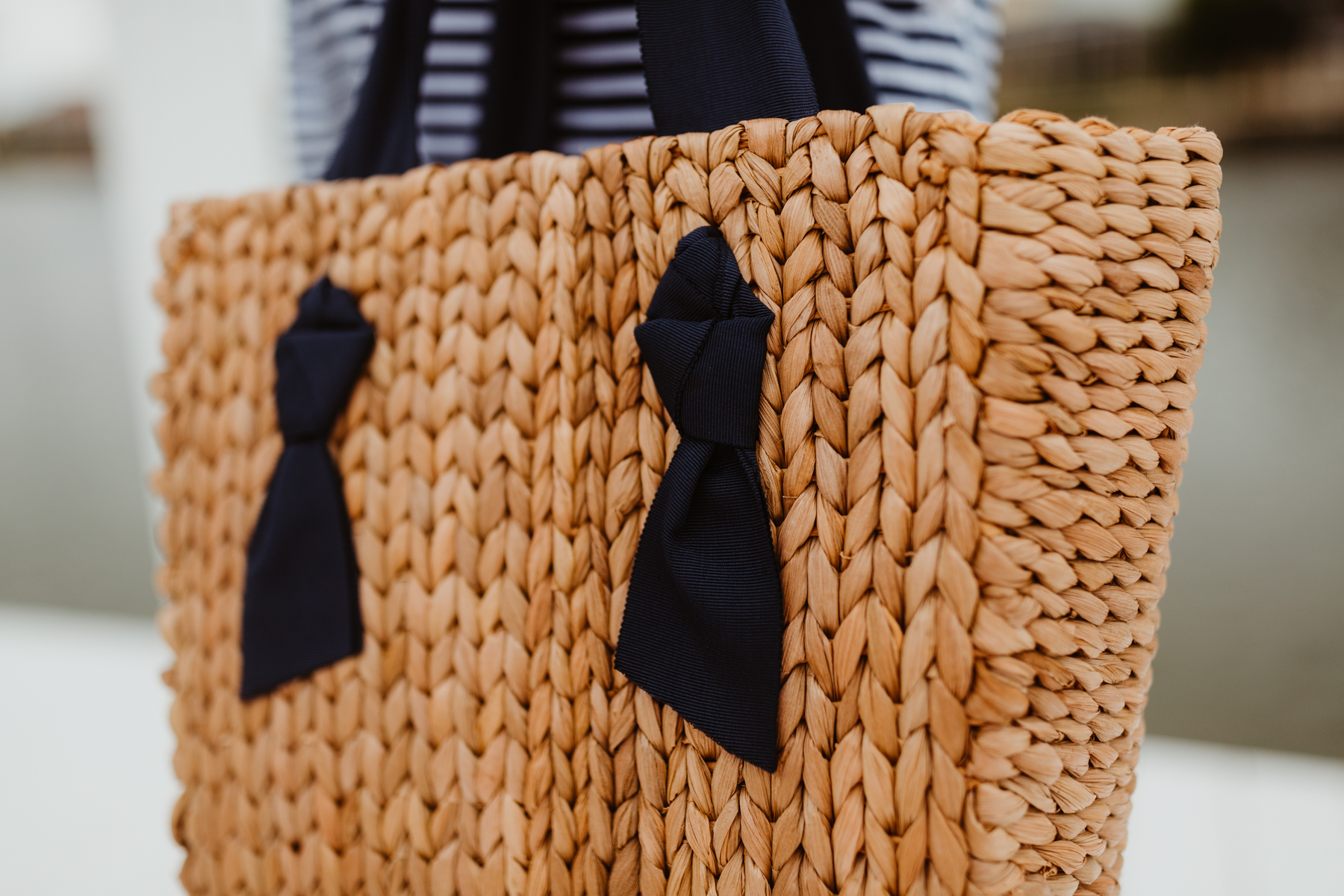 Shop the post:
Dolce Vita Sayer Mule (I went a half size up, btw. You can find them on sale via Amazon right now! Oh, and here's the bootie version, which is also on sale via Zappos and Amazon. Also available at Shopbop.) / J Brand Maternity Crop Jeans (LOVE THEM, despite the rips. First pair of ripped jeans, haha! They were just so soft and comfy. If you can do "full panel" maternity jeans, though, I would honestly suggest Old Navy's version. I LOVE the maternity Rockstar jeans! Also look into this pair from the Gap. They're GREAT, and on major sale right now.)
Sail to Sable Crinkle Cotton Tunic Top (Short-sleeved dress here; tiered dress here; tie tunic here.) / Pamela Munson Woven Tote (Full collection here. Looking for more affordable options? This is a GREAT tote; it's packable! This one is super versatile, too… and how cute is this?!) / Newer Version of my Sunglasses