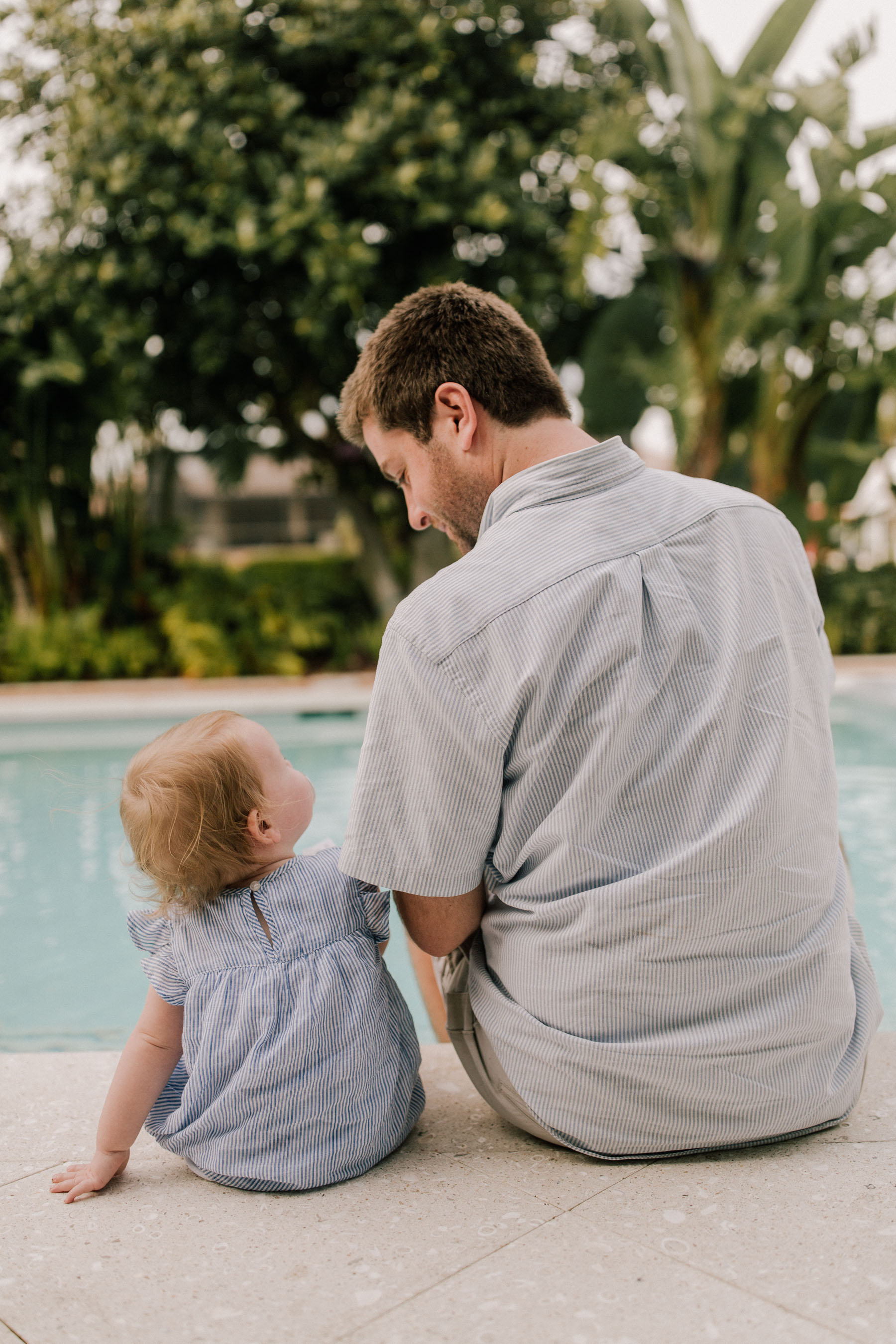 This past holiday season, Mitch and I decided that instead of giving each other traditional gifts, we'd do a family trip.
Part of it was because we were completely devoted to doing a true KonMari clean-out (update on how the first phase went is going live tomorrow!), another part of it was because we were traveling between our parents' homes and transporting a toddler's gifts is challenging on its own, and still one more part was because what we wanted most was some uninterrupted family time. :) And now the trip is finally approaching, and we're SO excited!
Why Marco Island
When we booked the vacation, I was in pretty rough shape, so we were really just looking for a Zika-free sunny place that was warm, sunny, low-key and easy. We went to Naples last year with my parents, and really fell in love with the area. Not wanting to do a total repeat, though, we looked into surrounding towns. We'd heard great things about Marco Island–mostly about how beautiful and down to earth it is–from friends, and despite not knowing much else about it, decided to book it. While I'm feeling a LOT better now, my dream vacation at five months pregnant still just includes proximity to the beach, access to a pool, being walking distance to a couple of restaurants, and plenty of playing and relaxing in the sunshine. Can you tell that I'm pumped?! Also, LOOK AT HOW PRETTY IT IS!
When we leave
Tuesday! I'm actually somewhat on top of things and relatively relaxed right now (go me!) but my in-laws are amazing and are taking Emma for the next couple of days so we can get ahead and have a true vacation. Isn't that so kind of them?! They pretty much insisted on it, and my heart grew a zillion sizes because A) Emma is so happy when she's visiting Gammy and Pop-Pop, and B) they knew how much lovelier the trip would be if we were worry-free. We love you, John and Lisa! Thank you!
Where we're staying
We actually rented a house via Airbnb! We did this while in Naples and loved it. Don't get me wrong: I love staying in hotels, and enjoy all the amenities that come along with them… and would probably opt for that if it were just Mitch and me. But unless we're staying in a big suite with a kitchen and balcony–which has only happened once, while on Martha's Vineyard with Vineyard Vines–it's kind of bummer for our little family. First, every meal needs to be eaten out, which is tough with a toddler and also tough on the wallet. Second, Emma goes to bed between 7:30 and 8:30 p.m., and that means lights out for everyone at 7:30 or 8:30 p.m. (Which, come to think about it, actually sounds nice right now, haha…)
In the past, we've literally hung out in the bathroom, chatting and drinking wine. 😂 Which, hey, was pretty fun. But having a house is so much nicer for us. We set up the pack n' play in a spare bedroom, and Mitch and I can hang out by the pool with the baby monitor while Emma naps or sleeps. We can also choose which meals to do at home and which to do out. Typically, there's access to laundry, too, which means we can travel with less. :)
What we plan on doing
So far, I've spent a grand total of 15 minutes on Pinterest, browsing guides… and Mitch has watched a couple of YouTube videos. We have this little list of potential activities going, but if you're familiar with Marco Island, we'd LOVE some advice! The more family-friendly, the better!
Visit Tigertail Beach and rent a cute striped cabana
Eat at CJ's on the Bay
Walk around the Marco Island Marriott and grab lunch or dinner there
Eat at Little Bar in Goodland Fishing Village (Apparently they serve food, too, as I have five more months of zero drinking and Emma has 19 years.)
Collect shells at the Sand Dollar Spit
See "Mary Poppins" at Marco Movies
Visit Olde Marco
Have breakfast at Doreen's Cup of Joe
What I plan on wearing
This should be interesting! As you can see, my maternity wardrobe consists mostly of winter basics, and I, in true Kelly fashion, put off ordering appropriate clothing for a warm-weather trip. I plan on going through all my summer stuff today and seeing if anything works with the bump–I know I have this Lilly dress, at least!–and I have a few things arriving tomorrow from Tuckernuck, Lilly and Shopbop. Even if I have three or four pieces, I feel like I can mix and match and get a few different outfits out of them, right?! We'll see…
Also, I lost all my summer sandals. Despite completing phase #1 of the KonMari challenge, I still don't know where they are! My guess is that they're somewhere in the storage closet, as I recently found our duvet cover in a suitcase back there. (Initially blamed Mitch, but it was definitely me and my pregnancy brain, haha.) Cross your fingers for me! I just need a pair of Jacks and I'll be good.
Things I actually prepared in advance
One thing I DID do?! I bought a travel steamer. It's actually my first steamer ever! My friends tell me that I am living in the past with my ancient iron, and that life will be better with a steamer. I held out for a long, long time… but I don't feel like ironing my non-existant clothing when we arrive in Florida, so here I am! I wonder if I'll ditch my iron altogether after this trip. (Side note: I didn't do any research, and just ordered what Amazon seemed to recommend. Do you have other suggestions? Especially for a full-sized one? Thanks!)
OH! I also Amazoned Emma some new bathing suits, since she's since grown out of all her summer ones. (You can see them in my Amazon storefront.) AND I picked up some arts and crafts to do on the plane, since that can really make or break a flight. The final step will be Amazoning some cheap beach toys as well as an umbrella to the Airbnb on Friday. And then that's it!
What you can expect to see on the blog while we're gone
Same old, same old! I'm just writing my posts in advance. :) If you'd like to request a topic, feel free!