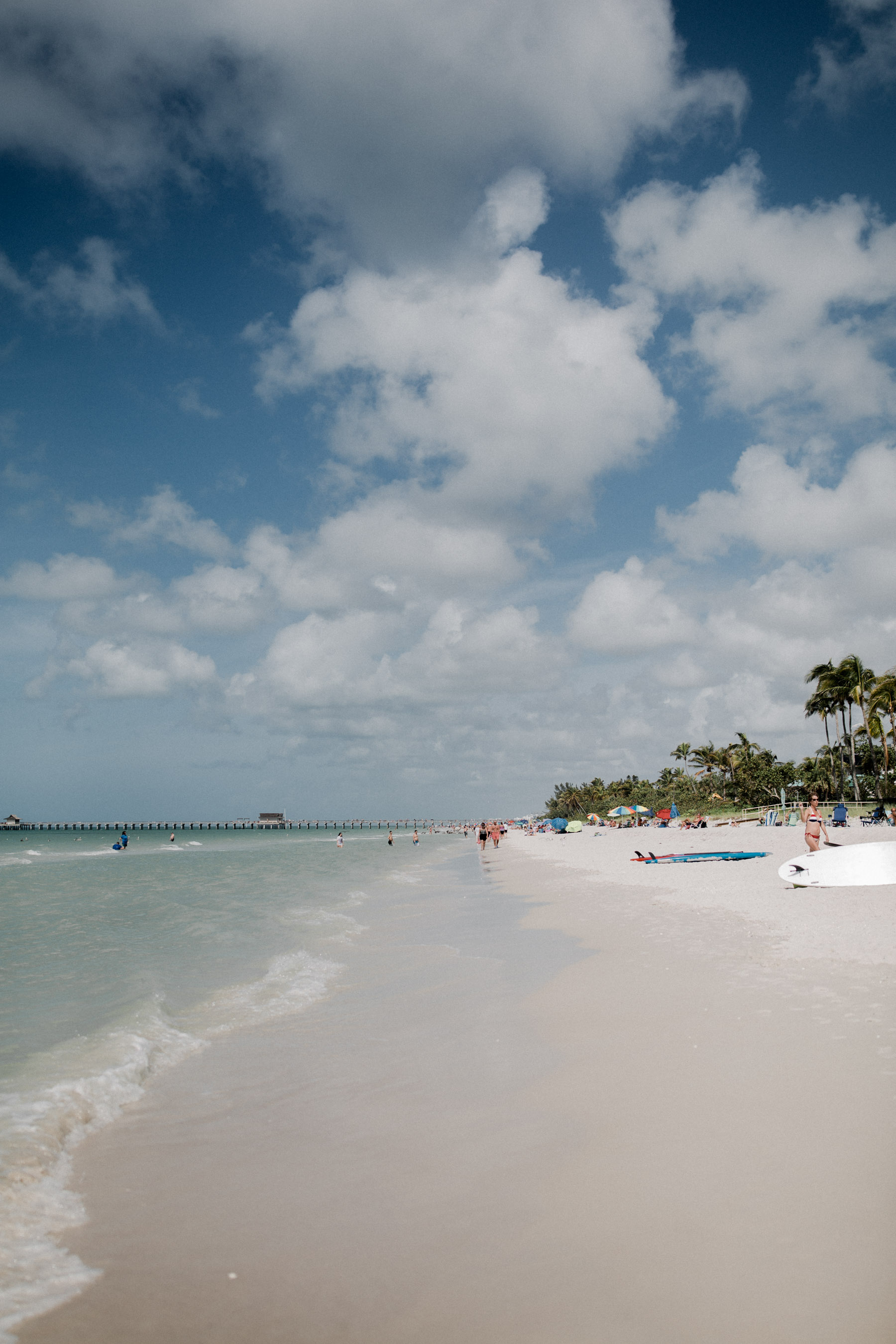 Looking for details on what we're wearing in this guide? Here are all the outfit posts from Naples!
Mitch here!
It's been two weeks since our Tropical dalliance in Naples, Florida. The tan has faded, my winter despondence has returned, and I think it's time to bust out these last few Floridian images for selfish reasons. We're expecting two inches of snow in Chicago today, and I'm expecting to close the shades and quietly sing to myself in a corner.
But enough about me!
Naples is a magical place full of palm trees, tiny lizards and white sand so fine that it feels like flour between your toes. The tiny city also boasts perfectly sunny 80-degree days and pleasant 70-degree nights in the middle of February. So there's that.
Why is it called Naples, you might ask? Isn't there already a Naples in Italy? Does the world really need two? I applaud your curiosity! Naples, Florida was named after Naples, Italy, but not in some grand Old World New Naples kind of gesture. Instead, it was named by a real estate developer who (1) bought a bunch of land and (2) successfully convinced everyone that his new land "surpassed the bay in Naples, Italy." Which, of course, it didn't… but never mind that little fact!
Naples' historical land developers still dominate the place. They literally carved up the city by dredging an intricate system of canals out of the coast. The resulting neighborhoods of Aqualine Shores and Port Royale were such successes that Naples is now home to the second highest concentration of millionaires in the country. (And then there are a lot of regular people, too.) Let's just say that this regular guy's mouth was on the floor!
Anyway, why did we go to Naples? Two reasons. The first is because my in-laws are considering getting a place there in a few years. The second is because this conversation occurred:
Father-in-Law: We want to come see Emma. When are you free?
Kelly: I would not recommend coming to Chicago in February. Let's all go to Florida instead.
Everybody: Hell yes!
Overall review: A+, and as Kelly says, her parents have definitely found their "happy place." We're excited to visit said Happy Place next year, too! Until then, though, we though we'd share where we stayed, where we ate, and what we did with you today. It goes without saying that we were only in Naples for a week, and we were there with a toddler… so we couldn't do everything. But we had a great time, and let us know in the comments what you think we should do on our second trip!
Naples: where we stayed, where we ate, and what we did
Where we stayed
We lucked out and scored an Aqualane Shores AirBNB, complete with a giant backyard swimming pool and a canal frontage. I say "lucked out" as apparently we were the first AirBNB guests to ever stay in the house and also short-term rentals are hard to come by in Naples.
Piling friends or family into a rental house is really the best way to travel, in my opinion. There's no "meet me in the lobby" in a rental house. We had a fridge full of snacks and a dishwasher full of sippy cups. Did I mention we had a private pool? Because we also had a private pool.
A rental house gets rid of all the hassle and hubbub of a hotel. For example, I can leave a giant pile of clothes in the center of my room and no one will come in and clean them up. (I realize that for some, this actually sounds bad. But I prefer my clothing in piles on the floor.) I can lay around for long stretches of time without receiving a dreaded knock on the door. I can take a nap!
Our place was perfectly walkable to the city's main restaurant drags (Third Street and Fifth Avenue) and we went out every night. (How's that for a segway?!)
Where we ate
We had built-in babysitters on this trip–thank you, Chris and Cathy!–which gave us a chance to visit many of Naples' best restaurants. I'm not a foodie by any stretch of the imagination and we all know Kelly isn't, but we were pretty impressed with the restaurant scene! And while I can't offer a complete list–thanks for all your suggestions!–here are a few establishments we visited and loved.
Barbatella: Kelly and I like to play a little game called "Highs and Lows" on the flight home in which we recount the best and worst parts of a trip. I put Barbatella at the top of my "highs." Simple (but amazing) Italian food, huge table full of family, giant baskets of bread and a plate full of olive oil… and for some reason, our great friend Kira was there. We sat outside under twinkle lights, and Emma made friends with every person in the restaurant. It was just perfect. (More pics from that night.)
The French: Before our Valentine's Day date night (again, thank you for babysitting, Chris and Cathy!), Kelly and I went here for drinks. Kelly was in heaven. I have to admit that the ambiance was downright perfect. (We didn't take any photos, but this is what it looks like.) From the music and the friendly staff to the twinkle lights strung above the tables that flowed into the street, we didn't want to leave.
Cafe Lurcat: But we did leave, because we had reservations here! Cafe Lurcat came highly recommended by almost everyone, and it didn't disappoint. Has anyone had the bread there?! Kelly says it was the best bread she's ever had, and I'm relatively certain that her favorite food is bread. But yes: sit on the balcony and take in Fifth Avenue!
Tommy Bahama Bar & Grill: If you've ever wondered why Tommy Bahama is the de facto uniform for men of a certain age, swing by this place. It's a chain restaurant with high-end pub fare and a bar with a wide selection of sugary cocktail abominations that taste like heaven on earth. But most importantly, it's a place to listen to great live music and watch people have a great night. And yes, they'll sell you a flowing Hawaiian shirt if you didn't pack enough. (All jokes aside, Kelly and I went here on the same date night and had a GREAT time. A must-go, even if it's a little touristy.)
The Continental: The toughest part of any beach vacation is the walk back home after a long day in the sun. Sweaty, sun-blocked, caked-on sand exhaustion sets in and if you're not careful, the night can get ruined. The best solution is a proper happy hour spot, and The Continental offered just that. Fancy outdoor seating with giant carafes of $5 wine was the perfect pick-me-up for that awkward time between the beach and the pool. (Here are more pictures.)
Ridgway: Without a doubt, our favorite place to bring Emma. The restaurant has a giant wraparound porch, lots of high chairs and zillions of crayons. A great family vibe, and the wait times were much shorter than other restaurants. We went twice!
Jane's Cafe on Third: Kelly's parents had a similar experience at Jane's Cafe… so much so that they went back three times. I'm not sure what they are up to, but everything tasted better at Jane's. The coffee was sharp, the chilaquiles were grande, and the fruit was rich. Maybe it's the winter air seeping back into my bones, but that fruit has stuck with me. I think I might have a vitamin deficiency or something.
Bad Ass Coffee: I mean, you're not getting fast food coffee in Naples. We went to Bad Ass every morning. The coffee and pastries were good, and all but the best part was sitting out and watching the city wake up. Which, to be honest, I usually missed because retirees tend to get up way before me. (And I have a toddler!)
The Dock at Crayton Cove: Naples is so nice that you can almost forget where you are. The Dock is much more "South Florida" than it is "Richest County in the Country," and we really loved the down-to-earth vibe. Open air dining next to Naples' City Dock with views of the bay and plates full of seafood. I can't even remember what I ate, but I spent the night looking at giant yachts and drinking draft beer. 10/10!
The Ritz Carlton: Kelly, Emma and I met Victoria from Sail to Sable for drinks at the Ritz one night. It was stunning, and I'm not sure I need to elaborate there. However, I will tell you that on our way out, the valet guy asked what car was mine, and I told him the Bentley parked off to the side. He ran to get it, and then I had to shout at him that I was just kidding; the dinged up rental mini van was mine. We all had a good laugh.
Next time: We were only in Naples for seven days, so we couldn't visit all the restaurants. But next time, we want to try Sea Salt, Campiello, The Turtle Club, Osteria Tulia, and The Bevy! (Anything else we should add to our list?)
What we did
Cruise Naples Boat Tour: I spent most of the trip looking at water. Pools, canals, oceans, etc. So it made sense that we'd want to get on a boat to be surrounded by water at which to look. (With which to look? At to look at for? For at to look for?) We saw dolphins, bald eagles, pelicans, some other weird birds, an iguana and… dozens of the most gorgeous houses in the country. Kelly is planning a Naples home tour post, but for the time being, I can just say that this boat tour changed my perception of the human condition.
Third Street South Farmer's Market: My brother runs a chicken farm in Central Illinois so I feel like I have a pretty firm grasp on what farmer's markets are like. But the Third Street South Market took it to a whole new level. There were your standard veggie mongers and sausage makers, sure. But there were also three live musical acts, a giant spinning wheel of paella, and gelato for breakfast!
Bike rides: Kelly and I took the bikes out a couple of times so we could see more of the city. I couldn't recommend doing this more. We're big walkers, but we covered so much more ground on the bikes, and were able to explore areas I'm not sure we would have found on foot.
Long walks: That said, we took our fair share of walks with Emma in the stroller. We typically walked around Aqualane Shores, to the pier, and down Third Street… but I can't overemphasize how happy these walks made us. Sun! Warmth! Breezes!
Shopping: We actually didn't do a lot of this, but I should mention that there are some great preppy shops in Naples. Gems include Lilly Pulitzer, J.McLaughlin, Sara Campbell (Kelly's aunt actually manages the store on Nantucket!), and Beth Mone Children's Shoppe. I'm sure there are more fabulous stores, but moving on…
Friends and family: This was another "high," for sure! We saw so many friends and family members while in Naples: Kira, best designer in Chicago; Kelly's grandparents, who drove over from West Palm Beach; Rachel, Kelly's friend from high school and her three boys who were all visiting from Germany; Tom, a family friend; and Victoria from Sail to Sable, and her cute family.
Sunsets on the beach: This particular stretch of Florida's coast faces west, which might not mean much to you, but it's a huge deal to the people of Naples. They treat the sunset like it's a nightly fireworks show, with signs up around town reminding people that the sun intends to set in the evening. And throngs of flip-flopped retirees with red solo cups in the sand show up right on time. I could't tell you the last time I enjoyed a sunset before this one–I guess California last year?–but we watched that sucker go down four times during our trip and each time was more spectacular than the last.
I guess a sunset description is the perfect way to end this post. With any luck, Emma's grandparents really will retire in Naples, and I'll have another post up next year correcting everything I got wrong!
Mitch. Out.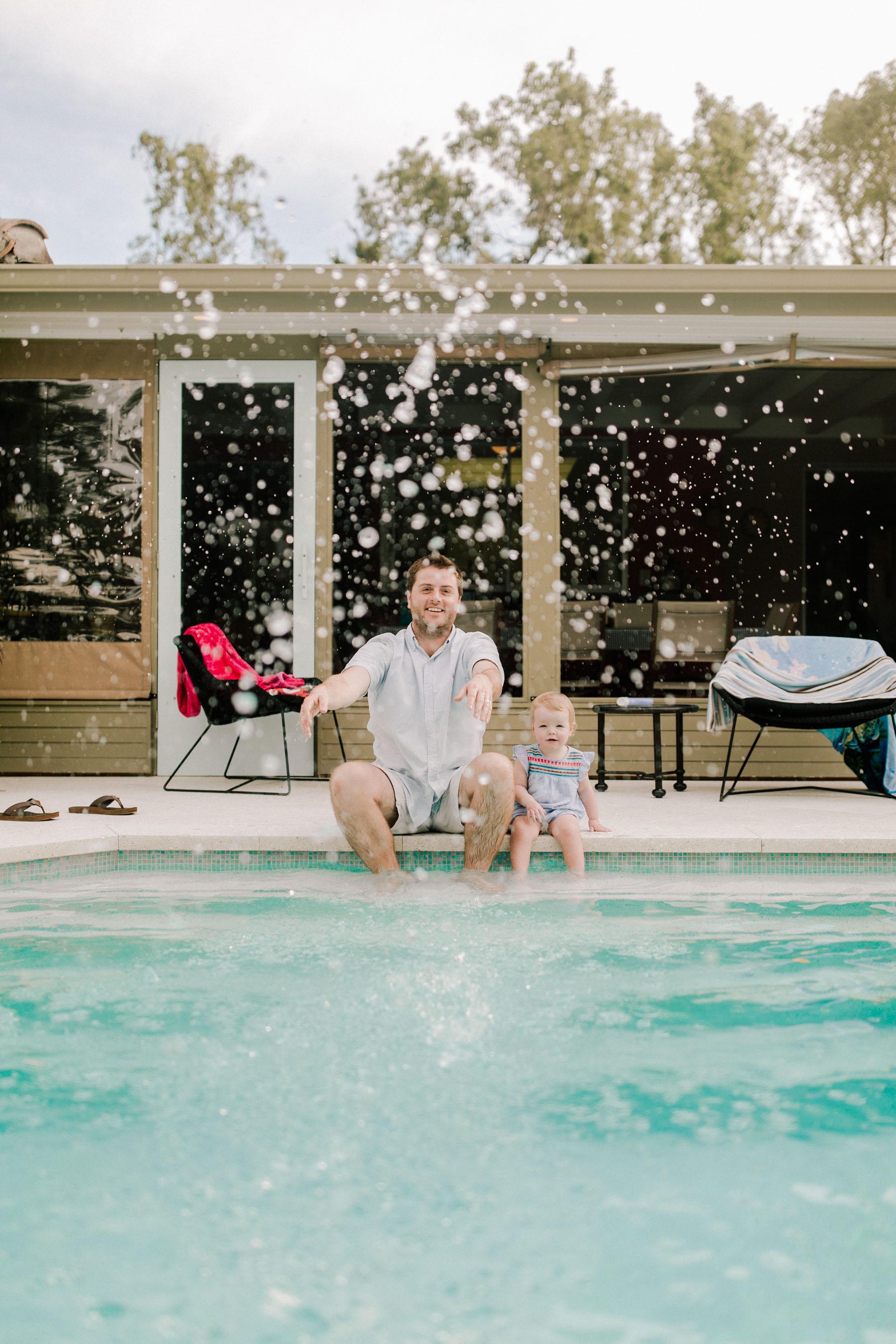 Looking for details on what we're wearing in these photos? Here are all the outfit posts from Naples! More to come. :)