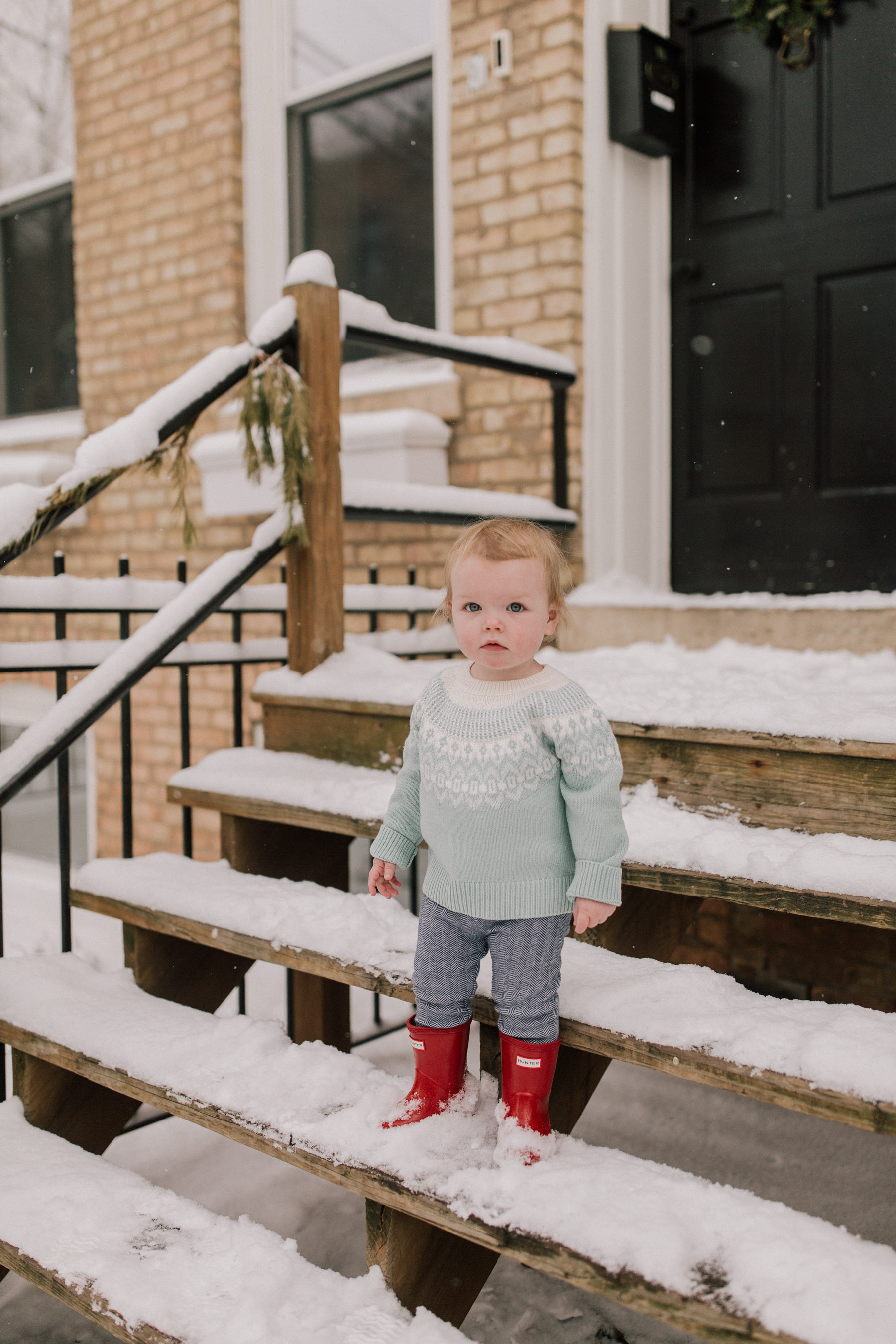 Fair Isle Crewneck Sweater / Herringbone Leggings / Hunter Boots
Note: Emma wears a giant puffer coat when it's cold! These photos were taken in under 1.5 minutes right outside our house after we'd been sitting in front of the fire for a little too long. ;)
Mitch here!
Kelly and I have lived in a combined 16 apartments since we left college. Nearly every one of them was an absolute dump. Until very recently, we were renting a third-floor walkup that had outside stairs… in Chicago. We walk by that place all the time, as it's a few blocks from our current home, and whenever we pass it, we can't help but smile. Yes, the "quaint" exposed brick walls would literally crumble in front of our eyes–one time into soup I was making–but that place is where our Chicago adventure first started. And therefore, it'll always be special.
But good lord. I'm really glad we don't live there anymore.
Buying our place was both the most terrifying and most satisfying thing we've ever done. We've learned a few hard lessons along the way:
Houses should have sump pumps, or some type of drainage system. (Remember this?)
Never, ever, ever hire contractors on Craigslist. (Remember this? Read the "Short Story" part. Ugh.)
No matter the cost, one's wife will change her mind on the rugs every year and will want to replace.
Everything breaks. All the time.
I'll tell you a quick story:
The other day, the gas man rang my doorbell out of the blue. He was there to read the meter, but smelled gas and decided to do an inspection. The inspection found that my water heater was about to blow up, my dryer was hooked up illegally, my furnace was 35 years old and about to go, and my garbage disposal was leaking water all over the place.
And this was just a random Tuesday morning as a homeowner.
But let's back up. We were ecstatic on moving day. I even carried Kelly over the threshold like we'd just gotten married or something. The place was "move-in ready," and with all the closing costs and moving expenses, we planned to hold off on any projects for a few years. Within a month, though, the basement flooded, wiping out half the house and most of our life savings. Two years later? We've completed five significant home renovations and have had a baby.
Don't get me wrong. We love this place. It was "first construction" post the Great Chicago Fire, wisely made of bricks this time. And it was, apparently, built to last… as 150 years later, Kelly and I moved in. Just imagine how many meals were served in the dining room, how many glasses of wine were sipped on the front stoop, and how many babies were raised in the nursery. And think about just how many owners neglected to put a freakin' sump pump in the basement.
😡
Haha — It's okay. I'm over it. Again, we love it.
But after all the hard work, expense, and trips to Home Depot to make the inside of the place water tight and up to snuff, we had a surprising revelation on a family walk this past year:
Woah. The outside of our house is really ugly.
Somehow we'd never seen it before!
Our house is a traditional Chicago brick townhouse, but the previous owners had painted the trim this weird aqua-marine–turquoise, maybe? (Everyone thinks I'm color blind, so who really knows.) Regardless, it was bad. But black or white?! Blue door? Red door? Black door? We just couldn't decide. One of our best friends, Kira of Kira David Design, walked us around Lincoln Park one afternoon, and showed us houses that were nearly identical to ours, and a ton of different options. We couldn't make up our minds, though, so we just had Kira make the final decision: black for everything–a classic decision and something we'd never regret. (You're amazing, KDD!)
Still, we needed more help. After all we'd been through, we needed a painting service that wouldn't let us down. As luck would have it, Paintzen offered to paint our trim, doors and railings, and turn everything from "1960s ugh" to "timeless" in exchange for telling our story, and we were like, 💃! (Thank you, Paintzen!)
Paintzen is a homeowner's dream. With them, it's all just so simple. The website makes it easy to submit your "job" for a quote–not an estimate; an all-inclusive quote!–and after a quick color consultation, the team sends over the best licensed and insured painters in Chicago to do the job right. No Craigslist necessary!
We have history with Paintzen. They rescued our nightmare of a master bedroom post-flood, and after 10 gallons of paint, it ended up looking like this! They patched every hole, caulked every gap, and even repaired the cracked walls in the closet. Before Paintzen, the room was a true disaster zone, and after, it was a beautiful, comfortable master bedroom.
Things went amazingly well with the exterior project, too. The team worked on the house for three days, but it was as if they weren't even here! They tried SO hard not to interrupt our day-to-day lives, yet did an absolutely perfect job. My wife is a tough lady to please, and Kelly loved the result.
Needless to say, I can't recommend Paintzen enough if you have a paint job on your to-do list. And you can use code "KELLYINTHECITY" for $100 off jobs of $1,000+, or $50 off jobs under $1,000.
So now that the turquoise is gone, Kelly assures me that we're DONE with renovations. I mean, I do want a wall of cabinets in our bedroom, and a new stoop, and a playroom for Emma, and a giant TV movie theater type thing in space that we don't have… but for now, we're takin' it easy. 😉
Mitch. Out.
Before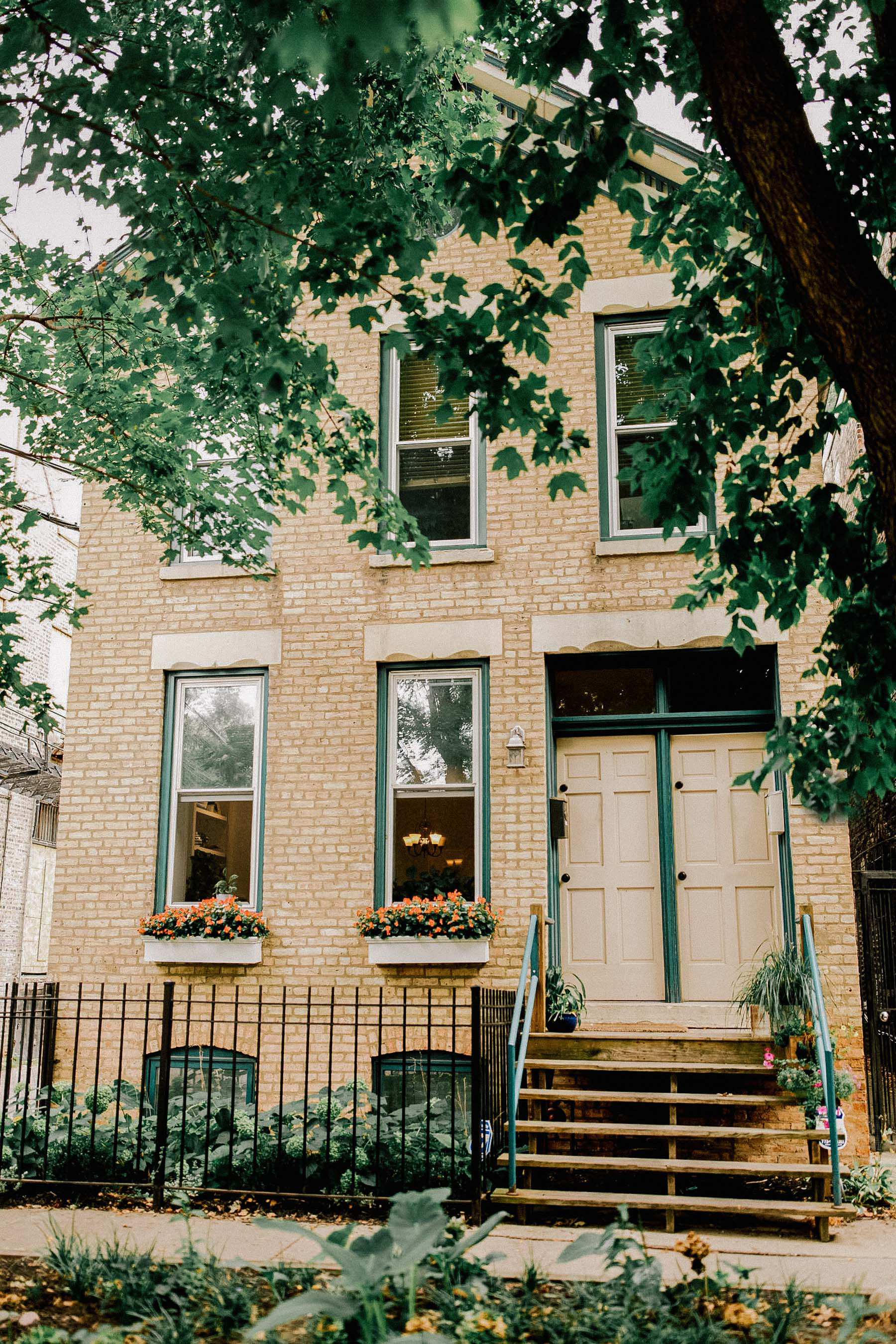 After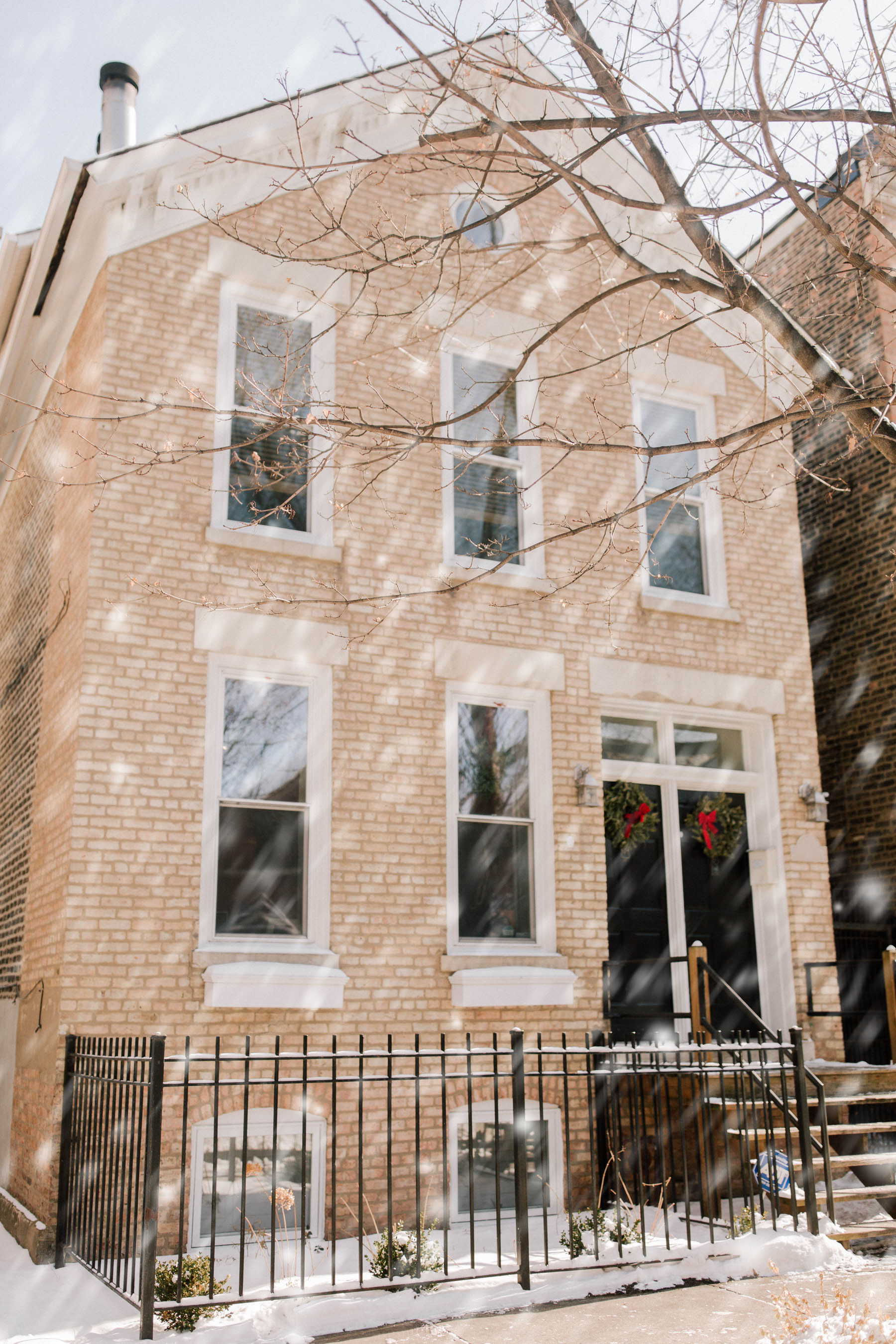 Note: this is a very common house in Chicago. They're everywhere! For privacy reasons, though, identifiable characteristics have been removed from these photos.
SaveSave