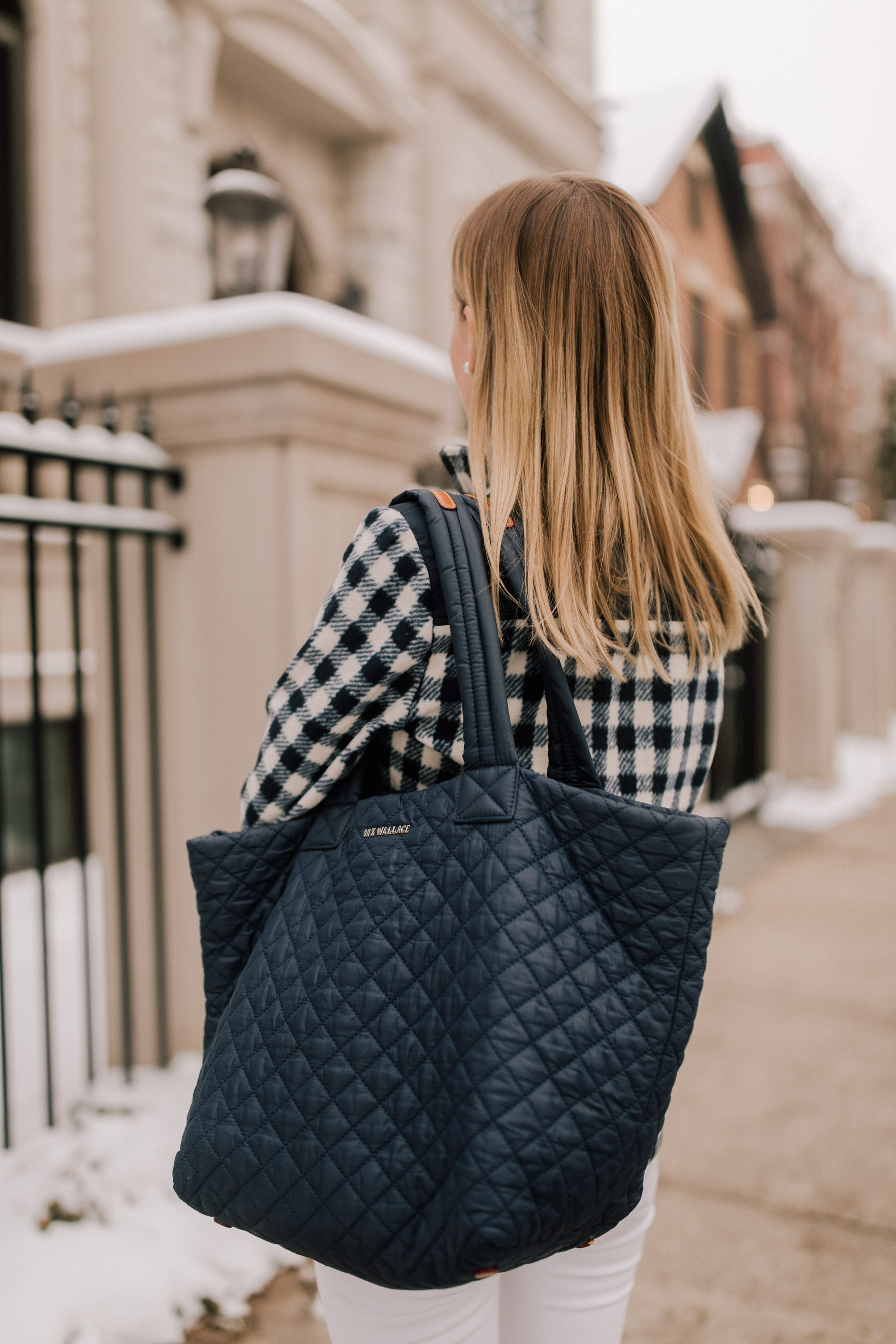 Gingham Pullover (On sale for only $26! Sizing: TTS.) / Navy Sneakers / MZ Wallace Quilted Tote (Love the black one, too!) / Rag & Bone Skinny Jeans (Also love this pair by Hudson.) / Ralph Lauren Puffer Coat / Vineyard Vines Mittens / Initial Necklace / KJP Watch c/o
Despite how horribly pale I'm looking in these photos, today is the happiest day.
The Larkins spent three whole days apart to get to this point, and in a few short hours, we'll be on our way to Florida… for a weeklong, work-free vacation!
I'm really proud of us. I think we easily could have put it off and once again said, "Oh, we'll just work while we're away," thus forfeiting true, uninterrupted family time. But instead, we bucked down and submitted all the projects and scheduled all the things. 😉 A huge thank you goes out to Mitch for doing half the work and to John and Lisa, my amazing in-laws, for showing Emma the time of her life while we prepared. You guys are the best and we love you.
The blog will be up and running while we're away, and we actually have a lot of fun posts scheduled! But we won't be sharing anything from Florida until we're back. In the meantime, though, you can follow along on Instagram and Instagram Stories for a little fun in the sun. ☺
Anyway, this is what I'm wearing to the airport today.
Talbots sent me the cutest gingham pullover for travel (which happens to be on sale for only $26!), and I love that it'll keep me warm until we get off the plane. (At which point, I will promptly tie the pullover around my waist… yet it'll still look adorable, even in Florida, because it's navy and gingham.) In case you're interested, the pullover runs completely true to size. I'm wearing an XS here, which is my usual size.
The absolute cutest. Mitch and I are "giving" each other these watches for Valentine's Day while we're in Florida, though I broke mine out a little early for these photos. They're beautiful, and they remind us of the ocean–where we were engaged and married. Love the navy, love the anchors, and love the leather band. Wouldn't this make for the perfect gift?!
Yes, they're not ideal travel shoes when your city is under a foot of snow. But no way am I lugging around snow boots for a week just for a warmer walk from my front door to the car. ;) On the flip side, I'm not a fan of sandals when flying, either… for two reasons, haha. First, way too cold, even when there isn't snow on the ground. The air conditioning always seems to be blasting on my toes! Second, I hate walking through security completely barefoot. I'm sure it's fine, but gross… and I always feel like I'm going to pick up some infection. I wear these little socks with my navy sneakers to avoid all that. ;)
On the contrary, I'm a huge fan of this tote. I know you've seen it on the blog a lot, but it's just the best. It's washable (despite the leather detailing), it doubles as a pillow for Emma, it holds a TON, and it goes with all my warm weather outfits as I usually wear navy. I have the medium version, but you can still find the navy version in the large size here. (Wondering what size to get? I'd say the large is a travel or overnight bag; the medium is a day bag. I kind of wish I had the large size for trips like today's, but I get by just fine with the medium now that Emma's a toddler and needs less stuff.)
Over and out! Happy weekend, Friends!
Shop the post:
Gingham Pullover (On sale for only $26! Sizing: TTS.) / Navy Sneakers / MZ Wallace Quilted Tote (Love the black one, too!) / Rag & Bone Skinny Jeans (Also love this pair by Hudson.) / Ralph Lauren Puffer Coat / Vineyard Vines Mittens / Initial Necklace / KJP Watch c/o