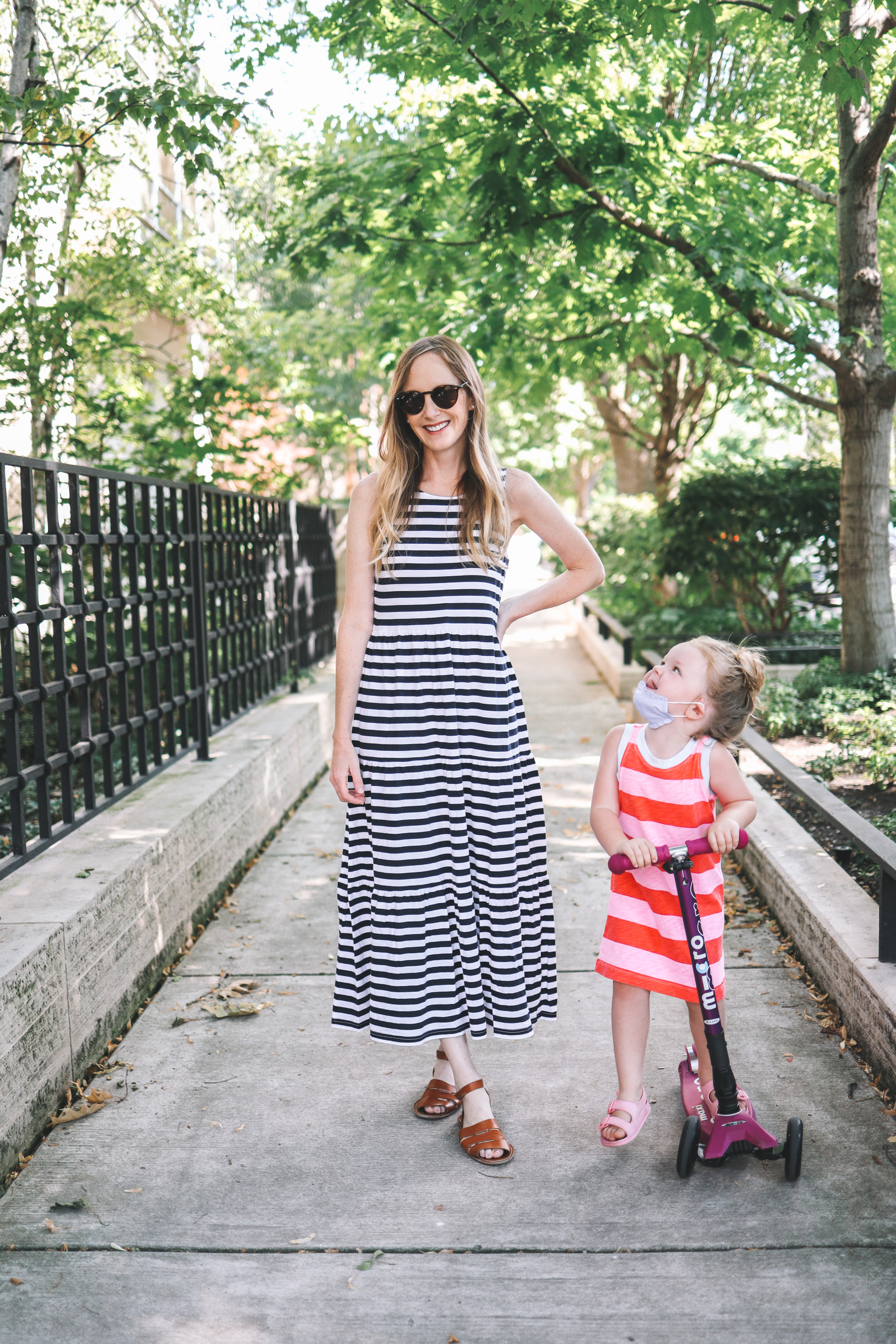 Tiered Knit Maxi Dress (Same dress in solid here. LOVE this similar solid one with lace at the bottom. Striped Midi Version Here. Also similar here and here. Also love this one. Another beautiful option here. Okay, sorry. Haha. More below!) / Similar Sandals (Also love these and these.) / Emma's Dress in Red/Pink + in Navy/White / Emma's Scooter / Emma's Sandals
How did I not realize the magic of tiered dresses until 2020?! (Don't answer that.)
Unfortunately, the striped tiered maxi dress I'm wearing in these photos is in limited supply or sold out. BUT J.Crew does carry essentially the same dress in solid and in solid with some lace at the bottom. Keep an eye out for all three, as they come back in a few sizes daily. (It's a fun game, haha!)
They tend to run a little big; they're meant to be flowy but definitely don't size up. I normally order my dresses one size up because I like roomy clothing, though with tiered dresses I always need to order my true size.
I threw this one recent morning before scooting/strolling to the park, and it kept me cool and allowed me to move and play with the girls. It's a t-shirt material, so it's very casual… but you could easily dress it up with some chunky heeled sandals, too. :) It makes a statement, for sure!
A+ from me, so again, keep checking back!
xoxo
Shop the post:
Tiered Knit Maxi Dress (Same dress in solid here. LOVE this similar solid one with lace at the bottom. Striped Midi Version Here. Also similar here and here. Also love this one. Another beautiful option here. Okay, sorry. Haha. More below!) / Similar Sandals (Also love these and these.) / Emma's Dress in Red/Pink + in Navy/White / Emma's Scooter / Emma's Sandals