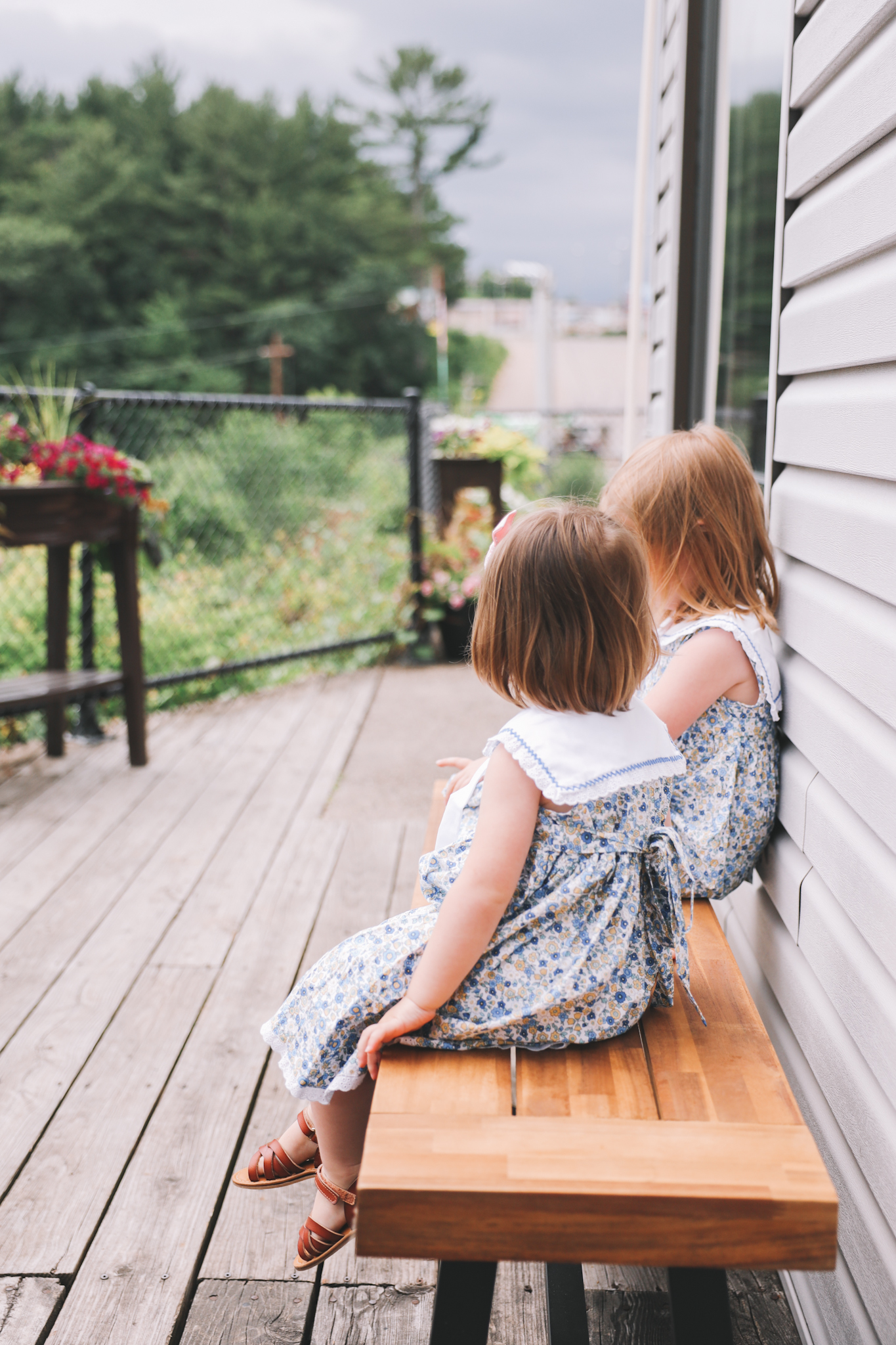 $24 Liberty of London Girls' Dresses!
Oh hey there!
Things are a little crazy over here today, because…
We're off to the Jersey Shore! I can't believe we're pulling this off. We weren't sure whether the whole family would be able to get together at my parents' home in Ocean City this year due to my brother's hospital schedule, but it happened. I won't lie; I'm not looking to do much while there. After crazy end-of-the-school-year stuff, we're in need of some serious downtime! But I can't wait to see the girls on the beach with their cousin and grandparents… and for some awesome seafood over laughs with the fam. Feeling grateful and lucky.
WELCOME TO THE WORLD, JUNE LOFTUS! Holy. Mitch and I are just so, so happy for Jess and Neal, as their first child—June Margaret Loftus—arrived a few days ago! June is absolutely precious, and kind of exactly what I thought she'd look like?! Ha! The perfect mix between Jess and Neal. Which means she's going to be my favorite human. I can't wait for all the Larkin/Loftus girl play dates, and for many happy years together. We love you guys!
I stocked up on kids' travel activities for the plane. Here are some favorites:
Emma is really into the BTS song "Dynamite" and it's cracking me up. Her friend Mackenzie is very into it, and so now she is, too. Side note: Emma keeps asking when Taylor Swift is coming to Chicago. I can't wait to bring her to a show!
Sephora beauty find: BareMinerals Complexion Rescue Tinted Moisturizer: AMAZING. If you're looking for next-to-zero-effort makeup routine this summer, this Complexion Rescue stuff is pure magic. It has SPF in it, which is very important for this Irish Girl… and it insanely makes my skin look brighter and more awake. When I need to look extra nice, I layer it with this Bobbi Brown foundation. You can also find BareMinerals Complexion Rescue at Nordstrom.
Here are the week's best-sellers:
"One home project per day" update:

I washed Emma's duvet cover. Is there anything worse? I mean, getting it back onto the duvet is just such the struggle, haha. But I did it. And everything looks so clean. I'm happy.
I ordered a kitchen faucet. We ordered another one from Rejuvenation, but were pretty unhappy with the quality. Ended up going back to our favorite very affordable brand. You can also find the faucet via Wayfair!
I set out bee traps on the deck. Woo-ee. The bees have become a problem as we live behind several restaurants. But the traps seem to be working!
I washed all my summer dresses, and said farewell to a few. My project this year was to have zero tubs for clothing storage. I just wanted a closet full of basics and my all-time favorites—the stuff I reach for again and again. Summer dresses were the last piece of the puzzle, and I'm happy that I now only own the ones I adore.
I cleaned the kiddie pool. UGH. Pretty sure we need to go the chlorine tablet route, because our pool gets slimy even after one use! Any recommendations?
I replaced our dishtowels. Yikes. Not sure how it happened so quickly, but all of a sudden, I was like, "YUCK." Ha.
I picked up every room in the house so that we come home to a clean and orderly home. Very proud of that. Of course, we have our painter staying here while we're away, because he's finishing up a few projects. So we'll see how clean it stays. ;) Though pretty sure he won't be making huge messes with toys. So that's something.

We're really struggling with temper tantrums over here. I wouldn't say that we're at our breaking point… but we're close. And I know it's just phase. Breaking out ALL the strategies, but in the meantime trying to remember that this too shall pass…
We went to the Wisconsin Dells for a little getaway with the state of Wisconsin last week. WOW. We were on Lake Delton, and it was so, so beautiful. The villas are such a dream, and come with their own little private beach! Highly recommend if you're in the Chicago area and looking for a quick family getaway.
Etsy seller of the week: Fantaisie Kids: Okay, seriously. Run, don't walk, to this seller's shop. Lots of Liberty of London dresses for a STEAL. The girls are wearing this $24 dress in the above photo.
Amazon beauty find: Kate Somerville Eradikate Acne Treatment: I need to admit here that I recently went to the dermatologist and went the whole prescription route for my angry skin. However, this was the best over-the-counter stuff I tried in 2020/2021! Really does take care of problem spots overnight. (And yes! Will report back in a few months about my skin, but I like to be overly cautious with posts about prescriptions since every person's needs are so, so different and my knowledge is very limited. Talk to your doctor.)
I got to see my friend Danielle over the weekend! She happened to be in Lincoln Park when a tornado warning came through. It was scary, but she and her daughter Margot zipped over quickly and the girls got to safely play in the basement for an hour while the weather passed. Can't wait for our next REAL playdate!
We also got to see our friends Bradley and Peter, and their kiddos. So lovely! During the pandemic, we saw them every weekend. (They were our bubble family.) But over the last few weeks, schedules just haven't aligned. Was really awesome to finally get together and catch up. Love that family so much, and feel blessed to have them in our lives.
Blue Lizard sunblock has been saving us. My friends Nicki and Natalie recommended it for Lucy because we'd been having so much trouble with her cheeks! No matter how much SPF 80 sunblock we'd apply, they'd still get burnt. But Blue Lizard fixed everything. The stick is particularly amazing!