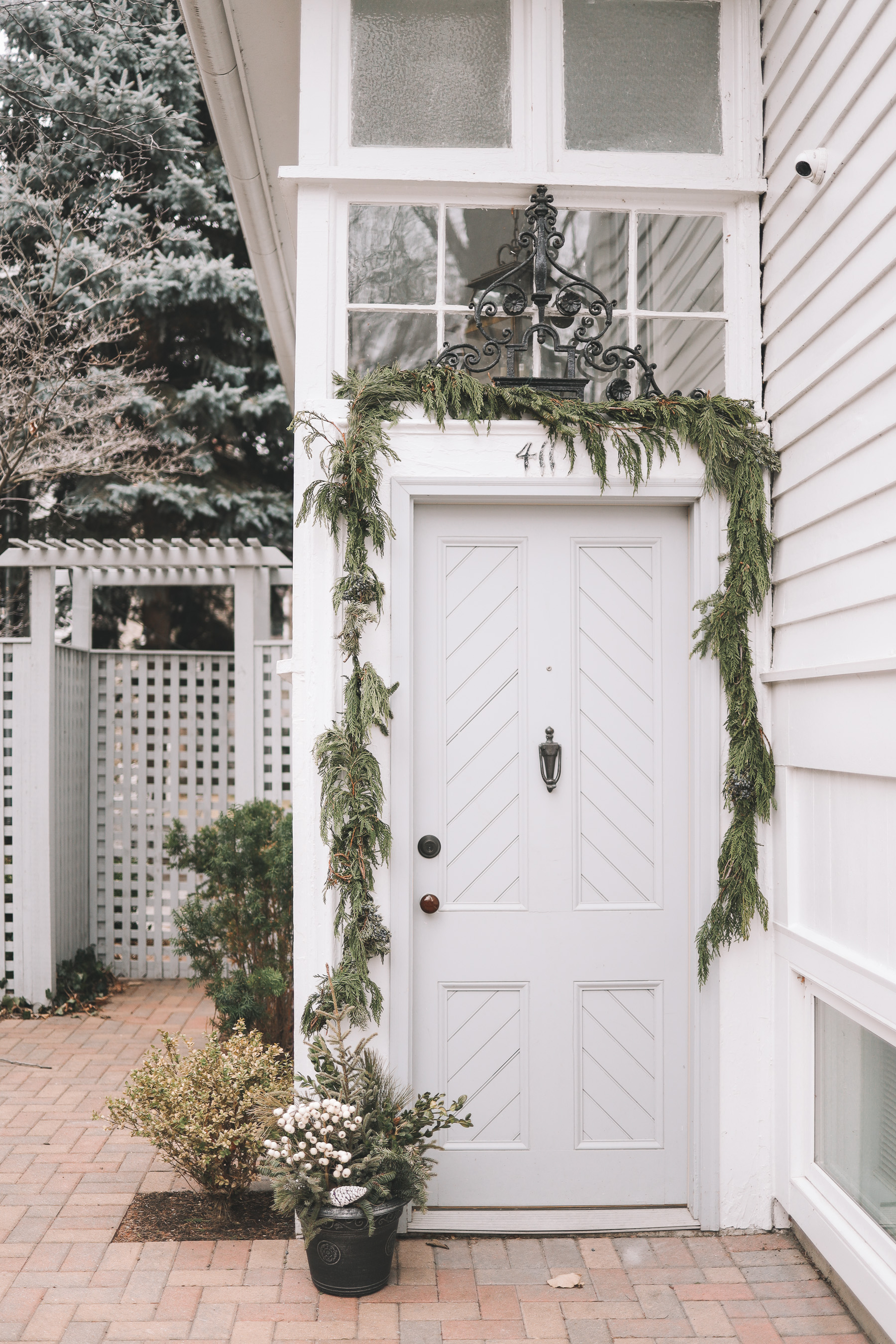 7am Stroller Footmuff / Baby Jogger City Mini GT2 Stroller / Bear Hat / Snood / Patagonia Jacket / Dachshund Face Mask / Barefoot Dreams Hat / Patagonia Hoodie / Solid J.Crew Chateau Puffer Jacket and in Navy/White Combo (Full review here. Wool version here and girls' version here.) / Sorel Puffy Boots
Still at it with my "Happy Walks," as I've been calling them. ☀️
This one was a cold one, though! Temps were in the 20s this day, and we just barely lasted an hour. But we did it!
I'm kind of loving that there are still touches of winter cheer in Lincoln Park. I know I've said this before, but I so wish that we could de-Christmas-ify yet keep some of the magic. I don't know; maybe take down the red but leave up the greenery and twinkle lights? Until, say, March? 😉 I mean, just look at the above photo! The owners decorated so beautifully, yet it doesn't scream "holiday" to me.
Honestly, I think we need to introduce a new holiday. In Chicago, at least. 😆 We could even keep it simple and just go with a winter wonderland theme. Somebody make this happen for me, haha.
Anyway. I thought I'd highlight one of the best purchases I've ever made: The 7am stroller footmuff. IT'S GREAT. Of course, if you live in a more temperate location, you likely don't need this. But it's ridiculously cold in Chicago from January to March (and sometimes April and May), and I finally bit the bullet–mostly for peace of mind and so I could stop fighting the mitten battle.
I love the thing so far. With my favorite stroller, it takes all of 20 seconds to "install," as the straps poke right though. (No taking apart the stroller!) It's also lined with faux fur/shearling… and it zips right down the middle for easy access. Finally, if your kid throws a fit and refuses to wear her mittens, you can rest easy because they're still encased in that faux fur/shearling stuff. Granted, they're still a bit exposed, but I checked several times throughout our walk, and Lucy's hands were never cold to the touch in the slightest. Huge win!
The one thing I'll say is that it's probably best to throw your child's boots below the stroller, as life within the footmuff is toasty. But that's not the worst thing! I suppose you wouldn't even need to bring them if you didn't have plans of taking the baby/toddler out! Oh, Chicago living…
I have to mention here that I'm astounded by how much less I hate the winter now that I have (much of) the right gear. I'm still on the hunt for great heated mittens (which I've deemed necessary since I have Raynaud's Disease) and actually warm fleece- or shearling-lined leggings. So if you have any suggestions, please let me know!
In the meantime, please enjoy these very chilly looking photos. :)
Sending warmth!
Shop the post:
7am Stroller Footmuff / Baby Jogger City Mini GT2 Stroller / Bear Hat / Snood / Patagonia Jacket / Dachshund Face Mask / Barefoot Dreams Hat / Patagonia Hoodie / Solid J.Crew Chateau Puffer Jacket and in Navy/White Combo (Full review here. Wool version here and girls' version here.) / Sorel Puffy Boots