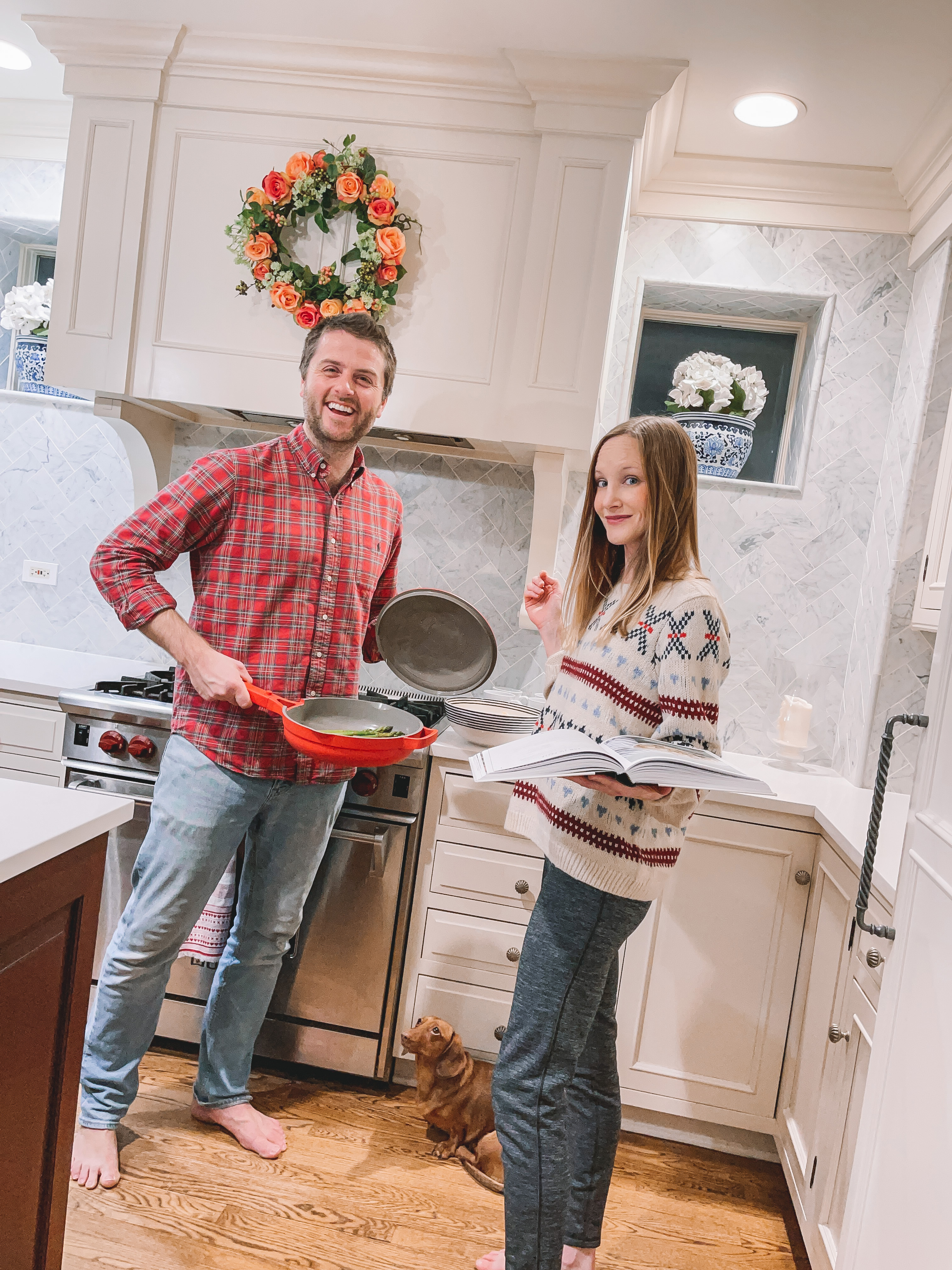 Use code "KELLYINTHECITY10" to take $10 off your Always Pan order!
GUYS! A while ago, the company Our Place sent us its Always Pan, and I was pretty excited. So many friends have raved about it this past year, and with so much stay-at-home time, I've been doing everything I can to pare down our belongings and simplify. The Always Pan, our friends boasted, is the do-everything pan; the only pan you'll reach for in your day-to-day life. Minimal cleanup, clean lines, and functionality like whoa. I have to admit that I was kind of sold before the thing even arrived.
And then it arrived.
And I fell deeply in love. 😉
So let me tell you why I love it.

Why I love the Always Pan
It's multifunctional. It's not just a frying pan; it's an eight-in-one! It's a fry pan, sauté pan, steamer, skillet, saucier, saucepan, non-stick pan, spatula, and spoon rest. (Goodness, I wish I'd owned this when I lived in New York!)
It's non-stick but actually nontoxic. THAT'S HUGE! It's formulated without Teflon, lead, cadmium, toxic metals or other potentially harmful materials.
The cleanup is so easy. While Our Place says you can scrub it down with a sponge, I've yet to have to do that. Thus far I've simply wiped or rinsed it clean with a little bit of dish soap, and voilà! Good as new within 30 seconds or less. I use it every day these days, and I have approximately zero time to scrub or fuss over anything. So that's very impressive! (Note: Our Place suggests not placing the Always Pan in the dishwasher. If you refrain from doing so, the non-stick surface should last for years and years!)
It's beautiful. Seems like a silly thing, but I don't mind whether it's left sitting out! It's lovely looking. And when I see someone else's Always Pan sitting out on their stovetop—say on social media—I'm like, "Nice pan, Girl!" Because there's just something about it. It's designed to look nice, not messy, in the kitchen.
What I made with the Always Pan in this post
Can I tell you something? I used to love cooking. I did it very often in New York, before life got very busy. This past year was obviously the worst, but of course there were a few good things that came out of it… and one of them, for me, was spending more time in the kitchen. It was a reminder that cooking is actually something that brings me joy; something that's calming. For a little while, I can step away—as long as Mitch is okay with bringing the kiddos down to the basement—and into my own little world. I turn on the tunes, maybe pour myself a glass of wine, and get creative.
This year, I even went so far as to buy Joanna Gaines' cookbook. ME! I know. And so my first cookbook meal with the Always Pan came from that: The Bowtie Pasta with Baby Kale (or Spinach)—guess which one I chose 😆—and Sun-dried Tomatoes.
SO GOOD!
Here's the deal, though: Mitch and I did everything with the Always Pan. Every. Single. Part. We boiled and drained the pasta, sautéd the garlic, made the cream, and toasted the walnuts with the Always Pan. We even steamed the asparagus, which was the side, with it.
All in, it took us about a half hour to prep, make the meal, and clean up. We sat down to dinner without tons of dirty dishes in the background. Mind-boggling! And the meal was so good. We were able to cook the food exactly as directed, and everything came out perfectly! It was a truly fun and enjoyable experience.
Our Place has a new colorway that recently launched called "Heat." (It's what you see in these photos!) It's a set that comes with a bamboo steamer, built-in spatula, stainless steel steamer basket, and cooking chopsticks. Inspired by the success of the 10,000 Abilities Always Pan—the company's best-selling Lunar New Year pan—it's back by popular demand. (The product sold out in one week on pre-sale last year, and Our Place received hundreds of requests to bring it back!)

Other products
Our Place also carries drinking glasses, side bowls and main plates. (And if you want to buy the steamer/cooking chopsticks, you can do so here!) I love the minimalistic lifestyle they embrace—the stacking capability is awesome!—and the fact that the drinking glasses are so kid-friendly. (They're big enough for an adult but small enough for a child's hands, too. Super functional.) You can also choose from several sets if you're just starting out or looking to upgrade your kitchen game. I'm personally a big fan of the "Dinner for Four" set. Love that you can choose all the colors; typically sets don't let you do that!
Discount code
Use code "KELLYINTHECITY10" to take $10 off your Our Place order!
In collaboration with Our Place; all opinions are my own. As always, thank you so, so much for supporting the partnerships that keep Kelly in the City up and running!
Remember: Use code "KELLYINTHECITY10" to take $10 off your Always Pan order!