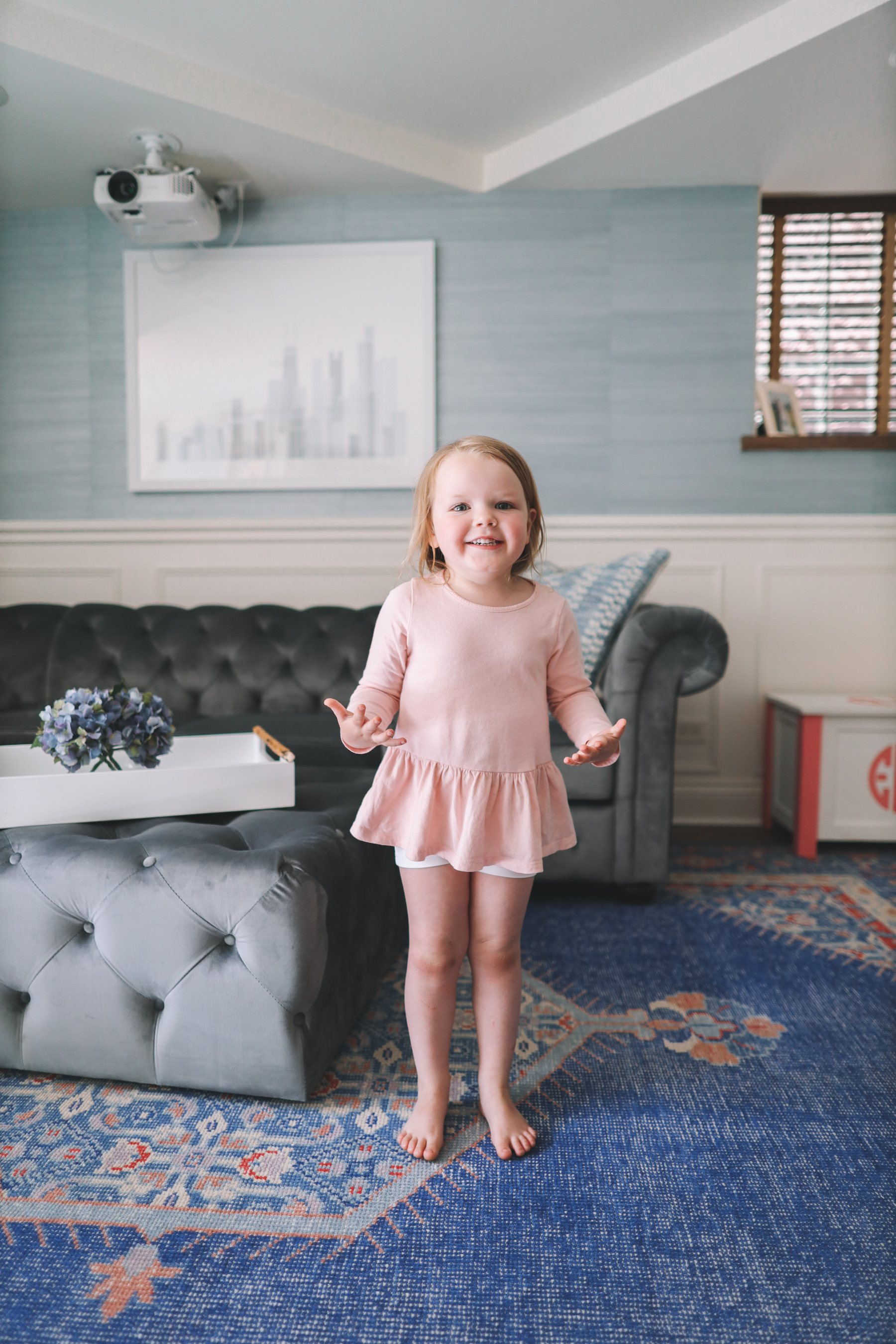 New Furniture c/o The RoomPlace / Samoa Robin's Egg Grasscloth / Decor and Accessories
Mitch here!
We love living in an old house; its charm really makes it feel like home. It's also very unique! It sits on a shorter-than-average Chicago lot, which is why it was built "up" rather than "back." The untraditional floor plan was actually one of the leading reasons we loved the house so much; it's great for our family because we both run small businesses from home and need that separation of work and living spaces. That said, the configuration does present a few tricky design challenges–namely finding furniture that works!
A big project this past year has been the family room/playroom area, where we spend a TON of time. If you caught our renovation post, you know that it's in the basement, and it has lots of nooks and interesting angles. When we first moved in, we put our dark leather family room couches in there. But as much as we loved them in our condo, they didn't exactly give off a playroom vibe and they didn't fit the new space, either. One couch was too long, and when we removed it, we found that we didn't have enough seating. (Especially when we had company!) The basement is also somewhat chilly, and the leather didn't add much coziness. We realized pretty quickly that we'd need to find a sofa that was durable, functional, comfortable and highly customizable. And some major toy storage options while we were at it!
In case you're wondering, we put the leather couches in my office! I like having another place to sit while working, and the room can now function as an extra room for (future) guests or sleepover parties.
When The RoomPlace–known for its awesome affordable furniture and custom sectionals–reached out about designing a room in the new house together, we were so excited. With all the other home projects we had going on, spending weeks searching for the perfect playroom furniture just wasn't in the cards. But the RoomPlace had an incredible online selection, and the site was super easy to navigate. We ended up finding the perfect sectional within about 10 minutes! Though I should note that they also have fantastic chat and texting customer service capabilities (with real humans at the end of the line!) available 7 days per week from 8 a.m. until midnight. So if you're like us and can only get stuff done after you put the kids to bed, you're in luck. :) I should also mention that The RoomPlace is following strict in-store procedures regarding cleanliness and social distancing, so you can rest easy if you want to see the furniture in person at your local store. (Ours is in their biggest showroom in Lincolnwood Town Center!) For those not as willing to venture out, theroomplace.com is a great option. The company offers no-contact delivery on request, and contact-less pickup from their Distribution Centers, too.
Here's what we picked out:
Kelly and I were initially reluctant to consider a sectional, and in retrospect, I have no idea what we were thinking! A sectional sofa is the perfect piece of furniture for the space. It's great for private fort-building sessions and large Frozen II viewing parties… and comfy for sprawling out during family movie nights.
It also FITS! To provide a little context, the room is cut in half by a giant storage closet. We did toy with the idea of removing it, but there were some structural limitations that would have made for additional interesting angles. 😂 And who gets rid of a storage with young kids?! Luckily, though, the  Barrington Gray Velvet 7-Seat Sectional was easy to customize. We configured it so that it was short on one end and very long on the other. (Love that the pieces are interchangeable, too. So if we ever wanted to rearrange, we could!)
A nice story: When we got the sectional into the playroom, The RoomPlace delivery guy suggested that we swap out a piece to make the couch even more functional and aesthetically pleasing. We loved his idea, and he handled the exchange the SAME DAY. It was so nice, and really spoke volumes about the company!
And let's talk about durability. The sectional is made of gorgeous kid-friendly velvet. We've had the couch for a few months now, and both girls have spilled on it several times. And yet it still looks brand new, largely due to the fact that everything seems to bead and wipe right off the velvet! It's fantastic.
The Chesterfield design is also very much in keeping with our traditional style, yet it doesn't come with the traditional price tag of most Chesterfields. 😉 (And Chesterfield sectionals?! Don't even get me started. They're normally exorbitant. 🤯)
At first, we were stumped about what to do for a coffee table, as we didn't want to worry about the girls getting hurt. But the matching Barrington Gray Velvet Ottoman is big, comfy and amazingly safe for babies and toddlers. It can easily be rolled away to provide extra space for play sessions, or it can be repositioned for extra seating. What a game-changer. Versatile and functional, and a place to put your coffee when you're on the struggle bus in the wee hours of the morning.
Again, our house is very traditional, and we've been trying as hard as we can to find pieces that fit that style. Kelly and I were shocked when we found The RoomPlace's Naples line as it looks like it was specially crafted for our house. The Snow White color matches our trim perfectly and the pieces even have the same dentil moulding found all over the house. (Crazy! It's almost as if the line was specially made for our house!)
We chose the Naples Bookcase and Dresser for big time toy and book storage. The dresser holds all of Lucy's toys, as they're on the smaller side and fit perfectly in drawers. And we put a couple of Hudson & Canal Rowan Table Lamps on top to fill out the space. They're gorgeous, and they provide a great feeling of warmth–something most basements could use!
We use the bookcase for books and larger toys. (We ordered some storage cubes for it but they sadly didn't arrive in time for this shoot. Will update you with the new look soon, though. They'll make things look a lot neater!) We love how substantial it is; it's the kind of piece you keep forever because it's so sturdy and timeless.
A certain wife of mine is rug crazy and she jumped out of her seat when she saw this Surya Zahra Rug. She actually said that it tied the room together, which made my day. But I do agree that it's the perfect rug for this space! The colors make it fun while the Persian design makes it classy. Couldn't imagine anything better.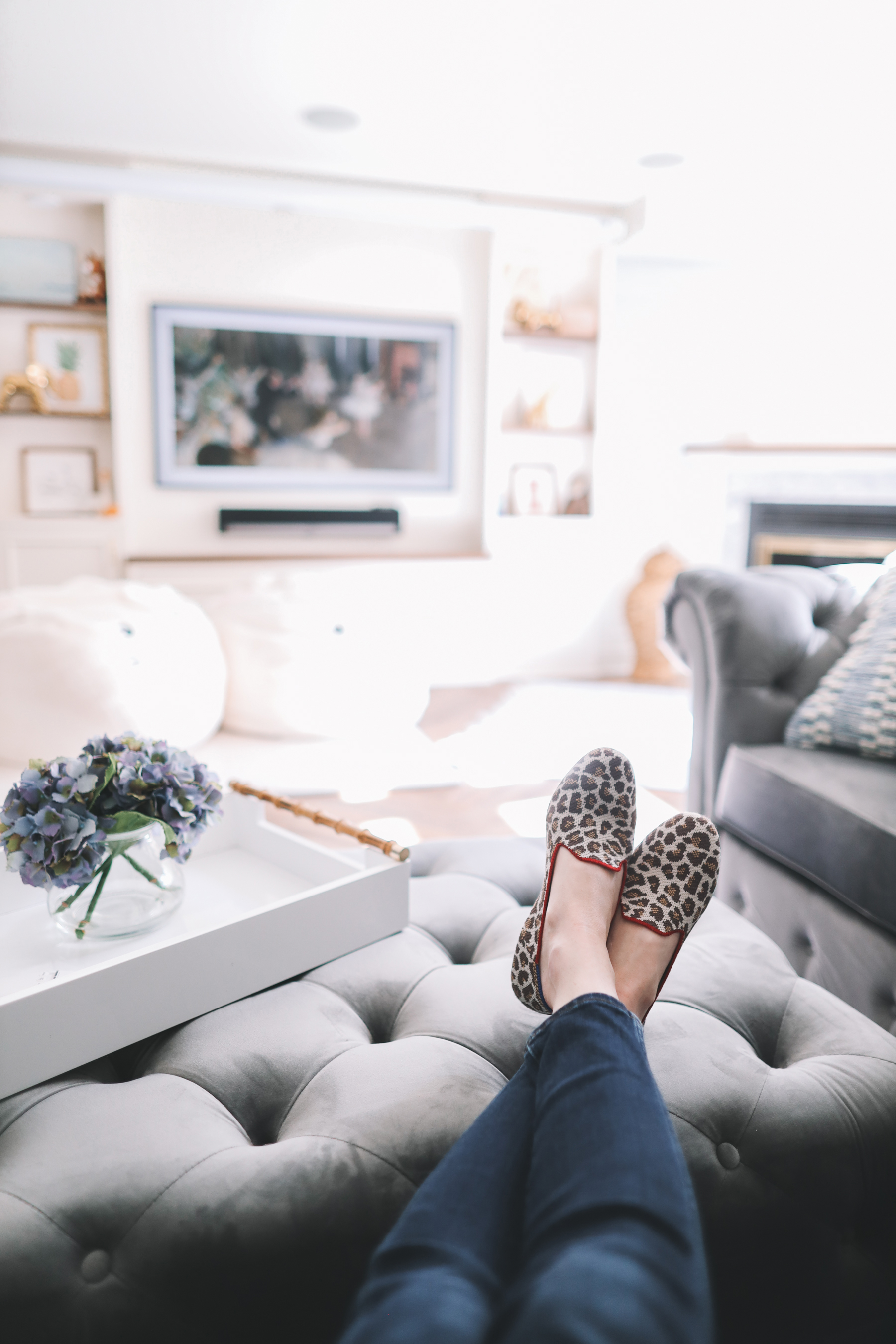 We feel very lucky to have such a versatile room in our house. It's made these long days at home more enjoyable and it helps to contain the avalanche of toys that comes along with having two imaginative little girls. :) Every night, Kelly and I spruce the place up and plop down on the sectional for a quick breather or show. We like being down in the basement… and that's something I never thought I'd say!
Mitch. OUT!
In collaboration with The RoomPlace; all opinions are our own. As always, thank you so, so much for supporting the partnerships that keep Kelly in the City up and running!