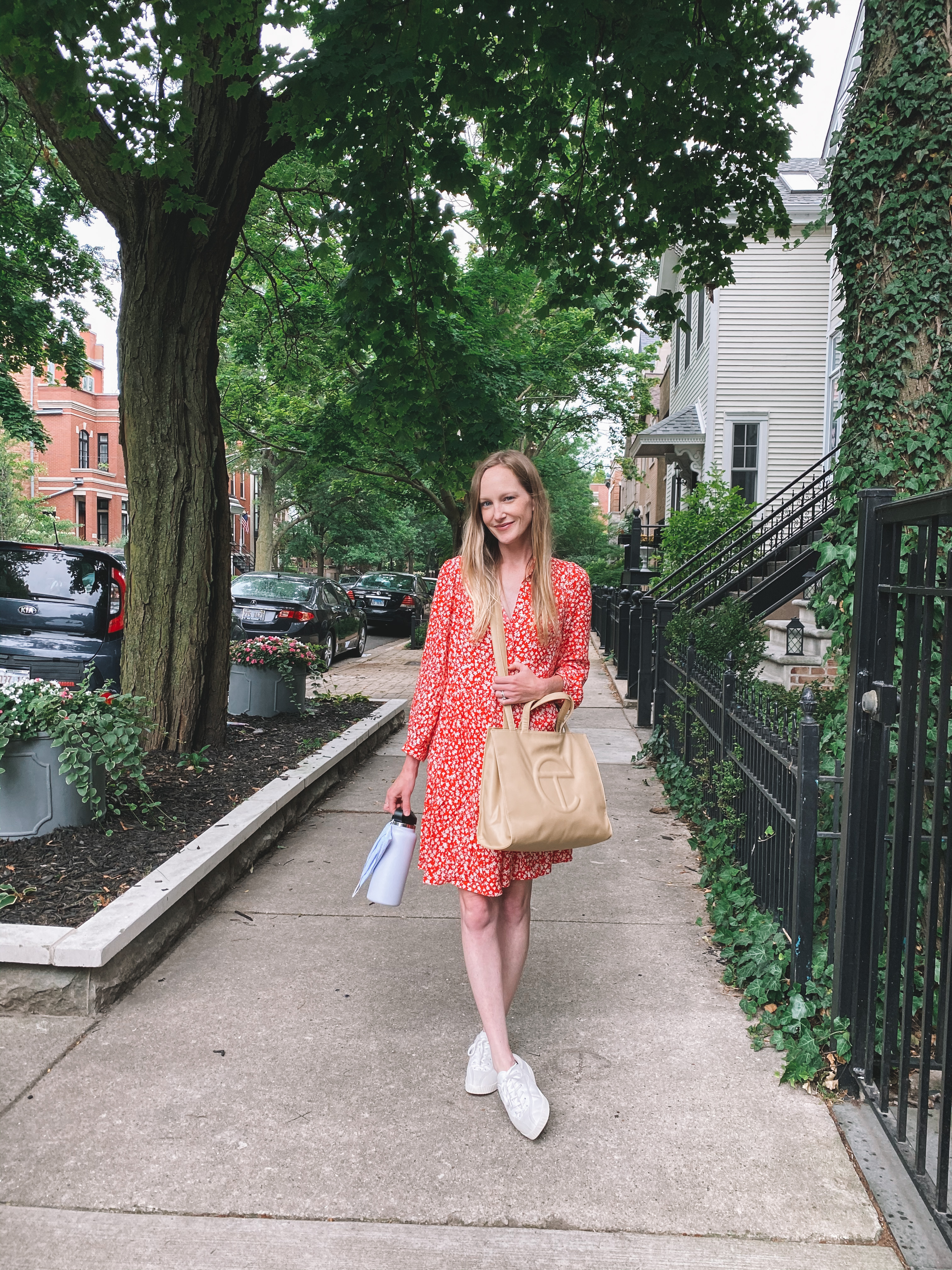 Little Red Dress ($26 with code "GREAT." It's flowy and generous; order your usual size.) / Tretorn Sneakers / Telfar Bag (Here's my full review!) / Water Bottle
This is me after getting caught in the rain. Again. 🙈
Darn daily Chicago thunderstorms.
But quick PSA: This adorable little red dress is on sale today for only $26 with code "GREAT." It's awesome. It's made out Lenzing Ecovero Viscose, which is a drapey, super-flattering material that's sourced from responsibly managed forests and produced with up to 50 percent less water and lower emissions than conventional viscose.
In short, you can feel good about buying it… AND IT COMES OUT OF THE WASHING-MACHINE WRINKLE-FREE. It's light enough to wear on 95-degree days (as shown in these photos, haha), the quality is fantastic, and the print disguises stains from little girls. There's even a little ruffle around the collar! It's also easily dressed up or down. (Kind of feelin' the dress-and-sneakers look these days!)
Okay, I've gotta abruptly stop here because the Larkin Family household is pure chaos right now and Lucy just started screaming. Such is pandemic life! But we're off to cruise the Riverwalk in downtown Chicago and I'm psyched. Have a great Thursday, Friends!
Shop the post:
Little Red Dress ($26 with code "GREAT." It's flowy and generous; order your usual size.) / Tretorn Sneakers / Telfar Bag (Here's my full review!) / Water Bottle