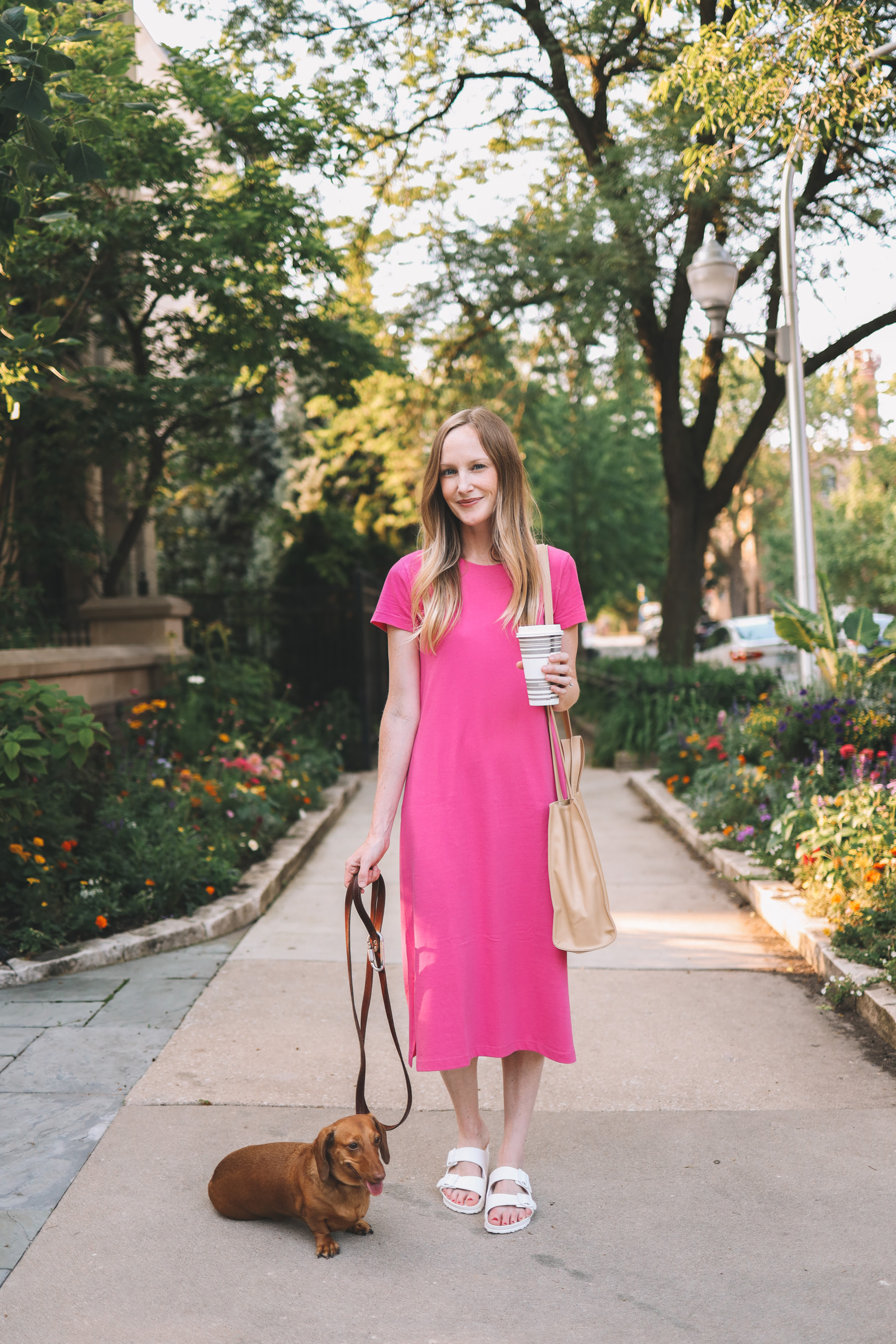 Midi T-Shirt Dress ($29.75 today with code "GREAT." Here it is in stripe. This is another great one, and check out Factory's shorter version, too.) / Telfar Bag / Waterproof Birkenstocks (Size down. Fully in stock here! Also available here, here, here and here. Cork-soled white Birkenstocks here.) / Similar Sunglasses here, here and here
I've made a pandemic outfit post COMEBACK. 😆
Truth:
The only reason I have outfit photos is because while Emma was at "Camp Gammy," we took Lucy on the loveliest, calmest daily walks–and it was so easy.
In general, everything was easier, haha. Of course, we missed Emma SO much. But wow. It made me think back to my first year of motherhood–when I was super inexperienced and extremely overwhelmed.  If I only could have transported my current self to those times; what a cakewalk that would have been! 😜
But yeah. It was great! Emma was thrilled to be with her grandparents and cousins, Mitch and I were able to give Lucy our undivided attention, and we simultaneously slowed down and caught up on chores. And then we reunited feeling energized and refreshed!
Pausing, though, to talk about this dress. (50 percent off today with code "GREAT.") It's another awesome summer 2020 basic that I have on constant rotation because it's so cute and flattering yet casual and easy. The other option is this dress, which is also 50 percent off today.
Both dresses run a little on the larger side, so I sized down in both and the fit was perfect. The midi one also comes in black, periwinkle and stripe. And the shorter one comes in yellow, black, white and pink. Check back often if you can't find your size; the dresses are frequently restocked. And remember to use code "GREAT" to get that discount!
PS: My favorite waterproof Birkenstocks (only $45!) have been restocked here. And here's my Telfar bag review!
Over and out, Friends.
xx
Shop the post:
Midi T-Shirt Dress ($29.75 today with code "GREAT." Here it is in stripe. This is another great one, and check out Factory's shorter version, too.) / Telfar Bag / Waterproof Birkenstocks (Size down. Fully in stock here! Also available here, here, here and here. Cork-soled white Birkenstocks here.) / Similar Sunglasses here, here and here