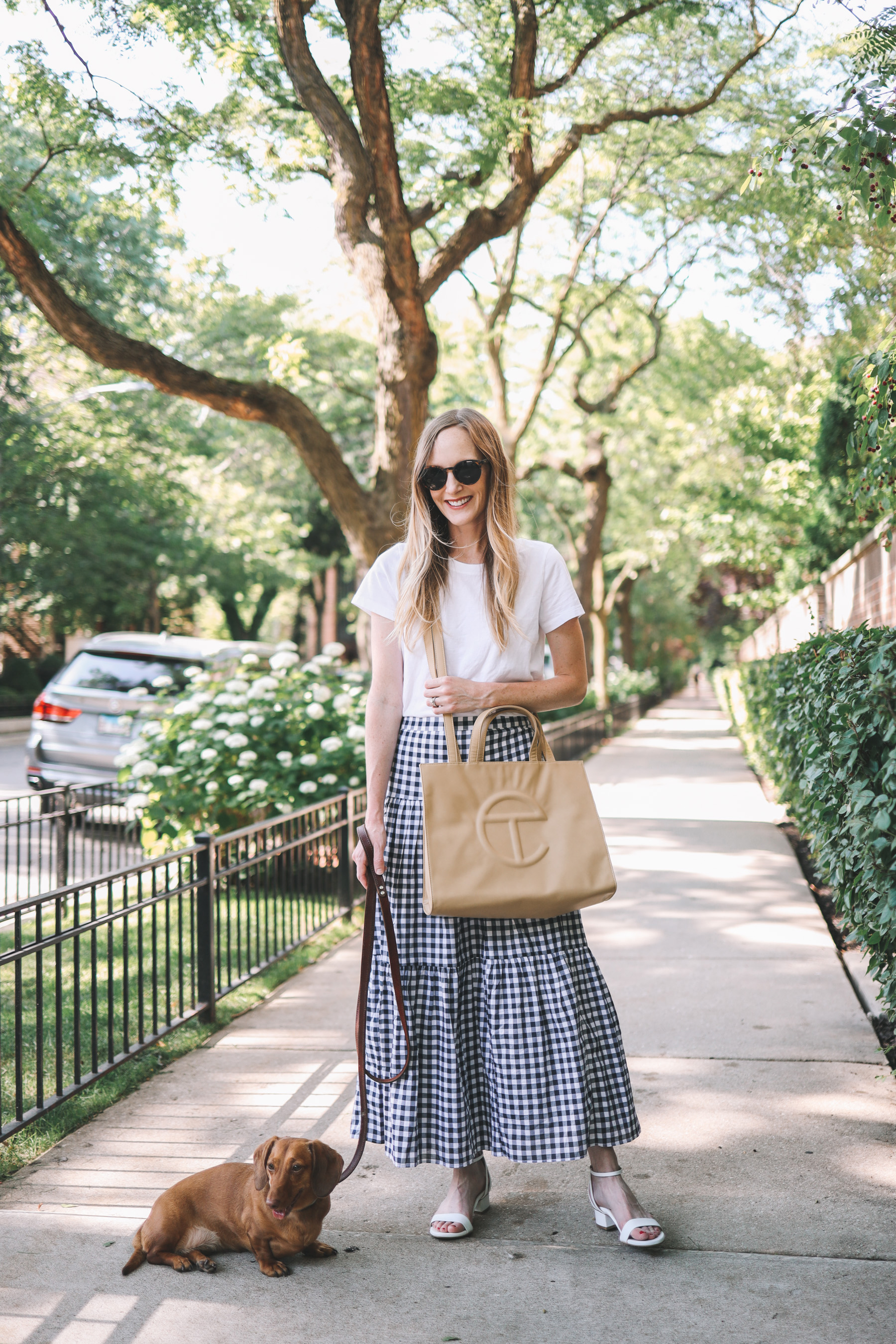 White "Essential Tee" / Gingham Skirt / Telfar Bag / Sarah Flint Sandals c/o (Use code "SARAHFLINT-KELLY" to take $50 off your first order!) / Similar Sunglasses here, here and here
My parents are here! (Hence the wacky post times. Sorry about that. 😜)
We're having a great time.
They drove from Pennsylvania to Chicago, and packed their own food in a cooler to minimize exposure during the trip. (They did have to stop a couple of times to use the restroom, but boy did they have a plan! Gloves, masks, and hand sanitizer… and in and out extremely quickly.) It went really well overall and we're just thrilled to finally be together. Six months is a long time! The girls are ecstatic.
(I initially wrote "elastic" and I'm cracking up over it.)
More about their trip later. :)
Today, I'd love to direct your attention to my new bag! It's by Telfar, a Brooklyn-based Black-owned company that's focused on turning gender and identity ideas upside down. Their clothing and bags are all unisex, and their slogan is "Not for You, for Everyone."
I loved this bit about the brand that appeared in The New Yorker:
He said he thought that Telfar could take its place among other American "life style" brands that sell the basic clothes that everyone wears—Polo Ralph Lauren, DKNY, Calvin Klein. He would be able to make clothes that ranged in size from extra-extra-small to extra-extra-large, that people in the Midwest would be able to buy. He would show that ubiquity did not have to mean monotony. It could also be noticeable. "I'm American," he said. "There's no reason this can't work." —The New Yorker
(The "he" refers to designer Clemens Telfar.)
Made out of vegan leather, the Telfar Shopping Bag is what you see in these photos, and it's undoubtedly the company's most popular product. (In Brooklyn, many people call it the "Bushwick Birkin." Love that!) Its genderless design was inspired by Bloomingdale's shopping bags, which I love because my first apartment in New York was a couple of blocks from the department store. I lived in squalor there and had cockroaches as roommates, haha, but happy memories anyway!
There are three sizes available: small, medium and large. The small is sized more like a purse, the medium is what you see in these photos (a "day tote," if you will), and the large feels like an overnight or weekender bag. (It could also be awesome for someone who needs to cart around a lot of stuff. During my photography days, I could definitely see myself using this to transport my gear!) I ordered both the medium and large, and went with the medium. It's very big, and holds everything I need for the day!
As for the prices, they're very reasonable considering the demand. (The bags apparently fly off the "shelves"!) The small bag is $150, the medium is $202, and the large is $257. And don't despair if all the bags are currently sold out. Telfar restocks and introduces new colors on the first Friday of the month. So you definitely CAN get one; just mark your calendar!
The bag itself is awesome–and it's great for moms. The crossbody straps allow me to be hands-free, and the medium-sized one (which I have) fits a 15-inch laptop. There's also a large zipped interior pocket, nice for storing smaller things.
Anyway, I really love it, and it's already become a basic staple in my wardrobe. Just the other day, this really cool-looking young guy called out across the street to me, "I love your Telfar bag!" And I was like, "Omg. Am I cool?" To which Mitch responded, "No."
It's fine. 😆 I will likely never be cool, but I do have a cool bag. And I'm good with that. ;)
Shop the post:
White "Essential Tee" / Gingham Skirt / Telfar Bag / Sarah Flint Sandals c/o (Use code "SARAHFLINT-KELLY" to take $50 off your first order!)/ Similar Sunglasses here, here and here