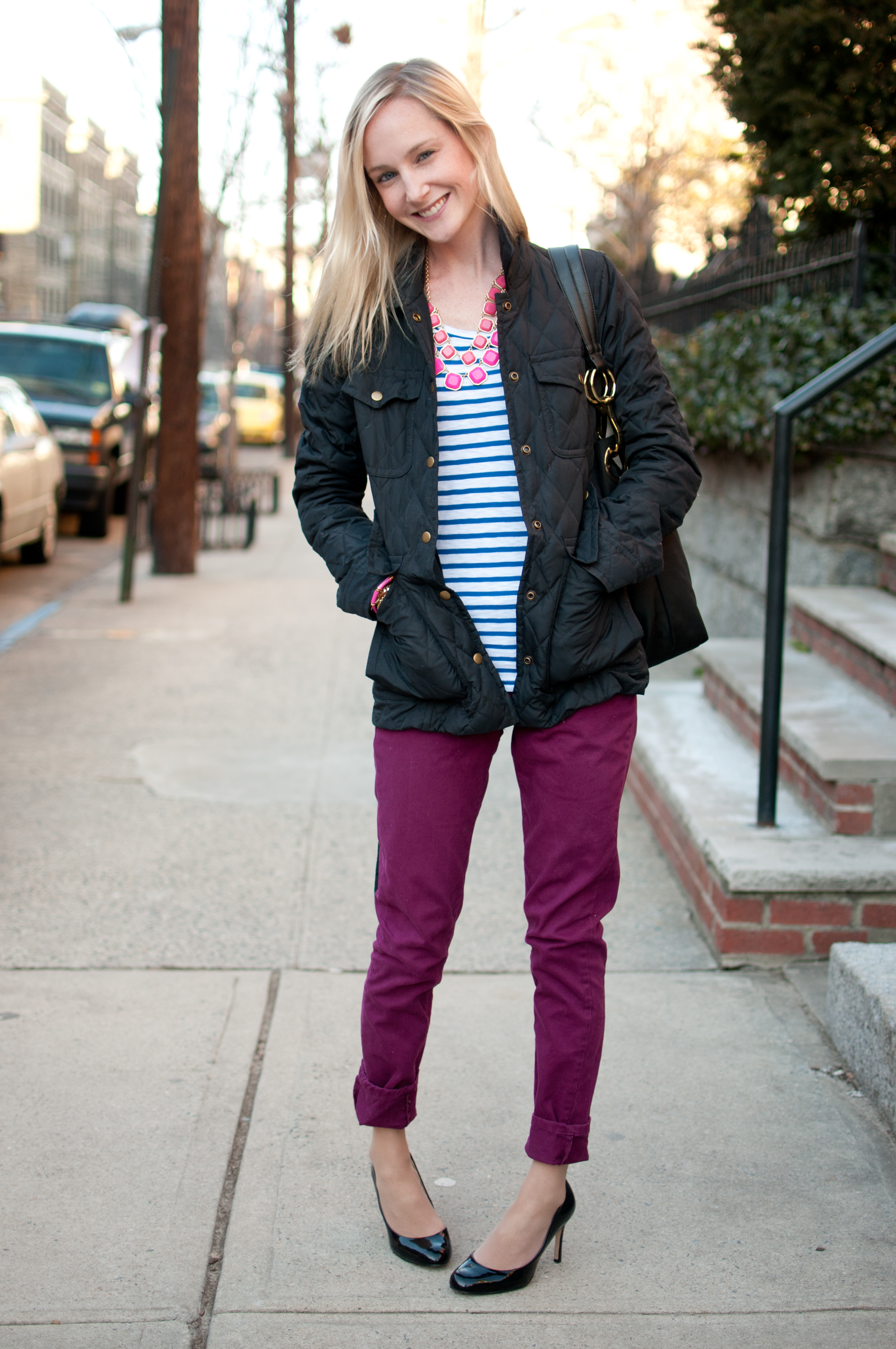 Jacket: J.Crew Factory / Pants: Joe Fresh (similar here) / Shirt: J.Crew Factory (similar here) / Cashmere Cardigan: J.Crew / Pumps: Ann Taylor (similar here) / Watch: MICHAEL Michael Kors / Leather bracelet: Soho street vendor (similar here) / Bangle: J.Crew (similar here) / Necklace: Kate Spade (similar here and here) / Earrings: J.Crew / Bag: JPK Paris
Spring, you can't come soon enough.
If you live in the New York City metropolitan area, you've more than likely had it up to here with this frigid weather! Sometimes I really feel like I'm a mole, traveling mostly underground via subway just to avoid the awful cold. Well, today, I said to myself, "enough is enough." Bring on the bright colors and pep! If you smile more often, you're more likely to be happy. So if you wear warm-colored clothing and jewelry, you're more likely to be warm, right? RIGHT? ;)
My burgundy pants (which strangely appear purpleish in these pictures but I swear are burgundy!) are a winter staple, but taking a little inspiration from an old J.Crew summer model pic (see above), I threw on a chunky hot-pink necklace over a striped top to spice things up. The pants—and I'm sad about this–I bought too large. But what I've been doing lately is rolling up too-big pants/jeans and wearing them boyfriend-style. Only seems to work when I wear pumps, but that's a-okay with me!