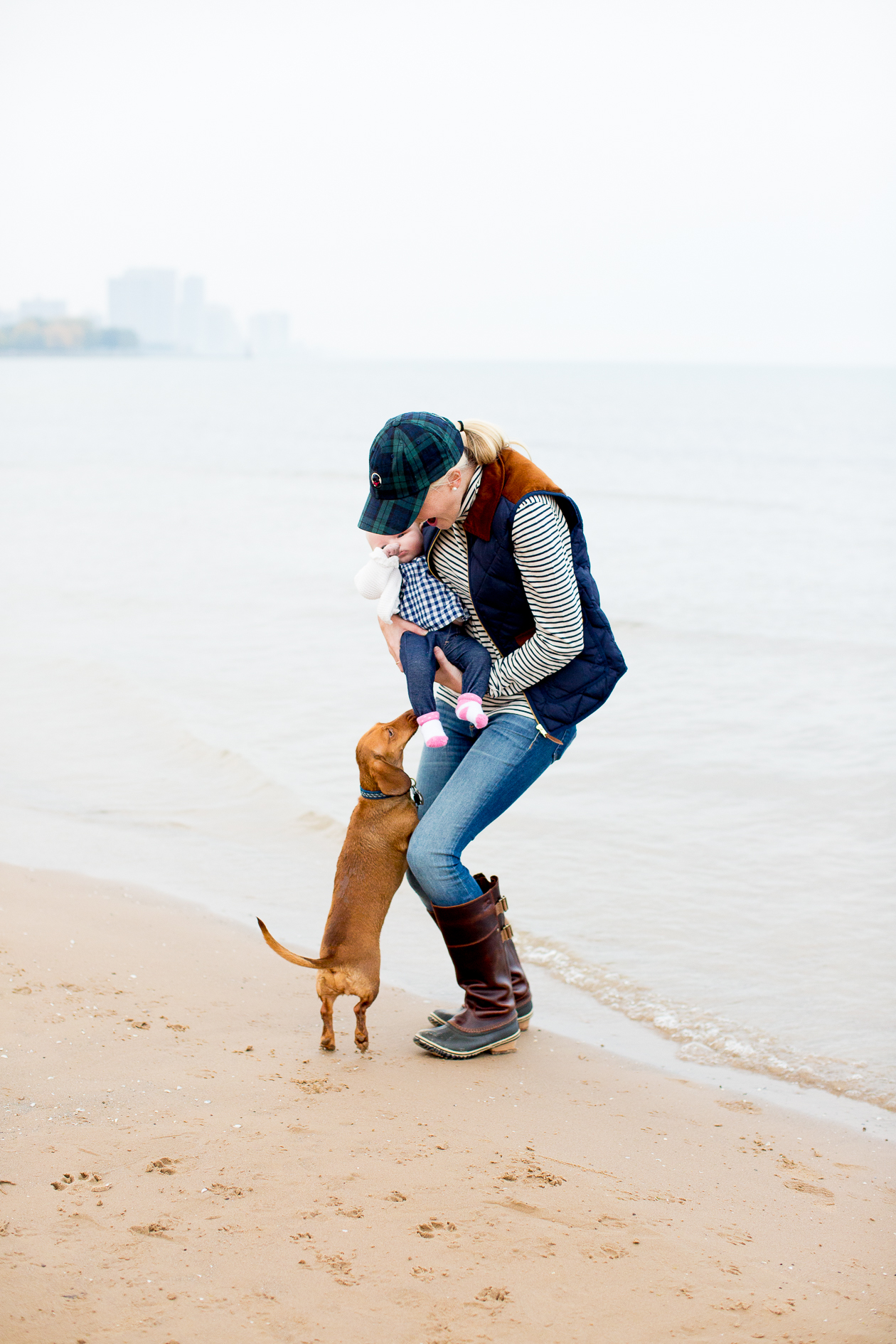 This post was sponsored by Zappos.com, but all opinions are my own. As always, thank you so much for supporting the partnerships that keep Kelly in the City up and running!
SOREL Boots c/o / J.Crew Striped Turtleneck (also love this one and this one) and Vest (On major sale! Regular version — Furry version) / Rag & Bone Jeans (On sale! Best jeans I own! Run TTS and don't stretch out.) / Southern Proper Hat c/o / Emma's outfit is from Baby Gap

Our little family has had some amazing weekends lately. We've been so good about reserving days just for our little unit of four (Noodle included), and I can't tell you how much I've loved it. I actually teared up on Montrose Beach last weekend when these photos were taken. As we were playing, I realized my mouth hurt because I was smiling so much. It was one of those moments, you know? Everything was perfect. And yes: I realize how ridiculously sappy and hokey I'm about to sound. But amidst the craziness of our lives right now, it's so lovely to look past the mounds of laundry and all the late-night work sessions and the running around and the overflowing email inboxes… and appreciate the fact that while we may not have it all together, together we have it all.
Okay, stopping before I make myself cry again. ;)
But a note about my look: I'm wearing the most awesome boots ever. Back when I moved to New York fresh out of college, I remember having dinner with my dad at Patsy's on 60th and Third. It was the middle of winter, and I was complaining to him about how cold I always was–specifically how cold my feet were, as I was doing so much walking in the city. (I also have Raynaud's, which definitely contributed to this!) Anyway, Dad immediately told me to buy SOREL boots. He told me that when he was in the Air Force in Plattsburgh, New York, all the pilots wore them, and that they were incredibly warm. So despite having a grand total of like $500 in my bank account, I went out and bought a pair. And I never looked back. ;)
While a solid 10 years have passed since that dinner, I still wear those boots. They're crazy warm and super comfy, and they honestly look like they're brand new. Isn't that insane?! These SOREL Slimpacks are my second pair, and while I always thought I could never love another pair of winter boots, I do. I love that they look more like riding boots than snow boots yet they're waterproof and really warm. It's also great that I can totally wear them during the fall without overheating (perfect for our trips to the beach!), and that they can bring me from day to night. I'm very impressed by their quality, too! Get ready to see these boots on the blog ALL THE TIME this winter. (Sizing: order 1/2 size larger, as they run a little short.)
SOREL is without a doubt the best brand of winter boots for those of us who live in the arctic tundra, haha. My pair came from Zappos.com, as the retailer offers fast and free shipping, a 365-day return policy, and the best customer service ever. (Really: I ordered the 7.5s and they were a bit too small, but Zappos overnighted me the 8s when I got in touch with customer service. Fabulous, right?!) Couldn't recommend the Slimpacks more!
Anyway, I'm SO excited about this weekend. My mom is here, and my Auntie-M and cousins–Annie, Sammy and Paige–are arriving tonight. (This will be their first time meeting Emma!) Poor Mitch. Eight girls if you count Noodle! Be sure to follow along on Facebook and Instagram. :)
What do you have planned for the weekend?!
(I know this looks super uncomfortable for Emma, but she LOVES it. It's the funniest thing! It's called the "Football Hold," and it helps with gas.)
Outfit details:
Sorel Boots c/o / J.Crew Striped Turtleneck (also love this one and this one) and Vest (On major sale! Regular version — Furry version) / Rag & Bone Jeans (On sale! Best jeans I own! Run TTS and don't stretch out.) / Southern Proper Hat c/o